How Twitter analytics can help you
Twitter Analytics is the foundation for whatever you need to know about your Twitter presence. It can help you:
See how Twitter is supporting your overall marketing goals
Your Twitter plan doesn't (or at the very least, shouldn't) exist on its own. Presumably you're using Twitter to drive other key business goals.
Maybe it's driving users to your website so you can get them to make a purchase.
Maybe it's engaging with your blog content.
Maybe it's signing up for a lead gen form such as a newsletter.
Whatever it is – you need to know how effective you are in using Twitter to achieve those key goals. Twitter Analytics gives you the data you need to see how you're performing. Then you can compare it to your other marketing channels and, ultimately, your expectations.
Learn more about your audience
Forget about the audience you WANT to reach. Twitter tells you the audience you ARE reaching.
Twitter Analytics offers a treasure trove of information about the ages, interests and locations of users who are clicking on, liking and retweeting your Twitter posts.
This offers two benefits:
It tells you whether the audience your campaigns are targeting matches up with who your campaigns are actually reaching: Say you've built your marketing strategy around reaching women ages 25 to 35. Looking at your Twitter Analytics will give you some insight into whether or not you are actually reaching that audience.
It gives you ideas for audiences that you should be – but currently aren't – targeting: Let's say, following the example above, you find your target audience doesn't match up with who you're actually reaching. Instead of women ages 25 to 35, your tweets are actually reaching women ages 55 to 65. At the very least, this might be an opportunity to expand your campaign's target audience to reach a group you might not have previously considered.
See what messaging resonates
It's difficult, with most marketing campaigns, to test out how well your messages to customers resonate. In many cases the best you can do is see which channels are driving the most action and generating the most conversions.
That's where Twitter – and Twitter Analytics – can help.
Let's say your selling cars.
You think the new stereo system is going to be a key selling feature so you highlight it in as many tweets as possible. Other selling points of the car are also noted, but less frequently and in separate tweets.
You might find, depending on the sorts of likes, retweets and comments that you uncover in Twitter Analytics, that some of the features you considered less popular are a bigger deal than you previously thought.
Maybe, for example, more people are booking test drives when you tweet about a rear back-up camera.
This is the sort of a feedback loop that can not only be used to help refine your Twitter strategy, but your larger messaging as a whole.
Twitter Klips
To give you an idea of what you can, and should, be monitoring, explore our Twitter integrations page or take a look at some of the pre-built Twitter Klips we have available:
Wish you could easily make your Twitter performance visible to your whole team without building monthly or weekly reports? In Klipfolio, it's easy to track metrics like:
Followers
Competitor ranks
Retweets
And more
View the current number of Followers, Friends, Statuses and Favourites for a particular Twitter handle.
Get a handle on how many times an account's last 10 tweets were retweeted and compare to the previous 10 tweets.
See what else you can build for Twitter
Twitter dashboard examples
Curious to see what you can track in Klipfolio? Here are just a few examples of the dashboards you can build that will help you grow your startup. View the Live Dashboard examples to get a better look.
View your most recent mentions
Track your account following
Gain a view into your overall engagement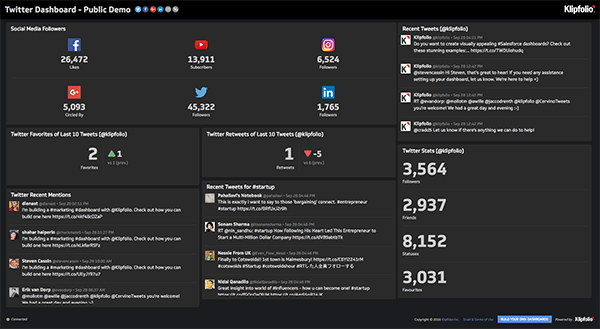 Consolidate your key social metrics
Gain insight into the performance of your social profiles
Track interactions thorughout your various platforms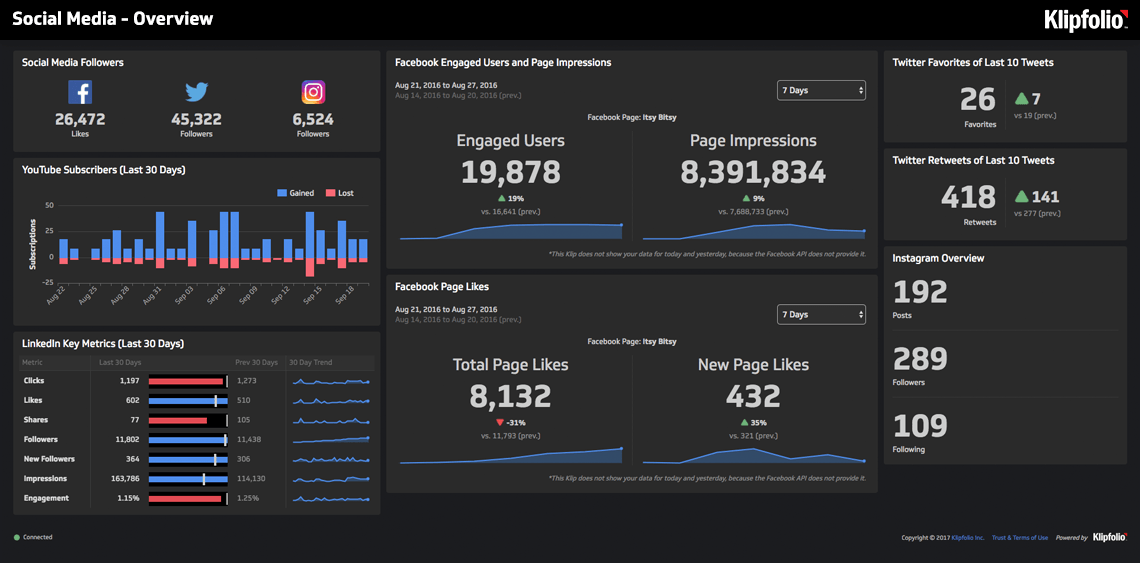 Need to track more than just Twitter Analytics?
Of course you do, with Klipfolio you can create mashups with as many different data sources you need, including Google Analytics, spreadsheets, CRM platforms, social ad platforms and much more. What does this mean for you? No more manual reports or Google Sheets with multiple versions. And you can get started with just a few clicks.
Twitter Analytics reporting fundamentals
If anything, Twitter Analytics provides too much data.
That's where it helps to refine what you are looking for from the platform, so you can begin to build metrics – and an accompanying report or dashboard – that works best for you.
Trends
Are you getting more followers? What about retweets? Are people still liking your content?
Looking at trends allows you to see how your Twitter account has changed over time.
This will tell you if you need to change your strategy to boost engagement. Or, alternatively, double down on tactics that are working best.
Tactics
Are users engaging with your content? If so, what are they engaging with? Which topics matter most to them?
This can also be a useful means of deciding how to best set up your Twitter account for success.
Let's say your most popular tweets always feature infographics. Well then – you guessed it – you may want to do more tweets with infographics.
Other tactical issues you can use to resolve:
What time of day is best to tweet
What sorts of content and messaging your audience is engaging with
Whether video or images work better
Strategy
Twitter Analytics gives you the data you need to measure how the platform is contributing to your overall strategic goals.
Are people clicking on your links? Does engagement on the platform correlate with conversion goals elsewhere? Or is your Twitter presence just helping you to inflate your vanity metrics?
By pulling in this data from Twitter Analytics you can see what is – and what isn't – working.
Audiences
Are you reaching your key audiences? If not, then what audiences ARE you reaching?
Twitter Analytics gives you important insight into the defining features of who is following and engaging with your content.
Using Twitter Analytics you can learn more about your audiences':
Interests: Do they generally like politics? What about comedy shows?
Demographics: What language do they speak? Where do they live? Are they more male or female?
Lifestyle: What sort of TV shows do they watch?
Mobile footprint: Which mobile device (iOS, Android) do they use? What's their wireless carrier?
Everyone – and yes, even their dog – has a Twitter account.
What sets the great ones apart from the merely mediocre ones, though, is a willingness to use data.
Regularly looking at the right numbers can help organizations get to know their audience better, see how Twitter fits in with their overall strategy and optimize how and when they are tweeting.
Of course, saying you want to run a data-driven Twitter account is one thing. Doing it is another. That's where a dashboard report can help.
A well-designed Twitter Analytics dashboard puts all of your Twitter data into one place, where it can be put to use in making your social media – and overall marketing campaigns – better.
Still want more?
We have a ton of other assets on the power of Twitter and other social platform analytics in our blog section. Here are a few that might be helpful: