The three pillars of customer success – and what we're doing to ensure it
Published 2016-05-27, updated 2023-03-21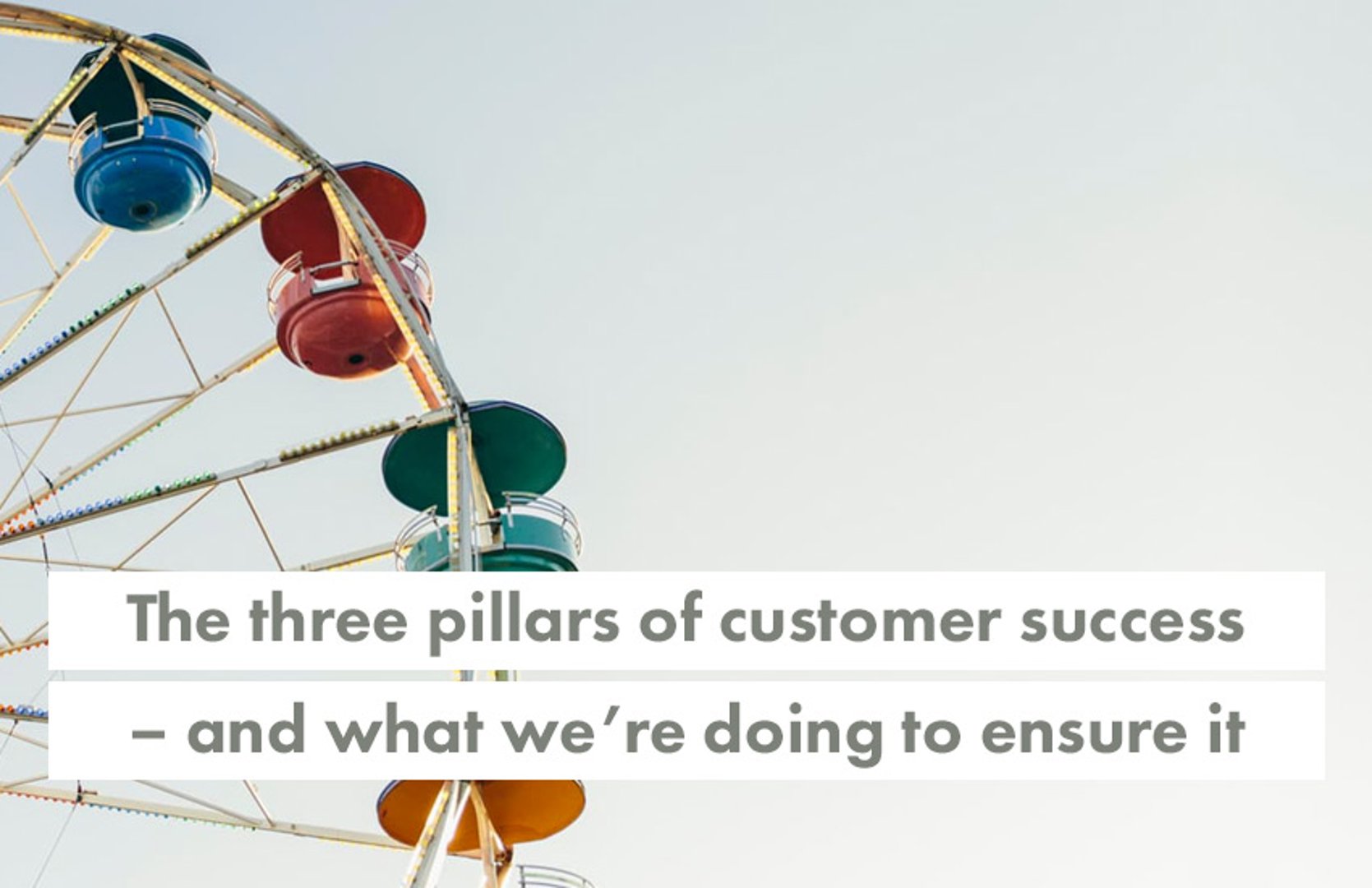 Summary - After gathering data through interviews, surveys, and user behaviour within our application, we've determined the 3 pillars of customer success.
---
When customers sign up to use Klipfolio, they do so with every intention of being able to do so successfully.
But not every customer is successful.
And although this is close to inevitable, it does concerns us, naturally.
Our user experience team has put a lot of effort into understanding what makes for a successful customer.
After gathering a lot of hard data through interviews, surveys, and studying user behaviour within our application, we've been able to come up with a roadmap to customer success. We are using what we have learned to educate our own sales and support teams about the things they need to do to make sure new customers succeed.
Although I'm sharing what we've learned about our own application, user behaviour and successes, the same principles can be applied broadly to the early customer journey in any company like ours.
Our research has determined that there are three main pillars to customer success.
1. The first thing a new customer needs is a vision of what they expect to use Klipfolio for.
That means they have to understand what our service offers, and how it can help them.
The vision phase begins before a customer begins a trial and ends when they kick off their first project as a new customer. This means all lead generation activity needs to be working to properly educate prospects as early as possible
For us, this means that the customer has to understand that Klipfolio is best suited to monitoring business data. They need to know that they will have to dedicate time and effort to learn how to use Klipfolio. In fact, they should identify a dedicated champion in their company to work with us.
This phase is all about the prerequisites. After all, leads that are not aligned with what we have to offer are not really leads. In this phase we make sure our key features and differentiators are communicated early, so the customer knows that they can use a mix of pre-built and custom widgets, for example. An important question we often ask in this phase is about the data sources or applications they expect to hook up to Klipfolio. This is a pretty black-or-white one, and the answer has a direct impact on future success. They should also have a project in mind, with a deadline. That keeps things real.
Finally, they need to know we can help. Customers who engage with us during the vision phase are twice as likely to succeed as those who don't.
2. The second pillar of customer success is what we call impact. Customers need to have a clear idea of how the things they do with our service add value or meaning to their business.
This phase involves implementing best practices in the period leading to the initial roll-out.
To understand impact, a business needs to involve all of its stakeholders. In our case, it needs to know what problem the dashboards are intended to solve, who the dashboards are built for, and how they will be used.
Customers benefit greatly from understanding basic dashboard principles and, right from the start, involving the people who will use them in the process of creating the dashboards. They need to be specific about what they want to measure (forget vanity metrics!) and get people into the habit of checking the dashboards frequently by refreshing the data all the time and using wallboards and mobile devices to increase visibility and access. Habit-building early in any project is very important.
One of the best ways to create impact is to use a dashboard to replace an existing monitoring or reporting process - for example, having our dashboard automate an existing process that take a lot of manual effort. We have a much higher rate of success with customers who do this.
Customers should also focus on just one dashboard first and get it right before moving on to another. That means getting feedback and using that feedback to improve things. Successful customers start small!
3. The final element of customer success involves their ability to make it happen. They have to have one or more people with the technical ability to create the dashboard, let alone access the required data.
Do they know where their data is and how to connect to it? Do they know how to write formulas? Do they know what well-formed data looks like? Do they know about data visualization? We can guide them. We can point them to webinars or we can do live chat. But evidence shows that successful customers not only have a picture of what they need, but also the ability to pull it all together.
Why do we worry so much about customer success?
We're a subscription service. It's easy for customers to walk away. So the onus is on us to keep customers – and to keep them happy. Customer success is critical to our growth.
Customer success, in fact, is an important factor for every SaaS (software-as-a-service) company. And every SaaS company worth its salt is putting a lot of effort into customer success. It's really not optional any more.
Allan Wille is a Co-Founder and Chief Innovation Officer of Klipfolio. He's also a designer, a cyclist, a father and a resolute optimist.
Related Articles