What is your internal 'communications cadence'? And why it's a growth engine.
Published 2016-04-29, updated 2023-03-21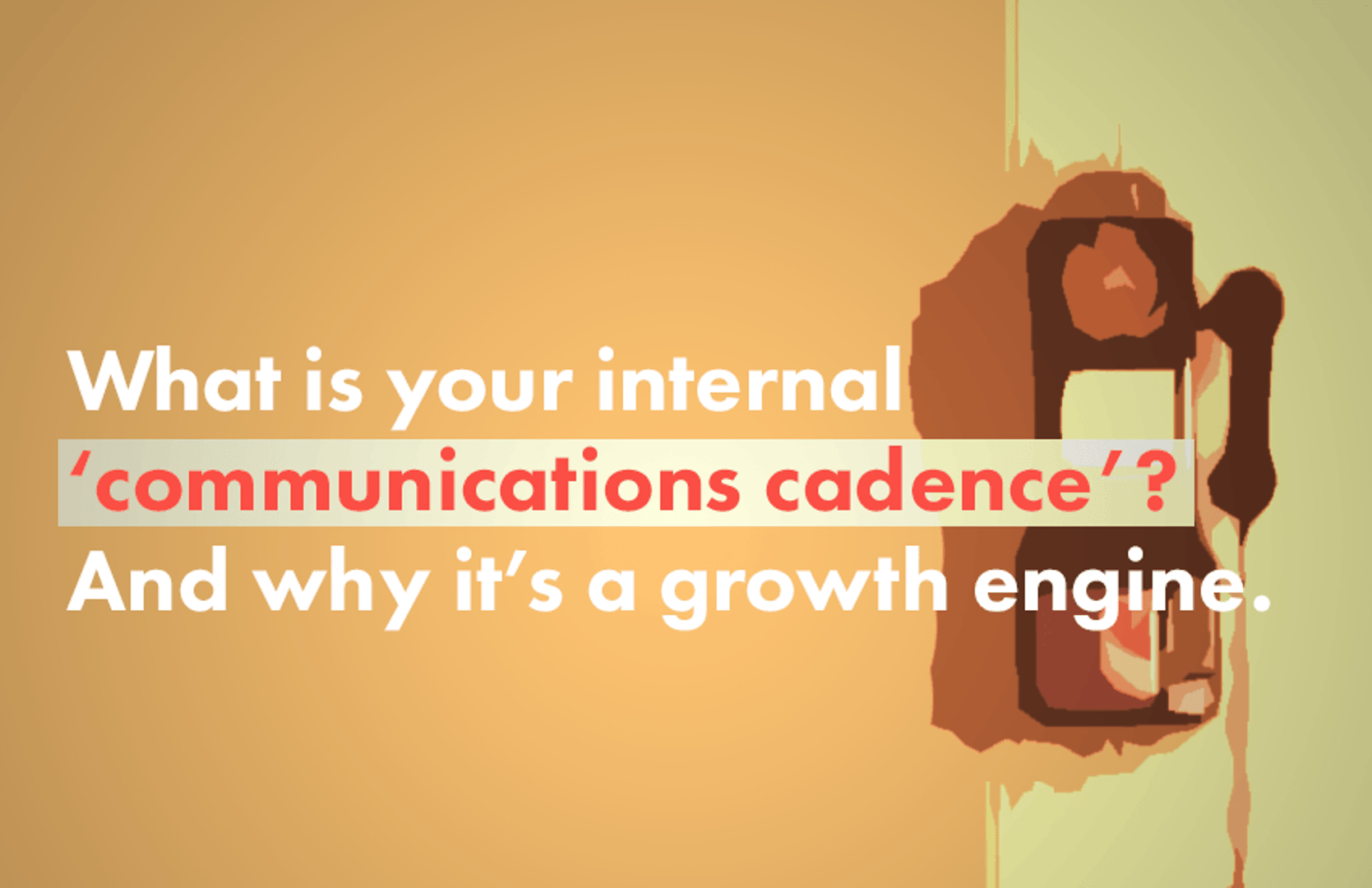 Summary - How we communicate inside the company is hugely important, particularly as we grow. We have set up a structure for communicating with the board, the management and executive team, and the employees, because each of those groups requires a different approach. We are always looking to tweak our 'communications cadence', but ultimately our success depends on creating not only a
---
I recently met three fellow CEOs for lunch. Each of us had topics we wanted to raise, but we quickly found ourselves talking about something that wasn't on the agenda.
The topic was communication. Or more specifically, how often we as CEOs communicated with (and heard from) other groups in the organization, and whether there was a structure for doing so.
I'm going to call it the 'communications cadence.'
It's not a topic that immediately comes to mind when you think of a growing company.
But the reality – as we all realized, since it was on our minds – is that as a business grows, establishing and nurturing communication channels inside the company becomes increasingly important.
All four of us at lunch that day were struggling with the issue of how to establish effective and positive two-way communication with everybody inside the company. (Communicating with clients and the public is a whole other matter.)
As a CEO, I have to consider how I exchange information with three main groups: the board, the executives and managers, and the employees. Each group requires different information, a different approach, and a different communications schedule.
Here's how we do things at Klipfolio.
The board
Our board of directors meets quarterly - usually no more than 30 days past quarter close - to discuss strategy, performance and administrative issues.
On good advice from my CFO, we have also set up short 'status calls' with board members in advance of each board meeting - usually a few days before the end of quarter. The sole purpose of these status calls is to share projected end-of-quarter numbers with the board. There is no discussion of strategy or anything else.
What's nice about this system is that there are no surprises for board members. They come to the board meeting that follows knowing what to expect, and we are able to discuss strategy, not numbers.
In fact, I often call board members individually to update them, to ask for their help, or to make sure they are prepared for an upcoming topic. Again,my philosophy is 'No surprises.'
Management
I hold various regularly scheduled meetings with management and members of the executive.
Four times a year, we all have what's called a roadmap meeting. It's really to make sure we're all on the same page and working toward the same priorities. There are, of course, many interim roadmap meetings - but as a group we all check in at least every quarter.
Every month, I have a half-hour one-on-one meeting with each of the managers. We discuss three things: What are their priorities? How are their people doing? What are their challenges?
Every two weeks, I hold a strategy meeting with the executive. And every week, we have a management round-table meeting where everybody reports on what they are doing and what their challenges are.The strategy meeting has time for blue-sky discussions, plus there is often a topic we do a deep dive on.
The management round-tables, on the other hand, are tactically valuable because they bring a lot of cross-departmental awareness to the group. Very often a person in one department can help someone with a problem in another.
Employees
Every month, we do an all-hands meeting with employees to keep them posted on new hires, recent successes and how the company is doing, as well as upcoming social events. We also invite them to voice questions or concerns.
I also make sure I remain visible and accessible. With just over 50 employees, we're still a small company. Employees see me every day and I make a point of asking what people are up to. This allows me to give encouragement and learn things that I would miss if I was just talking to management.
Are we doing it right? Are we doing enough? It's not always easy to know.
I'm satisfied with our communications cadence with the board. But the board is a small group and they need specific things – usually in relation to defined meetings.
We're improving our cadence for communicating with management, though we could do better in finding other ways to make sure teams communicate more with each other, such as having more lunch-and-learns and demos (something our R&D team has been doing very well).
That leaves employees.
It's important that we - everyone, from me to managers and employees- encourage two-way communication and a culture of openness within the company.
Everyone has to be open to communication – and want to engage in it themselves.
In today's business environment, with open offices and much flatter and more casual hierarchies, it's easier and also more important for everyone to help make things better by sharing their thoughts and ideas and being part of the conversation.
It is important for each employee to understand why they are here and how individually and as a team they are contributing to the success of the company - providing a sense of belonging and purpose.
How and when you communicate strengthens your bonds with your board, management and employees. Get the 'communications cadence' right, and each of these groups will help you scale.
Allan Wille is a Co-Founder and Chief Innovation Officer of Klipfolio. He's also a designer, a cyclist, a father and a resolute optimist.
Related Articles