How and why we created a local discussion group for SaaS companies
Published 2016-04-15, updated 2023-03-21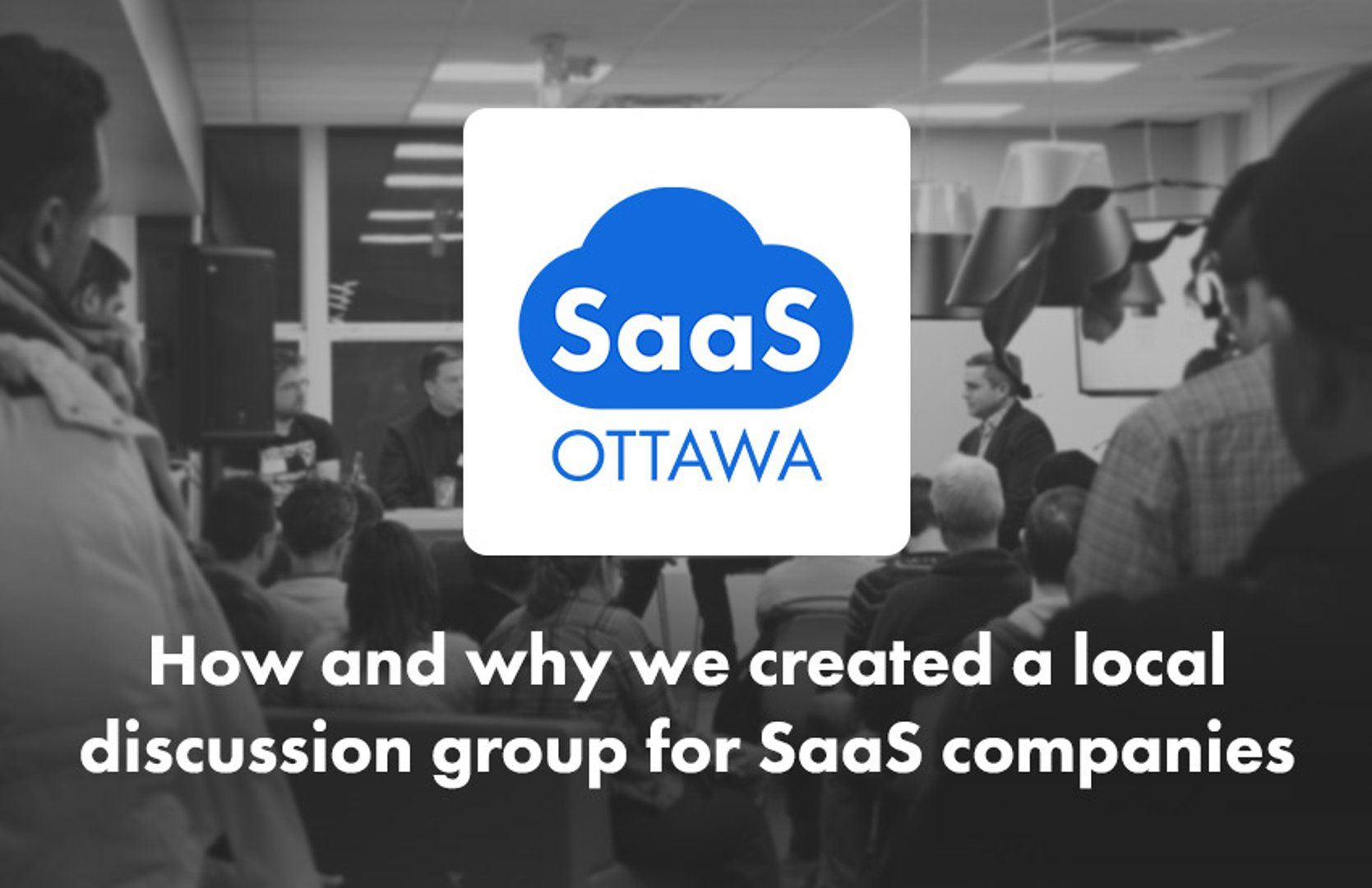 Summary - We wanted to connect with other people in the software-as-a-service field in our city, but we discovered there was no formal mechanism allowing us to do that. So we created our own group using Meetup.com, a popular live event and networking tool. And we were surprised. The first meeting of the SaaS Ottawa group was a resounding success, and we look forward to many more
---
Earlier this year, I travelled to San Francisco to attend SaaStr Annual 2016, a major event for companies involved in software as a service (SaaS). The event attracted some 5,000 people, including the best minds and the fastest-growing companies in the SaaS field.
Conferences like that are exciting and motivating, and I thought it would be useful to keep the buzz going by talking to other SaaS companies at home.
One of my colleagues did some digging, and we discovered that there was no SaaS group in Ottawa – at least none that we could find.
So we created one.
The first meetup was a huge success, and we look forward to organizing many more in the future.
Here's how we did it – and why we think it's important.
We started with Meetup.com, an event and networking service that facilitates in-person meetings. Anyone can use Meetup.com to create groups about any number of topics, and users can search for and attend local events they are interested in. Generally, the organizer is also the sponsor, which usually means providing space for the event, and food and drink (or at least that's what we are doing).
As the organizer, we decided to name our event - SaaS Ottawa.
The goal of the SaaS Ottawa group is "to discuss and share best practices, news and stories about building and growing a great SaaS company." We want to talk growth, hiring, retention, metrics and efficiency with other people in the SaaS world, recognizing that every SaaS company is at a different stage along the growth path, but we inevitably face common issues. For example, how to develop and adjust our pricing models; how to attract and retain key employees; and how to develop and interpret metrics for customer churn.
By pooling our ideas and experiences, we are able to strengthen our entire SaaS community, and that's a good thing for all of us.
We decided that we'd hold our first SaaS Ottawa meeting at Klipfolio in early March, and that the subject would be the highlights, trends and lessons learned from the SaaStr Annual 2016 meeting in San Francisco.
We settled on the format: a 45-minute panel discussion (with moderator) involving myself and people from four other companies who had attended the San Francisco conference, followed by questions from the floor. Klipfolio provided the pizza and beer.
As an aside, we also made sure we could get an appropriate Twitter handle to help us promote the events and provide a handle and hashtag to use during events. We registered @SaaSOtt, hashtag #SaaSOtt.
Then we crossed our fingers and hoped people would show up.
Not 24 hours after setting up the group and announcing our first event on Meetup.com, we had 80 members sign up ! There was obviously pent-up demand for a forum to talk about SaaS in Ottawa. (The number of members continues to grow and already stands at well over 200.)
We were thrilled and amazed to get 53 people in our offices on March 2nd.
They drank us out of beer, ate up all the pizza, and really took the topic to heart. It was a great meeting all around.
Along the way we learned a few lessons about how to hold a successful event:
Set up a working group. Our meetup came together as a result of the efforts of a few people, mostly folks at Klipfolio, who helped organize the event. It's key to stay on top of the details like nametags, ordering food and taking photos.
Keep it short. We felt that our panel discussion went on for too long; that limited the number of questions attendees could ask, which is often where you get the best dialogue.
Make access easy. Our building locks up at night, so we made sure to have someone at the front door to let people in. We had everyone make name tags, made sure folks were guided into the right area of our office, and with all of the beer being consumed so quickly, made sure the washrooms were unlocked!
Organize clean-up. We asked our employees to clean up their desks before anyone showed up; in particular, we wanted to make sure any sensitive information was securely stored away. We also realized that we needed help with clean-up after the event. Because these events are casual, the easiest thing is to just ask attendees to help out.
After the panel discussion, the buzz remained. People stuck around to talk. It was nearly 11 p.m. when the last attendees left – by which time I was toast!
But no matter how tired I was, I realized we were on to something here.
Our long-term goal in creating this group is to transform Ottawa into a real hub for SaaS businesses, by learning from each other to improve our collective level of knowledge.
We don't want to worry too much about being in competition with each other. What's really important is to talk to each other. Younger companies have started to do this more and more, and I think it's a good thing.
There can only be an upside from sharing ideas and discussing common issues. This will undoubtedly help us grow more amazing companies in Ottawa.
FYI - our next Meetup is happening this coming Wednesday, April 20th, and we're at capacity! Seventy folks attending and it looks like we'll need to find a larger venue.
Allan Wille is a Co-Founder and Chief Innovation Officer of Klipfolio. He's also a designer, a cyclist, a father and a resolute optimist.
Related Articles