Attention new Parliament: Some new ideas on innovation for Canada's tech sector
Published 2015-10-16, updated 2023-03-21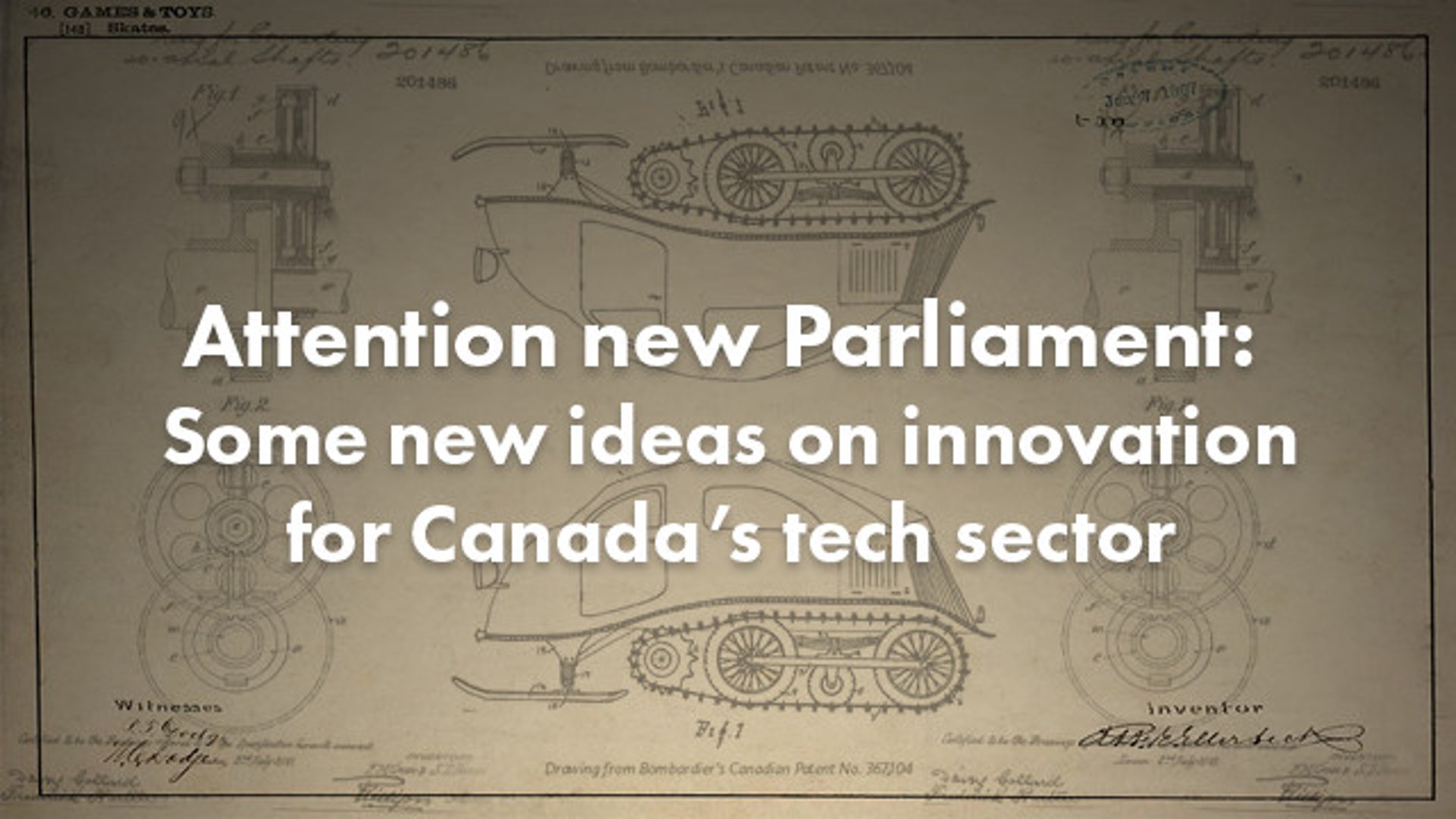 Summary - Next week, we elect a new Parliament. I think parliamentarians need to spend some time wrapping their heads around what's needed to support Canada's tech sector. That rethink needs to start with tech firms themselves thinking bigger. Government needs to rethink the way it supports innovation in a way that focuses on outputs, not inputs. Everyone(including academia) needs to
---
Next week, Canadians decide who will govern them for the next few years.
A new Parliament is a time for new ideas. Canada's vibrant and expanding tech sector will be a major engine for growth in our economy over the coming years. Newly elected MPs will need to consider a whole range of ideas that will ensure that the tech sector remains robust in Canada and a significant force internationally.
These ideas can be applied no matter which party forms the government.
As the co-founder and CEO of a growing tech firm, some of these ideas are self-evident, from my own experience and that of my colleagues.
Simply put, I think there are three areas where attention is needed.
First, it's time for Canadian tech firms themselves to think bigger.
Second, it's time for government to come up with new ways of stimulating innovation that are keyed to our industry and focus on outcomes rather than inputs.
Third, it's time for government, academia, business and the tech firms themselves to work together so that we can compete in the global marketplace.
Thinking bigger
Our tech firms have to think bigger. The market is global. Opportunities are massive.
Earlier this year, I took part in 48hrs in the Valley, a mentorship program in Silicon Valley for Canadian companies, where there seemed to be no limit to what was possible.
If you aim for $30 million in sales next year, your strategies are going to be different than if you aim for $3 million. You may not make the more ambitious target, but aiming higher will put you on a more dynamic trajectory. It's about thinking differently.
I am convinced Canadian firms have the skills to be world leaders, but too often we hold ourselves back, or sell early. I do see early evidence of change - let's keep it up.
Rethinking government support
There is a lot of government support in Canada for the tech sector. Some of it works, some of it doesn't.
For example, the federal government's Scientific Research and Experimental Development Tax Incentive Program encourages Canadian businesses to conduct research and development.
This program works - specifically in making Canada a research and development leader. I don't think there's a high-tech firm that has not benefited from it. It's really valuable, and we've been using it every year.
But there are other things the government does that are less valuable for us.
For example, we often get asked to take part in international trade missions. But the type of assistance the government offers on these missions is, from our perspective, less than helpful.
Printed brochures? A trade show booth? No tech startup is going to use these outdated tools! They are too expensive, they don't work, and we can't keep track of how people use the information they receive. So while on the surface the assistance sounds good, in reality the offer is not geared to the needs of our industry.
Tech ideas aren't like tractors. You don't need a big industrial plant to build them. They are global and portable.
The bottom line? Government support needs to be redirected to emphasize outputs (for example, jobs created) instead of inputs (number of dollars invested.) It's about results, rather than infrastructure or process.
Rethinking collaboration
Canada has a high percentage of people with university degrees - perhaps too many. There is no shortage of researchers and pragmatic thinkers.
Government, tech firms, business and academia all need to work more closely and more effectively to bring products and ideas to market and to protect them once they are out there.
Working together is not easy.
The academics like to discuss ideas; we want action. Again, successful commercialization of ideas will require that the research world focus on results, not simply the inputs.
That's where government can play a role.
We fall short when it comes to protecting our intellectual property on the world stage. Right now, the United States dominates intellectual property at the international level. The world in fact looks to the U.S. to write the legislation and preside over any issues.
Of course when they do preside over issues, they tend to decide in their own favour.
Canada is a signatory to many treaties, but we don't have an agreement for intellectual property that says this is what's yours, and this is what's mine, and this is how we iron out any disputes. As a starter, we may want to focus on implementing the World Intellectual Property Organization (WIPO) Internet treaties which were signed but never implemented.
When it comes to creating a collaborative environment for the tech sector, American companies have it all figured out. American companies use concerted lobbying efforts which result in the right legislative changes or regulations for their industry. We need to do the same.
Jim Balsillie, the former co-CEO of RIM, has proposed a dedicated lobby group for the tech sector to put many of these ideas forward.
I'm all for that.
All Canadians will benefit – not just those of us who earn our livelihoods converting ideas into things that people can use and buy.
Allan Wille is a Co-Founder and Chief Innovation Officer of Klipfolio. He's also a designer, a cyclist, a father and a resolute optimist.
Related Articles