Seasonality in a SaaS startup: How to fight summer slowdown
Published 2016-09-09, updated 2023-03-21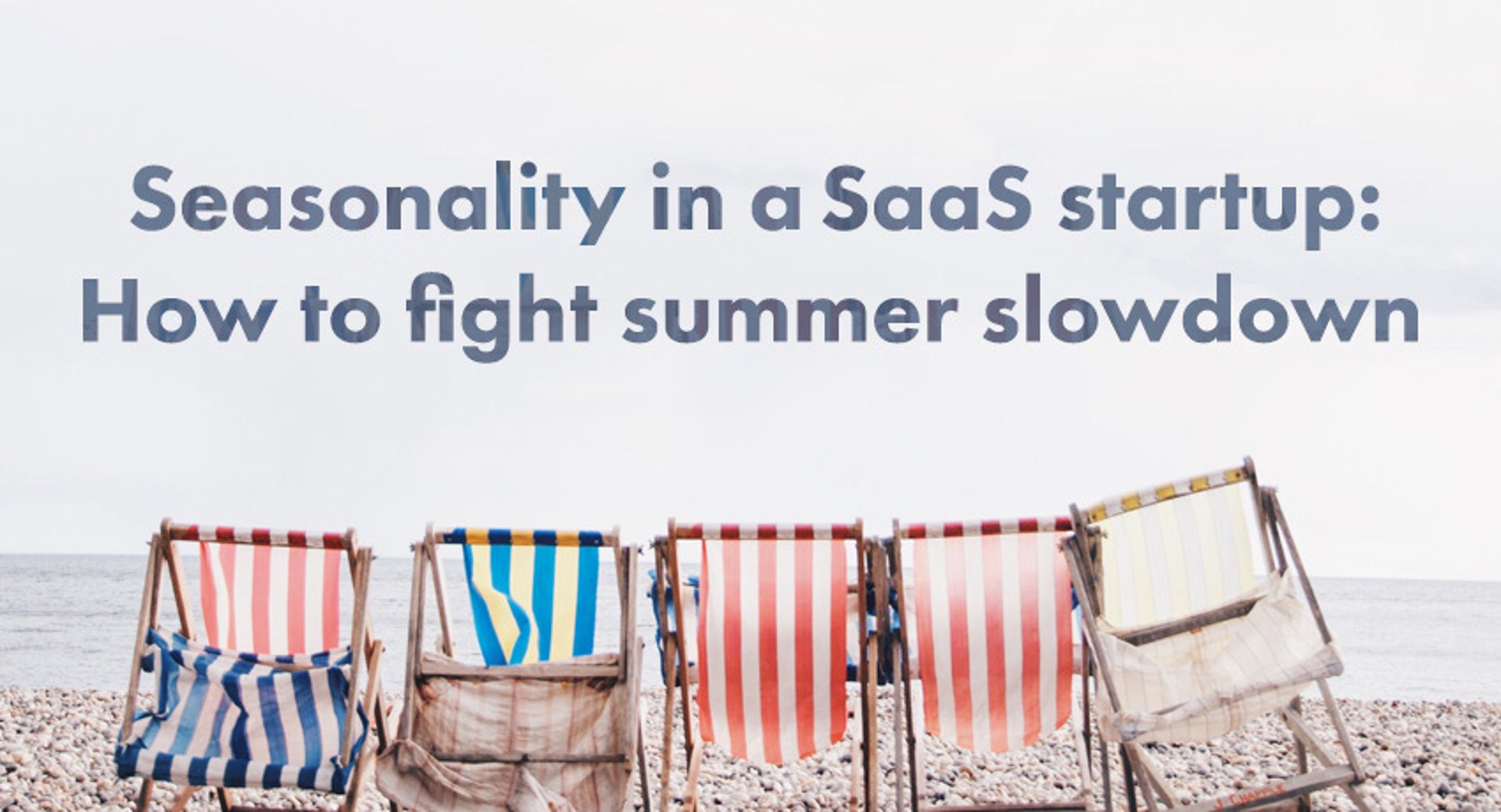 Summary - Do things slow down during the summer? For many businesses – yes. But that doesn't mean yours should. Entrepreneurs need to take the time to learn about their business, understand its cycles – and then see what they can do to take advantage of them. Here's what we did this summer.
---
July 2015 was not a good month for us. I didn't write about it then, but a year later I can. We acquired fewer new clients than we were expecting, and a frightful number of existing clients cancelled their accounts.
When we analyzed the data - and trust me, we did - we were not able to come up with a solid reason why we had such a bad month.
You might be inclined to say it's normal for things to slow down in summer.
I was always resistant to the idea that there were seasonal fluctuations to our business, to the point where it got to be a running joke inside the office. To my mind, blaming disappointing sales results on a supposed summer slowdown was just an easy excuse. Where were the statistics to back up that statement?
One year later, I've changed my tune. But only somewhat.
With more data to compare, I can see evidence that there are seasonal fluctuations in our business. For example, this summer, organic traffic to our website was flat. And perhaps most telling, the percentage of daily active users (%DAU) of our dashboard was down. It makes sense … people are on vacation.
Likewise, seasonality is evident at Christmas and New Year's. There is a precipitous drop in activity on both those days. It's clear almost nobody's working.
It's also clear that activity picks up during the first quarter, and also in September, as soon as school starts again. For example, as of today, September 9, with our users back from vacation, I can already see an increase in %DAU. It's back to normal levels, or up by about 6% over summer rates.
Seasonality is just one factor
What we found, though, is that seasonality is just one of several factors affecting performance, and for us it's not the dominant one at that.
For example, winning a few larger deals can colour the whole month. So can losing a few big ones. Make sure to recognize these big wins and losses when analyzing your month.
I think you have to acknowledge seasonal fluctuations though, and be smart about building them into your budget. (We did this year – we expected July and August to be flat.)
So how did it come to be that both July and August 2016 are record-breaking, with sales that are three times higher than summer 2015?
Here's what we did to help make that happen.
Three tips to counter seasonality
First, we began increasing our paid advertising spend in July with the idea that it would gather steam and reach cruising speed in September. And that's working. In August, we generated about 14,000 leads, up massively from 6,000 earlier this year.
Second, we hired two new salespeople late June, again thinking they would find their feet during a slow period and be ready to go full-tilt in the fall.
And third, our marketing team painstakingly worked through every page on our website, every form, and conducted countless A/B tests in an effort to optimize on-page lead conversions. And again, it worked in a big way. Across our entire website, the number of people signing up for a trial, a webinar or a newsletter has doubled.
Summer in fact was busy. And yes, seasonality slowed growth a touch, but our efforts countered much of this.
The lesson for us is to both step on the gas as we head into summer, but also realize it's a great time to ramp up new sales and support talent and to optimize the efficiency of our funnel.
I would advise entrepreneurs to not accept the concept of seasonality at face value. Take the time to understand your business and learn what else impacts your particular business model … and fight back.
Allan Wille is a Co-Founder and Chief Innovation Officer of Klipfolio. He's also a designer, a cyclist, a father and a resolute optimist.
Related Articles