Why hiring an in-house lawyer was the right thing to do
Published 2016-01-15, updated 2023-03-21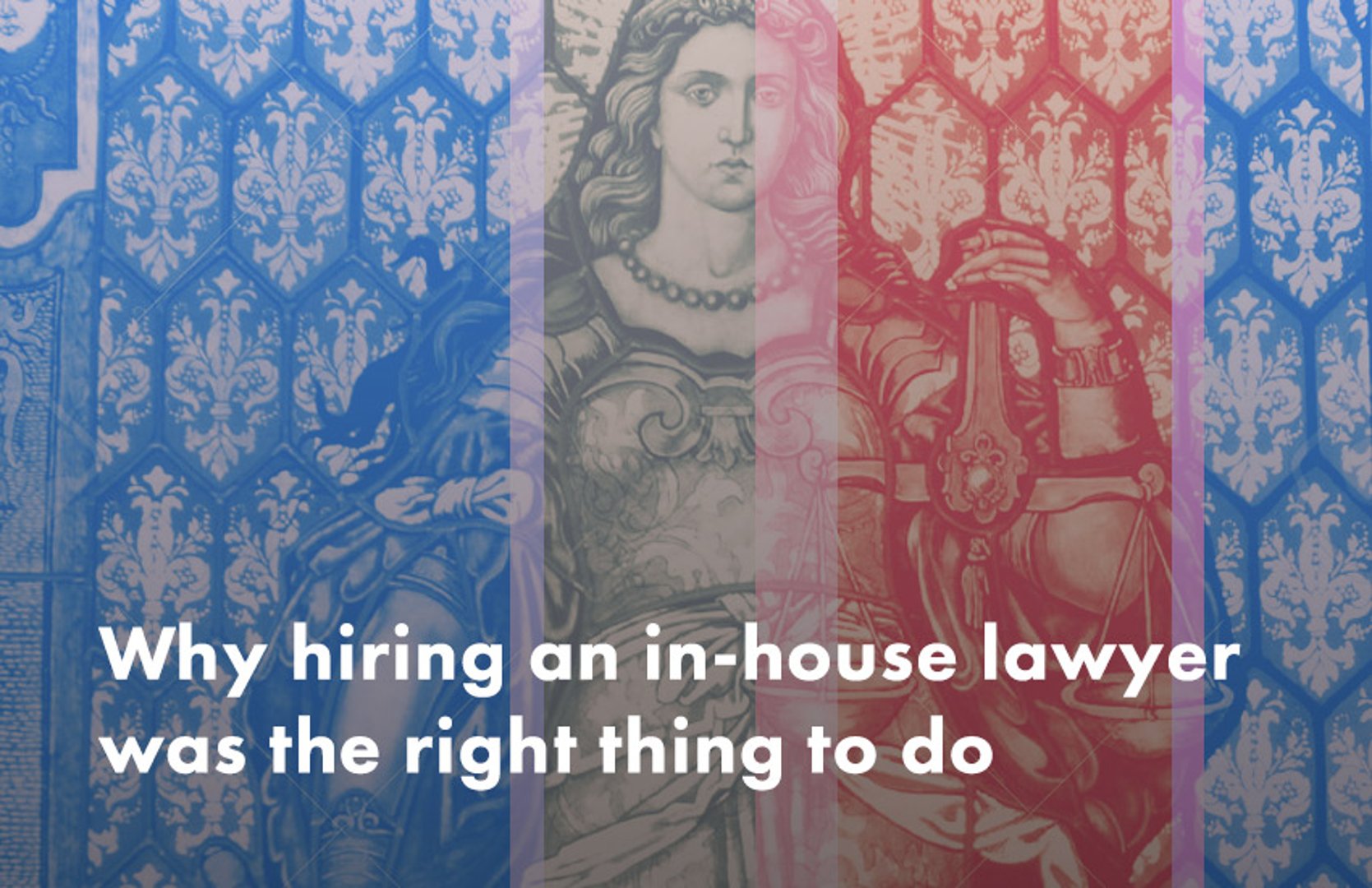 Summary - Every company, as it grows, has to make certain hires. We've grown to the point where it was necessary for us to hire an in-house lawyer. She now comes in one day a week to assist the business. There are good reasons to do this, reasons that extend beyond just making sure all our legal documents are consistent, clean, fair and binding. Having our legal affairs in order will
---
When we started Klipfolio, we used lawyers only when we absolutely had to.
They're expensive, right? Why pay a lawyer if you can cobble something together yourself? Sure, we worked with a law firm to draft our really important documents, like our incorporation documents. And we used outside counsel for things like trademarks and our financings.
But customer agreements? Employee agreements? Our website's privacy statement? In the early days, I wrote them all myself, cutting and pasting from different documents until I had something I thought was OK. And I know every other small business does the same thing.
But flying by the seat of our pants doesn't cut it anymore now that we've grown. We started working more often with our legal firm - in part because I did not have the time to continue writing and updating our agreements, and in part because I knew I was not the right person to do this for many reasons. That's why last year, on the recommendation of our chief financial officer, we brought on a general counsel - an in-house resource who spends a day every week working with us.
It's another rite of passage as we grow.
I see any agreement having elements of both opportunity and risk. Opportunity had better be grounded upon mutual benefit. Risk arises from the probability and severity of exposure from issues not covered, contemplated or jointly understood. What's the likelihood that you may get sued, for example? And if you do, how much of a problem would it create?
The higher the probability of any action, and the greater the severity of that action, the greater the need for legal protection.
But the truth is, you don't really think too much about all that when you're starting out - and nor should you. You've got too many other things on your mind.
I don't think there's anything fundamentally wrong with the legal agreements we have – the ones I pulled together – but the fact is, they're not as simple or as elegant as they could be. They're also not consistent and some essential elements may be missing.
So, as a first task, the role of our general counsel is to take stock of all of our agreements, and to get a sense of our exposure. This is a big part of making sure our legal affairs are in order.
For the last few months, she has been coming in one day a week to review our existing paperwork, fix what needs to be fixed, and make sure our legal documents are clear, consistent and enforceable.
She is reviewing all of our legal agreements, both internal and external, to see whether anything falls short. She is looking at our security and privacy exposure. And she is setting priorities so we know what to tackle first.
As our general counsel, she is also here to advise us on what we need to do as we grow.
For example, when a company reaches a particular number of employees, certain legal obligations kick in. Your company must be compliant with a range of complex and frankly burdensome government regulations and you (you personally if you are a director or an officer) and the company can be fined if the company is not. In this area, she will work mostly with finance and HR to make sure we are not offside, and to alert us about what needs to be done.
There's another big reason to have our legal affairs in order.
When you go through a round of financing – as we did last year – you have to disclose all your legal obligations. This includes all the contracts you've signed, your employee agreements, and what open-source software you use and how that's managed. Everything.
It's a big job to pull all the pieces of the legal puzzle together.
If we ever do go for another round of financing, having all of our legal paperwork in good shape and ready to present to investors will save months of work and a lot of money.
It will also send a message to investors that we take our legal obligations seriously, and that increases their confidence in making an informed decision.
In the meantime, our lawyer's work is creating efficiencies inside the company - at a rate that is less than our outside counsel. We are able to take a proactive approach. And far exceeding what I was ever able to do, our legal documents are now consistent, clean, fair and binding.
And that means we're better protected as a company. It is worth the cost of having in-house legal counsel as we continue to evolve.
Allan Wille is a Co-Founder and Chief Innovation Officer of Klipfolio. He's also a designer, a cyclist, a father and a resolute optimist.
Related Articles