Top Takeaways from the 2017 Gartner Data & Analytics Conference in Texas
Published 2017-03-17, updated 2023-03-21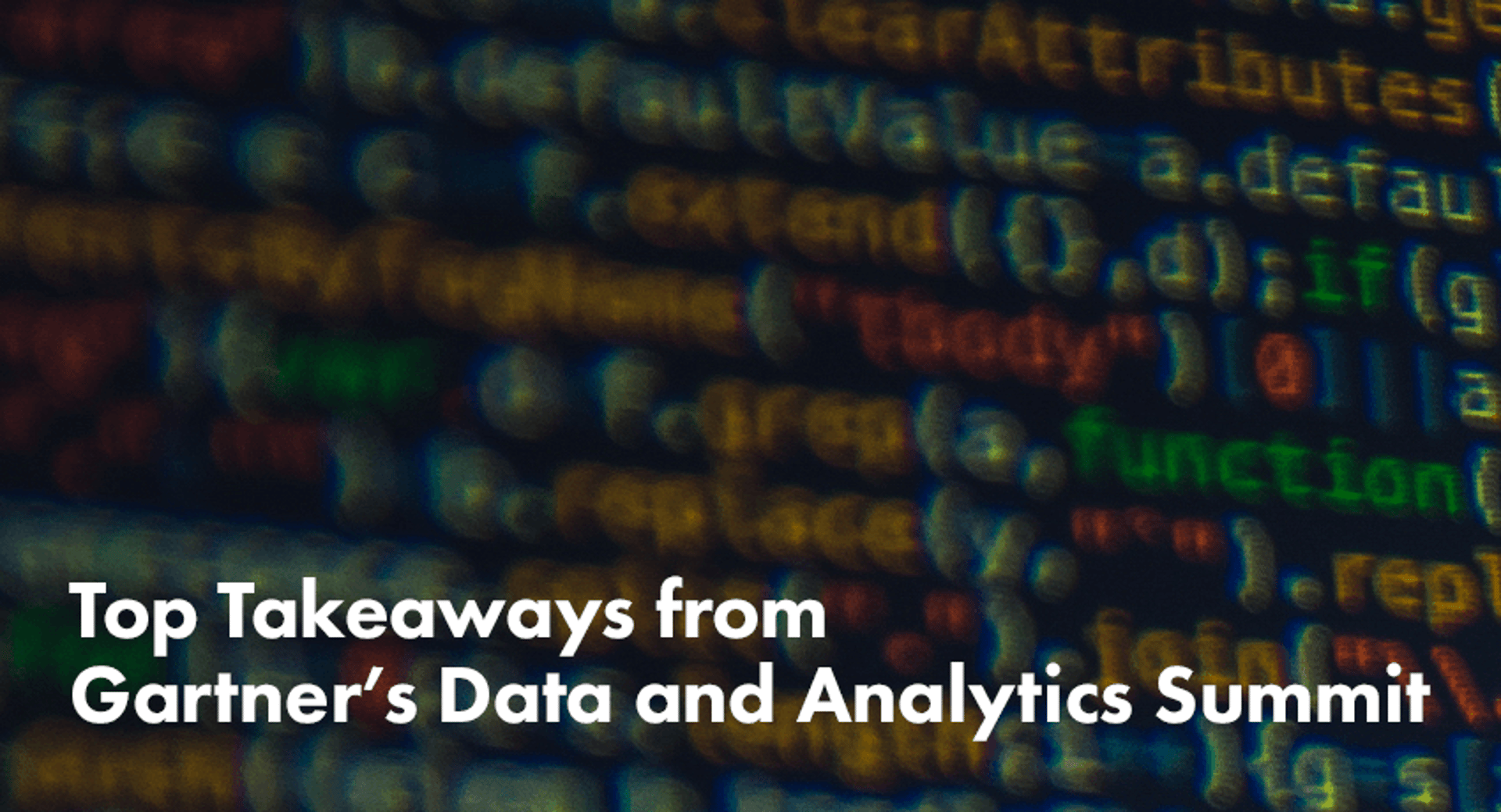 Summary - Last week, in Grapevine Texas, Gartner hosted its annual lovefest for over 3,000 data and analytics professionals from mostly large global companies and from the 60+ vendors exhibiting at the show. Gartner is a major information technology research and advisory company, and there is really nothing small or mid-sized about the firm's annual flagship conference for the business
---
Last week, in Grapevine Texas, Gartner hosted its annual lovefest for over 3,000 data and analytics professionals from mostly large global companies and from the 60+ vendors exhibiting at the show.
Gartner is a major information technology research and advisory company, and there is really nothing small or mid-sized about the firm's annual flagship conference for the business intelligence community.
"Technology doesn't change who we are, it reveals who we are."

Sam Esmail, creator of the television series Mr. Robot.
I attended, along with Mychelle Mollot, our Chief Marketing Officer, and Rupert Bonham-Carter, our Chief Customer Success Officer. Here are what we think are the most interesting trends and lessons:
1. Business intelligence is still dead, but data and analytics live!
At last year's opening speech, it was boldly proclaimed that "BI is dead." And this year Gartner renamed the entire conference from "The Gartner BI Summit" to "The Gartner Data & Analytics Conference." It's an astute move by Gartner, signalling that the future of analytics really has its roots in data… and the more data the better. (But nobody is calling it big data anymore - it's just data).
"Humans and machines complement each other and can outperform either alone."

Tom Austin, Gartner Fellow, on human/machine symbiosis.
Data is an asset, and not only to make better decisions for your organization. Your data, the unique collection of the behaviour, history and trends from all your buyers, will increase in value with every transaction you capture. You may not know exactly how to use it, but be sure that there is value there.
2. Too much data is not being used
A big theme of the conference this year was this idea that organizations have an abundance of data and many opportunities to get huge value from that data, both internally and externally. But because they lack resources, strategy and technology, they don't know how to get value from it.
What is missing for them to get value from the data?:
Resources. Resources to define strategy, implement technology and ensure insights are widely spread throughout the organization.
Trust in the data. Since the dawn of the business intelligence industry, the ability to trust the data has been an issue. It was a bit discouraging to hear that many organizations still do not trust the data they have.
Insight from the data. Many organizations have lots of data, but do not manage to get much insight from the data they have. And in many cases, the insights that exist aren't getting to the people who can use it.
"Constraints, threats, discomfort foster innovation and creativity."

Tim Hartford, economist, journalist, author of The Undercover Economist, Adapt, and Messy.
So to deal with an abundance of data, but a lack of ability to translate it into value, Gartner recommends three things:
Rethink your leadership and think about the Chief Data Officer role
Modernize your technology
Further involve the business owners
3. Artificial intelligence and machine learning were the buzzwords of the conference
Artificial intelligence is presenting tremendous opportunities to create new value. The possibility is there to create the unimaginable - self-driving cars, for instance. Here are some of the things happening in the artificial intelligence area:
"If you want to get somewhere new, start somewhere new."

Tim Hartford
Systems are now moving from using brute force to solve problems to using trained learning to tackle very complex issues. And they are doing it more quickly, and with less code.
The application of artificial intelligence and machine learning is no longer only in the realm of the enterprise innovation teams. Today, with many toolkits coming to market and prices dropping quickly, there are many tools available to small and medium-sized businesses that leverage artificial intelligence.
Artificial intelligence and machine learning will be used in almost all applications by 2020. Think crime prediction, handwriting or even lip-reading recognition, price optimization, error prevention, customer support assistance, and of course, self-driving cars.
We should not dismiss simple applications, called narrow or shallow artificial intelligence. These today are being used with great success for simple tasks like scheduling assistants.
The mainframes of the 1960s, the minicomputers of the '70s, the PCs of the '80s, the client/server ad GUIS of the '90s, the Internet and intranet of the late '90s now we are mobile and chat. Every 10 years or so we shift our focus to new platforms.
But nothing this powerful is without risks. Even as we embrace artificial intelligence, we also need to understand the risks it poses and the ethical questions it raises.

Allan Wille is a Co-Founder and Chief Innovation Officer of Klipfolio. He's also a designer, a cyclist, a father and a resolute optimist.
Related Articles