How the surging U.S. dollar is changing the tech landscape in Canada – and what to do about it
Published 2016-01-29, updated 2023-03-21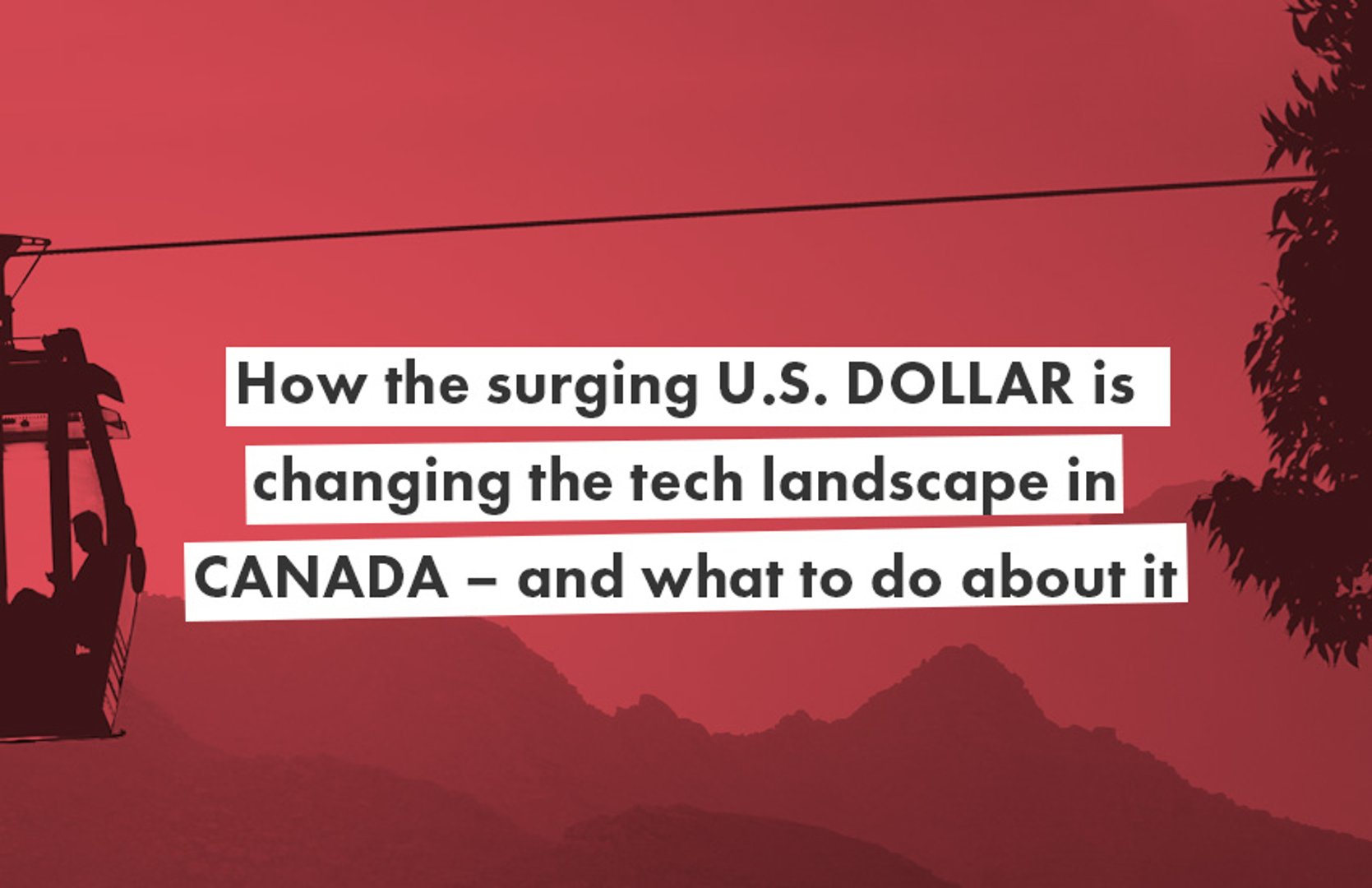 Summary - Over the last few months, the Canadian dollar has fallen dramatically in relation to its American counterpart. There are both pros and cons to that drop.
---
The continuing fall of the Canadian dollar in relation to the U.S. currency has been drawing a lot of attention lately.
It should. The growing differential between the Canadian and U.S. currencies is sure to have a significant impact on the Canadian economy as a whole, and on the tech sector in particular.
So should the Canadian tech sector be concerned?
Yes, though it's not all bad news. But good or bad, the decline in value of the Canadian dollar in relation to the American dollar has the potential to be a game-changer. Everyone in the tech sector needs to be attuned to its effects. Here are three things to watch for:
1. Canadian tech firms are now more vulnerable to talent poaching or takeover
I was chatting with our human resources person earlier this week, and he told me he'd just received a call from a U.S. tech firm looking to attract Canadian talent.
That set off alarm bells in my head. The call was a little close for comfort - it told me we were vulnerable to talent poaching from U.S. firms.
We have awesome employees – some of the best in the business. But how will they react if a U.S. firm comes along and offers them a salary in U.S. dollars? Will they pack up and move south?
I think we will see more aggressive tactics from U.S. recruiters looking to attract Canadian talent.
To keep their people, Canadian companies need to make sure they are really good employers. In addition to paying competitive wages, they have to create a culture that makes their firm attractive and they have to make sure to keep their employees challenged so they feel valued and grow with the business.
Sometimes that may not be enough.
There are a lot of U.S. companies looking to grow, and a big way to grow is to acquire other companies. Buying a company in Canada may be seen as a low-risk way of bringing top talent into a firm and lowering expenses all at the same time.
A low Canadian dollar makes Canadian firms particularly vulnerable to acquisition. We have to be aware of that fact.
2. Canadian firms may have an advantage
The growing differential between the Canadian and U.S. currencies is not all bad news.
The decline of the Canadian dollar actually benefits some companies. For example, if you sell your product in U.S. dollars, as some firms do, while most of your expenses are in Canadian dollars, the dollar's decline is a windfall.
From a funding point of view, American investors will see their dollars go further in Canada. It may be easier to get venture capital in the U.S. because Canada is relatively 'cheap' for Americans. Furthermore, any efficiency metric that is helped by the currency differential will make Canadian companies look better.
So Canadian firms not active in the U.S. should take the time to get to know that market.
3. Canadian firms need to show caution in the face of a fluctuating currency
No firm should confuse a good tail wind with success. The decline of the Canadian dollar does not mean a company is any better; it simply means it's getting an unexpected boost. And doing crazy things with that windfall is not a good idea.
What goes up can just as easily come down. So in the face of instability, a wise firm puts money aside to deal with an uncertain future.
What kind of uncertainty?
Well, firms don't know yet what the new exchange rates will do to their customer base. Will they lose customers in Canada? Will the cost of retaining and attracting employees outweigh the currency benefits?
And how will the new exchange rates affect a future round of financing? Globally, as soon as there is any kind of market uncertainty, venture capitalists focus inwards on their current portfolio. This means that they will be far more selective with new opportunities. Canadian venture capitalists have less buying power, but they remain under pressure to place their funds. It's a double-edged sword. They too would be wise to be cautious.
Tech firms in Canada need to be, as well.
So maybe this is the time to focus on stability, and cash, rather than growth at all costs.
In the coming months, I think there's going to be increased interest in Canada on the part of U.S. firms. Canadian firms need to be ready to face this new reality. They can do it by being good employers, taking advantage of opportunities in the U.S., and putting some money aside to guard against the negative effects of currency fluctuations.
Klipfolio is actually in a good position right now. But we – and all Canadian firms – need to keep our eyes wide open as we look ahead.
Allan Wille is a Co-Founder and Chief Innovation Officer of Klipfolio. He's also a designer, a cyclist, a father and a resolute optimist.
Related Articles