Trusted by thousands of game changers in over 80 countries
The biggest things for us are the endless REST API connections and the white label functionality. Honorable mention goes to the amazing support team who are super responsive and knowledgeable!"
Alastair Barlow, Founder and Partner, Flinder
FREE Client Data Audits
With prices as low as $49/mo you can easily add Klipfolio into your client acquisition process.
Once you built your standard reports, every new customer you are trying to acquire gets 14 free days as you try to win them over. Share your data insights during your services pitch.
Brand your own Dashboard
Customize Klipfolio with your branding via our white-label option, automate scheduling, and more.
Our scalable Client Management platform gives you the ability to monitor performance and easily manage hundreds of accounts from your partner account. Create dashboard reports your clients will love, and share them in whatever way you want.
FREE Klipfolio Consultation
Request a demo of Klipfolio to kick-start your customer's data-driven journey today.
Chat with one of our team members to find out how Klipfolio can add value to your business
Chat with us
Data analytics your clients will love.
Klipfolio is designed to be as flexible as your agency. Putting the right information at your project leads and clients fingertips, anytime, anywhere and everywhere, so you can feel confident about your decisions every step of the way.
Bring all your clients data into one spot
Aggregate analytics from ALL the platforms you use to combine sources, calculate formulas and track all the key metrics that matter. No more pages of spreadsheets, multiple logins, emails and more. Draw data from your web services, database, Excel and Google Sheets to create unified client reports.
There's always a way to get your data into Klipfolio. You can even email it to our system using an attachment.
Learn more about our integrations
Automate reports and dashboards in hours
You can start building your client reports and dashboards today with Klipfolio. Use the free trial to explore all our features and connect to your data wherever it is.
With 100's of pre-built connectors and content will get you started more quickly.
Check out our gallery of pre-built content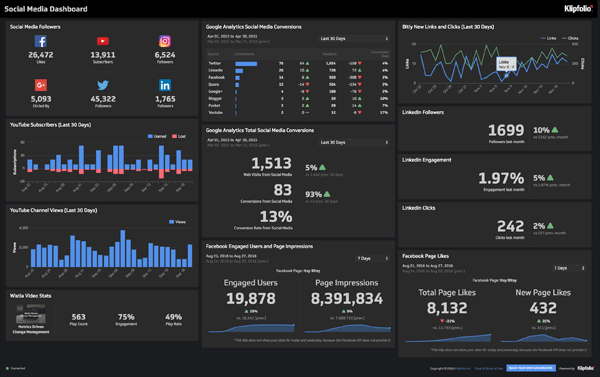 All your client KPI's in one place, on any device
Klipfolio is priced to help you get the most value out of your clients data. From starter plans to full custom white-label, we have plans for every agency size. Need something more specific, please let us know as we are happy to help.
Klipfolio plans & pricing that grow with you
Save time on reporting
Still sending spreadsheets to your clients? You'll improve your service offerings by creating standard reports that you can easily roll-out to clients in every way possible. Your clients will love access to beautifully visualized live data tracking the progress of your engagement.
Share reports via Slack, email snapshots, PDF's and web links
Send report Klips or entire dashboards via Slack, setup manual or recurring email snapshots, and share links to your live analytical insights.
We are here to help! Book your free 1-on-1 call with Prerna.
Industry Leading Recognition
Ready to build dashboard reports for your clients?
Start building today for FREE and our world-class support team will help you along the way.