Instagram is a unique social medium.
You can't easily share content from other users (there's no in-app retweet function the way there is on Twitter). You can't easily post links to your website (links in the photo descriptions aren't clickable as they are on Facebook). And, to the frustration of social media managers everywhere, you can only post content from a mobile device or tablet.
It only makes sense, then, that you develop a unique approach for measuring it.
An Instagram Analytics dashboard is the perfect way to stay on top of the metrics that matter most to your success. And Klipfolio is the dashboard tool that can help you get there.
Klipfolio's dashboard solution allows you to track all your essential Instagram Analytics in one place.
It's the ideal tool for learning more about your audience, improving your messaging and, ultimately, building a better Instagram presence.
How an Instagram Analytics reports can help you
Pick out trends in your Instagram profile's performance
Dashboards, because they focus in on only the metrics that matter most to you, reveal insights that might otherwise have remained hidden under a pile of data.
At which time of day do you receive the most comments?
Which filters earn the most likes?
Do videos or photos perform better?
These are the sorts of trends that an Instagram Analytics dashboard can help reveal.
Make reporting easier
One of Instagram's unique traits is that it's optimized for mobile. That means, to access your Instagram Analytics, you need to do it with a mobile device.
This can make one of the more onerous processes in marketing campaigns – reporting – difficult.
An Instagram Analytics dashboard helps the process go smoother. Because a dashboard connects directly to your Instagram data, you can get access to your results on a more convenient medium.
Improve collaboration
Instagram's mobile-only emphasis also makes sharing results with the rest of your team difficult.
Frequently, your Instagram Analytics data stays hidden away and inaccessible.
A dashboard helps bring it into the light.
Everyone can quickly stay updated on where you're at with Instagram Analytics.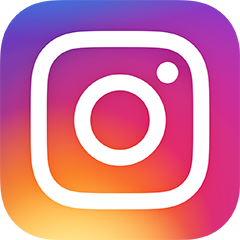 Instagram Klips
To give you an idea of what you can, and should, be monitoring, explore our integrations page or take a look at some of the pre-built Instagram Klips we have available:
Monitoring your Instagram performance can be time consuming and sharing results can be tough. With Klipfolio you can easily track and share metrics like:
Followers
Latest post
Total posts
And more
Why use Instagram Analytics
Find potential influencers
Influencer marketing is a big part pf Instagram.
Paying an influential Instagram personality to feature your product or service in posts is a great way to reach audiences.
Instagram Analytics can help with this on two fronts:
Give you an idea of your return on investment on any influencer marketing campaigns you undertake: Instagram Analytics, through measuring hashtags and other key metrics, can give you a sense for how well an influential marketing campaign performed.
Offer ideas on the sorts of potential influencers you could be engaging: If certain users are already interacting with your brand – and have a significant following with your target audience – they're worth considering for a potential influencer campaign.
Optimize your account
Building a successful Instagram profile starts with looking at the right data.
How many users are you engaging?
In which direction is your follower growth trending?
What sort of content works best?
These are the sorts of questions you need to be asking if you want to build a successful Instagram presence. And Instagram Analytics is the right tool for providing answers.
With the data it provides on how your strategy has performed in the past, Instagram Analytics is the best way to improve it in the future.
Learn about your audience
Knowing your audience is critical for any marketing campaign. Only by developing a deep-seated understanding of who they are and what they want can you reach them.
Instagram's audience data is a treasure trove of information – not just for your Instagram presence, but for all your marketing efforts.
Gender, age and location are all available to you through Instagram analytics.
This can help optimize your Instagram presence to more deeply engage the people you are reaching. Alternatively, you can use it as a gauge of your success in reaching your desired audience. This data can then be put to work elsewhere. Using Instagram Analytics gives you an idea of the sorts of audiences you could be targeting on other platforms.
Instagram dashboard examples
To learn more about the Klipfolio integration with Instagram, check out our integrations page!
View your recent posts
Track your account following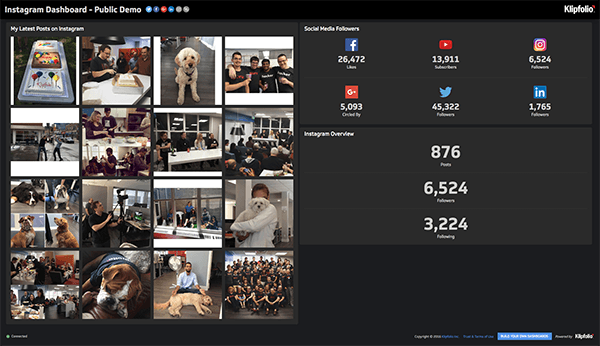 Consolidate your key social metrics
Gain insight into the performance of your social profiles
Track interactions thorughout your various platforms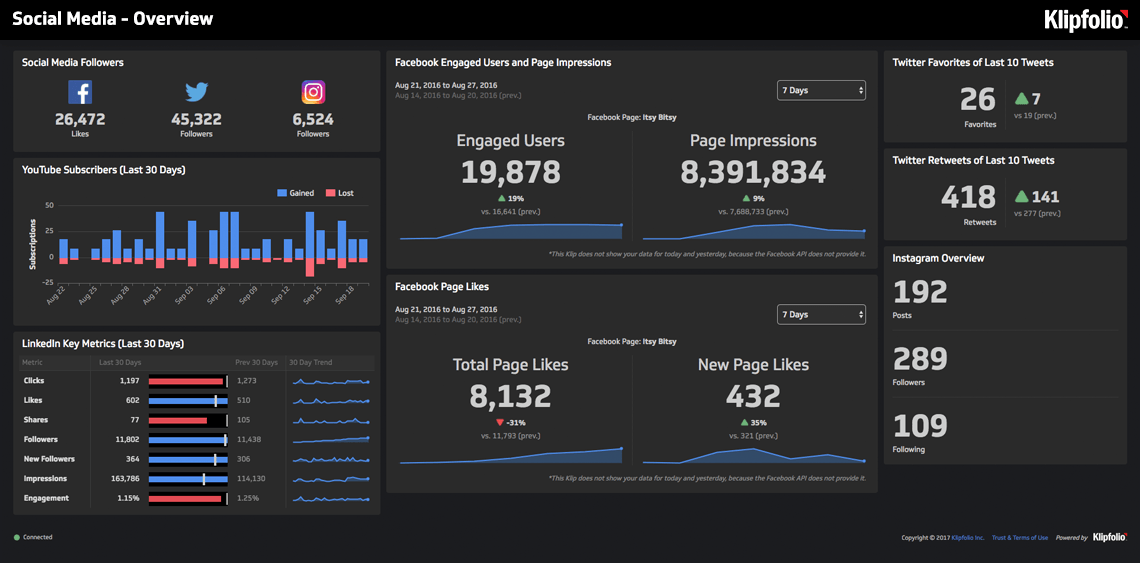 Need to track more than just Instagram Social Media Analytics?
Of course you do, with Klipfolio you can create mashups with as many different data sources you need, including Google Analytics, spreadsheets, CRM platforms, social ad platforms and much more. What does this mean for you? No more manual reports or Google Sheets with multiple versions. And you can get started with just a few clicks.