LinkedIn Analytics Reporting Tool
Klipfolio is a cloud data analytics plaform for building dashboards and reports for your team or clients. Klipfolio helps you stay in control of your business by giving you visibility into your most important data, metrics and KPIs.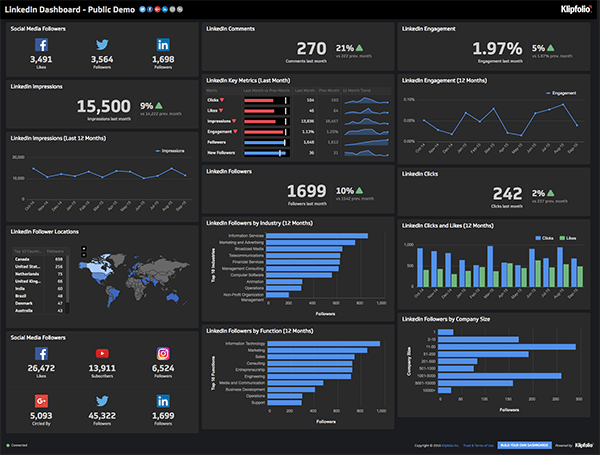 The power of Linkedin
No social medium compares to LinkedIn when it comes to sharing – and consuming – professional-focused content.
The channel used to be best-known as a place where users could post their resumes and look for jobs.
Now?
LinkedIn is to the professional and business worlds what Facebook is to cat videos – a dedicated home for users who are looking to share with like-minded professionals and learn from the best in their fields.
Looking to recruit top talent or implement a B2B marketing strategy? LinkedIn is the place to be.
But you can't effectively LinkedIn if you're not paying close attention to your performance.
That's where Klipfolio's dashboard software can help you.
Our tool allows you to track every like, comment and share on your LinkedIn page in real-time, ensuring you remain continually up-to-date on what matters most.
LinkedIn Analytics explained
LinkedIn analytics is a free tool users can utilize to measure how the effectiveness of their social strategy and monitor their performance.
It provides critical information that social media managers, marketers, and others can use to improve their performance, learn about their audience, and track their progress against key goals.
LinkedIn's analytics tool can help you measure:
The number of users who saw the content you posted on LinkedIn
The demographics of the users who follow and visit your channel, including the country where they are located, their seniority and their industry
The number of times your content was liked and shared
Add it all up and you have more or less everything you need to stay on top of your company's LinkedIn activity.
What is a LinkedIn analytics dashboard
A LinkedIn analytics dashboard pulls in all your most important LinkedIn data.
It then:
Displays the data all in one place
Updates in real time
Connects to other metrics
It saves you from having to log in to the advertising platform and manually gather, manipulate and gain insights from your data.
With dashboard tools, everything is right there in front of you.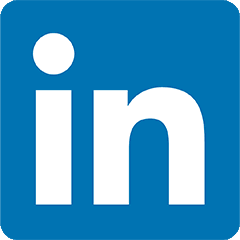 LinkedIn Klips
To give you an idea of what you can, and should, be monitoring, explore our integrations page or take a look at some of the pre-built LinkedIn Klips we have available:
Get more insight into your social performance by connecting your LinkedIn account to Klipfolio. You can get a better understanding of how your page is engaging users. Track and share metrics like:
New followers
Shares
Impressions
Engagement
And more
Use this sophisticated Klip to compare your key LinkedIn metrics last month to the previous month, and display the trends over time.
Determine your success in creating viral updates. See how many shares your page had at the end of last month and compare it to the previous month.
See what else you can build for LinkedIn
How a LinkedIn analytics dashboard can help you
A LinkedIn analytics dashboard is an essential tool for growing your social media presence. Here's why.
Keep LinkedIn top of mind
LinkedIn can frequently get lost in the shuffle when compared to other social media channels such as Twitter, Facebook and Instagram.
But the fact of the matter is this: LinkedIn can play a major role too, particularly if you're looking to market to other businesses.
A dashboard ensures your LinkedIn performance stays top of mind.
That way, it'll be impossible to forget about it
Visualize your LinkedIn analytics data
Accessing your data is great.
But it's only half the battle.
You want your analytics to make an impact, to force the people reading it to take action. Which is why you need to present your data visually.
A dashboard allows you to create stunning graphs, charts and maps that will ensure your audience takes notice.
Share with others
Sharing data is essential for improving LinkedIn performance, particularly since turning your employees into supporters is an essential way to grow your presence on the channel.
Only by collaborating with the rest of your team can you get the results for which you are looking.
A dashboard helps draw your LinkedIn data out of the analytics platform and into the open, where everyone can see it.
Audiences
Are you reaching your key audiences? If not, then what audiences ARE you reaching?
Monitoring LinkedIn Analytics gives you important insight into the defining features of who is following and engaging with your content.
Using LinkedIn Analytics you can learn more about your audiences':
Demographics: What language do they speak? Where do they live? Are they more male or female?
Workspace: What sort of industry do they work in? What are their professional focuses?
Mobile footprint: Which mobile device (iOS, Android) do they use?
LinkedIn dashboard examples
To learn more about the Klipfolio integration with LinkedIn, check out our integrations page!
Track and compare your impressions from month to month
Monitor your follower count and total clicks
Get a view into your share of followers by industry, location, and more
Consolidate your key social metrics
Gain insight into the performance of your social profiles
Track interactions thorughout your various platforms
Need to track more than just LinkedIn Analytics?
Of course you do, with Klipfolio you can create mashups with as many different data sources you need, including Google Analytics, spreadsheets, CRM platforms, social ad platforms and much more. What does this mean for you? No more manual reports or Google Sheets with multiple versions. And you can get started with just a few clicks.