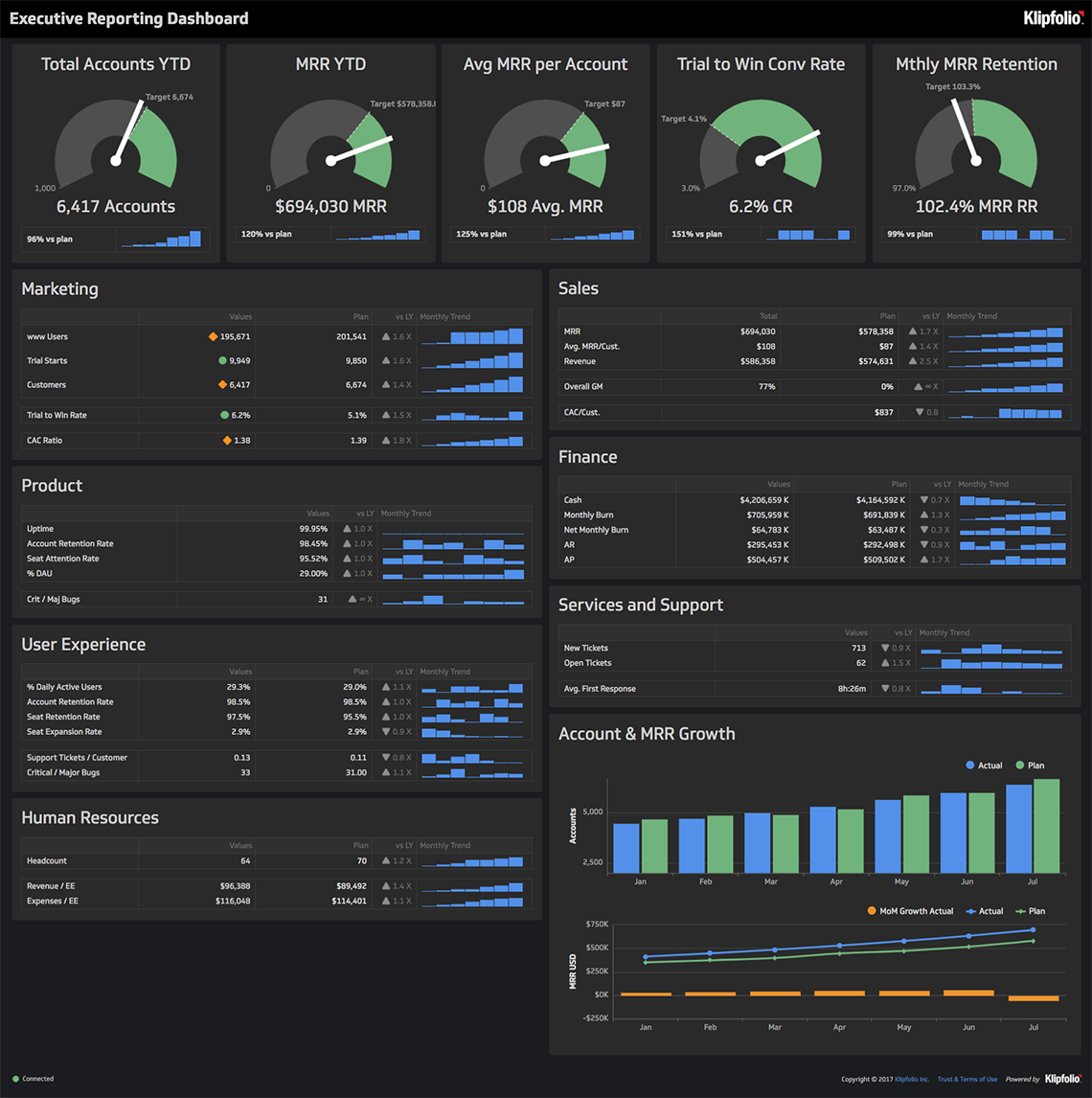 Impress your customers and stand out from the competition
Klipfolio for Business Solution Providers
Use Klipfolio to build dashboard solutions for clients, or add dashboarding to your existing applications.
Partnering with the best brings out the best in us
Just a few examples of some of the amazing companies we've partnered with:
"Klipfolio is simply the best dashboarding tool I've ever used. It gives marketing the power to build valuable dashboards without the help of engineering."
Joe Davy, General Manager, Avalara.
Klipfolio for business solution providers
White labelling and custom branding
Deliver dashboards solutions that are powered by Klipfolio, but that reflect your brand and design preferences. With Klipfolio, entire dashboard interfaces can be customized, from the sign-in page and the logos on the dashboard right down to the documentation and the dashboard CSS.
Flexible Data Connections
You can connect Klipfolio to almost any data source, whether it lives on a server, in a database or in the cloud. This helps you support a wide variety of use-cases and data monitoring challenges.
Client management
As a Klipfolio partner, you get access to our dashboard management hub. This lets you manage multiple client accounts in a single place. More importantly, it allows each of your clients to have their own dashboard.
Client 1
✔ Executive Reporting Dashboard
✔ Web Metrics Dashboard
✔ Sales Performance Dashboard
✔ Accounts Health Dashboard
✔ Social Media Status Dashboard
Client 2
✔ Support Tickets
✔ Call Status
✔ Account Health
✔ MRR & Accounts Dashboard
Client 3
✔ MRR & Accounts Dashboard
✔ Marketing
✔ Social Media
Client 4
✔ Executive Reporting Dashboard
✔ Web Metrics Dashboard
✔ Sales Performance Dashboard
✔ Accounts Health Dashboard
✔ Social Media Status Dashboard