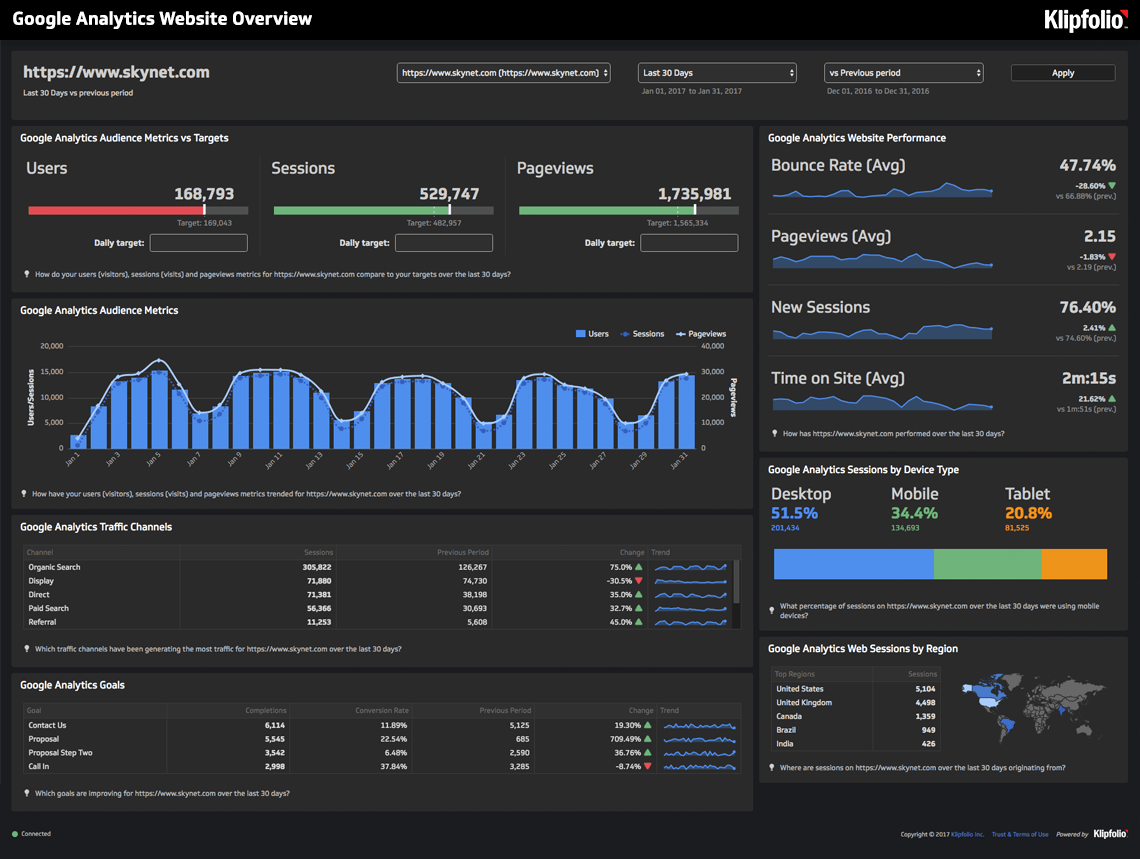 Give your clients more than they expect
Klipfolio for SEO/SEM Consultants
Create dashboards and reports that will impress your clients and save you hours.
Klipfolio for SEO/SEM consultants
Leading SEO consultants and SEM agencies are differentiating and growing their businesses with Klipfolio.
As a Klipfolio partner you are empowered with the freedom and flexibility to connect client dashboards to a wide variety of data sources, so you don't have go to ten places to get one answer. You also have the ability to aggregate data sources to give your clients a unique view into their performance.
"The client dashboards we've created have significantly reduced the amount of time spent on monthly reporting, while also increasing the relevance and accuracy of the data presented."
Eric van Dorp, owner, Cervino Marketing.
Client management
As a Klipfolio partner, you get access to our client management feature. This lets you manage multiple accounts in a single place. More importantly, it allows each of your clients to have their own dashboard.
Set up client accounts quickly
Save time by turning manual reports into interactive dashboards
Create best practice dashboards and import them into client accounts
Allow your account managers to track and review the performance of all your clients in one place
Client 1
✔ Executive Reporting Dashboard
✔ Web Metrics Dashboard
✔ Sales Performance Dashboard
✔ Accounts Health Dashboard
✔ Social Media Status Dashboard
Client 2
✔ Support Tickets
✔ Call Status
✔ Account Health
✔ MRR & Accounts Dashboard
Client 3
✔ MRR & Accounts Dashboard
✔ Marketing
✔ Social Media
Client 4
✔ Executive Reporting Dashboard
✔ Web Metrics Dashboard
✔ Sales Performance Dashboard
✔ Accounts Health Dashboard
✔ Social Media Status Dashboard
Reporting
Create dashboard reports your clients will love, and share them in whatever way you want. You can customize dashboards with your logo and style via our white-label option, automate scheduling, and so much more.
Create branded PDF reports for your clients
Schedule recurring email reports based on live dashboards
Share links to live versions of client dashboards
Provide direct access to dashboards by giving each client a dedicated login
Communication
Keep client conversation focused on what matters most. Use the dashboards to make data-driven decisions and educate your clients on their performance.
Add comments on any metric or KPI
Insert a glossary to any dashboard to help explain definitions, how KPI's are calculated, and more
Add a Google Doc or Sheet to any dashboard with your daily/weekly/summaries that highlight key activities you accomplished next to the data performance
Dashboarding
Develop your own unique methodologies and processes on how to track, manage and report on your client objectives.
Create fully customizable dashboards and reports
Change the look and feel of your client dashboards to reflect and promote your brand
Add your logo and taglines to your dashboard, stylize individual Klips and automated dashboard reports, or use custom CSS to refine the look and feel of your dashboards at a more granular level
Provide your clients with transparent access to the metrics that matter most to them, when and where they want them
Industry Leading Recognition
Let's be friends. Kick-start your data-driven journey.
Request a Klipfolio Consultation
Chat with one of our team members to find out how Klipfolio can add value to your business
Chat with us
Find a partner
Check our our Klipfolio Partner Directory to find the perfect fit for your specific requirements
Visit directory