YouTube Analytics
Monitor every YouTube metric you need to grow your video channel!
Track Watch Time, Avg Percentage Viewed, Avg View Duration, Audience Retention, Engagmenet, Unique Visitors and more - all in one place!
Bring video intelligence into your everyday decision making processes to accelerate your subscriber growth.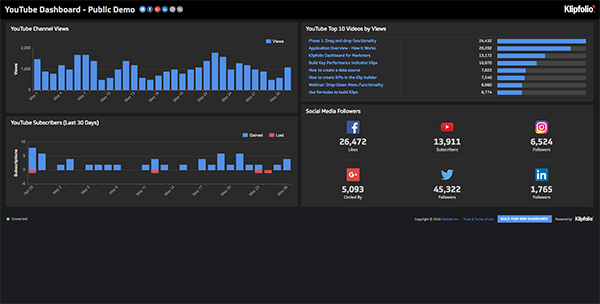 Everybody wants to go viral on YouTube.
And why not? Going viral is the fastest way to catapult your video views – and subscriptions – into the stratosphere.
For the rest of us, though, we'll have to build our YouTube audiences the old-fashioned way: By producing consistently valuable content.
And to do that, you'll need data.
YouTube Analytics gives you all the numbers you need to grow your channel. But you also need to ensure you're measuring the right YouTube metrics.
That's where a Klipfolio dashboard has an essential role to play.
Our tool helps you put your YouTube metrics into one place where they can be monitored and, ultimately, improved.
A Klipfolio dashboard is the ideal tool to develop a data-driven approach to building your YouTube channel.
How YouTube Analytics can help you
For any YouTube strategist, YouTube Analytics is an indispensable tool.
Only by learning what your users have already engaged with can you evaluate your success and fix any problems that might arise along the way.
If you want to make your YouTube channel data-driven (and you should), YouTube Analytics is a must-have.
YouTube Analytics dashboards update in real-time
YouTube performance is constantly changing.
Every day your subscribers go up a little (or, if it's a particularly good day, a lot), the videos people are watching fluctuate and the comments, shares and other key metrics increase.
That's why you need a tool to stay on top of your data.
Dashboards (the good ones at least) update in real-time. That means you can get a quick, up-to-the-minute update on how your YouTube channel is performing.
Stay on top of your YouTube key metrics and KPIs
YouTube data is partially about learning who your channel is engaging.
Just as significant is the need to ensure you're on track to meet the goals you've set.
A dashboard can easily compare performance to goals. That way, you're always aware when performance falls below – or rises above – expectations.
Ensure everyone is on the same page
A successful YouTube channel involves a lot of different people.
There's the team that actually produces the content.
There's a content team which oversees how YouTube fits in with the overall plan.
There's probably a digital marketing strategist thrown in there somewhere to run ads and promote the channel. That's why a tool for keeping everyone on the same page is essential.
A dashboard helps everyone stay informed about how the channel is performing.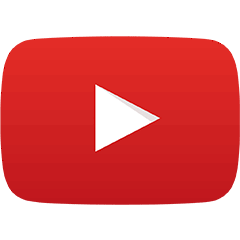 YouTube Klips
To give you an idea of what you can, and should, be monitoring, explore our integrations page or take a look at some of the pre-built YouTube Klips we have available:
Are you getting the results you want from your company's YouTube channel? Find out by connecting your channel to Klipfolio and building interactive dashboards. You can easily track and share metrics like:
Subscribers gained
Subscribers lost
Video views
And more
Rank your top 10 videos and see how successfully you are attracting your audience.
See what else you can build for YouTube
YouTube Analytics fundamentals
A measurement tool, such as a dashboard, is important. But it's only as good as the metrics you're choosing to measure.
Here's how you can break down your YouTube Analytics into the fundamentals that will help you build an effective dashboard.
Reach metrics
Reach metrics give you an answer to one of the most fundamental questions facing your YouTube strategy.
How many people is your YouTube channel reaching?
For many, YouTube isn't just about deepening your engagement with your audience... It's also about growing your brand's visibility.
Reach metrics – the most important and obvious of which is video views – help to give you a sense for how far your message is spreading on video.
Engagement metrics
Reach isn't very useful if your audience isn't engaging.
Engagement metrics, which include data points such as minutes watched, average view duration and website clickthroughs from YouTube, help to measure the depth of your audience's engagement.
Audience metrics
Reach metrics tell you many people are engaging.
Engagement metrics tell you how deep that engagement is.
Audience metrics tell you WHO is engaging.
YouTube Analytics gives you everything from the age of your audience to where they're viewing your videos. This can then be put to use not only in making your YouTube channel better.
It can also help inform your wider marketing strategy.
Let's say your YouTube Analytics tells you women in their mid-20s are engaging with your content a lot. But, so far, that audience hasn't been the target of your ad campaigns. You may want to revise your targeting to better reach this segment.
Channel metrics
Your YouTube channel is, in many ways, its own website.
That means it needs to be measured the same way any site would.
Channel metrics give you insight into how your channel as a whole is performing – not just individual videos.
This is where metrics such as total subscribers can help give you a sense of the overall channel's success.
YouTube dashboard examples
To learn more about the Klipfolio integration with YouTube, check out our integrations page!
Track your total channel views
Monitor your top performing video content
Get a view into your subscribers over time
Consolidate your key social metrics
Gain insight into the performance of your social profiles
Track interactions thorughout your various platforms
5 questions you can answer about your YouTube channel using Google Analytics
Now that you have access to web analytics metrics for your YouTube channel, it's time to generate some useful reports.
1. Which traffic channels are driving people to my YouTube channel?
Acquisition reports in Google Analytics are very familiar to digital marketers. The Acquisition report lets you see which traffic channels are sending visitors to your web property, in this case, your YouTube channel.
I pay particular attention to bounce rate and pages / session, since this provides insight into a user's first impression of your site. Likewise, it's useful to see if it's worth investing in SEO for your YouTube Channel.
How to get there: Acquisition > All Traffic > Channels
2. How many times do people visit my YouTube channel?
If you're a serious YouTuber with an active channel, you'll want to ensure your audience is highly engaged. This is doubly true if you're releasing videos on a regular cadence.
As you can see from our stats, a high percentage of our sessions are one and done. It's something we could definitely improve.
How to get there: Audience > Behaviour > Frequency > Count of Sessions
3. How many days does it take for a visitor to return to my YouTube channel?
The recency report tells you how many days your visitors go between visiting your YouTube channel. If your objective is to create a loyal following, you'll want make sure that the majority of your users return to your channel every few days.
How to get there: Audience > Behaviour > Frequency > Days Since Last Session
4. Which videos/pages are the most popular on my YouTube channel?
Google Analytics views each of your videos as a web page, and this includes your user profile page and videos. There are a lot of stats available with each page, but I think you'll want to focus on time on page (watch time) and bounce rate.
How to get there: Behavior > Site Content > All Pages
5. Which geographies drive the most visitors to my YouTube channel?
The location report in Google Analytics is a useful complement to YouTube Analytics geographic reporting because you see behaviour metrics for specific geos. Do Canadian visitors differ on my channel compared to visitors from the United States or the United Kingdom?
How to get there: Audience > Geo > Location
Need to track more than just YouTube Analytics?
Of course you do, with Klipfolio you can create mashups with as many different data sources you need, including Google Analytics, spreadsheets, CRM platforms, social ad platforms and much more. What does this mean for you? No more manual reports or Google Sheets with multiple versions. And you can get started with just a few clicks.