Mindful Metrics
How to connect your YouTube channel videos to your Google Analytics account
How do you connect your YouTube videos to Google Analytics?
Connecting your YouTube channel to your Google Analytics account taps you into a rich vein of channel data. The YouTube Analytics interface is great at reporting on things like video engagement.
It's also very good at engagement reports like subscribers over time.
Google Analytics offers a strong complement to YouTube Analytics video and audience analysis data. For instance, being able to see which channels are driving traffic to my YouTube Channel is really useful for determining which tactics are working. Maybe I'll want to invest in YouTube SEO Tactics or increase the cadence of certain videos in my Buffer account for a big social media schedule media push.
I'll unpack some of these use cases a bit more below. Applying web analytics to your already rich suite of metrics from YouTube analytics is well worth the 5 minute time investment.
Instructions: How to connect your YouTube Channel and Google Analytics account
Here's what you need to start:
Valid YouTube credentials
Admin level access to a Google Analytics account
I also want to note that these instructions will have you set up a new web property for your YouTube channel.
1. Create a web property in Google Analytics
Sign in to your Google Analytics account and go to the Admin section.
Select the Property and select the option to Create new property.This option isn't super obvious; it's located at the bottom of the menu.
This will bring you to the New Property page. Fill out the required information and click Get Tracking ID when you're done.
Your Google Analytics tracking ID has been generated. You will need this ID to set up the integration with YouTube. Just keep this browser open or save the ID in a safe place.
2. Enter your Google Analytics Tracking ID into your YouTube account
Sign in to your YouTube account, and go to the Account Settings page. You can get there by clicking on your channel icon.
From your account page, select View additional features link.
In the Channel tab, select the Advanced option.
Find the Google Analytics property tracking ID field at the bottom of the page. Paste your tracking code into the field and click the Save button.
Voilà! Web metrics from your YouTube channel will start to feed into your Google Analytics account.
5 questions you can answer about your YouTube channel using Google Analytics
Now that you have access to web analytics metrics for your YouTube channel, it's time to generate some useful reports.
1. Which traffic channels are driving people to my YouTube channel?
Acquisition reports in Google Analytics are very familiar to digital marketers. The Acquisition report lets you see which traffic channels are sending visitors to your web property, in this case, your YouTube channel.
I pay particular attention to bounce rate and pages / session, since this provides insight into a user's first impression of your site. Likewise, it's useful to see if it's worth investing in SEO for your YouTube Channel.
How to get there: Acquisition > All Traffic > Channels
2. How many times do people visit my YouTube channel?
If you're a serious YouTuber with an active channel, you'll want to ensure your audience is highly engaged. This is doubly true if you're releasing videos on a regular cadence.
As you can see from our stats, a high percentage of our sessions are one and done. It's something we could definitely improve.
How to get there: Audience > Behaviour > Frequency > Count of Sessions
Free 5 day course
Get smarter about building Marketing dashboards in daily bite-sized emails.
"I loved the short straight-to-the-point emails about KPIs and dashboards. I read all of them and I even kept some for later. Loved all the examples."
- Audrey Hardou, Strategic IT Procurement Manager, Air Canada
3. How many days does it take for a visitor to return to my YouTube channel?
The recency report tells you how many days your visitors go between visiting your YouTube channel. If your objective is to create a loyal following, you'll want make sure that the majority of your users return to your channel every few days.
How to get there: Audience > Behaviour > Frequency > Days Since Last Session
4. Which videos/pages are the most popular on my YouTube channel?
Google Analytics views each of your videos as a web page, and this includes your user profile page and videos. There are a lot of stats available with each page, but I think you'll want to focus on time on page (watch time) and bounce rate.
How to get there: Behavior > Site Content > All Pages
5. Which geographies drive the most visitors to my YouTube channel?
The location report in Google Analytics is a useful complement to YouTube Analytics geographic reporting because you see behaviour metrics for specific geos. Do Canadian visitors differ on my channel compared to visitors from the United States or the United Kingdom?
How to get there: Audience > Geo > Location
YouTube dashboard examples
To learn more about the Klipfolio integration with YouTube, check out our integrations page!
Track your total channel views
Monitor your top performing video content
Get a view into your subscribers over time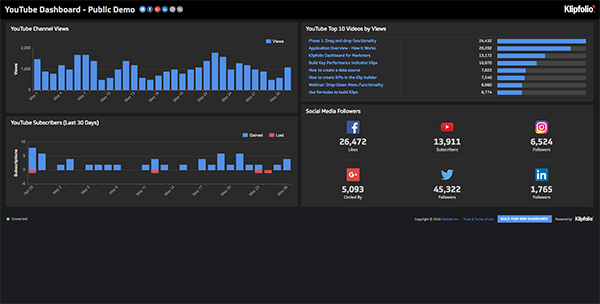 Consolidate your key social metrics
Gain insight into the performance of your social profiles
Track interactions thorughout your various platforms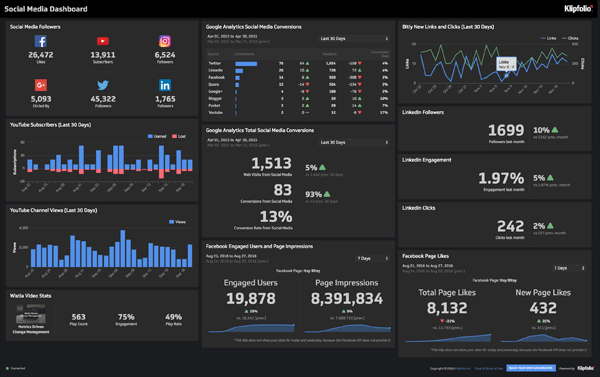 Pretty nifty, huh? To think, it's just the start.
These types of integrations really level up your marketing game. By combining the power of Google Analytics web reporting with your YouTube channel, you can make some data-driven decisions like whether it's worth putting some SEO on your YouTube videos.
As an aside, I'm still investigating ways to set up goals in Google Analytics to track YouTube subscriptions. This would bring the integration to another level entirely. I know this data is readily available in YouTube itself (we've built a YouTube dashboard that tracks this) but what if I want to tie subscriptions to a particular Acquisition channel like organic search?
Note: This is an updated version of a blog originally published in January 2014.
Also see:
How to Track Facebook Ads in Google Analytics
How to set up the Google Analytics-Search Console Integration + 3 key SEO benefits
Originally published January 1, 2019, updated Aug, 27 2019
Related Articles