Marketing Dashboards
Build marketing dashboards and reports to strengthen your marketing strategy and make decisions with confidence.
Track all your Marketing KPIs in one place
Sign up for free and start making decisions for your business with confidence.
or
Sign up with your email
Free forever ● No credit card required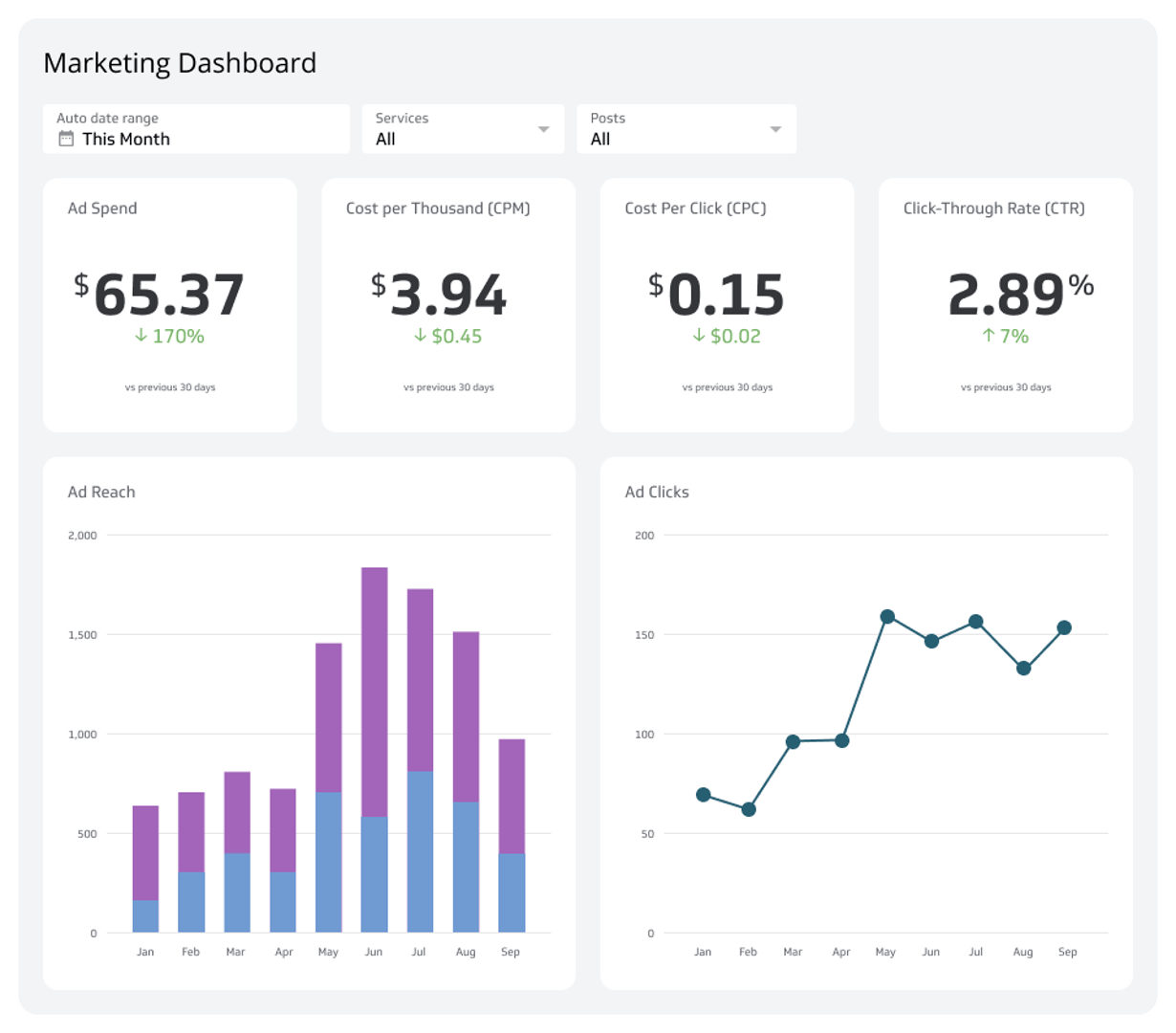 What is a Marketing Dashboard?
A marketing dashboard is a visual tool that displays key marketing details and targets for a business in an easy-to-see way. It gathers main marketing reports on one page, helping marketers and leaders see their marketing progress. This lets them make data driven decisions using key marketing metrics.
Marketing dashboards typically include metrics such as website traffic, lead generation, conversion rates, social media engagement, and more. By using a marketing dashboard, businesses can stay on top of their marketing goals and objectives and ensure that their marketing efforts are aligned with their overall business strategy.
Your dashboard should be designed for continuous monitoring and broad distribution across your organization. Like the dashboard of a car, your dashboard should give your team an in-depth look at what's going on 'under the hood.' This level of transparency means you can evaluate your marketing performance on an ongoing basis and make adjustments to your campaign planning or strategy in a timely manner versus monthly or quarterly reporting.
Marketing Dashboards and Reports
This section provides marketing dashboard templates, and reports used to track social media, advertising, email, SEO, website, and demand generation programs.
The top metrics to track on your marketing dashboards and reports
Successful digital marketing campaigns understand your customer's needs and provide them with a solution. A marketing performance dashboard will help you gain deep insight into your customers by displaying information about user behavior, engagement, ad campaign spend, content ranking, and more. A digital marketing dashboard is your key to building a successful, data-driven marketing strategy.
Here are the most popular metrics tracked by marketing teams:
Leads
Marketing Qualified Leads (MQLs)
Sales Qualified Leads (SQLs)
Opportunities
Won Customers
Page Views
Sessions
Users
Bounce Rate
Average Session Duration
Goal Completion Rate
Cost per Click
Click-Through Rate
Return on Ad Spend (ROAS)
How do I create a marketing dashboard?
When you create a marketing dashboard, ask yourself:
Who is the audience for the dashboard?
What information do they need?
What do they already know about the marketing metrics?
What is their level of experience with marketing data?
What marketing objectives are they looking to meet?
What data sources (e.g. Google Analytics, email marketing platforms, etc.) are required to present actionable insights?
What critical metrics need to be visualized?
Once you answer these questions, you'll be able to narrow the scope of your dashboard and identify the top marketing metrics to track.
A well-designed digital marketing dashboard will communicate a clear message. Create your dashboard based on your audience. If your marketing team is the primary user, you'll be able to get granular with your data and key metrics. If the primary audience is executives, it's better to stick to high-level metrics and key performance indicators (KPIs). From there, choose the right visualizations and ensure your dashboard is easy to read.
Marketing Dashboard Examples and Templates
In this section, we'll look at some common marketing dashboard examples and templates. These can help you make a dashboard that fits your team's needs. The best dashboards show useful information for your marketing team.
Social Media Dashboard
This template tracks social media performance on platforms like Facebook, Instagram, Twitter, and LinkedIn. It shows things like followers, engagement, and post reach. The social media dashboard helps marketers watch their social media strategy and make better choices across various social media networks.
Website Marketing Analytics Dashboard
A web analytics dashboard follows your website's performance. It shows details like page views, visits, bounce rate, and time spent on the website. The data can be pulled from Google Analytics and Google Search Console. This template helps marketers find areas to improve and understand user behavior.
Email Marketing Dashboard
This template shows how well your email campaigns work. It shows things like the open rate, click-through rate, and conversion rate. An email marketing dashboard helps marketers make their email strategy better and increase engagement and conversions.
SEO Dashboard
An SEO dashboard checks how well your website does in search engines. It tracks details like organic traffic, keyword rankings, and backlinks. This template helps marketers make their websites more visible and get more organic traffic.
Advertising and ROI Dashboard
This template follows the results of your paid ads, like Google Ads or Facebook Ads. It shows things like cost per click, click-through rate, and return on ad spend (ROAS). The digital advertising dashboard helps marketers see how well their ad strategy works and make smart decisions about their ad budget.
To use these examples and templates, think about your marketing team's needs and customize the dashboard for them. By focusing on useful information, your dashboard will help improve marketing performance and achieve your team's goals.
Start tracking your metrics
Level up your analytics with a free forever PowerMetrics account