Content Effectiveness Dashboard
Maximize the potential of your content by tracking top content marketing metrics.
Track all your Content Effectiveness KPIs in one place
Sign up for free and start making decisions for your business with confidence.
Sign up with Google
or
Sign up with your email
Free forever ● No credit card required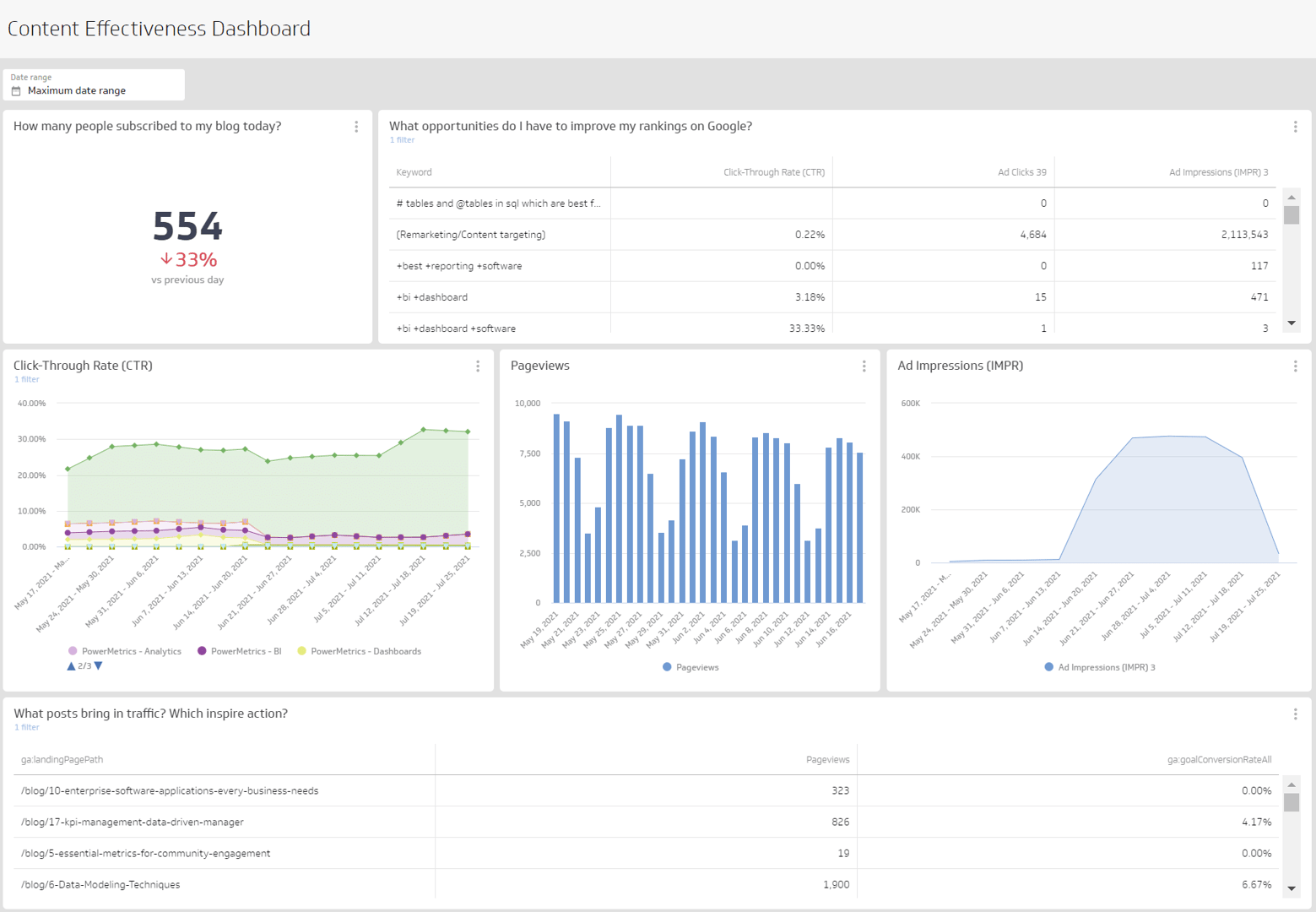 What is a Content Marketing Dashboard?
A content marketing dashboard displays all crucial stats about the performance of your key content marketing channels. Whether that involves a blog, a YouTube vlogging channel, or a podcast, your dashboard should measure engagement, virality, and reach at a minimum to get a sense of the overall effectiveness of your content.
Why should you track content effectiveness?
Content marketing is an important part of your marketing strategy. High-quality content that adds value for your customers can help spread the word about your business and establish your authority in your domain. Since content requires building a relationship with your audience, it can help to know audience preferences and behavior. How? That's the role a dashboard plays. For example, visualize your blog's performance daily, weekly, or even hourly.
How do you measure content effectiveness?
Here are the top 5 metrics to measure content effectiveness:
New Subscribers
Page Views
Click-Through Rate
Ad Impressions
Post Goal Conversion
Having a comprehensive content marketing dashboard is essential for effectively monitoring your content's performance and adapting your strategies to maximize impact. Our marketing dashboards offer a unified view of your content's engagement, reach, and overall success across various channels, helping you fine-tune your content strategy and consistently deliver high-quality, relevant material to your audience. 
Related Dashboard Examples
Start tracking your metrics
Level up your analytics with a free forever PowerMetrics account