Website Analytics Dashboard
Track and report on your website performance using web analytics and metrics.
Track all your Website Analytics KPIs in one place
Sign up for free and start making decisions for your business with confidence.
or
Sign up with your email
Free forever ● No credit card required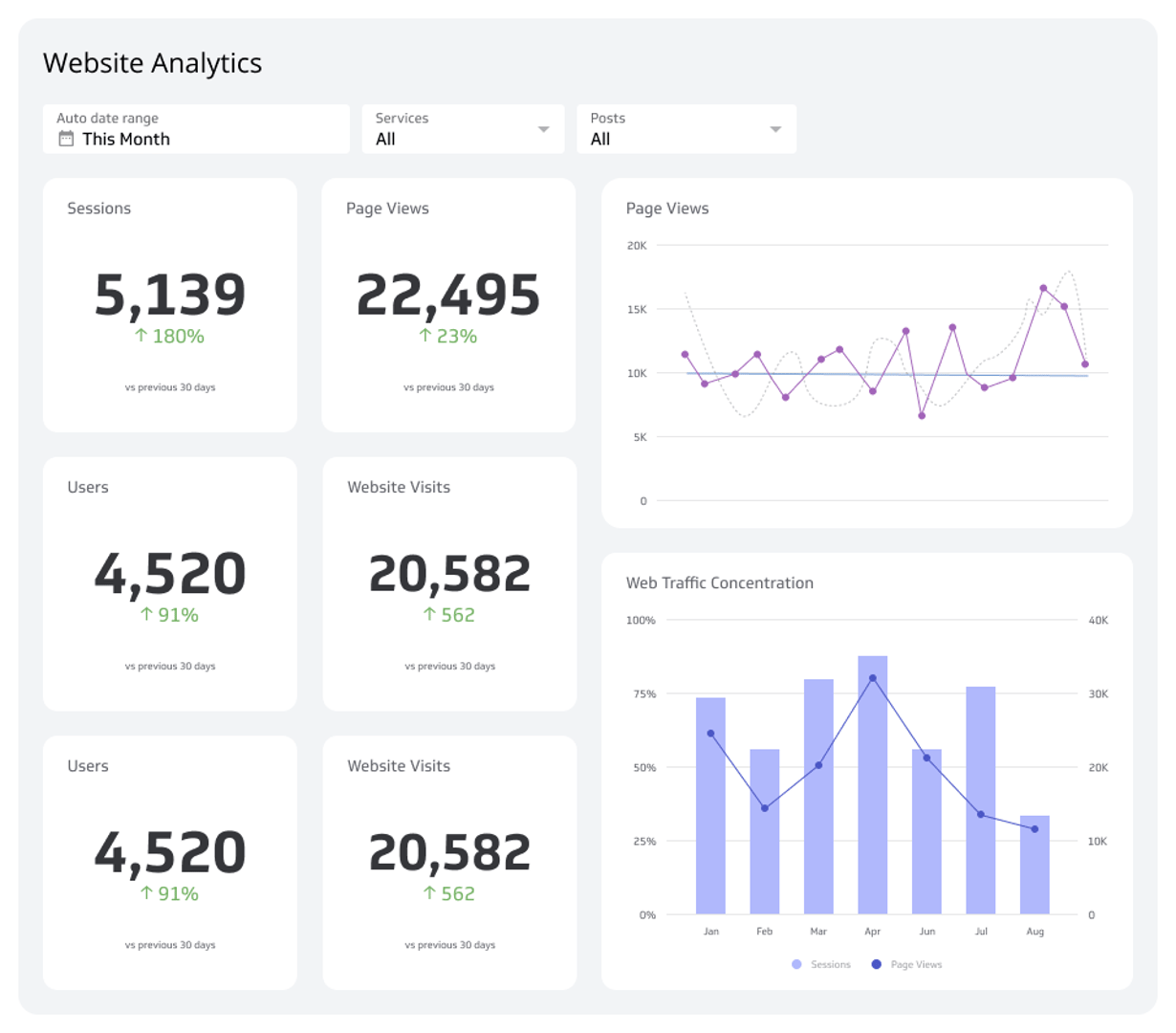 What is Web Analytics Dashboard?
A website analytics dashboard is a visual report used to display and track web performance metrics like website traffic, bounce rate, conversion rate, and session duration. Website analytics dashboards and reports can be built-in tools such as Google Analytics or Adobe Analytics. Marketers also use analytics and business intelligence tools to combine website analytics with other marketing metrics and KPIs.
What should a website analytics report include?
A website analytics report should include metrics such as a number of visitors, bounce rate, session duration, average time on page, and website conversions. These metrics are the foundation of your reporting, but you should also include dimensions such as traffic channels, what device(s) visitors are using, and new vs returning visitors to provide context for deeper analysis.
Top website metrics to include in an analytics report
Web users
Sessions
Goal conversions
Session duration
Bounce rate
Engagement rate
Page views
Traffic by source
Traffic by device
Visualizations to include in a website analytics report
Putting a website analytics report together requires some planning and dashboard design. To help give you some inspiration, here are 3 visualizations you could use on your dashboard.
Why build a web analytics dashboard?
A web analytics dashboard allows your entire team to monitor your website performance in real time. Additionally, a web analytics dashboard makes key metrics accessible to team members who are unfamiliar with marketing tools like Google Analytics. A web analytics dashboard shares website insights in a concise, simple way.
How to create a website analytics dashboard in PowerMetrics
If you're looking to integrate your website metrics with marketing metrics from services like HubSpot, Salesforce, or Facebook Ads, you will want to build your own custom dashboard using an analytics tool like PowerMetrics.
Here's how to create a website analytics dashboard in PowerMetrics:
Identify the web metrics you want to track
Identify where that data is stored, such as Google Analytics
Start by selecting Instant Metrics such as Page Views Per Session
Create custom metrics by exporting a Google Analytics data
Combine with other marketing metrics to track data such as lead conversion rate
Distribute and share with your team, such as sharing as a PDF
For more examples of marketing dashboards, check the list below.
Related Dashboard Examples
Start tracking your metrics
Level up your analytics with a free forever PowerMetrics account