SEO Keyword Ranking
Measure and analyze your keyword rankings to drive search traffic to your website.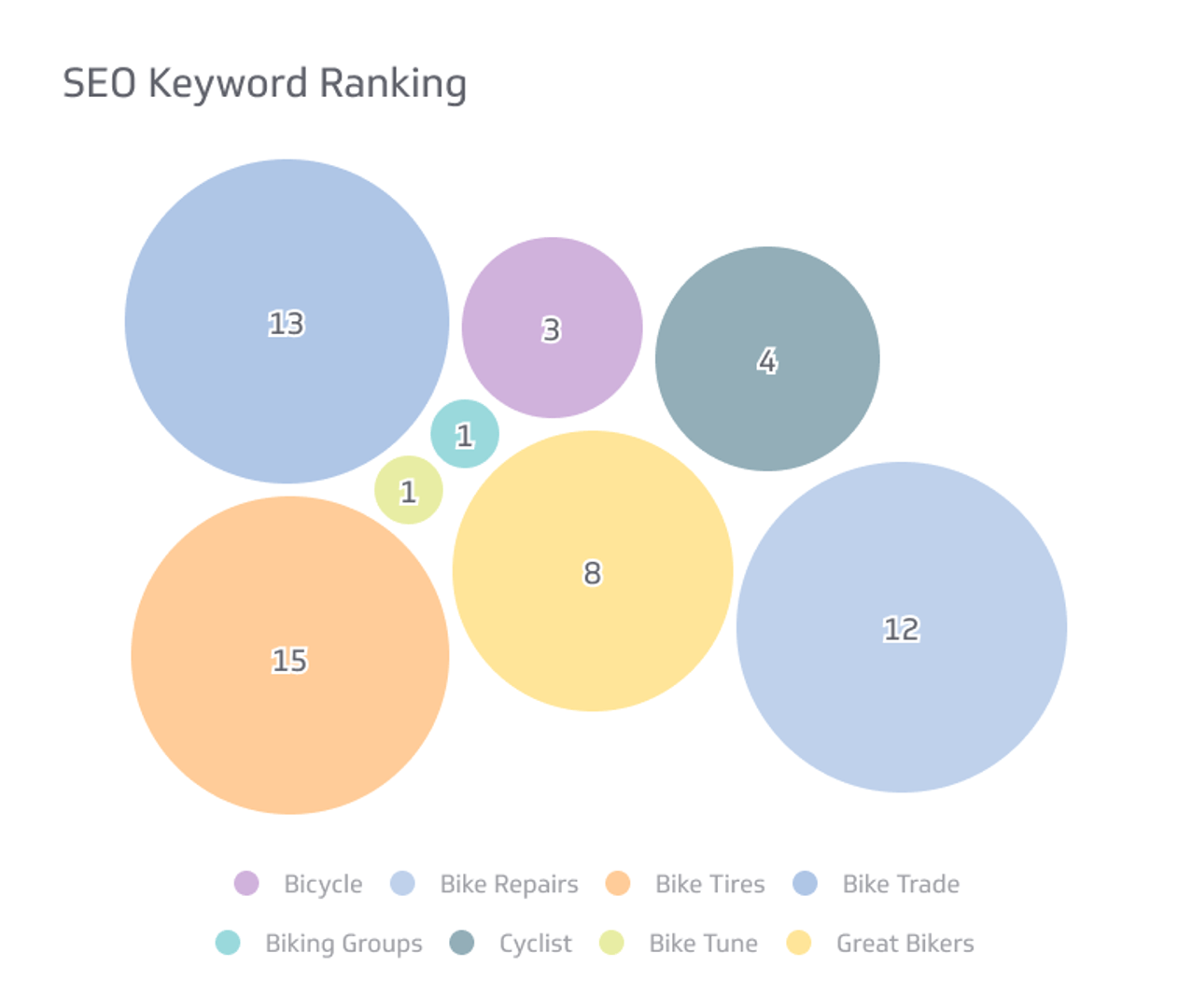 What is Keyword Ranking in SEO?
Keyword Ranking refers to the position a website holds on search engine results pages (SERPs) for a specific keyword or search query. A higher keyword ranking indicates better visibility and more organic traffic to your site. 
When it comes to search engine marketing, this is the quintessential KPI as it demonstrates the effectiveness of your website at getting ranked on Google and attracting organic traffic. It's a well-accepted fact that the top 3 keywords receive the majority of clicks in search results, with the lion's share going to the first result.
SEO Keyword Ranking Challenges
The Keyword Ranking KPI is extremely helpful in pointing out the positive and negative impact of your SEO efforts, but it is limited in telling you why. It is extremely important to track this KPI alongside other SEO Metrics and KPIs to get a full understanding of your keywords.
If you're a marketer finding keyword research difficult or frustrating, take a break and look at this funny blog post by Samantha Winchell from Hubspot, 25 Keyword Research Problems That Only Marketers Understand.

How to Improve SEO Keyword Ranking
There are a number of strategies to improve keyword ranking. Surprisingly, a lot of people don't track rankings for the right keywords. Make sure you are tracking the right keywords, that's the first step in presenting your CMO with the importance of SEO.
Another strategy to improve SEO keyword ranking is to focus on long-tail keyword rankings. Long-tail keywords are longer, less common keywords that offer a couple of advantages for search marketers:
They're less competitive: Fewer people are trying to rank for long-tail keyword phrases, so your site has a better chance of achieving high rankings.
They're more targeted: Longer keywords show more intent—they reveal more about what the searcher is looking for, so you can better serve them with a specific offering or specific Web content.
Group and organize your keywords for higher ranking! This keyword ranking improvement strategy is important to remember for your SEO dashboard, especially when turning your dashboard into an SEO keyword ranking report. Does the keyword matter for a specific campaign or the overall business? Don't track everything at once. Organize your SEO Keyword Ranking in the best way to track your performance.
Lastly, your keywords need to be present in your content. Meta keywords are important, but today that isn't enough to make it to the first page of your potential customers' search results. It may seem at times that you're writing for search engines, but in the end, to improve your keyword search ranking, making valuable content that people want to share, comment on, and the source is a great way to amp up your SEO keyword ranking, and overall SEO traffic.

SEO Keyword Ranking Best Practices
The most important thing to remember for Keyword Ranking is that it needs to be tracked continuously. Susan Kuchinskas points out, "It's vital to track keyword rankings regularly to diagnose problems at an early stage. A decline in rankings during several weeks may indicate a problem such as backlinks whose anchors were removed or have been devalued". Here are some more expert tips to stay on top of your keywords ranking:
Elisa Gabbert, Content Marketing Manager, Wordstream
A strong website – The longer your website has been around, accruing authority and links, the better. It's also key that your entire site follows SEO best practices – start with Google's Webmaster Guidelines if you don't know what that means.
A network to draw on – In order to rank quickly for a keyword, it's very useful to have a built-in network to share new content with – a blog following, an audience on social networks like Facebook and Twitter, email contacts you can reach out to for occasional help with a link. If you don't know what that means, it's time to start thinking about link building as relationship building.
Do your research before choosing a keyword. Choose one with good volume but not too much volume.
Evaluate your competition. You want to differentiate yourself.
Ankit Singla, Founder, BloggerTipsTricks
For better search engine ranking, place your main keyword within the first 100 words and repeat the same in conclusion too.
Check keyword difficulty before targeting any keyword. How many pages are currently ranking for a Particular Keyword? How many pages are Bidding in that Keyword in Paid Search (PPC Campaign)? How expensive are the clicks? And volume for that term in a month.
Do not suddenly increase internal linking to a post that is getting down on SERP. Instead, do not link the page losing ranking. You can try linking to pages that already have the post linked in them.

How to Monitor Your SEO Keyword Ranking in Real-time
The Keyword Ranking KPI should be coupled with related web metrics to provide a complete view of your digital marketing performance. As important as keyword rankings are to search engine marketers, this KPI also needs to be seen within the larger context of your online marketing campaigns. This means monitoring keyword rankings alongside click-through rates, link-building metrics, and marketing return on investment. Learn more about measuring and monitoring your Keyword Ranking on a Marketing Dashboard.
SEO Keyword Ranking: Top Resources
How to Rank for a keyword in 10 Steps, Elisa Gabbert
7 Ways to Improve Your Blog Search Engine Rankins, Ankit Singla
Keyword Difficulty Analysis - Learn How to find Perfect Keywords!, Ankit Singla
9 Tips to Improve Keywords Ranking in Google Easily, Mohit Chabria
The 7 Must-Have SEO Reports to Meet Today's Search Optimization Challenges, Susan Kuchinskas
Start tracking your metrics
Level up your analytics with a free forever PowerMetrics account