SEO Traffic
How many customers are visiting your website from organic and paid search traffic?
Track all your SEO KPIs in one place
Sign up for free and start making decisions for your business with confidence.
or
Sign up with your email
Free forever ● No credit card required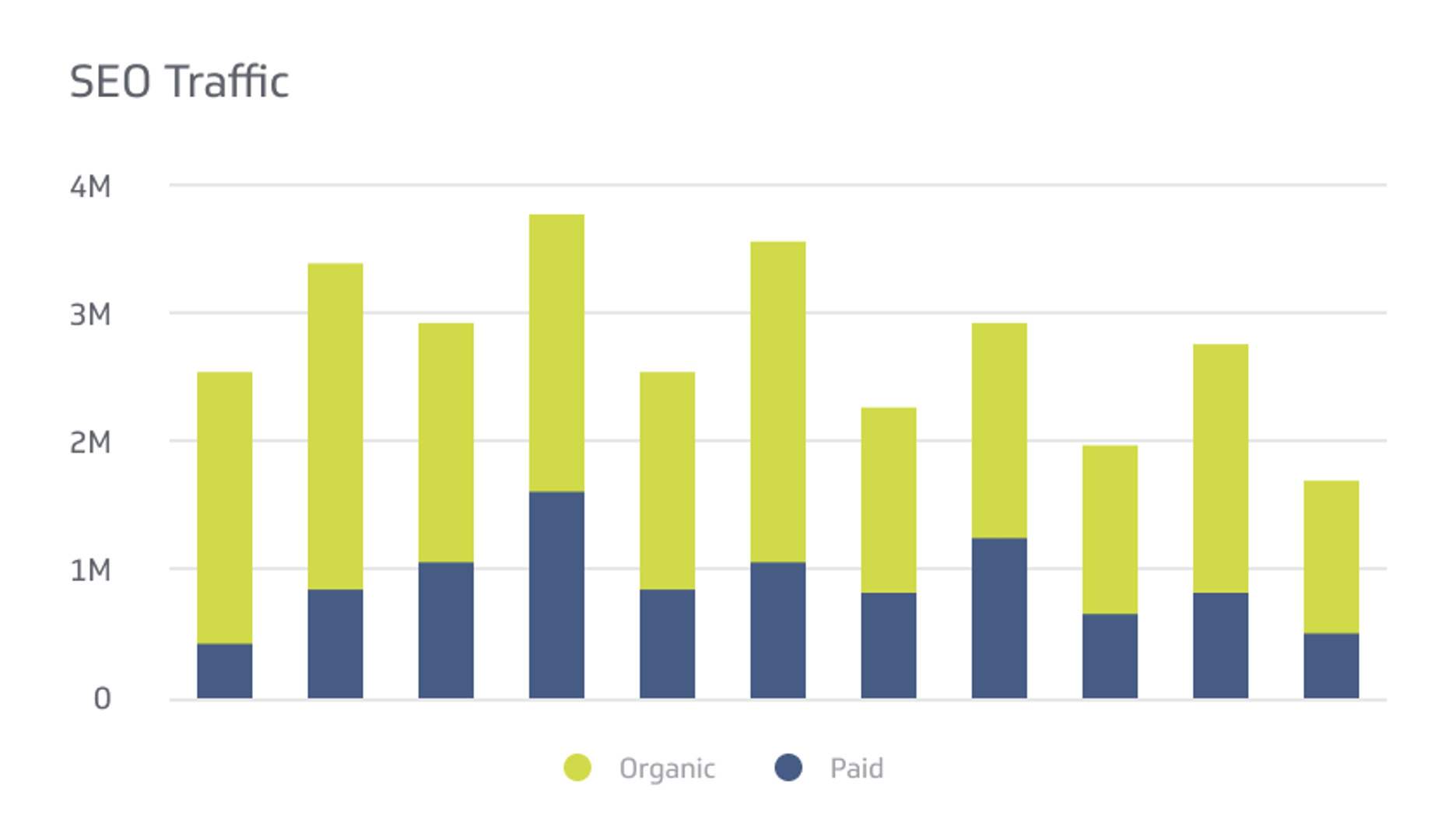 What is SEO Traffic?
SEO traffic is when people visit a website by finding it through search engines like Google or Bing. They search using keywords, and the search engine shows them websites that match. If a website ranks high on the search results, it gets more SEO traffic. This kind of traffic is good because it's focused and free, unlike paid ads.
By coupling web visit metrics with goal-completion metrics, you get a complete picture of your SEO performance. Too often, SEO is treated as a separate endeavour when, in fact, it should be seen within the context of your website's performance and wider marketing efforts. Use this KPI to provide your search marketing team with perspective on a Google Analytics dashboard.
SEO Traffic: Key Terms

SEO Traffic Benchmark
For SEO Traffic don't rely on a single source to benchmark your results. Avinash Kaushik from Occam's Razor, suggests that you should first look internally at your own data to see month over month trends for each year and across years. Benchmarking your organic search results and paid search results is no longer limited to industry data from outside analysts. These reports are still useful, but in combination with competitor data. Kaushik's favourite benchmarking strategy is to take the actual industry performance as layer of context needed, then look for big competitors as layer two.
SEO Traffic Challenges
Google and your market are not static. You must cope with the ever-changing environment — evolving technologies, Google's shifting algorithms, behavioral changes in your market, new apps and devices, etc.
This KPI is incredibly useful to keep an eye on your SEO efforts, but it cannot be taken at face value. You need to pair this KPI with other SEO Metrics and KPIs to get the full picture.
There are frequent changes on the SERPs, in particularly Google promoting vertical/universal search, placing its own products above organic search results which are pushed further down. Be realistic with your expectations.
SEO Traffic Best Practices
There are plenty of great tools to get a handle on your SEO traffic. Most digital marketers first look at Google Analytics to collect SEO data, but there are also great tools that enhance this platform. In particular, Alexa is a good tool to get a sense of traffic metrics and sources. You can even combine Moz data with other web performance metrics from Google Analytics, Mixpanel, your own custom data sources, and pretty much any service you'd like in Klipfolio.
In addition, because search engines are not static, you should always be monitoring this metric. I recommend utilizing SEO dashboards to stay up to date with performance.
Test, measure and test again.Monitor your keyword performance on a regular basis to keep up with the static web.
Set SEO objectives and goals so you know exactly what you are looking for in your SEO Traffic.

How to Monitor SEO Traffic in Real-time
The SEO Traffic KPI should be coupled with related web metrics to provide a complete view of your digital marketing performance. Consider tracking this metric alongside the Keyword Opportunity KPI, link building metrics and organic search traffic.
Learn more about how to track your SEO Traffic on a Web Analytics Dashboard and Adwords Campaign Dashboard.
SEO Traffic: Top Resources
Benchmarking Performance: Your Options, Dos, Don'ts and To-Die-Fors!, Avinash Kaushik
6 SEO Challenges Every Business Owner & Marketer Must Contend With in 2014, Trond Lyngbo
Increasing traffic to your website through search engine optimization techniques, Government of Ontario
Start tracking your metrics
Level up your analytics with a free forever PowerMetrics account