Goal Completion Rate Metric
Measure how effective your campaigns are at prompting your audience to complete a goal.
Track all your Digital Marketing KPIs in one place
Sign up for free and start making decisions for your business with confidence.
or
Sign up with your email
Free forever ● No credit card required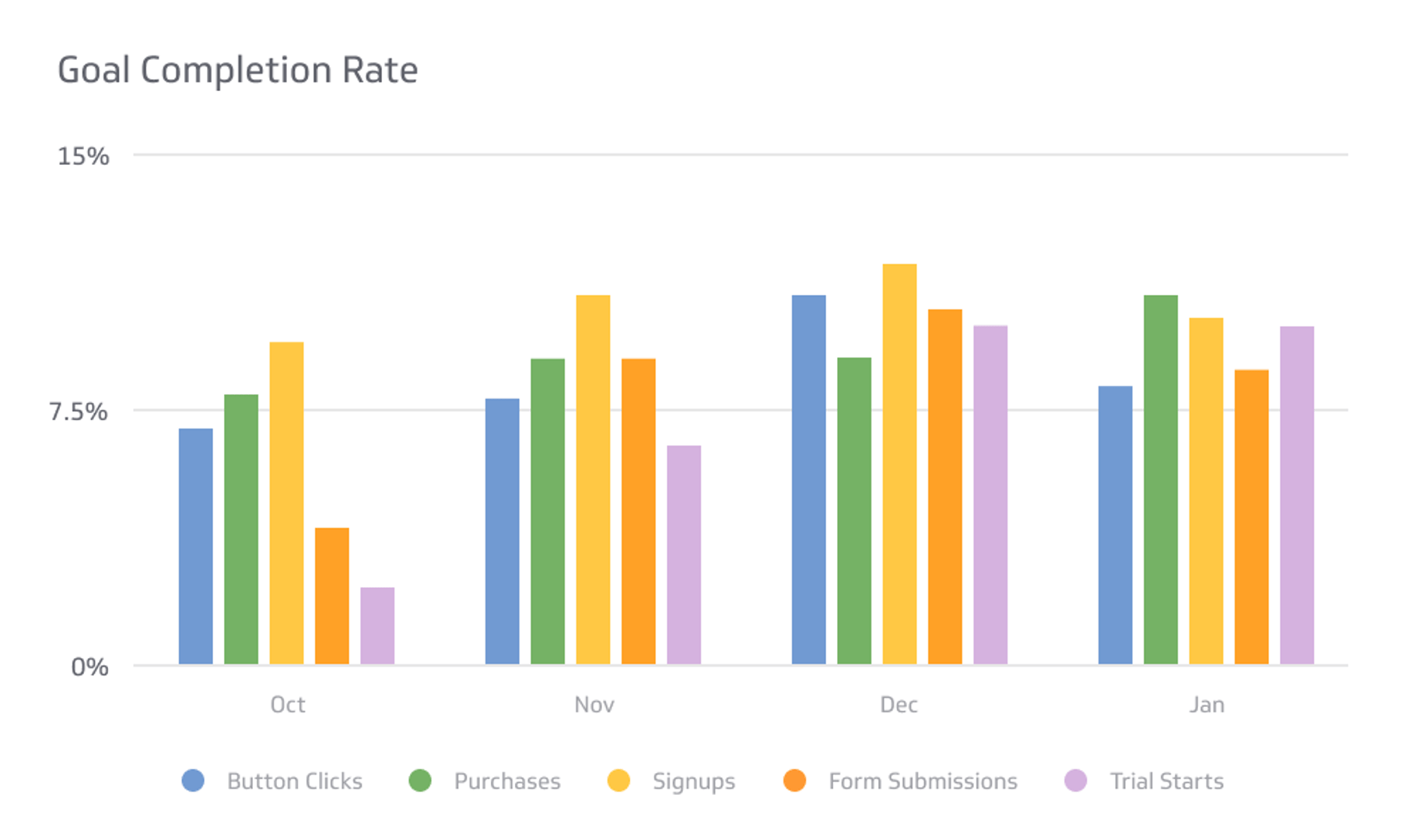 Goal Completion Rate= # of Web Visitors / # of Goals Completed
Goal Completion Definition
The Goal Completion Rate (GCR) metric measures the number of people that complete a specific marketing goal, such as signing up for a trial or subscribing to a mailing list. Marketing metrics like GCR are an important part of the purchase funnel as it typically demonstrates your conversion rates from the awareness stage to the consideration stage. Similarly, GCR should be paired with sales KPIs such as your lead-to-win rate to provide an indicator as to the quality of leads your marketing efforts are attracting.
The GCR metric is used extensively in website optimization and A/B testing (also called split tests), since GCR is a leading indicator of how well your website resonates with your target audience. Content strategists and website analysts will use your site-wide GCR as a baseline value to compare all the pages on your website. Pages below the threshold require optimization, while pages above the threshold should be analyzed so you can repeat your success elsewhere.
Key Terms
Goals: A marketing objective for your audience to complete, such as subscribing to a mailing list.
Lead: An individual that has expressed interest in your product or service by completing a goal.
Goal Completion Rate (GCR) Success Indicators
A high-goal GCR shows that your campaign is encouraging your target audience to act.
A high lead-to-win rate shows that your campaign is generating highly qualified leads for your sales team.
Goal Completion Rate (GCR) Best Practices
Different campaigns will have different objectives. Set clear requirements for goal completions at the beginning of your campaign.
How to Monitor Goal Completion (GCR) in Real-time
Once you have established metrics for the Goal Completion Rate (GCR), you'll want to establish processes to monitor this and other marketing KPIs. Dashboards can be critical in this regard. Consider measuring your Goal Completion Rate alongside your return on marketing investment to best connect your objectives and results.
Learn more about how to track your Goal Completion Rate (GCR) on a Digital Marketing Dashboard.
Start tracking your metrics
Level up your analytics with a free forever PowerMetrics account