KPI Examples and Templates
This resource provides visual KPI examples and templates for key departments such as Sales, Marketing, Accounting, Supply Chain, Call Centers and more.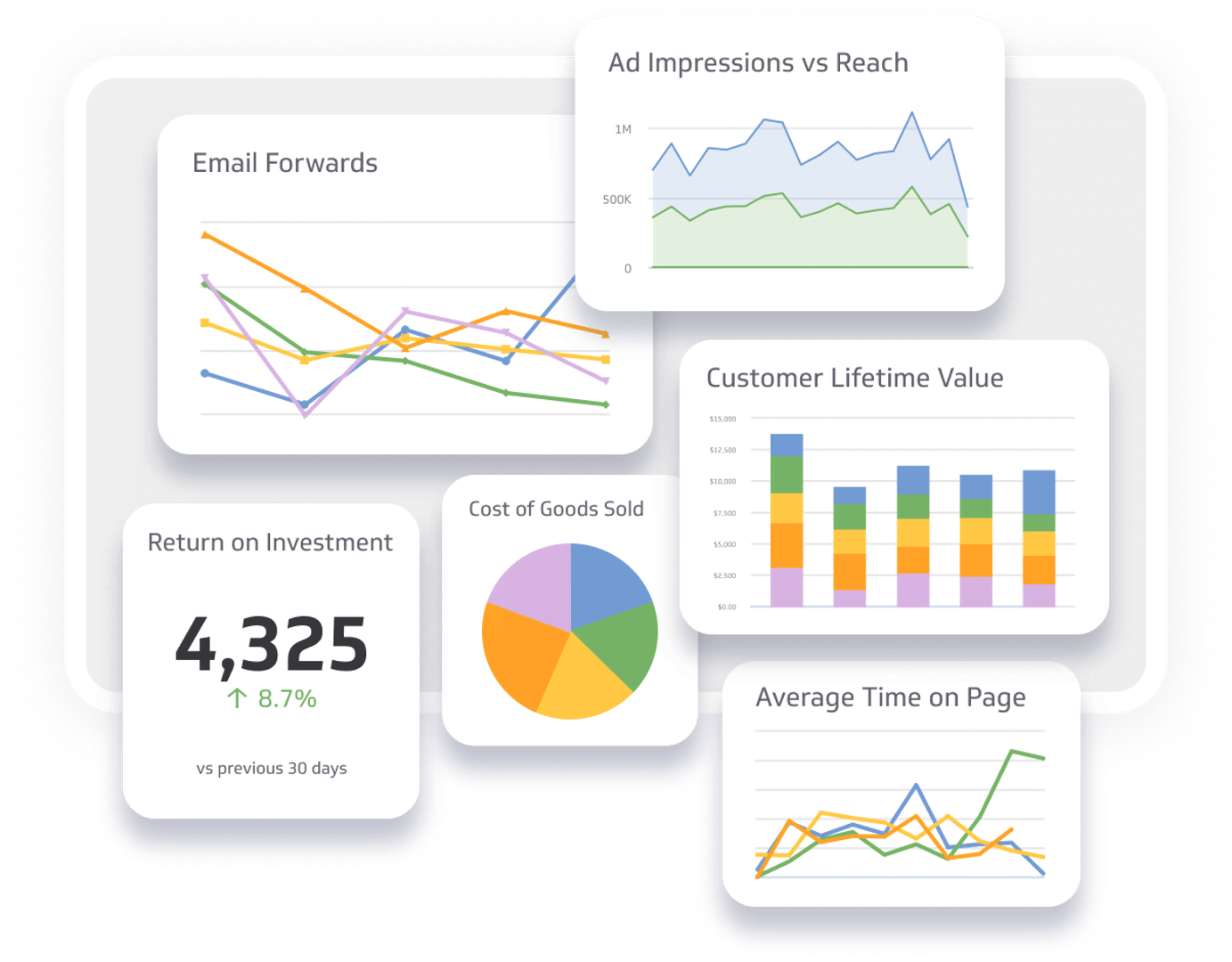 Overview
A Key Performance Indicator (KPI) is a measurable value that demonstrates how effectively a company is achieving key business objectives. Organizations use KPIs to evaluate their success at reaching targets. Learn more: What is a key performance indicator (KPI)?
Selecting the right one will depend on your industry and which part of the business you are looking to track. Each department will use different KPI types to measure success based on specific business goals and targets. Find out what types of key performance indicators are relevant to your department, industry, or role: Types of KPIs.
Once you've selected your key business metrics, you will want to track them in a real-time reporting tool. KPI management can be done using dashboard reporting software, giving your entire organization insights into your current performance. Learn more about how to track KPIs in a report or dashboard.
KPI Examples
Depending on your industry and the specific department you are interested in tracking, there are a number of KPI types your business will want to monitor. Each department will want to measure success based on specific goals and targets. Take a look at the departmental KPI examples below to learn more about the one you should be measuring:
More KPI Examples using Reports and Dashboards
To be useful, key performance indicators need to be monitored and reported on; if they change in real-time, they should be monitored in real-time. KPI Dashboards are the perfect tool for your performance tracking reports as they can be used to visually depict the performance of an enterprise, a specific department, or a key business operation.
Here are some KPI examples to demonstrate how you can present key performance indicators to your team in dashboards and reports:
What is KPI dashboard software?
KPI dashboard software enables businesses to turn data into analytics and insights. The software allows organisations to enter their data into one specially designed system, or connect external services for faster and more accurate data collection. This type of software allows businesses to visualize and comprehend data from a number of KPIs that represent different areas of a business, all in one place. Companies benefit from faster and more accurate data collection, instant reports on performance, and alerts when a key performance indicator is over or under achieving. KPI dashboard software centralizes businesses data, while simplifying real-time reporting to always give them a competitive edge.
How to write and develop key performance indicators
When writing or developing a KPI, you need to consider how that key performance indicator relates to a specific business outcome or objective. Key performance indicators need to be customized to your business situation, and should be developed to help you achieve your goals. Follow these steps when writing one:
Write a clear objective for each one
Share them with all stakeholders
Review them on a weekly or monthly basis
Make sure they are actionable
Evolve them to fit the changing needs of the business
Check to see that they are attainable (but add a stretch goal)
Update your objectives as needed
Key performance indicators best practices
Measuring and monitoring business performance is critical, but focusing on the wrong key performance indicators can be detrimental. So can be poorly structured one, or ones that are too difficult, costly to obtain, or to monitor on a regular basis.
So what makes business performance indicators "key" and how should a business owner, executive or manager select them? There are six factors that separate effective, value creating key performance indicators from detrimental, value diminishing ones. Follow these six best practices:
Aligned - Make sure thy align with the strategic goals and objectives of your organization
Attainable - The indicators you choose to measure should have data that can be easily obtained
Acute - They should keep everyone on the same page and moving in the same direction
Accurate - The data flowing into the performance indicators should be reliable and accurate
Actionable - Does each one give you insight into the business that is actionable?
Alive - Your business is always growing and changing. Your KPIs should evolve as well!
Learn more about KPI best practices.
What about Business Metrics vs KPIs
A Business Metric is a quantifiable measure that is used to track and assess the status of a specific business process. Every area of business has specific metrics that should be monitored – marketing metrics can include tracking campaign and program statistics, while sales metrics may look at the number of new opportunities and leads in your database, and executive metrics will focus more on big picture financial metrics. Learn more: Business Metrics.
Start tracking your metrics
Level up your analytics with a free forever PowerMetrics account