KPI Examples and Templates
This resource provides visual KPI examples and templates for key departments such as Sales, Marketing, Accounting, Supply Chain, Call Centers and more
Track all your KPIs in one place
Sign up for free and start making decisions for your business with confidence.
or
Sign up with your email
Free forever ● No credit card required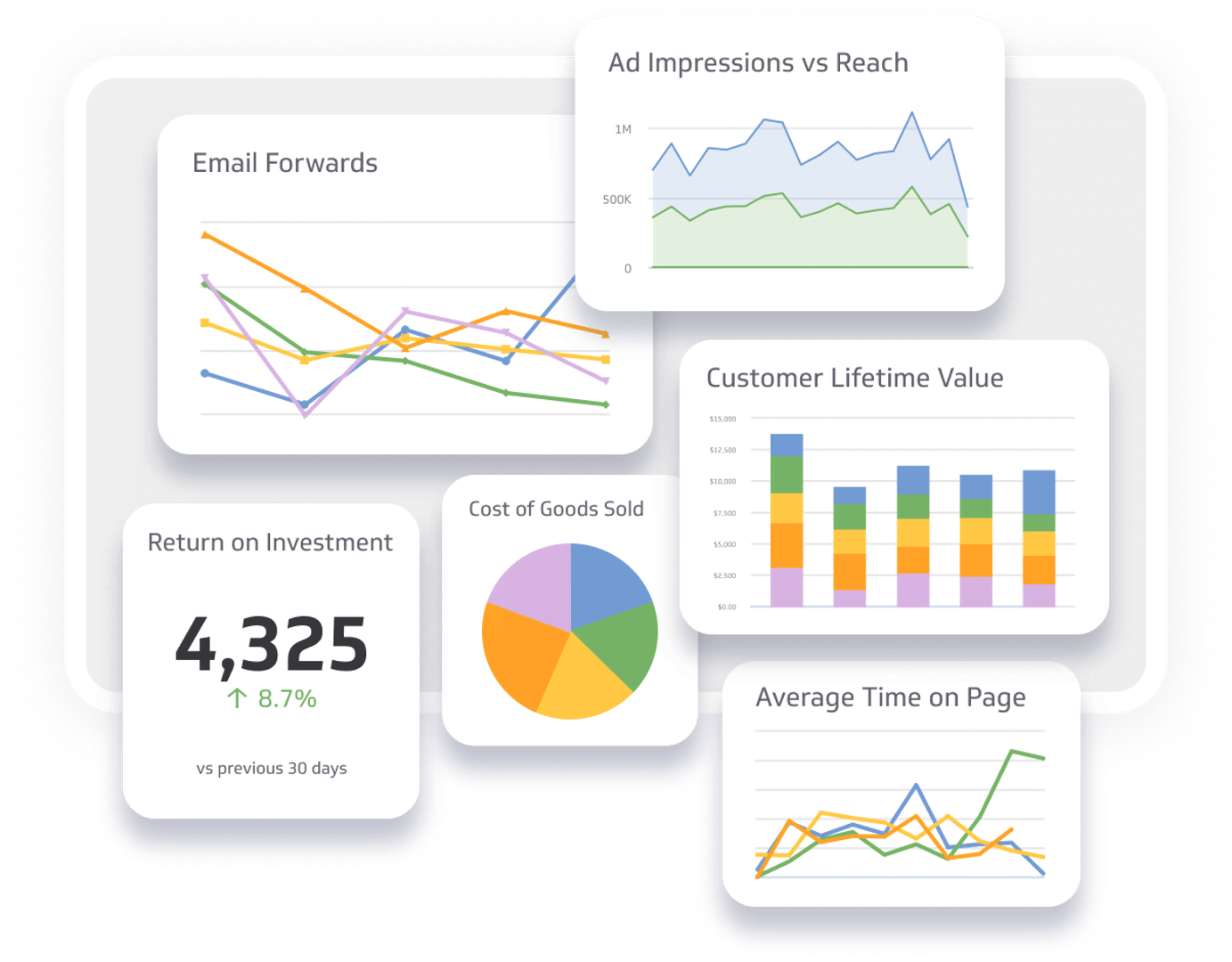 Overview
A Key Performance Indicator (KPI) is a measurable value that demonstrates how effectively a company is achieving key business objectives. Organizations use KPIs to evaluate their success at reaching targets. Learn more: What is a key performance indicator (KPI)?
Selecting the right one will depend on your industry and which part of the business you are looking to track. Each department will use different KPI types to measure success based on specific business goals and targets. Find out what types of key performance indicators are relevant to your department, industry, or role.
Once you've selected your key business metrics, you will want to track them in a real-time reporting tool. KPI management can be done using dashboard reporting software, giving your entire organization insights into your current performance. Learn more about how to track KPIs in a report or dashboard.
More KPI Templates & Examples using Reports and Dashboards
To be useful, key performance indicators need to be monitored and reported on; if they change in real-time, they should be monitored in real-time. KPI Dashboards are the perfect tool for your performance tracking reports as they can be used to visually depict the performance of an enterprise, a specific department, or a key business operation.
Here are some KPI examples to demonstrate how you can present key performance indicators to your team in dashboards and reports:
What is KPI dashboard software?
KPI dashboard software enables businesses to turn data into analytics and insights. The software allows organizations to enter their data into one specially designed system or connect external services for faster and more accurate data collection. This type of software allows businesses to visualize and comprehend data from a number of KPIs that represent different areas of a business, all in one place. Companies benefit from faster and more accurate data collection, instant reports on performance, and alerts when a key performance indicator is over or under-achieving. KPI dashboard software centralizes business data while simplifying real-time reporting to always give them a competitive edge.
How to write and develop key performance indicators
When writing or developing a KPI, you need to consider how that key performance indicator relates to a specific business outcome or objective. Key performance indicators need to be customized to your business situation and should be developed to help you achieve your goals. Follow these steps when writing one:
Write a clear objective for each one
Share them with all stakeholders
Review them on a weekly or monthly basis
Make sure they are actionable
Evolve them to fit the changing needs of the business
Check to see that they are attainable (but add a stretch goal)
Update your objectives as needed
Key performance indicators best practices
Measuring and monitoring business performance is critical, but focusing on the wrong key performance indicators can be detrimental. So can be poorly structured ones or ones that are too difficult, costly to obtain, or to monitor on a regular basis.
So what makes business performance indicators "key," and how should a business owner, executive, or manager select them? There are six factors that separate effective, value-creating key performance indicators from detrimental, value-diminishing ones. Follow these six best practices:
Aligned - Make sure they align with the strategic goals and objectives of your organization
Attainable - The indicators you choose to measure should have data that can be easily obtained
Acute - They should keep everyone on the same page and moving in the same direction
Accurate - The data flowing into the performance indicators should be reliable and accurate
Actionable - Does each one give you insight into the business that is actionable?
Alive - Your business is always growing and changing. Your KPIs should evolve as well!
Learn more about KPI best practices.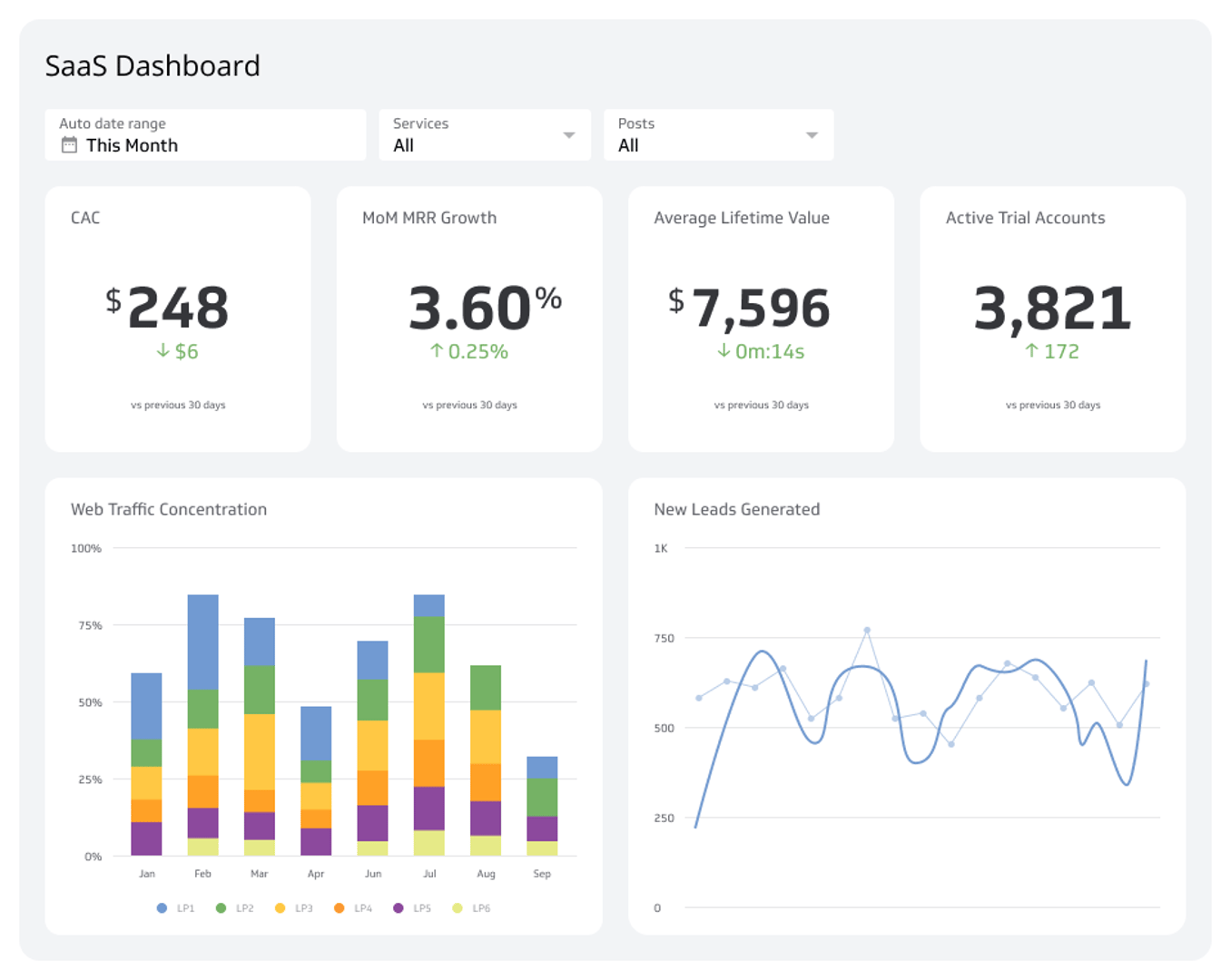 What About Business Metrics vs KPIs
A Business Metric is a quantifiable measure that is used to track and assess the status of a specific business process. Every area of business has specific metrics that should be monitored – marketing metrics can include tracking campaign and program statistics, while sales metrics may look at the number of new opportunities and leads in your database, and executive metrics will focus more on big-picture financial metrics. Learn more: Business Metrics.
Examples of Why KPIs Are Important
Key Performance Indicators (KPIs) gauge the success of a business, organization, or individual in reaching specific objectives.
The KPIs can differ based on industry, company, and personal objectives.
Popular KPI examples include customer satisfaction, employee retention, revenue growth, and cost reduction.
KPIs are often measured on a periodic basis, such as monthly, quarterly, or yearly.
KPIs should possess measurable, attainable, and relevant characteristics aligned with the organization's objectives.
Regular tracking of KPIs ensures the organization is on track to meet its goals.
In combination with other metrics, such as financial metrics, KPIs provide a comprehensive view of performance.
KPIs can be utilized to compare performance across different departments, teams, or individuals.
KPIs help identify areas for improvement and set future objectives.
80+ KPI Examples & Templates
Depending on your industry and the specific department you are interested in tracking, there are a number of KPI types your business will want to monitor. Each department will want to measure success based on specific goals and targets. Take a look at the departmental KPI examples below to learn more about the one you should be measuring.
Below are the 80 important business KPI examples to track & measure.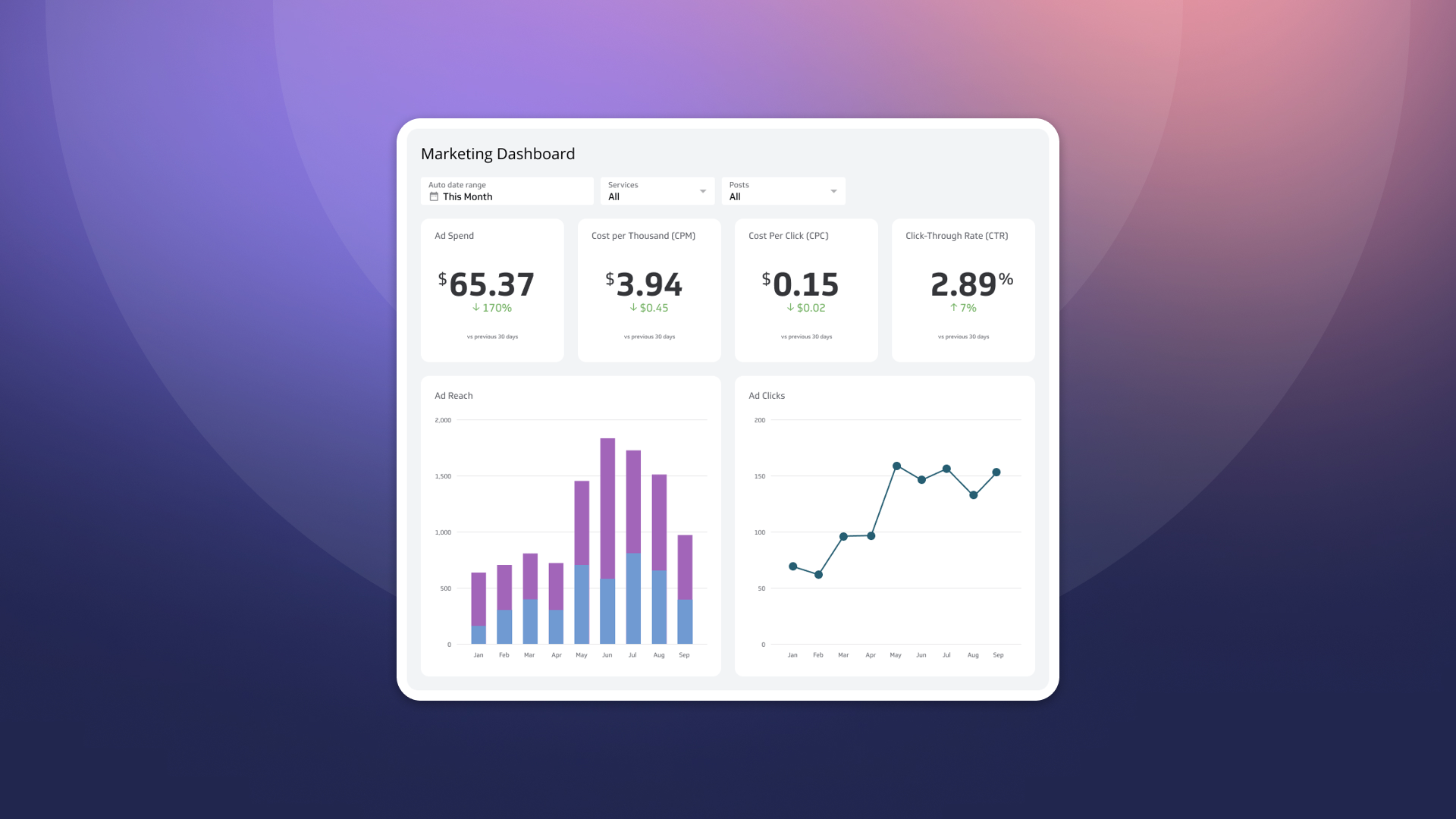 Marketing Key Performance Example (KPI) Examples
Marketing Key Performance Indicators (KPIs) help you evaluate the success of your marketing efforts and identify areas for improvement. These KPIs cover various aspects of marketing, from digital marketing channels and social media to email marketing and customer relationship management. Regularly monitoring these KPIs can help you refine your marketing strategy and optimize your campaigns for better results.
Return on Marketing Investment (ROMI)
Customer Acquisition Costs (CAC)
Conversion Rate (CVR)
Cost per Lead (CPL)
Cost per Acquisition (CPA)
Click-Through Rate (CTR)
Net Promoter Score (NPS)
Average Time on Site (ATOS)
Email Open Rate
Email Click-Through Rate (CTR)
Email Conversion Rate
Social Media Engagement Rate
Social Media Follower Growth
Social Media Reach
Net Profit Margin
Marketing Qualified Leads (MQL)
Website Traffic by Source
Landing Page Conversion Rate
Customer Lifetime Value (CLV)
Net Promoter Score (NPS)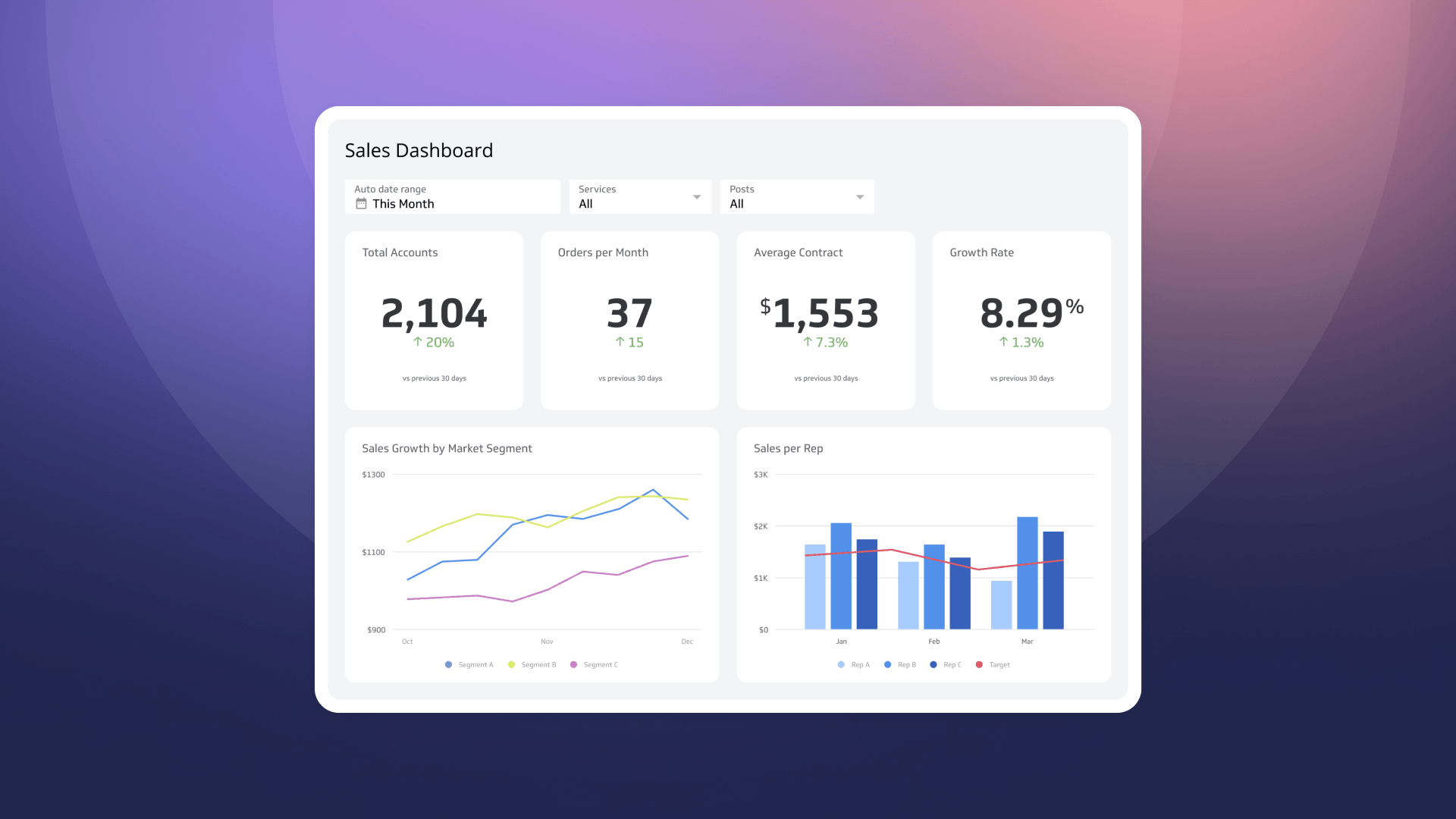 Sales & Retail KPI Examples
The key performance indicator examples below encompass a diverse range of sales facets, including the generation of revenue, overall profitability, the management of customer relationships, and the efficacy of the sales team. By consistently evaluating these KPIs, it becomes possible to hone sales strategies and enhance the performance of the sales team, ultimately leading to more favorable outcomes.
Sales Revenue
Gross Profit Margin
Net Profit Margin
Sales Growth Rate
Average Deal Size
Sales Qualified Leads (SQL)
Lead Conversion Rate
Sales Pipeline Value
Win Rate (Closing Ratio)
Average Sales Cycle Length
Customer Retention Rate
Customer Churn Rate
Upsell/Cross-sell Rate
Average Revenue per User (ARPU)
Quota Attainment Rate
Customer Lifetime
Cost per Acquisition (CPA)
Sales Productivity
Average Purchase Value (APV)
Customer Satisfaction Score (CSAT)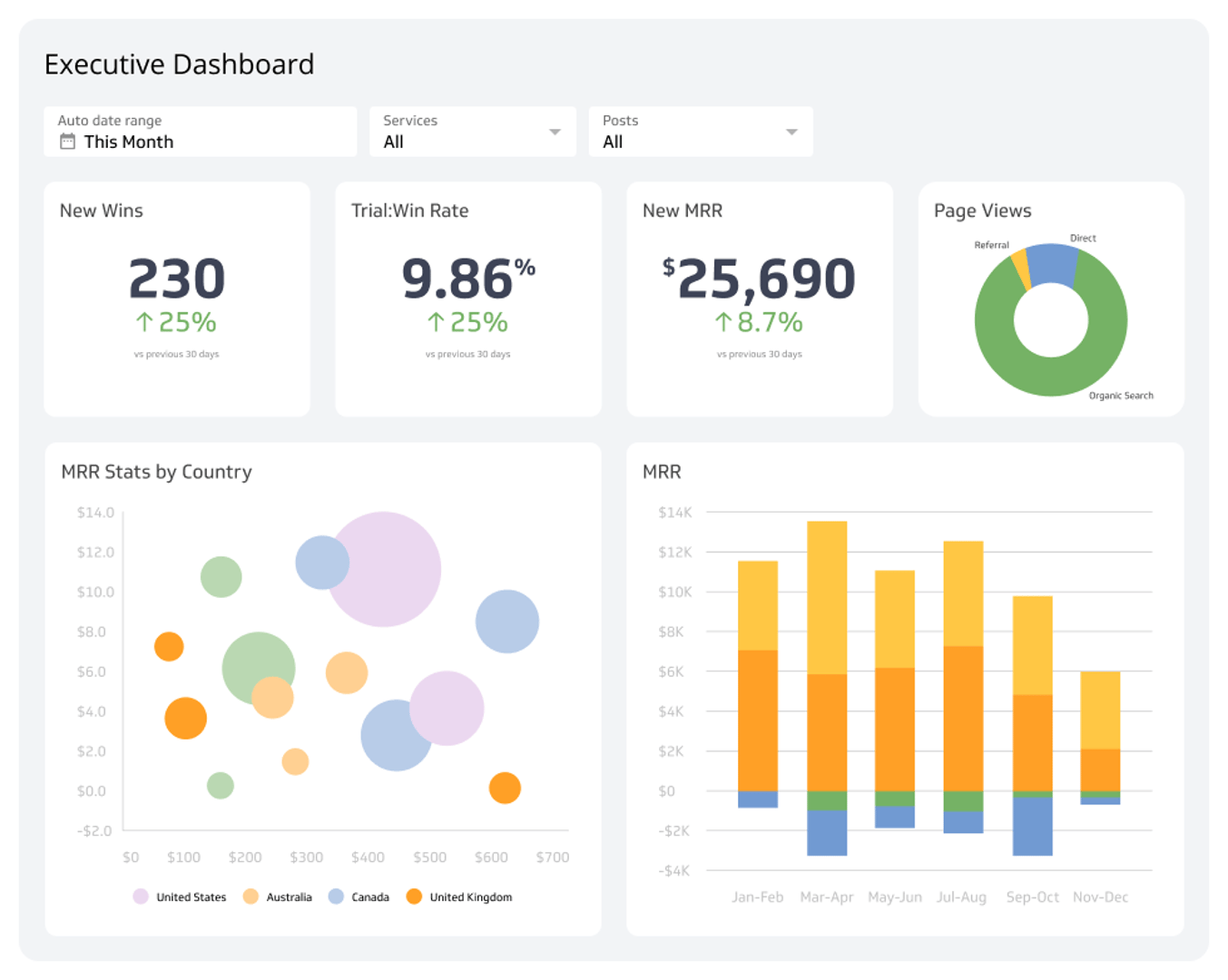 KPI Examples for Operations
These KPIs look at different parts of operations, like making things efficiently, keeping track of stock, and how well the business is doing with the money. By keeping an eye on these key performance indicator examples, you can make your operations better and help your business do even better overall.
Overall Equipment Effectiveness (OEE)
First Pass Yield (FPY)
On-Time Delivery (OTD)
Production Downtime
Takt Time
Cycle Time
Throughput Rate
Capacity Utilization
Labor Productivity
Inventory Turnover
Operating Cashflow
Days in Inventory
Order Picking Accuracy
Return on Assets (ROA)
Return on Investment (ROI)
Total Cost of Ownership (TCO)
Cost of Goods Sold (COGS)
Cost Variance
Waste Reduction Rate
Employee Turnover Rate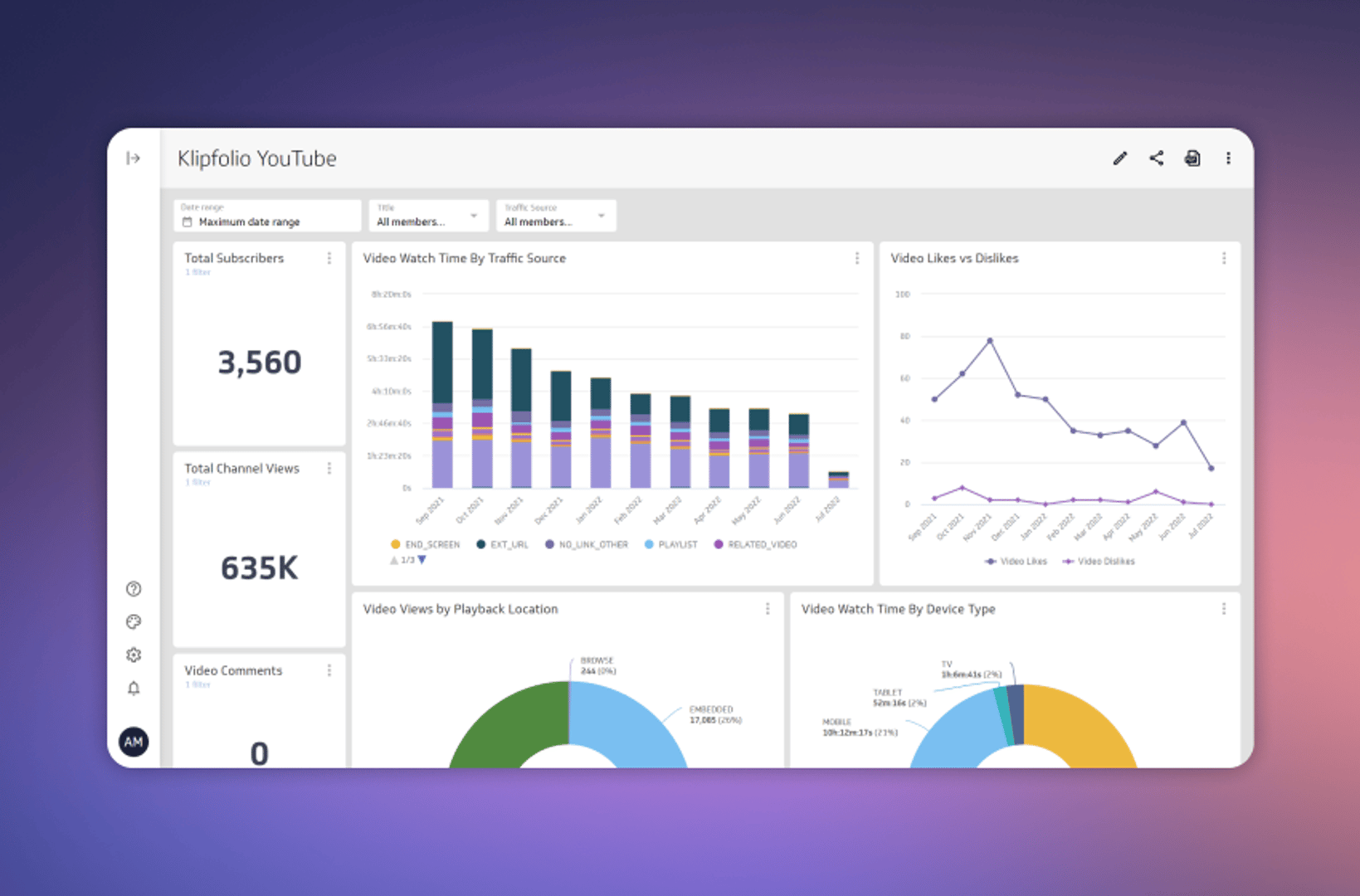 Project Management KPIs
Paying attention to the below KPIs allows project managers to make better decisions, manage risks effectively, and ultimately deliver successful projects that meet or exceed stakeholder expectations.
Project Timeline (Schedule Variance)
Budget Variance
Cost Performance Index (CPI)
Schedule Performance Index (SPI)
Scope Creep
Resource Utilization
Earned Value (EV)
Actual Cost (AC)
Planned Value (PV)
Estimate at Completion (EAC)
Estimate to Complete (ETC)
Return on Investment (ROI)
Risk Exposure
Change Requests
Team Productivity
Stakeholder Satisfaction
Quality Metrics (Defect Density, Rework)
On-Time Completion Rate
Project Milestone Achievement
Project Health (Combination of schedule, budget, scope, and quality)
Start tracking your metrics
Level up your analytics with a free forever PowerMetrics account