Executive Dashboard
Modern executives use KPI dashboards to report and track corporate performance.
Track all your Executive KPIs in one place
Sign up for free and start making decisions for your business with confidence.
or
Sign up with your email
Free forever ● No credit card required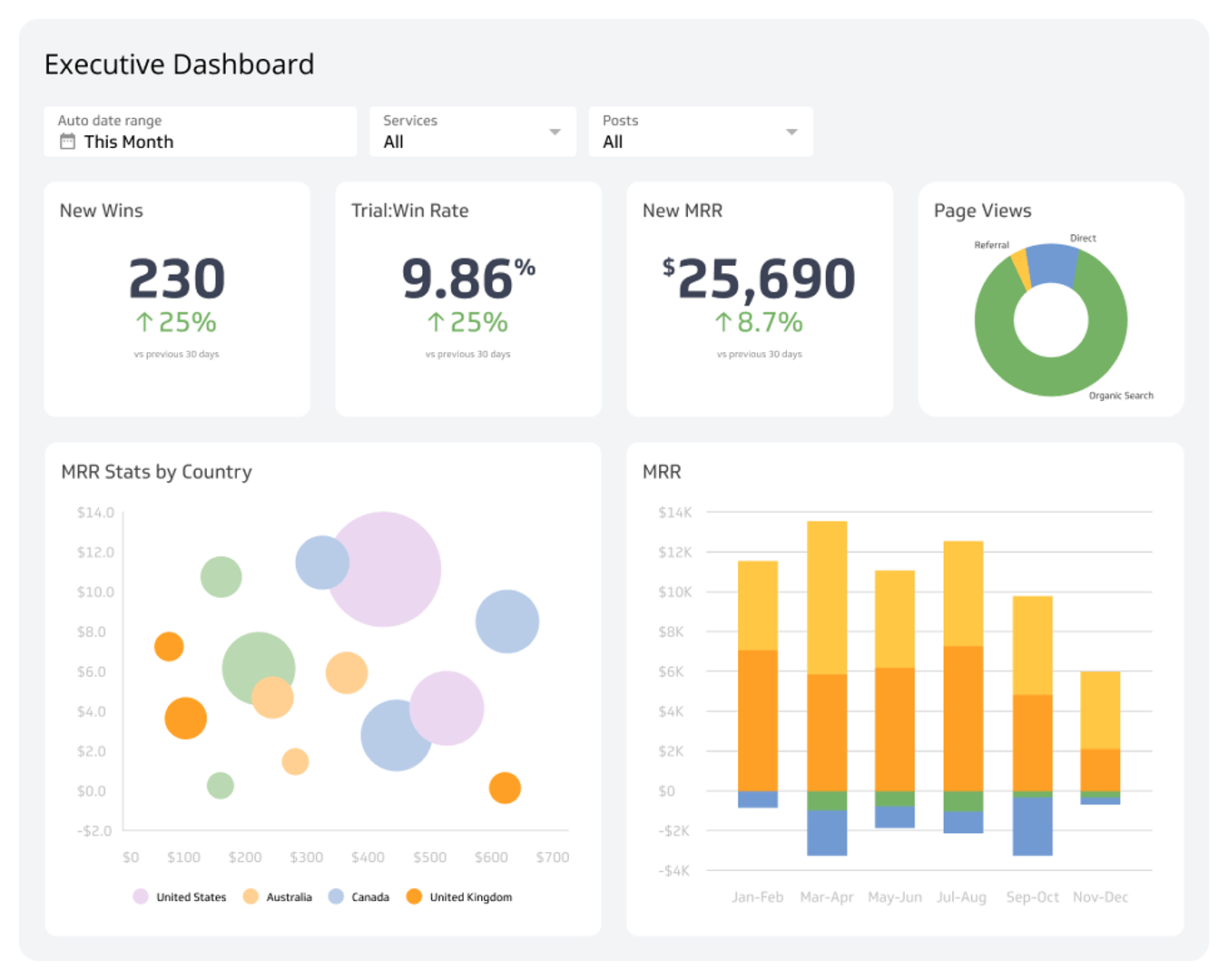 What is an executive dashboard?
An executive dashboard is a visual tool used by high-level executives to monitor essential business KPIs and metrics to effectively guide business activities. The objective of an executive dashboard is to provide CEOs and other executives with a bird's eye view of company performance. This may be done by providing an executive summary of the top KPIs across business units, or by providing high-level reporting dashboards for each department in the company.
What should be on an executive dashboard?
An executive dashboard should be composed of company-level KPIs that allow for a quick review of performance. Each executive in your company will benefit from a customized dashboard with departmental KPIs. As an example, however, a CEO dashboard may display KPIs from each department.
Here's an example of what to include in a CEO dashboard to monitor a software company's performance.
Department
KPIs
Finance
Gross Profit Margin
EBITDA
Accounts Receivable
Accounts Payable
Sales
Revenue
Opportunity Pipeline
Marketing
MQLs
Web Sessions
Support
Ticket Volume
Average Resolution Time
Development
Lead Time
Cycle Time
How do you build an executive dashboard?
To build an effective executive dashboard, you need to consider your audience and consult with them about their dashboard and reporting needs. Each executive on your team will use different KPIs to monitor their business performance – it's essential to understand these KPIs.
Here's a simple process to follow when building executive dashboards.
Consult with your executive team
Define your KPIs and key metrics
Decide on what dashboard you want to build (e.g. financial dashboard, strategic dashboard, CEO dashboard, marketing performance dashboard, etc.)
Create a basic mockup of your dashboard and any key features tailored to unique needs of your executives
Select your executive dashboard software
Connect to data sources
Create visualizations
Get feedback
Deploy and continue to get feedback
Why have an executive dashboard?
An executive dashboard helps leaders make smart choices for company growth. It effectively presents data and shows a summary of key numbers and KPIs, helping teams see trends and fix problems. This leads to better teamwork, focusing on goals, and using resources well.
Main benefits of executive dashboards
Saves time: Executive dashboards collect and analyze data from many sources (e.g. financial data, etc.), so leaders spend less time on data work and more on decision-making.
More openness: By showing real-time company data, a dashboard makes things clear and open across the organization.
Better communication: A good KPI dashboard helps leaders and departments talk, creating a culture of data-driven decisions and teamwork.
Smarter decisions: With up-to-date, correct real-time data, leaders can make better choices that fit company goals and plans.
How to make a good dashboard
To keep your dashboard useful, follow these tips:
Keep it simple: Focus on the most important key performance indicators (KPIs) for each leader, avoiding too much information that can slow them down.
Check data accuracy: Make sure the data sources are right and reliable to keep trust in the dashboard.
Update often: Review the dashboard with leaders to ensure it meets their needs and goals. Adjust it as needed for changes in business or company targets.
Get people to use it: Encourage use of the dashboard in your organization and ask for feedback to make improvements.
In short, good executive dashboards help leaders (e.g. Chief Executive Officer (CEO), Chief Financial Officer (CFO), etc.) make data-driven decisions and determine company's financial health. By understanding each leader's needs and KPIs, making an easy-to-use interface, and focusing on improvement, you can create a reporting dashboard that helps your company succeed.
Executive Dashboard Examples
Start tracking your metrics
Level up your analytics with a free forever PowerMetrics account