Executive Reporting Dashboard
An easy way to keep ahead of the curve
Track all your Executive Reporting KPIs in one place
Sign up for free and start making decisions for your business with confidence.
or
Sign up with your email
Free forever ● No credit card required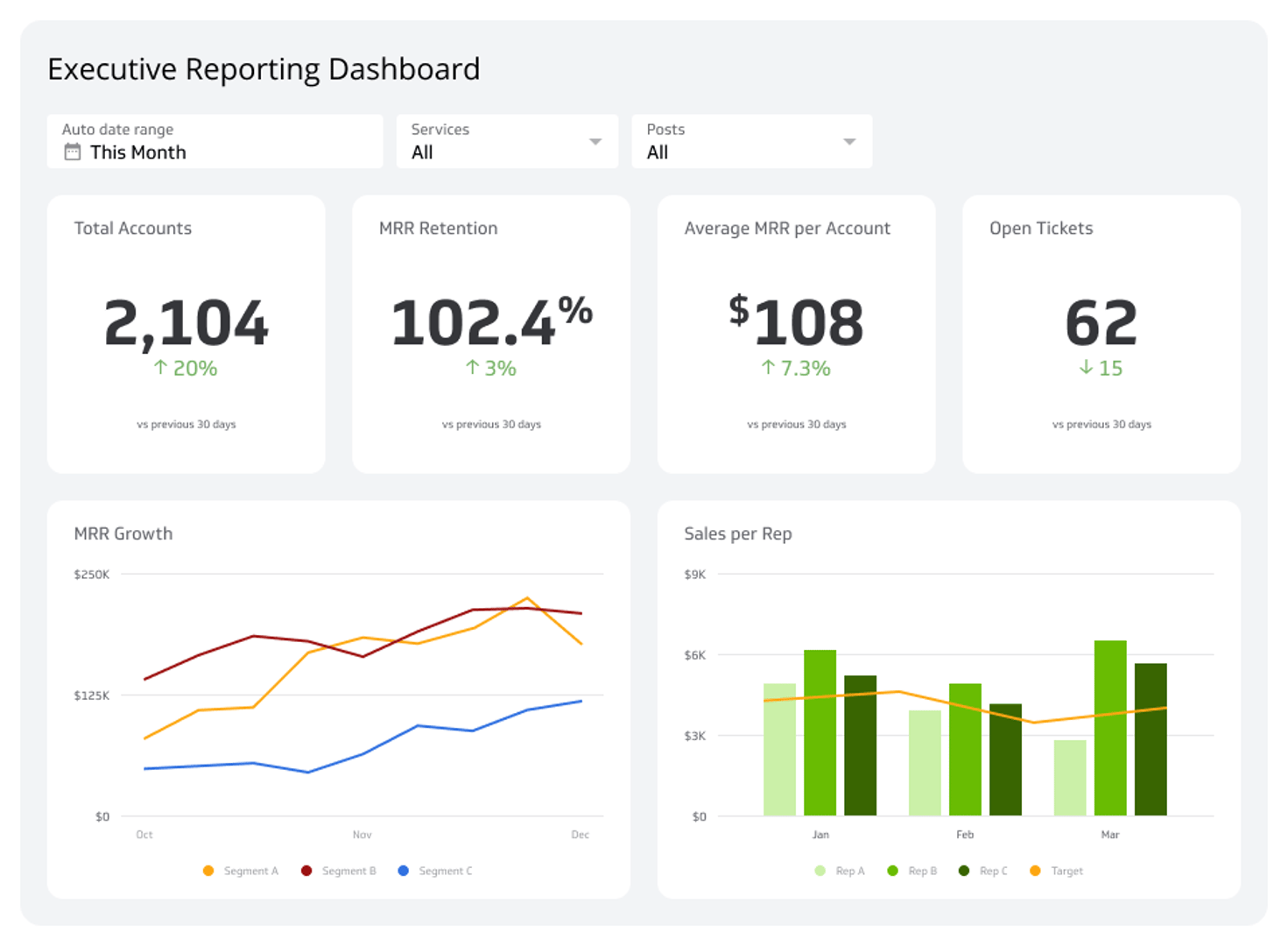 What is a Executive Reporting dashboard?
Executives need to stay on top of new information as it rolls in throughout the day. A good executive dashboard starts conversations with "What," not "Why." A good executive reporting dashboard consolidates the performance of all the company's departments in a way that lets executives stay on top of opportunities and changes without taking a lot of time out of their busy day-to-day. The metrics for the executive reporting dashboard are the starting point for conversations and an easy way to understand the present, look back at the past, and project for the future.
Metrics on this Executive Dashboard
Account & MRR Growth
Marketing Metrics
Sales Metrics
Product Metrics
Finance Metrics
User Experience Metrics
Services and Support Metrics
Human Resources Metrics
Account & MRR Growth Metrics
These metrics belong at the top of this reporting dashboard because they're always in the front of an executive's mind. These metrics reflect your company's position against your set targets, which means that you can always see what direction your revenue and retention should be going in.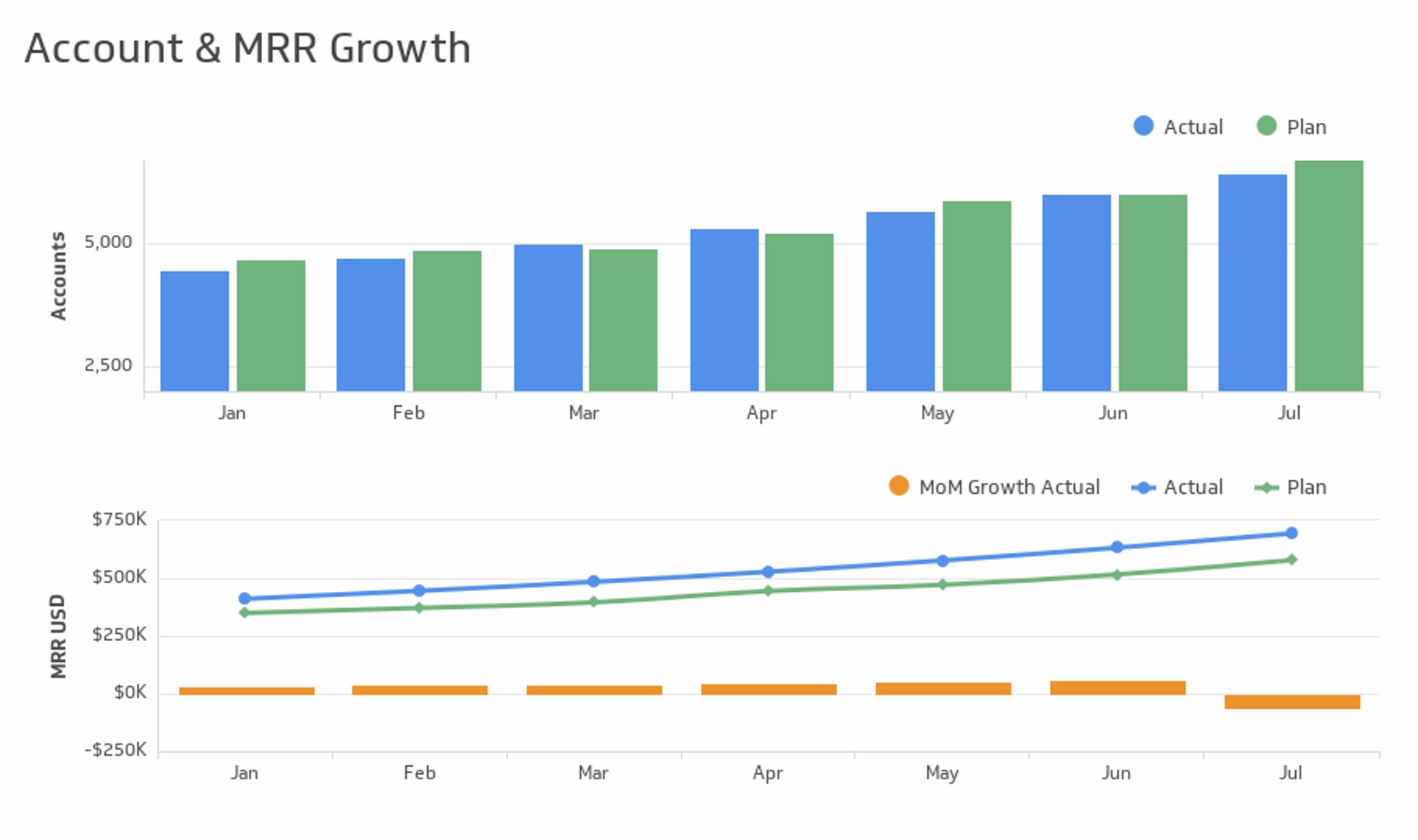 Marketing Metrics
The marketing section of this dashboard is used to help the CEO track marketing performance. It's a summary as opposed to a play-by-play of every marketing activity. By focusing on marketing outcomes, the executive can focus her attention on areas to improve or to ask questions about.

Sales Metrics
It should be no surprise that the sales metrics are right next to marketing metrics on the executive dashboard. This section is about spotting problems and fixing them quickly. The ultimate goal of any executive is to grow a business, and all the surrounding sections of this dashboard ultimately funnel into these sales performance metrics.

Product Metrics
Product is everything for a business! The product metrics on the executive dashboard are an easy read into the behavior of your customers. This section of the executive dashboards allows executives to stay up to date with any product issues and see an opportunity for improvement where it arises.

Finance Metrics
Understanding a company's finances is essential to any executive's job. The finance section of the executive dashboard makes it easy for you to keep an eye on the company's cash flow, so you never have to sift through data to see exactly where the business stands.

User Experience Metrics
"What are our customers experiencing?" The user experience metric says a lot about how the company's marketing, product, sales, and support are performing. This section reports on how users are interacting with the product and how the company responds to these interactions. Happy customers are essential to growing a business, so adding the user experience metric section means that every decision executives make has these end users in mind.

Services and Support Metrics
Just like the user experience section, the services and support metrics section on the executive dashboard is a 'check-in' with customers. This section is all about how the support team is responding to users' needs. Maybe changes have been made to the product that users are having a difficult time grasping, or the customer base is growing to a point where there is a need for more support staff.

Human Resources Metrics
People are the foundation of any company, and adding a human resources section means that the headcount is growing at the same pace as revenue. Increasing the number of people on the team drastically changes the capabilities of a business, so keeping these metrics in mind is essential to growth. Compare this metric to the other sections of this reporting dashboard, for example, "Do we need more people on our support team if our average response time has drastically increased since we added that new product feature?"

Definition
An executive reporting dashboard is a central monitoring tool for a company's real-time performance data tailored to the needs of executives. The dashboard tracks the most important KPIs from various departments of a business to inform decision-making and monitor performance.
Related Dashboard Examples
Start tracking your metrics
Level up your analytics with a free forever PowerMetrics account