Social Media KPIs & Metrics
Explore the top metrics and KPIs for modern social media marketing teams
Track all your Social Media KPIs in one place
Sign up for free and start making decisions for your business with confidence.
or
Sign up with your email
Free forever ● No credit card required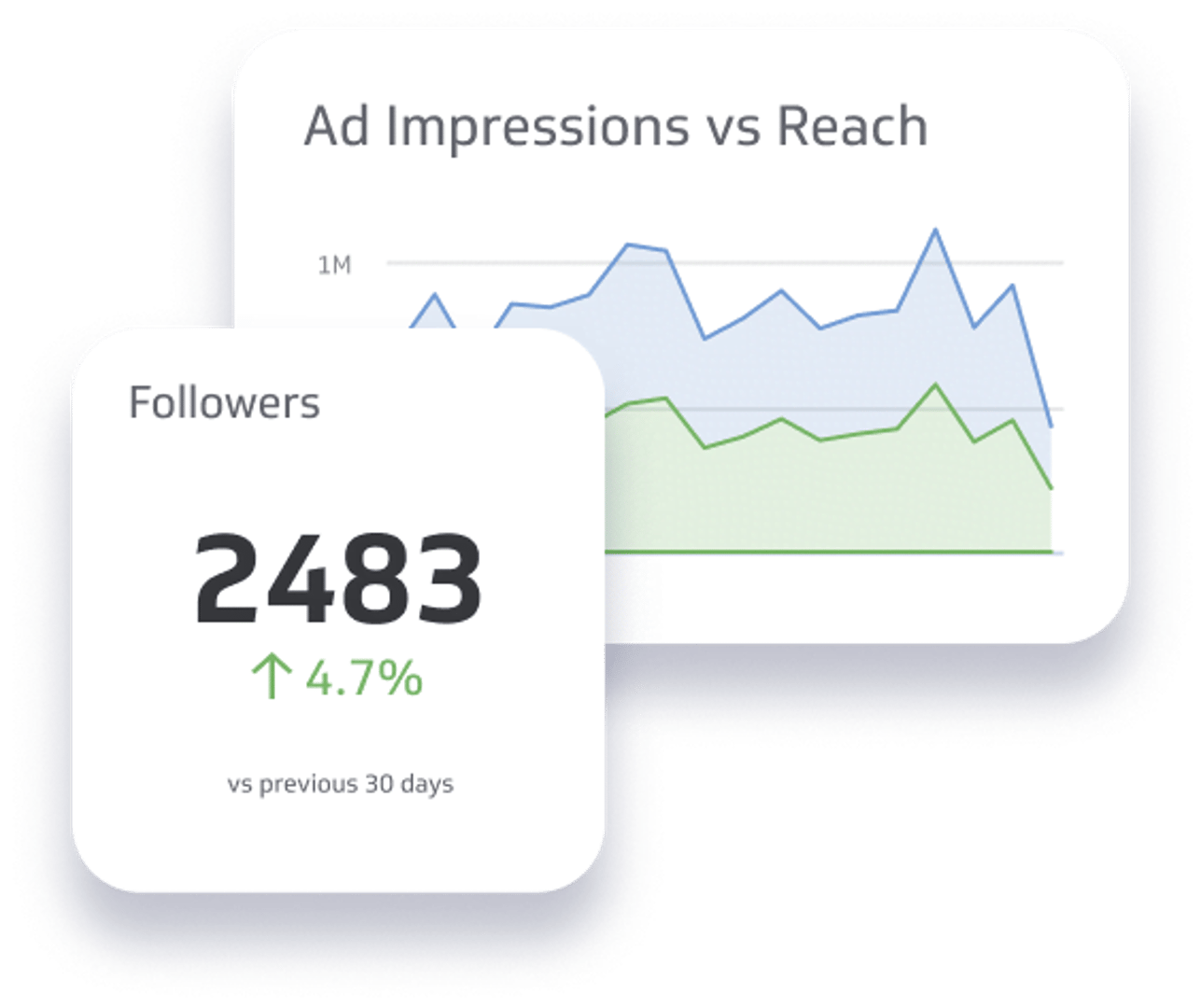 What are social media KPIs?
Social media KPIs are values used by digital marketing and social media marketers to measure the performance of social media campaigns.
Social media marketing is a multi-channel strategy. Marketing teams use Facebook, Twitter, LinkedIn, Instagram, and Pinterest to share content. Multi-channel marketing can make it challenging to track the success of your campaigns since the results are spread across multiple accounts. To maximize your marketing efforts, it's important to understand your social media performance by tracking your metrics and KPIs on a social media dashboard.
Why do I need a social media KPIs dashboard?
A social media dashboard allows marketers to monitor performance across social platforms and gather the necessary insights and information about how users engage with your brand on social media.
Collecting and analyzing your social media metrics and KPIs allows marketing teams to identify areas of improvement, plan strategic campaigns, and engage with users meaningfully. When you track your content engagement metrics, such as likes, shares, and comments, you have insight into whether or not your audience is engaging with your message and if their engagement positively impacts your marketing campaign.
Best social media marketing KPIs and metrics
The top Key Performance Indicators (KPIs) for modern social media teams to track:
Likes
Engagement
Followers growth
Traffic conversions
Social interactions
Social sentiment
Social shares
Web visitors by channel source
Social visitors conversion rate
Discover more inspiration for top social media marketing metrics that you and your team can track in PowerMetrics.
How do you measure social media ROI?
Return on marketing investment, or ROMI, is a monetary measure to gauge the success of your marketing campaigns. Track your return on marketing investment alongside your social media marketing metrics on a dashboard. Dashboards bring all of your important data together in one place. Monitor your social media campaigns, track the metrics that allow you to analyze your performance, identify trends, and make real-time decisions based on the results.
For more examples and templates of KPIs, see below.
Start tracking your metrics
Level up your analytics with a free forever PowerMetrics account