Why use Sales Dashboards?
Sales teams operate in a fast-paced, target-oriented environment. Ask any sales person and she'll know exactly how she's performing that month – and whether she'll hit her sales target. Sales Dashboards provide an at-a-glance window into your team's performance so you can help your organization crush its revenue targets.
What are Sales Leader Boards?
indicators and business metrics. An effective sales dashboard informs teams of issues and items that require immediate attention, including sales targets or issues.
Sales dashboards translate data into easily consumable pieces of information, providing you with instant insight about your business. While your CRM, such as Salesforce, will track your accounts, opportunities, and leads, it often lacks a concise overview of your current performance in real-time. Dashboards within CRMs have traditionally missed the mark when it comes to real-time monitoring.
The role of a sales dashboard isn't to replace your CRM; a sales dashboard will pull the most actionable information from your CRM and present it your team in an easily consumable format. A common example of a sales dashboard is the sales leaderboard.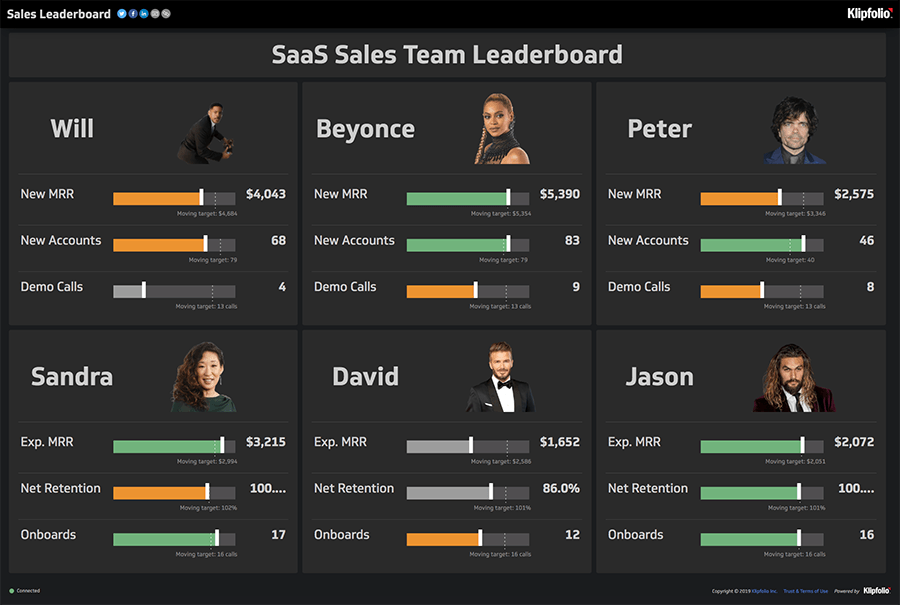 A sales leaderboard allows the entire team to monitor their performance on a daily, weekly, or monthly basis. It's used as a motivational tool to foster friendly competition among internal sales teams. Sales dashboards are a great venue for leaderboards because they provide a way to pull the data in, and a graphical interface to display the data.
Interested in building your own leaderboard? Check out this short tutorial video run by our Director of Growth:
How to create a sales dashboard
All dashboards are built on the principle of pulling data into the platform and providing the sales team with a graphical representation of that data. Here's a simple checklist for creating a sales dashboard:
Identify the sales metrics and KPIs you need to monitor
Identify where that data currently resides (EG: CRM, Excel, Google Sheets)
Determine how you want to view your dashboard (EG: TV dashboard, mobile dashboard)
Evaluate a dashboard software vendor based on your requirements
Pull data from your data services into the dashboard
Design and build graphical visualizations for your dashboard
Share the dashboard with your team to encourage adoption
Sales Dashboard Examples
Wondering how to present sales dashboards to your team? We've compiled a list of sales dashboard examples for you to explore.
How to design a sales dashboard
Designing an effective dashboard can be challenging. You need strong knowledge of how that dashboard will be used, and who will be using it. For most sales team, the dashboard should be designed to be as clean as possible. It's important to be focused on what the team needs from the dashboard, and not overload folks with too much data. Here are 6 common dashboard design mistakes to avoid:
Building a one-size-fits-all dashboard
Not adding comparison values
Poor layout choices
Using the wrong chart types
Misusing colour
Making people do mental math