Social Interactions Metric
Measure the engagement levels of your social media campaigns
Track all your Social Media KPIs in one place
Sign up for free and start making decisions for your business with confidence.
or
Sign up with your email
Free forever ● No credit card required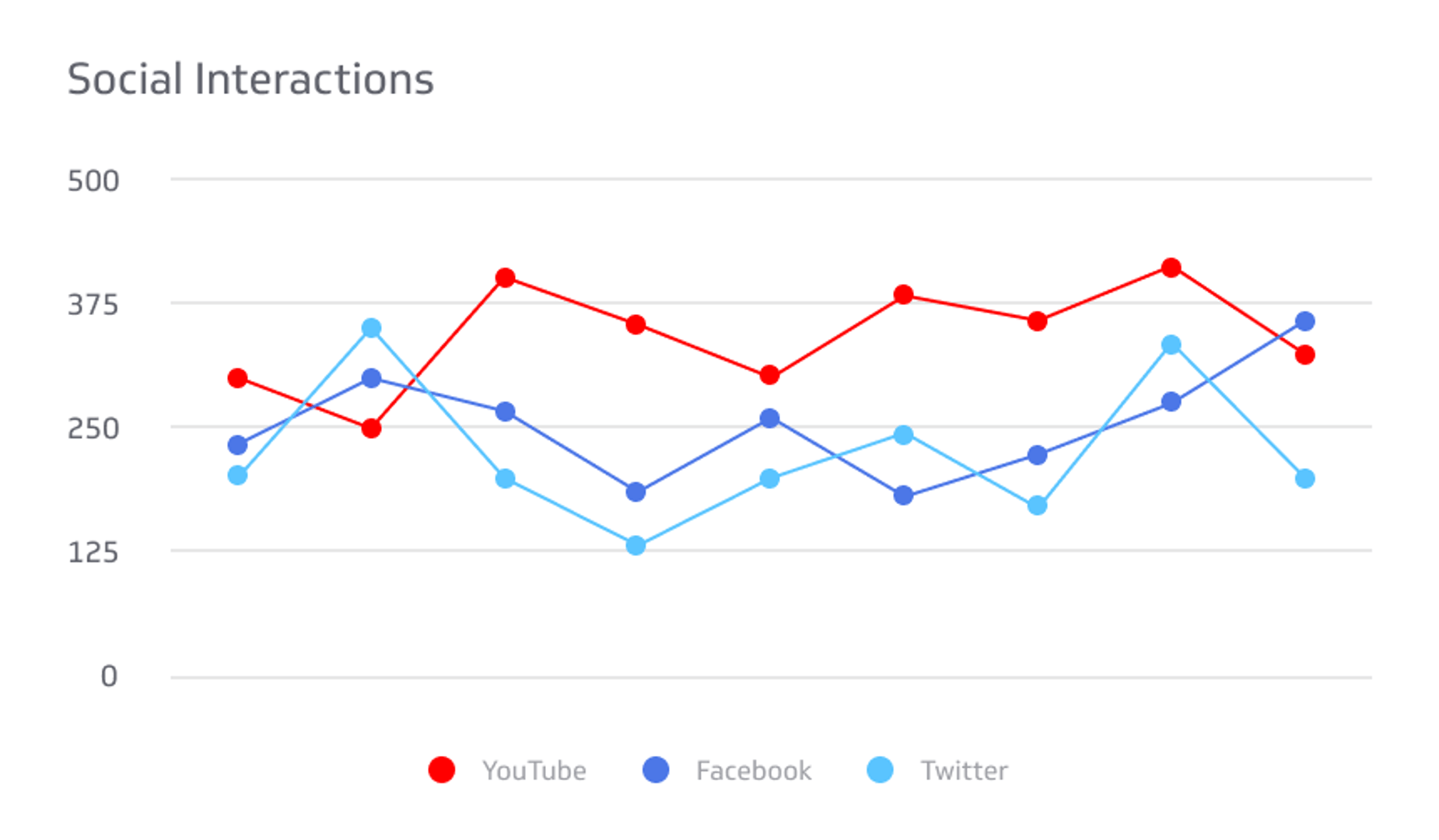 Social Interactions Definition
The Social Interaction KPI measures the effectiveness of your social media campaigns at fostering positive engagement. Interaction: A communication between an audience member and your brand's social profile. This may take the form of platform specific interactions such as Mentions on Twitter, Likes on Facebook, or +1's on Google+. Key interactions can play a pivotal role in a post or story going viral, so it is very important to ensure that you are nourishing the right types of interactions. As well, a strong social media measurement strategy will map these interactions to other marketing goals, such as website conversions or new wins.
Social Interactions Success Indicators
A high level of engagement that corresponds to the completion of key marketing objectives.
Viral posts that require little or no nurturing on your behalf.
Sustained engagement over a long period of time.
Social Interactions Challenges
The challenge with the Social Interaction metric is that not all interactions are equally valuable to your campaign, but the metric does not account for these difference. For example, one could argue that a "retweet" is more valuable than a "favourite" on Twitter because a retweet ensures the content stays in circulation longer. Similarly, different social media sites will have varying importance to your brand. One brand may find that Facebook is a hotbed of positive engagement, while another brand really hits its stride on Pinterest. As you can see, each social platform allows you to interact with your audience in a number of different ways.
Social Interactions Best Practices
All experts suggest that the best way to increase Social Interactions is to engage with your consumers. Promoting audience participation in your campaigns is a great way to spread your campaign and engage consumers. Here's some expert advice:
The best sales people sell relationships, not products, so as you work on building relationships with your consumers online, you need to think about the value that relationships provide your prospects.
How to Monitor Social Interactions in Real-time
Once you have established metrics for measuring Social Interaction, you'll want to establish processes to monitor this and other marketing KPIs. Dashboards can be critical in this regard.
Learn more about how to track your Social Interactions on a Social Media Dashboard.
Social Interactions: Top Resources
How to Use Social Media to Understand and Engage Your Customers, Connie Sklar
The Power of Social Media Interaction, Michael Becerra
Brewing Up Excitement for Events with Social Media Marketing, Sam Milbrath
How to Stand Out with Social Selling, Reid Robinson
Start tracking your metrics
Level up your analytics with a free forever PowerMetrics account