Digital Marketing Dashboard
Reach your target audience by tracking top digital marketing metrics that measure your success.
Track all your Digital Marketing KPIs in one place
Sign up for free and start making decisions for your business with confidence.
or
Sign up with your email
Free forever ● No credit card required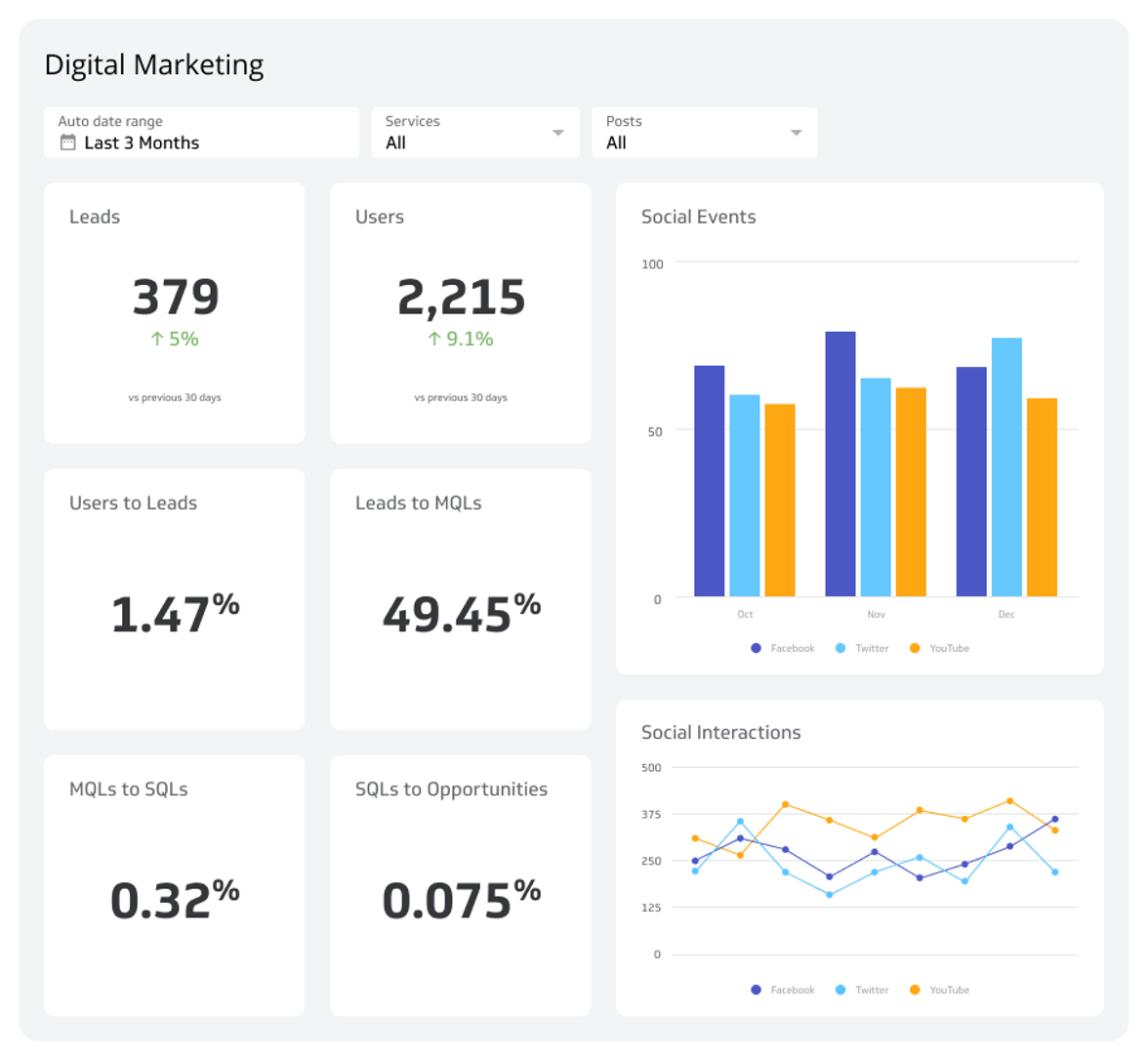 What is a Digital Marketing dashboard?
A digital marketing dashboard is a type of report that displays data visualizations to represent online KPIs, metrics, and data points. Digital marketing dashboards may report on marketing campaigns, programs, and activities, such as social media or email marketing. A digital marketing dashboard may track online campaigns, social media, lead generation, and search engine marketing efforts.
How do you create a digital marketing dashboard?
Consult with your marketing team
Define your KPIs and metrics
Select your marketing dashboard software
Connect to data sources
Create data visualizations
Deploy and get feedback
What should you put on a digital marketing dashboard?
The purpose of a digital marketing dashboard is to provide a simple, graphical representation of your marketing performance. This could apply to specific disciplines in marketing, such as social media and digital advertising, or as broad as executive reporting and demand generation. Careful consulting with your marketing team will help you understand which marketing metrics and KPIs to include in your dashboard.
Here are a few examples of data visualizations you may include on your dashboard.
Web Traffic Sources
Digital marketers need to pay close attention to which online channels drive traffic to their websites. It's important to track this metric, monitor traffic channels for changes, and set targets for achieving growth.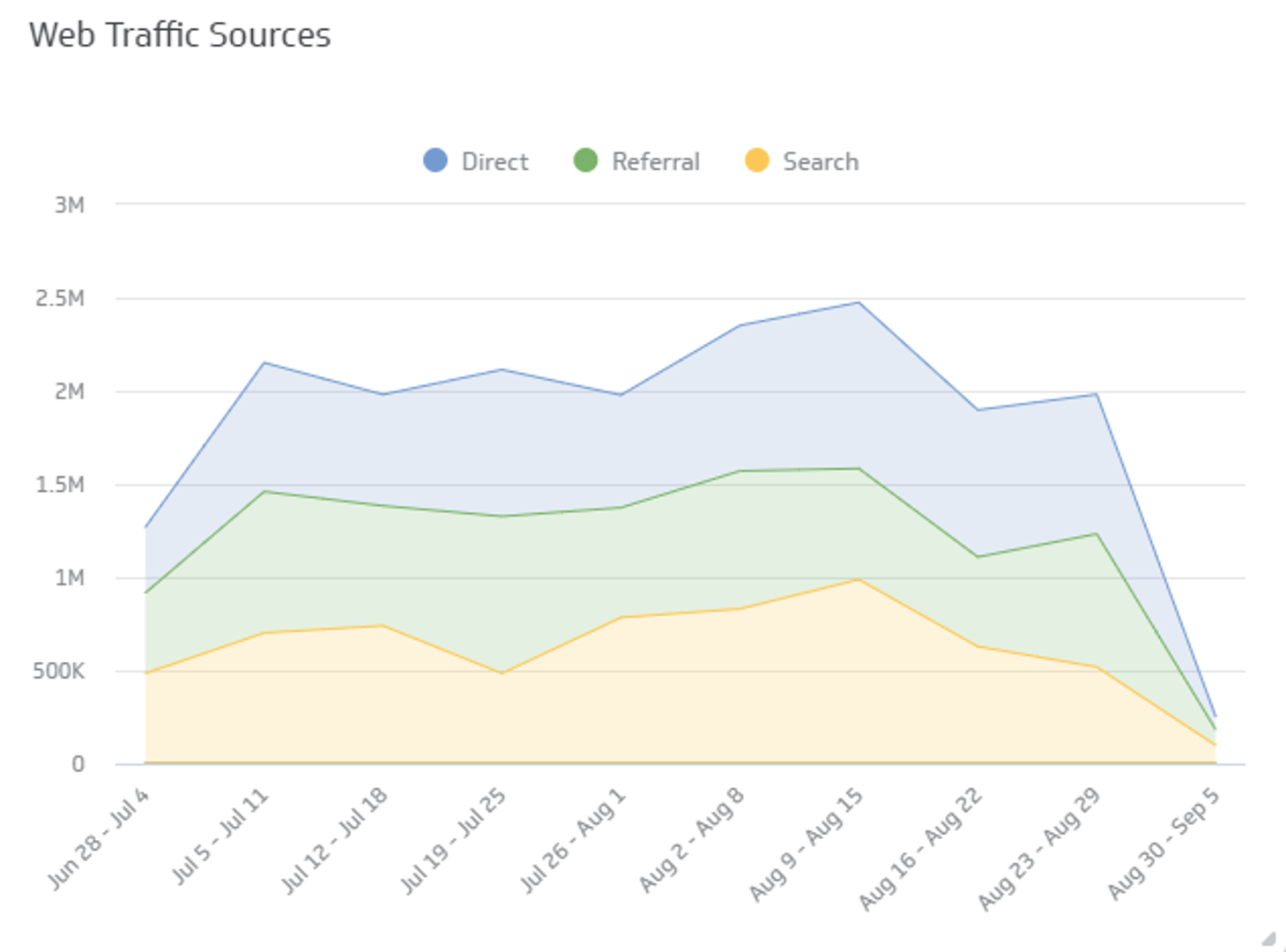 Funnel Conversion Rate
The funnel is a quintessential marketing term and is used to measure your ability to convert web users and leads into opportunities and customers. Include this visualization on your dashboard to clearly display the effectiveness of your marketing programs.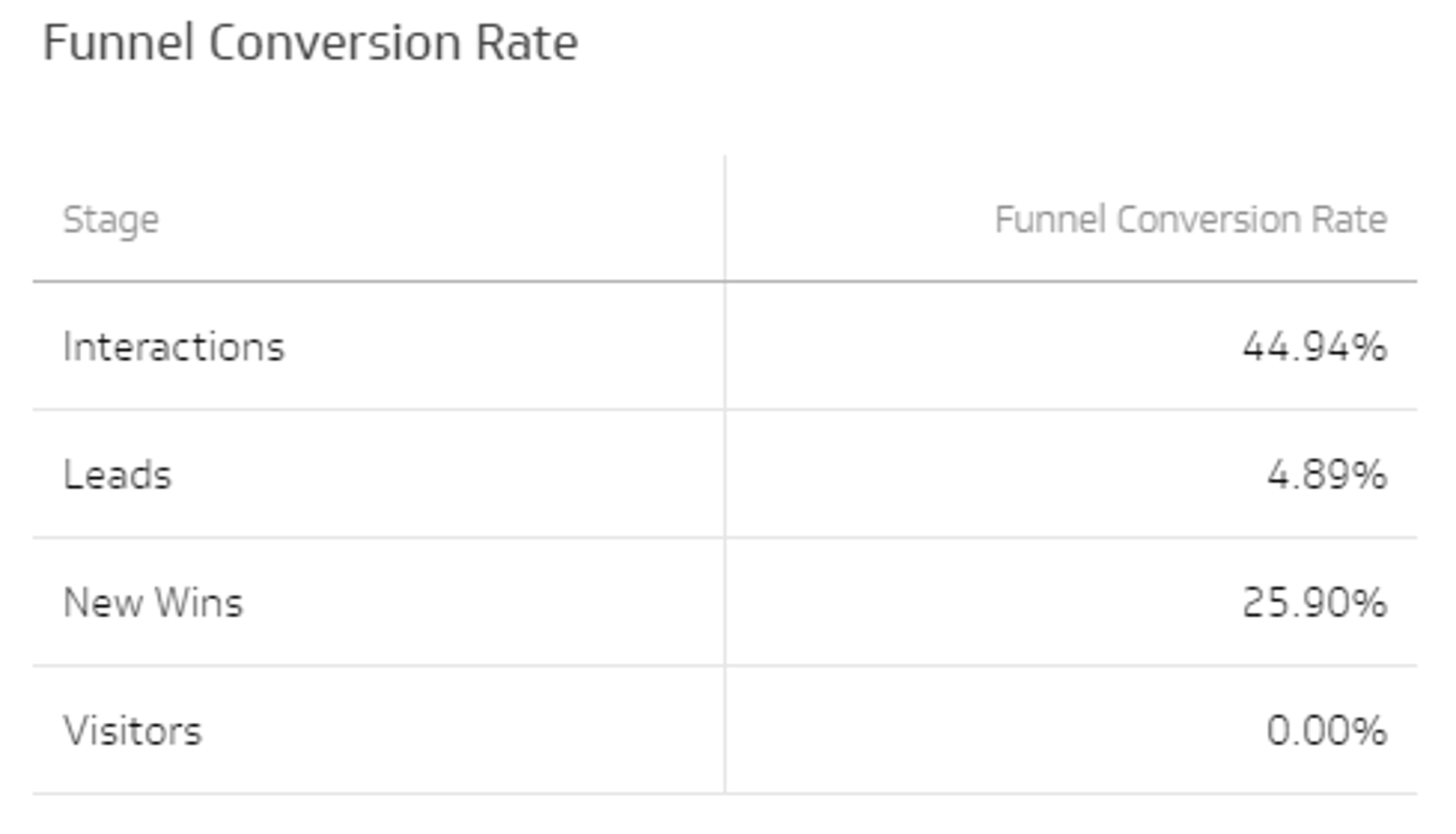 Goal Completion Rate
Your website is likely your most effective lead-generation channel. Measure your website's goal completion rate and segment by channel, device, or demographic to get additional insights for conversion rate optimization experiments.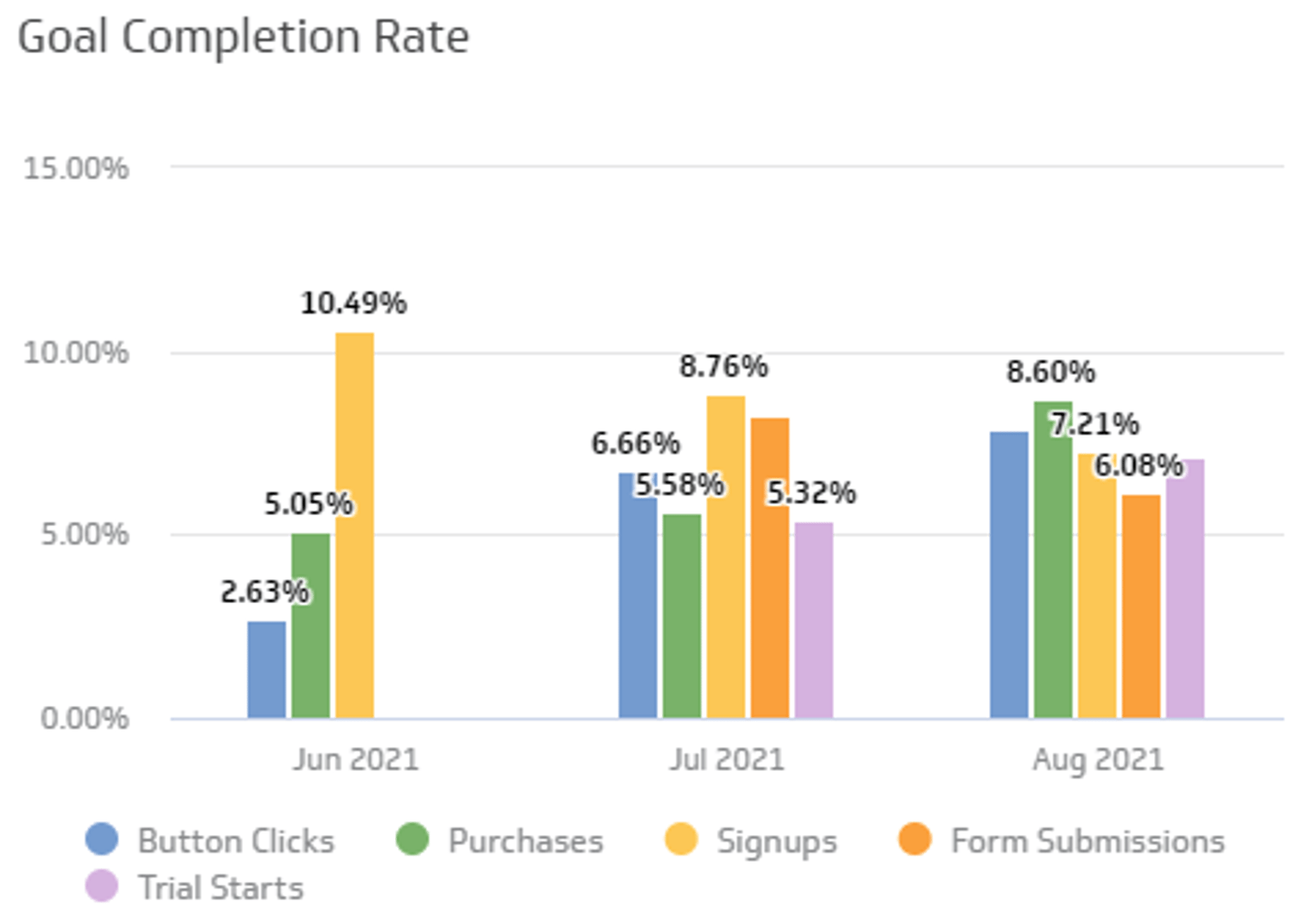 Cost per Action
Digital advertising is a core tenet of online marketing and one of the most important channels for long-term growth. Each advertising platform has a variation of the cost per action metric – and it's critical for understanding the cost-effectiveness of digital campaigns.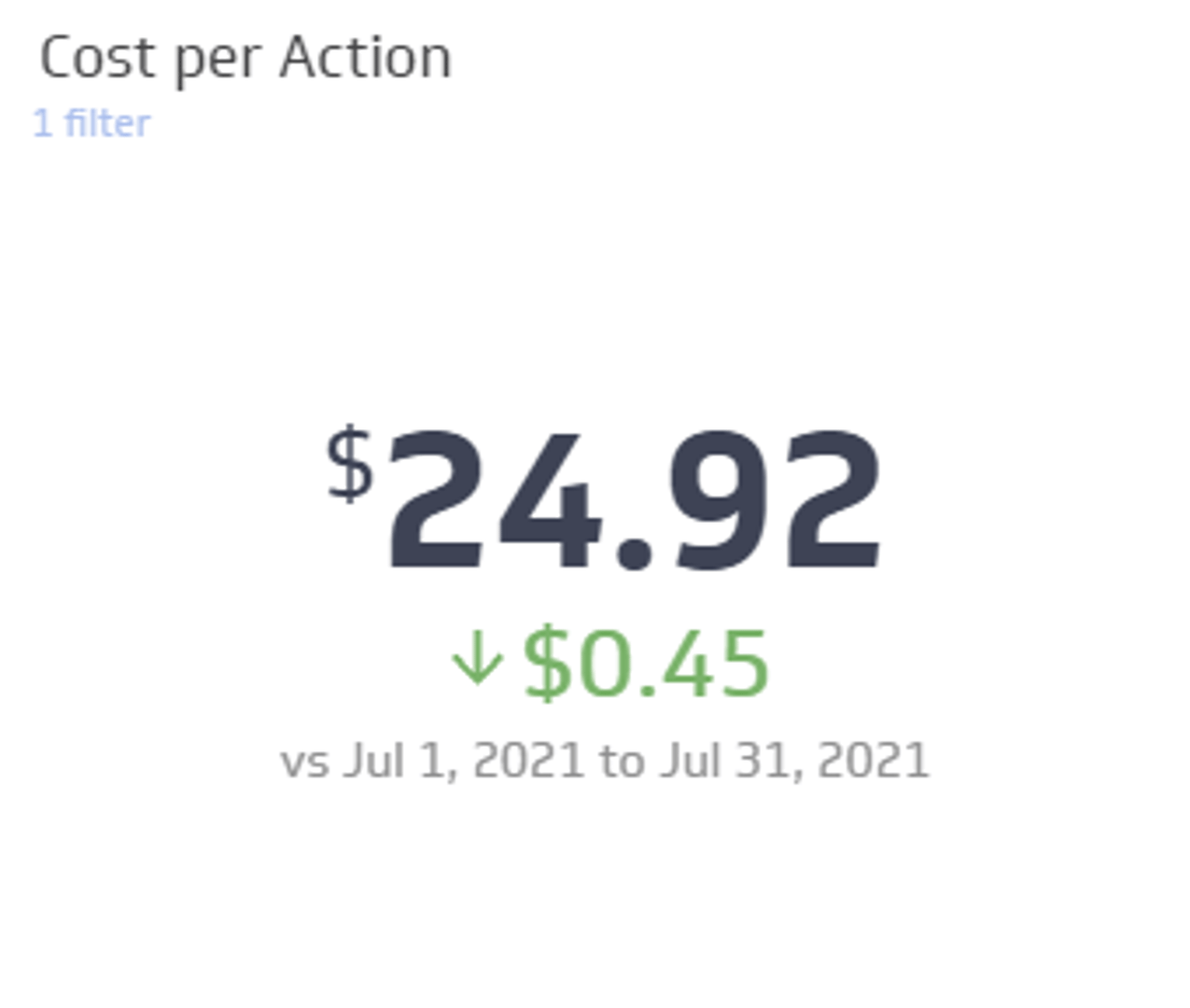 Definition
Use marketing dashboards to track the performance of your online marketing activities. Monitor in real-time how your efforts and campaigns are contributing to the sales funnel.
Related Dashboard Examples
Start tracking your metrics
Level up your analytics with a free forever PowerMetrics account