The control you want, the marketing data you need.
All your metrics in one marketing analytics reporting tool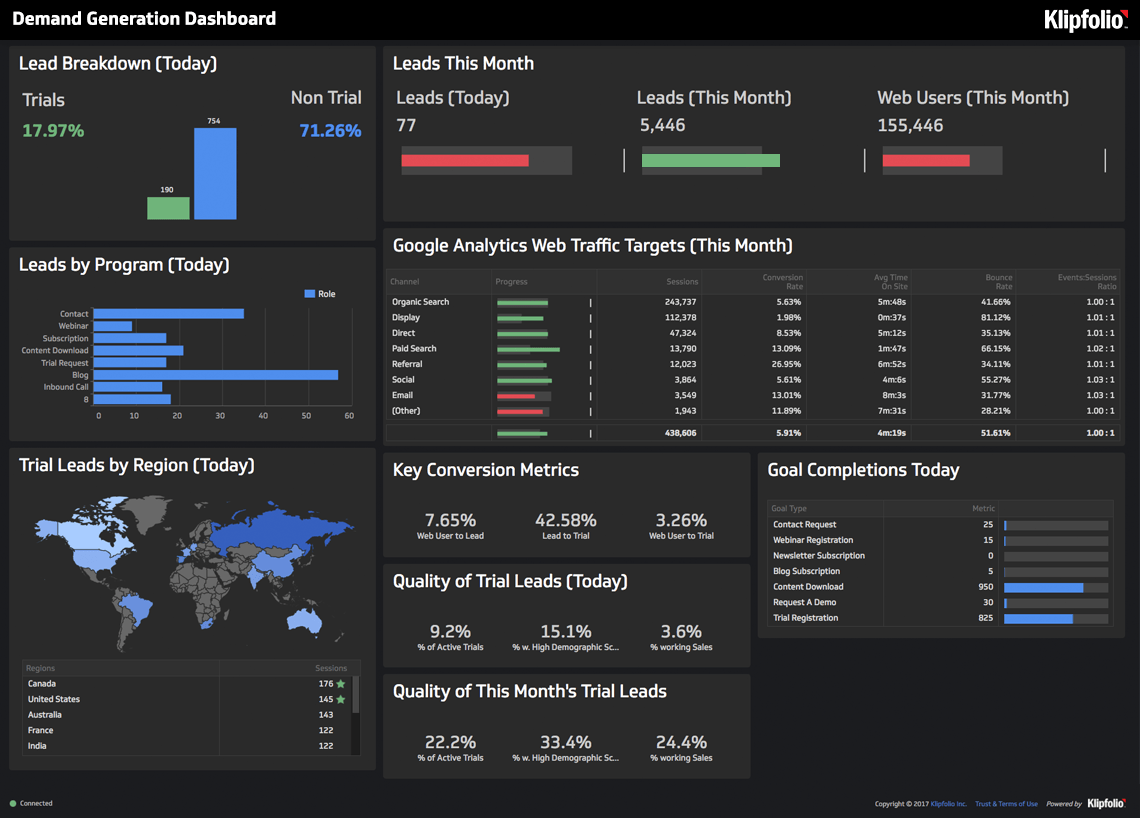 "My Klipfolio dashboards help me know when it's time to worry or when things are running smoothly with just a quick glance. Decision making on the fly has never been easier."
Elise Hinchman, Marketing Director, Lexington Podiatry
From our marketing team to yours
We know how important it is to have control of your data, which is why we put together this quick video to show you what dashboards we use on a daily basis to help drive our own marketing efforts. Watch the video and see what's possible in Klipfolio.
Marketing analytics dashboard examples
Curious to see what you can track in Klipfolio? Here are just a few examples of dashboards our marketing team uses on a daily basis. View the live dashboard examples to get a better look.
Get a real-time, interactive view of your marketing funnel
Track your leads against daily and monthly targets to reach your marketing goals
Get a better understanding of demographic conversion rates to help drive your decision making
With the Brand Awareness metric, you can dig deeper into your key marketing channels and analyze the performance of each
The First Visit metric tracks where visitors come from and how engaged they are with your website
With the Returning Visit metric, you can analyze user behavior and determine how well your content resonates
The Conversion metric shows the performance of core pages and web conversions, and compares them to online sales
Metrics for Marketing
Want to motivate your team and stay up to date on your data, but not sure which metrics to start with? Not to worry, we've compiled a list of the top, most common marketing KPIs (key performance indicators) our users have built using Klipfolio. If you are looking for more, check out our KPI Library:
Marketing Qualified Leads (MQL): Identfy which leads are deemed to be more likely to convert into customers
Funnel Conversion Rates: Measure the rate of which leads move through the marketing funnel
Brand Awareness: Track how people are hearing about your brand on social media and search engines
Customer Engagement: Monitor how your customers are interacting with your brand
Return on Marketing Investment (ROI): Measure the ability of marketing campaigns to generate new revenue
Customer Lifetime Value (CLV or LTV): Measure the amount of gross profit that is generated from a customer over the entire time they do business with a company
Customer Acquisition Cost (CAC): Measure how much money it costs a company to gain a new customer
New Leads Generated: Measure the number of new leads that have been added to your system
Lead Conversion: Measure the amount of leads that are converted into sales
Keyword Performance: Monitor how well your targetted keywords are performing and identify possible work to drive further traffic
Click-Through Rate: Measure how often your site on an SERP prompts users to click and navigate to your page
Web Traffic Sources: Understand which traffic sources are driving visitors to your website
Organic Search Traffic: Make sure you are getting a steady stream of unique visitors from organic search
Domain Authority: Determine the effectiveness of your link-building efforts by measuring the "trust" factor of your domain
Social Traffic and Conversions: Measure how effective your social media efforts are at generating traffic and goal conversions
Sessions by Device Type: Make sure you're optimizing your content in regards to the devices that people are using to reach your site
Unique Visitors: Measure the total number of unique individuals that view your website
Bounce Rate: Measure the number of visitors that arrive at your site and leave without navigating to any other of your pages
How to track your marketing metrics with Klipfolio Marketing Analytics
Klipfolio allows you to pull in data from all of the different marketing services you use to track your performance—and display precisely what you need in a single interactive dashboard. What does this mean for you? No more piecemeal reports or Excel sheets with multiple versions. And you can get started with just a few clicks.
There are 3 ways to build marketing dashboards in Klipfolio:
Pre-built marketing dashboards
Pre-built marketing metrics
Custom marketing dashboards
Pre-Built Dashboards
Here are a few pre-built marketing dashboards
How is your website performing right now? This dashboard is laser focused on answering that question.
How are you performing on Facebook Ads? This dashboard helps you track key digital advertising metrics for Facebook like CPC, CPA, CTR, and spend.
Pre-Built Metrics
Here are a few pre-built marketing metrics.
Click each icon to see what's possible.
Custom Dashboards
Build a custom marketing analytics dashboard
Once you've assembled a few dashboards with our templates, you're going to want to build custom dashboards that tackle the unique and specific challenges of your business.
There's a learning curve with any powerful software tool, but you're in good hands and will soon be building out your own custom dashboards. So grab a coffee and crack open our Editor. We promise it'll be worth it.
Learn more about connecting your data with Klipfolio.
Here's how it works:
Draw your dashboard on a napkin
Decide which data sources you'll need to access in order to create your dashboard
Use the custom editor to start bringing your data to life
Are you an agency? We can help.
From global ad agencies to boutique digital shops, our marketing partners are differentiating, deepening and growing their businesses with Klipfolio. Here are some reasons why our agencies chose us:
Showcase ROI in real-time: Partnering with Klipfolio enables you to provide your clients with transparent access to the metrics that matter most to them.
Automated reporting: Deliver interactive performance dashboards in real-time or submit PDF dashboard reports at the push of a button.
100s of integrations: Agency partners are empowered with the freedom and flexibility to connect their dashboards to a wide variety of data sources in real-time, so they don't have go to ten places to get one answer (and neither do their clients).
Dashboard reports: Create branded PDF reports for your clients and schedule recurring email reports based on live dashboards.
Customize your dashboards: Add your logo and taglines to your dashboard, stylize individual Klips and automated dashboard reports, or refine the look and feel of your dashboards at a more granular level with custom CSS.
Client management: Get access to our dashboard management hub that lets you manage multiple client accounts in a single place.
Check out our Agency Analytics Reporting Software overview.
Use a TV Dashboard display to share your dashboards
A TV Dashboard is a monitor setup to display key business metrics in real-time. TV Dashboards have evolved over the years from office whiteboards to office monitors that continuously display a business' data.
There are a number of benefits to setting up a TV dashboard in your office such as transparency on all levels of the business, metrics-driven teams that can spot opportunity and fix discrepancies, as well as the ability for managers and executives to make real-time business decisions.
What's the best way to display a TV Dashboard?
Dashboards can be displayed on TVs either horizontally or vertically. Vertical TV dashboard display is ideal for longer dashboards, typically ones that have more than 5 or 6 metrics. Due to the fact that TV dashboards are meant for quick, at-a-glance information, it's best practice to limit your dashboard being horizontally displayed to a few of your most important metrics that you need to monitor multiple times a day in order to keep size large for optimal visibility
For more on TV dashboard options, check out our wallboard page.