Digital Advertising Dashboard
Optimize your digital advertising by tracking the metrics that contribute to your campaign's success.
Track all your Digital Advertising KPIs in one place
Sign up for free and start making decisions for your business with confidence.
Sign up with Google
or
Sign up with your email
Free forever ● No credit card required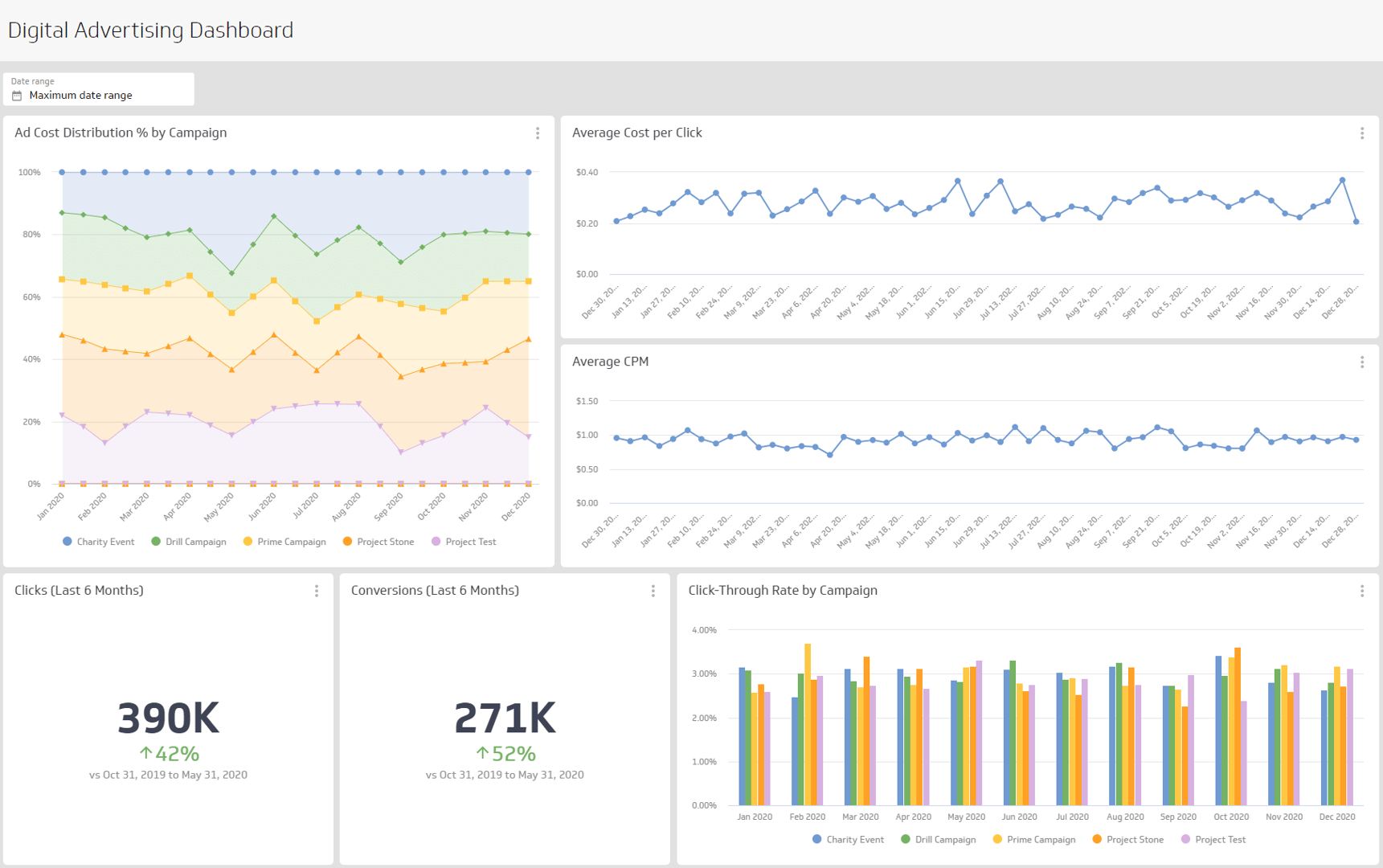 What is a Digital Advertising dashboard?
A digital advertising dashboard tracks your ad and campaign costs, ad reach and engagement, ad frequency, and return on ad spend to give you a comprehensive view of the effectiveness and efficiency of your digital ad campaign.
What are the benefits of digital advertising?
Digital advertising gets your brand message out in the world for thousands of eyes to see. Digital ad platforms such as Facebook and Instagram Ads, Google Ads, and LinkedIn Ads can help you target specific audiences based on keywords relevant to your business. Direct benefits include increased traffic to your website, high-quality lead generation, and custom targeting for global audiences.
What are the top 5 digital advertising metrics to track?
Cost Distribution by Campaign
Conversion
Incorporating marketing dashboards into your digital advertising efforts can significantly enhance your ability to track and analyze campaign performance. These dashboards centralize key metrics, providing a comprehensive view of your digital advertising initiatives and enabling you to make informed decisions for optimizing your campaigns. With marketing dashboards, you can easily monitor the performance of various platforms, such as Facebook, Instagram, Google Ads, and LinkedIn Ads, and adjust your strategies accordingly to achieve better results. 
Related Dashboard Examples
Start tracking your metrics
Level up your analytics with a free forever PowerMetrics account