SEO Analytics Dashboard
Tracking search metrics and KPIs allows your marketing team to analyze SEO efforts.
Track all your SEO Analytics KPIs in one place
Sign up for free and start making decisions for your business with confidence.
or
Sign up with your email
Free forever ● No credit card required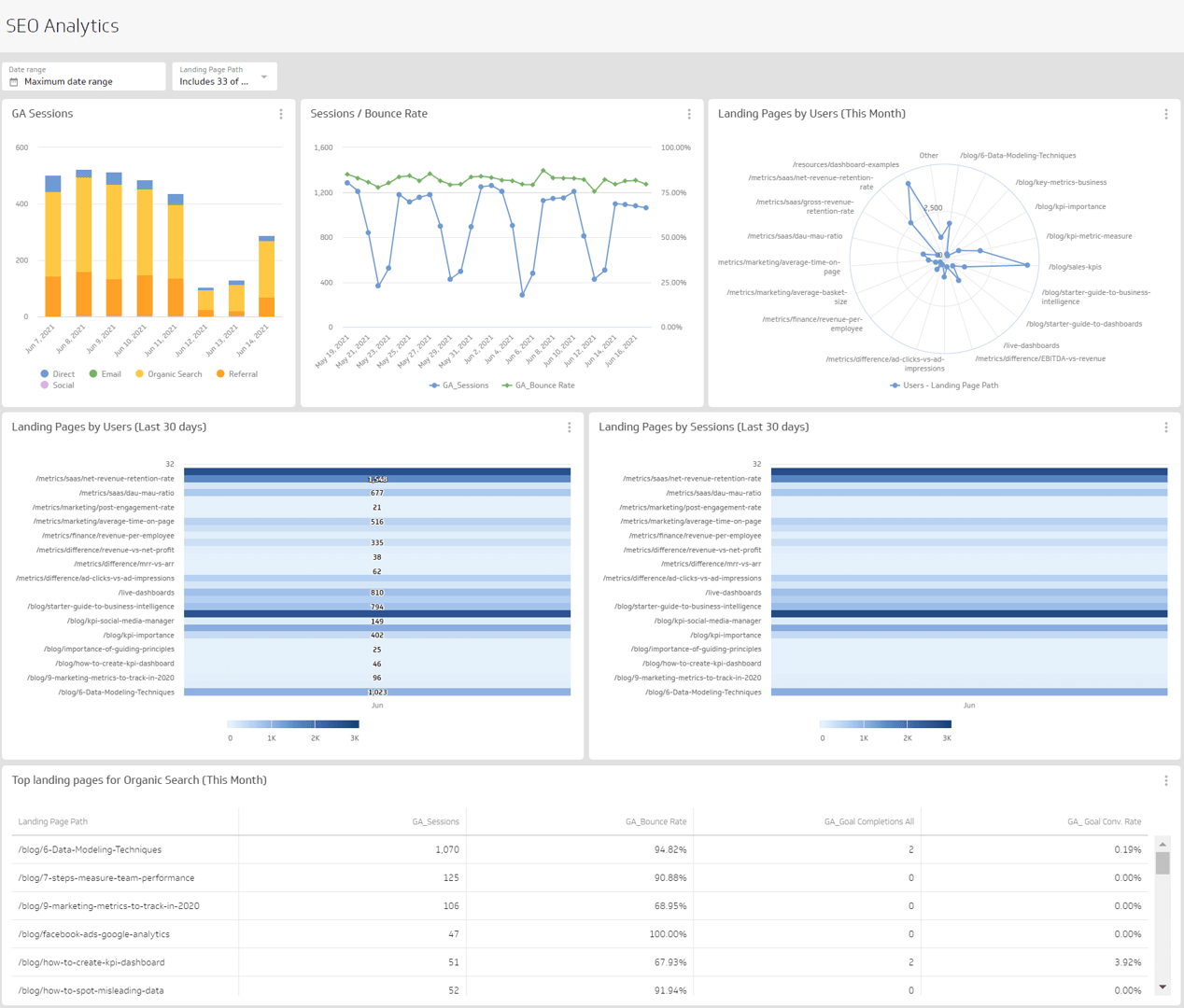 What is an SEO Dashboard?
The SEO Dashboard is a central interface providing a comprehensive overview of critical data points related to your website's search engine optimization (SEO) performance. From keyword rankings and backlink profiles to organic traffic and conversion rates, an SEO Dashboard helps track, analyze, and optimize your website's visibility on search engines.
What is SEO?
Search Engine Optimization (SEO) is the process of increasing the visibility of a website or webpage through organic ("natural" or unpaid) search engine results. The objective of SEO is to generate content that specifically fulfills the purpose of a user's online searches through tailored content that search engines recognize as quantifiably valuable.
Why should you use SEO Dashboards?
SEO Metrics and KPIs are values used by marketing teams to measure the performance of their website for organic search results. Search engine optimization is a core function of any marketing team. In order for teams to really understand their search marketing performance, it's important to measure SEO metrics and track changes frequently. This analysis can help determine top-performing pages, top-converting keywords, and areas of your website that need to be optimized for search.
Features of an efficient SEO Dashboard
An efficient SEO Dashboard encompasses several essential features, each serving a distinct purpose in enhancing your website's visibility on search engines. Here are some key components to look out for:
Keyword Tracking: This feature allows you to monitor the rankings of your chosen keywords over time, helping to evaluate the effectiveness of your SEO strategy.
Backlink Analysis: A comprehensive backlink profile overview is a must-have feature. It helps assess the quality and quantity of incoming links, a vital factor influencing your website's SEO performance.
Organic Traffic Analysis: By providing details about the sources of your website's organic traffic, this feature enables you to identify which channels are driving the most visits and conversions.
Competitor Analysis: A good SEO Dashboard will also provide insights into your competition's SEO tactics, helping you to craft a more effective strategy.
Site Audit: Regular site audits are essential for spotting and fixing technical SEO issues. An efficient SEO Dashboard will offer this feature, ensuring your site remains optimized for search engines.
How to track SEO performance
SEO performance is the impact of the efforts implemented to drive traffic to a webpage or website through keyword targeting, internal linking, and backlinking, among many others. The end goal of generating SEO traffic is to drive customers searching for specific keywords to the specific landing page optimized to convert to sales.
The best way to measure SEO performance is through SEO metrics created through analytics. Analytics is any program that assists in gathering and analyzing data about website usage. These metrics, such as SEO keyword ranking, are hard numbers obtained from your website data gathered from analytics tools such as Google Analytics or Moz.
Metrics and KPIs for your SEO Dashboard
Top SEO metrics to track for KPI-driven marketers:
Number of indexed pages
Number of keywords ranked 1
Number of keywords on Page 2+ (striking distance)
Top 10 Pages yielding traffic as %
Organic Traffic vs Others
Page load time
Mobile friendly score
External links
Keyword density per page
Internal/External links per page
Best SEO metrics to track on your reports
Tracking search metrics and KPIs allows your marketing team to analyze search engine optimization efforts. The right SEO metrics can help your team improve organic search results and increase website visits and leads.
For more examples of marketing dashboards, see the list below.
Related Dashboard Examples
Start tracking your metrics
Level up your analytics with a free forever PowerMetrics account