Organic Traffic
Make sure you are getting a steady stream of unique visitors from organic search.
Track all your SEO KPIs in one place
Sign up for free and start making decisions for your business with confidence.
or
Sign up with your email
Free forever ● No credit card required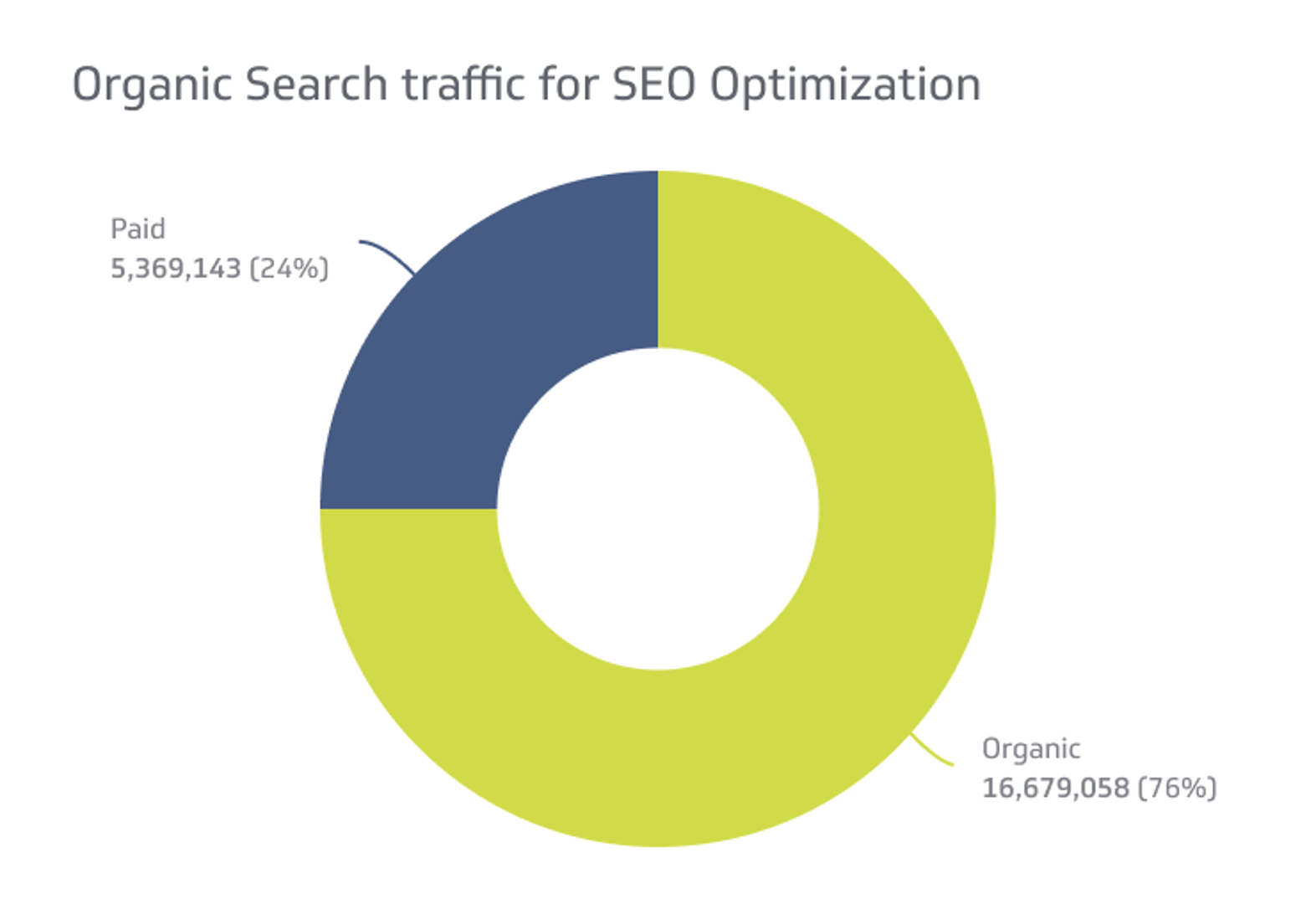 What is Organic Traffic?
Organic traffic refers to the visitors that come to your website from unpaid sources, primarily through search engine results pages (SERPs). When users search for specific keywords or phrases, they are presented with a list of relevant websites.
If a user clicks on your website's link from these search results without any paid advertising or promotion involved, this is considered organic traffic.
Organic traffic matters for websites because it reflects their value and authority. Better traffic means better search rankings and more visibility. To improve traffic from organic sources, use SEO tactics like researching keywords, optimizing pages, and writing good content. And, of course, always make sure to track your rankings using the SEO dashboard.
Organic Search Traffic Challenges
The greatest challenge with organic search traffic is that Google and other search engines are constantly changing and adapting algorithms that can impact your SEO efforts without you even knowing.
Before, after, or during page optimization and keyword analysis, make sure your pages are indexed. Conduct a quick Google search using "site:yourwebsite.com" to make sure your pages are actually indexed. If you are performing site updates, even basic page changes, Google must re-crawl and then re-index these pages. It's not uncommon to experience unstable rankings for up to a few weeks afterward, but don't be discouraged! It will improve.
Organic Search Traffic Best Practices
Some examples of techniques used for organic SEO include using keyword opportunity and keyword ranking, backlinking, link building to improve link popularity, and writing content relevant to human readers. Sometimes users switch up the keyword phrases that they use to make a purchase decision. Here is where you need to make sure you do better keyword research so that you can understand what they are searching for. There are many ways in which you can do this.
First, look at AdWords data. Here you can use the keyword planning tool and get ideas from Google based on your existing keywords. You can also work with your AdWords team to identify patterns or trends the SEO team may not have known, as AdWords generally is constantly trying and testing out new keyword phrases. Learn more: Adwords Dashboard.
Second, using a tool like SEMRush or Moz, you can identify what your competitors are ranking for and what is working for them. If one of your competitors seems to be gaining traction with organic search, they are perfect examples to reverse engineer. You can do this in SEMRush by going to your "competitors" tab and then looking at your competitors and what they rank for. This would be a good example of a competitor you want to reverse engineer. Once you reverse engineer them, you want to change your keyword strategy on your physical website.

Is organic search traffic better than paid search traffic?
Kristine Schachinger from Search Engine Land wrote an article entitled 4 Reasons Organic Search is Better. In the article, Schachinger outlined the following reasons why traffic from paid advertising and social sites is wonderful, but businesses must not neglect organic search traffic efforts:
Organic search traffic is simply better for delivering relevant traffic.
The only channel that performs better in some capacities is paid search ads, but that is only for online conversions, not overall traffic delivery (Paid Search only accounted for 10 percent of overall total traffic).
Combining organic search traffic and paid search outperforms either channel by itself.
So if you are neglecting your organic listings, your paid ones are not doing as well as they could, either. You are leaving money on the table in both organic and paid searches.
Walled gardens (social media platforms) have their own rules.
When you don't have control over the environment that's driving your revenue, you may wind up with a hefty advertising bill to generate traffic that is lost when the company changes how the platform surfaces your content. Generally, these changes happen overnight or over a few weeks. That is not much time to adjust, especially for large companies.
Site "stickiness."
Social media and paid ads might be traffic generators, but they are not long-term customer creators. The bounce rates are high, and the number of pages visited is often very low, in my experience. Organic search traffic is different. Matching keywords to user intent means you may be present in many searches. The user may find you consistently, and once they get to your site, they are more likely to stay. Organic users are still your best long-term customers.
How to monitor organic search traffic in real-time
The organic search traffic KPI should be coupled with related web metrics to provide a complete view of your digital marketing performance. This SEO KPI also needs to be seen within the larger context of your online marketing campaigns. This means monitoring organic search traffic alongside click-through rates, link-building metrics, and marketing return on investment. Learn more about measuring and monitoring your organic search traffic on a Marketing Dashboard.
Start tracking your metrics
Level up your analytics with a free forever PowerMetrics account