Web Traffic Sources Metric
Understand which traffic sources are driving visitors to your website.
Track all your Digital Marketing KPIs in one place
Sign up for free and start making decisions for your business with confidence.
or
Sign up with your email
Free forever ● No credit card required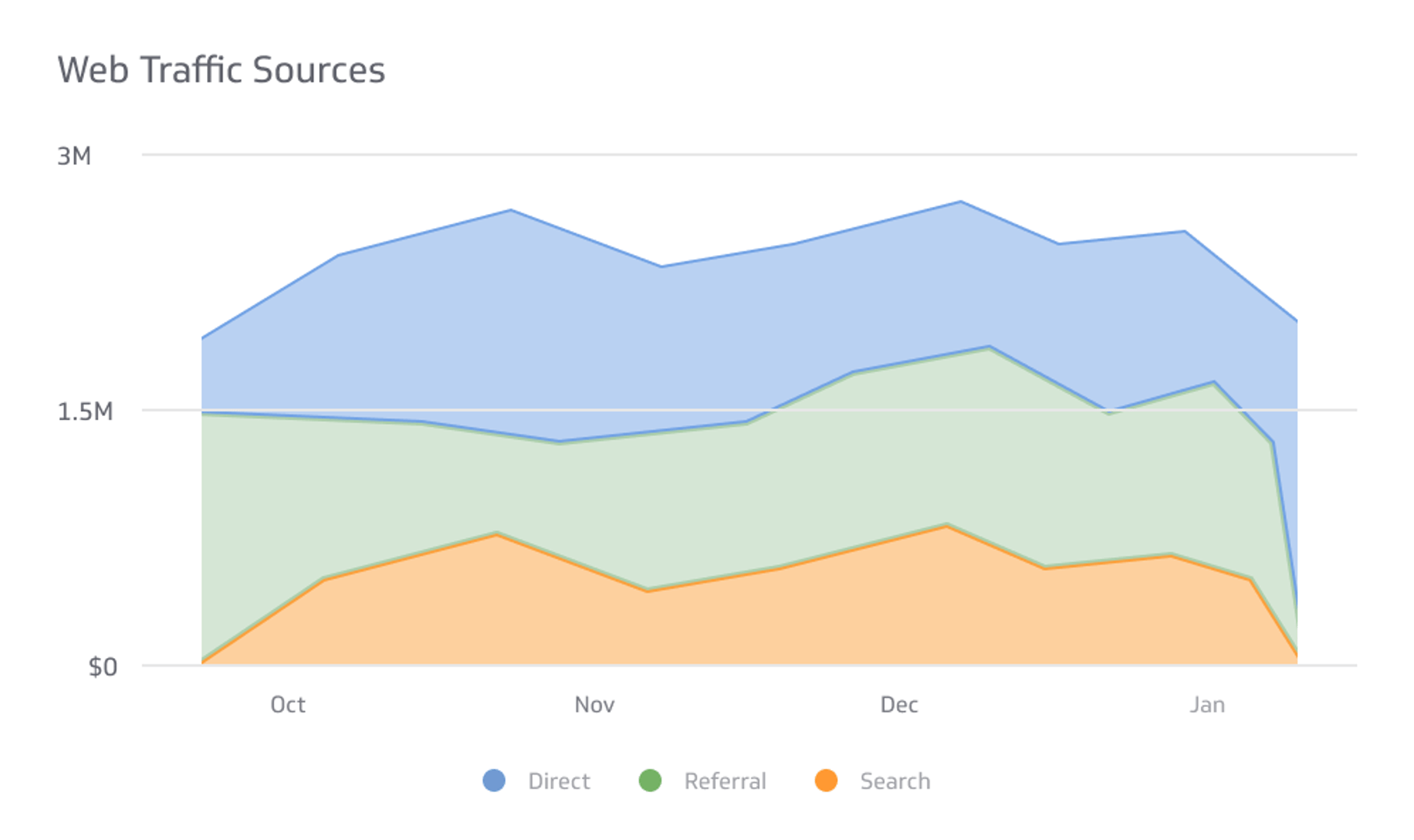 Web Traffic Sources Definition
The Web Traffic Sources metric measures which traffic sources are driving visitors to your website and provides a comparison of each of those sources. The three main traffic sources are direct, referral, and search, although your website may also have traffic from campaigns such as banner ads or paid search. In addition to measuring the number of visitors from each traffic source, consider analyzing the number of goal completions from each source.
Each traffic source can be analyzed to provide more granular information about your web traffic. Search traffic, for instance, can be analyzed according to the landing page and associated keyword rankings; referral traffic can be broken down into categories such as social referrals, blog mentions, or service listings. As well, each source is an indicator of the health of your website. For instance, a high volume of referral traffic shows that your brand or website is being talked about frequently by 3rd party websites or on social media sites. Add the Web Traffic Sources metric to your SEO performance dashboard for a deeper dive into your marketing efforts.
Key Terms
Direct traffic: Visitors that visit your site by typing your URL into their browser or through an undefined channel.
Referral traffic: Visitors that visit your site by clicking on a URL on another website.
Organic Search traffic: Visitors that discover your website by entering searching a keyword in a search engine (Google, Bing, Yahoo) and that click on your listing.
Campaign traffic: Visitors that visit your website through a dedicated campaign or click on a link with certain tracking parameters.
Web Traffic Success Indicators
Organic search is the top source for generating website traffic. But volume alone does not offer much value. In many cases, the quality of both leads and website traffic generates revenue and returns.
An increase in volume from any traffic source while maintaining consistent traffic from other channels.
A high or improving goal conversion rate related to any traffic source.
Web Traffic Sources Challenges
The biggest challenge with social network traffic, in particular, is that it's difficult to track down the original source of a message. Inbound links from social networks that send you visitors may appear in comment threads or transient conversations that you can't link back to and examine because they've expired.
Web Traffic Sources Best Practices
There is no one best traffic source because it depends on the nature of your website. Here is some expert advice to keep in mind:
It's always best to have a variety of traffic sources. This minimizes the risk of your website being decimated if your main traffic source dries up.
Justin Bridegan from MarketingSherpa
To increase website traffic, marketers should review their website analytics for search words and phrases you may not have even known your audience was looking for. These long-tail keywords will give you some insight into possible new content development topics to improve your SEO.
Produce content that targets topics, not keywords. Build your website with your audience in mind. A good long-term strategy is to explore other possible content resources such as blogs, clients, and vendors.
How to Monitor Web Traffic Sources in Real-time
Once you have established metrics for measuring web traffic by source, you'll want to establish processes to monitor this and other marketing KPIs. Dashboards can be critical in this regard.
Learn more about how to track your Web Traffic Sources or other digital marketing metrics using a Digital Marketing Dashboard.
Web Traffic Sources: Top Resources
7 Best Metrics to Track The Success of Your Website, Shaun Quarton
Marketing Research Chart: Most Effective Traffic Sources for Website Conversion
6 Tactics to Increasing Site Traffic and Improving Content
Chapter 10: Measuring & Tracking Success, Rand Fishkin and The Moz Team
Start tracking your metrics
Level up your analytics with a free forever PowerMetrics account