Email Marketing Dashboard
Take a data-driven approach to your email marketing campaigns.
Track all your Email Marketing KPIs in one place
Sign up for free and start making decisions for your business with confidence.
or
Sign up with your email
Free forever ● No credit card required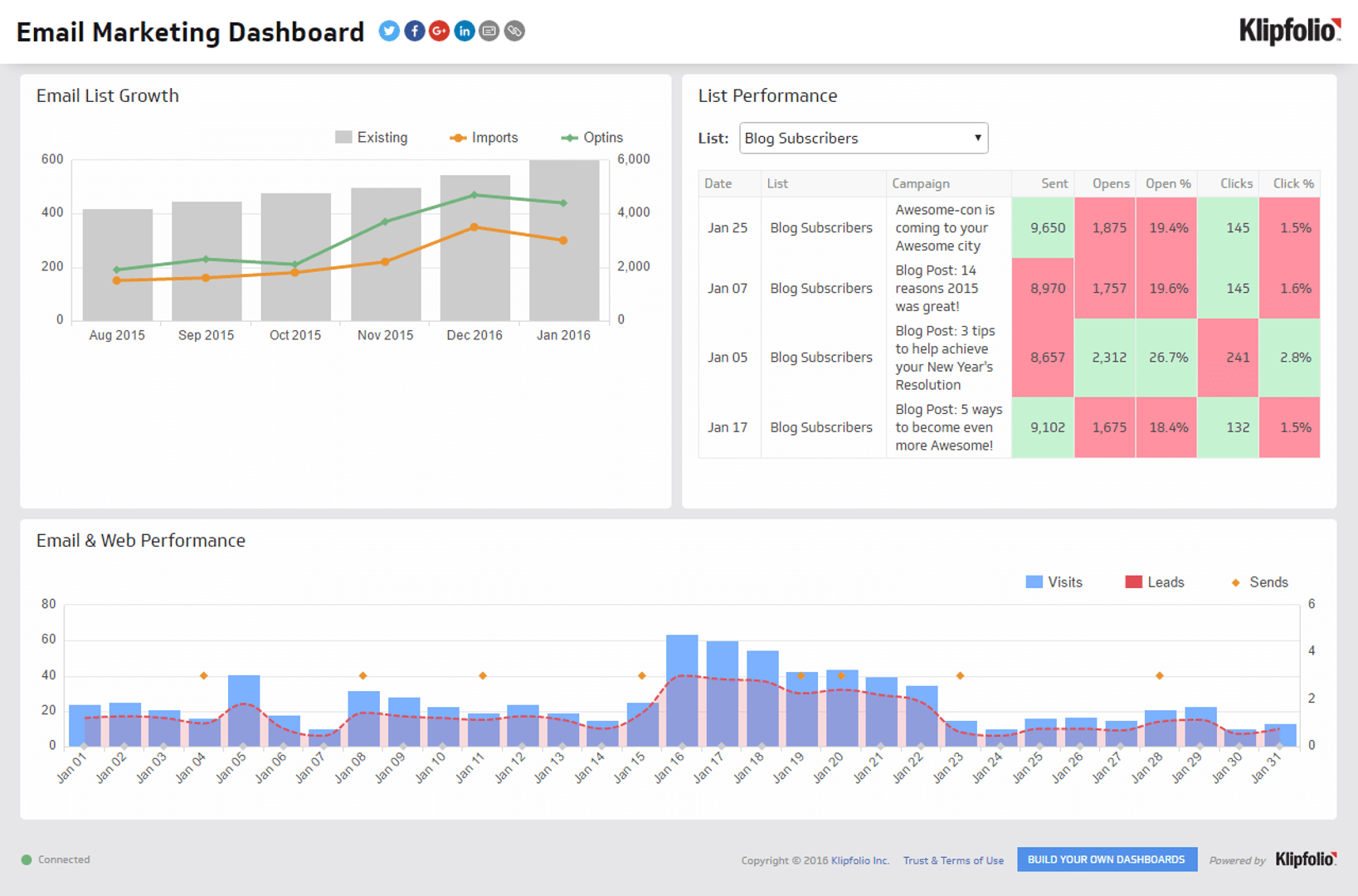 What is an Email Marketing Dashboard?
An Email Marketing Dashboard is a centralized, data-driven platform that consolidates and visualizes key performance indicators (KPIs) related to email marketing campaigns, enabling marketers to efficiently monitor, analyze, and optimize their email marketing efforts. By aggregating data from email clients, web analytics, and CRM systems, the dashboard provides a comprehensive view of campaign performance, audience engagement, and return on investment (ROI).
The primary purpose of an Email Marketing Dashboard is to help marketers identify trends, measure the effectiveness of their content, and make data-driven decisions to improve their email campaigns. By tracking metrics such as sends, opens, clicks, conversions, and unsubscribe rates, marketers can assess which content resonates with their audience, refine their targeting, and adjust their strategies to better achieve their business objectives, such as generating new revenue or nurturing leads.
In summary, an Email Marketing Dashboard is an essential tool for marketers seeking to maximize the impact and ROI of their email marketing campaigns through real-time insights, performance analysis, and data-driven decision-making.
Email Marketing Best Practices
Email marketing is an effective way to reach a large audience with your message; marketers today, however, have moved away from simply "blasting" their audience with a barrage of emails and are instead focusing on sharing engaging, relevant, and meaningful content.
To do this, marketers are taking a data-centric approach to email marketing by tracking metrics associated with each campaign to determine what content resonates with their audience and what content needs to be rethought. Data-driven marketing doesn't just mean measuring and analyzing data; data-driven marketing uses data to show how marketing campaigns are contributing to the attainment of key business objectives, like new revenue. To that end, marketing dashboards should combine email client data (sends, clicks, opens) with web analytics and CRM data (visitors, leads) to clearly demonstrate ROI.
Related Dashboard Examples
Start tracking your metrics
Level up your analytics with a free forever PowerMetrics account