Why I Broke My Golden Rule of Internships
Published 2019-04-18, updated 2023-02-01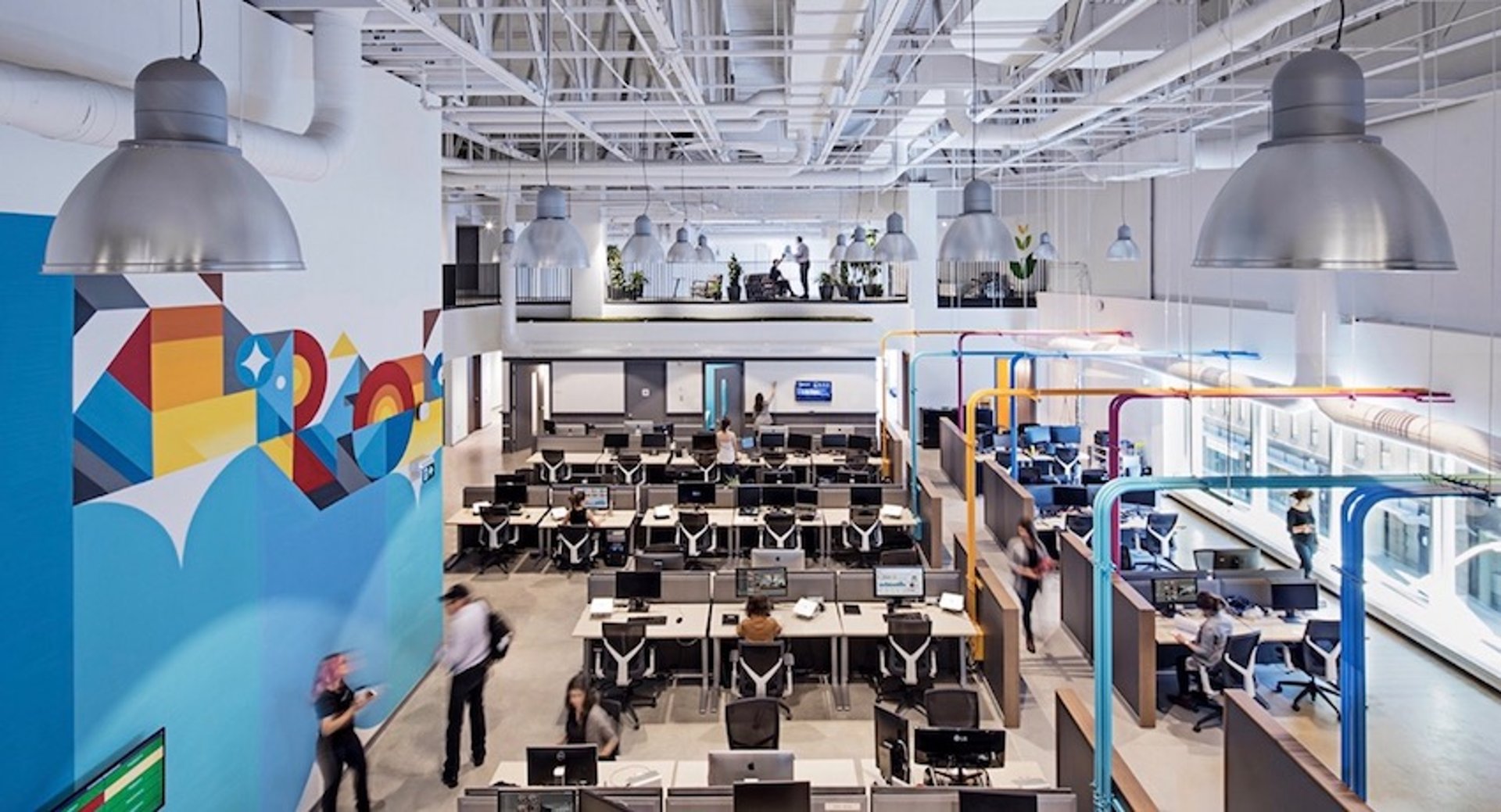 Summary - The 10 factors in play that helped me pick a company for an ideal intership... And return to Klipfolio!
---
Before starting my third internship, I didn't think I would go back to the same company. See, I had a golden rule for internships:
NEVER GO BACK TO THE SAME PLACE TWICE, TRY SOMETHING NEW!
Since I had a total of four internships, it only seemed natural to me to try out a new experience each time and to take advantage of this opportunity that students have with internships to try different places! But, recently, I broke my own rule and decided to go back to the company I last interned at: Klipfolio! Here's why I decided to go back to Klipfolio for my last co-op and what factors were in play that helped me pick a company for an ideal internship…
---
A bit of a background about myself, I'm currently in my fourth year of Computer Science at the University of Ottawa. I've had the opportunity to work at Kinaxis, a large supply-chaining management company for my first internship, IBM for my second internship, and later an Ottawa-based software firm called Klipfolio, for my third internship. I've also had the amazing opportunities to be part of so many clubs and associations on campus like uOttawa IEEE Student Branch, SESA, uOttaHack, but also found myself doing various part-time jobs at the university since first year, which gave me very valuable technical experience. From starting out with my first IT job at the university's co-op office, to later being a Student Mentor and then a Teaching Assistant for a first year course; all of these have also fairly impacted my software career and contributed enormously to my communication, leadership & technical skills.
---
Perfect environment to grow
One of the ways in which Klipfolio and its environment challenged me the most is by being surrounded by a number of talented and humble people, I was able to approach anyone in the office whenever I needed a question answered or simply needed their help. This meant anyone from the CTO, to the co-founder to even managers. The fact that Klipfolio has an open space, it meant being able to reach out to ANYONE, literally anyone in the office whether you are looking for technical help, have a new idea to launch, or want to learn something new and need a mentor for it.
Cross-functional collaborative teams
I didn't realize how important this one was until seeing workplaces that lack cross-collaboration. In fact, if a company generally doesn't demonstrate cross-collaboration across teams, it might just mean a lack of communication between teams often. To me, cross-functional teams means that different people across different teams often come together when needed to solve a problem. Something I've witnessed at Klipfolio is this open-mindedness towards cross-functional and cross-collaborative teams. I've seen people from my team temporarily join another team to maximize productivity and success of new ideas. I've also seen new teams being formed when a new idea or project needed to be explored or brought to life. 🤔 This mindset and openness contributes greatly to the culture of the company and its overall success and its capacity to grow so fast as a company. 👏
uOttawa Engineering Students tour Klipfolio's new office!
A rapidly-growing company, maintaining culture
One of the things that I enjoyed the most about Klipfolio, is how open everyone was to change and how they adjusted to it. Last November, Klipfolio was recognized by Deloitte in their North American Technology Fast 500 and in their Deloitte Canada Tech Fast 50, so of course, it has grown so fast, but that doesn't mean they are losing their awesome culture or becoming a large corporate company where it's employees are unhappy. In fact, the people and teams at Klipfolio are so open to change, exploring new solutions, experimenting and learning, that is it literally the perfect environment for interns and even for full-time employees. People here don't just go with the flow and follow existing flawed processes, they sometimes question processes, create new and better ones, or even reinvent certain ways we do things at Klipfolio, they always find a way to innovate. This made it especially easy for me, as an intern, to have a say in things and express myself. In fact, I felt way more comfortable at Klipfolio expressing my opinions and my ideas, and sharing with my team and others than I ever did at any other workplace. I think they've built this awesome culture over the past few years that they've managed to maintain despite growth and its made it an awesome place to work at.
The open-communication, the challenging work, the dynamic work environment and even little things; the friendliness of the people, the dog-friendly office has made Klipfolio an attractive company to work for, which is exactly what I was looking to find through my internships.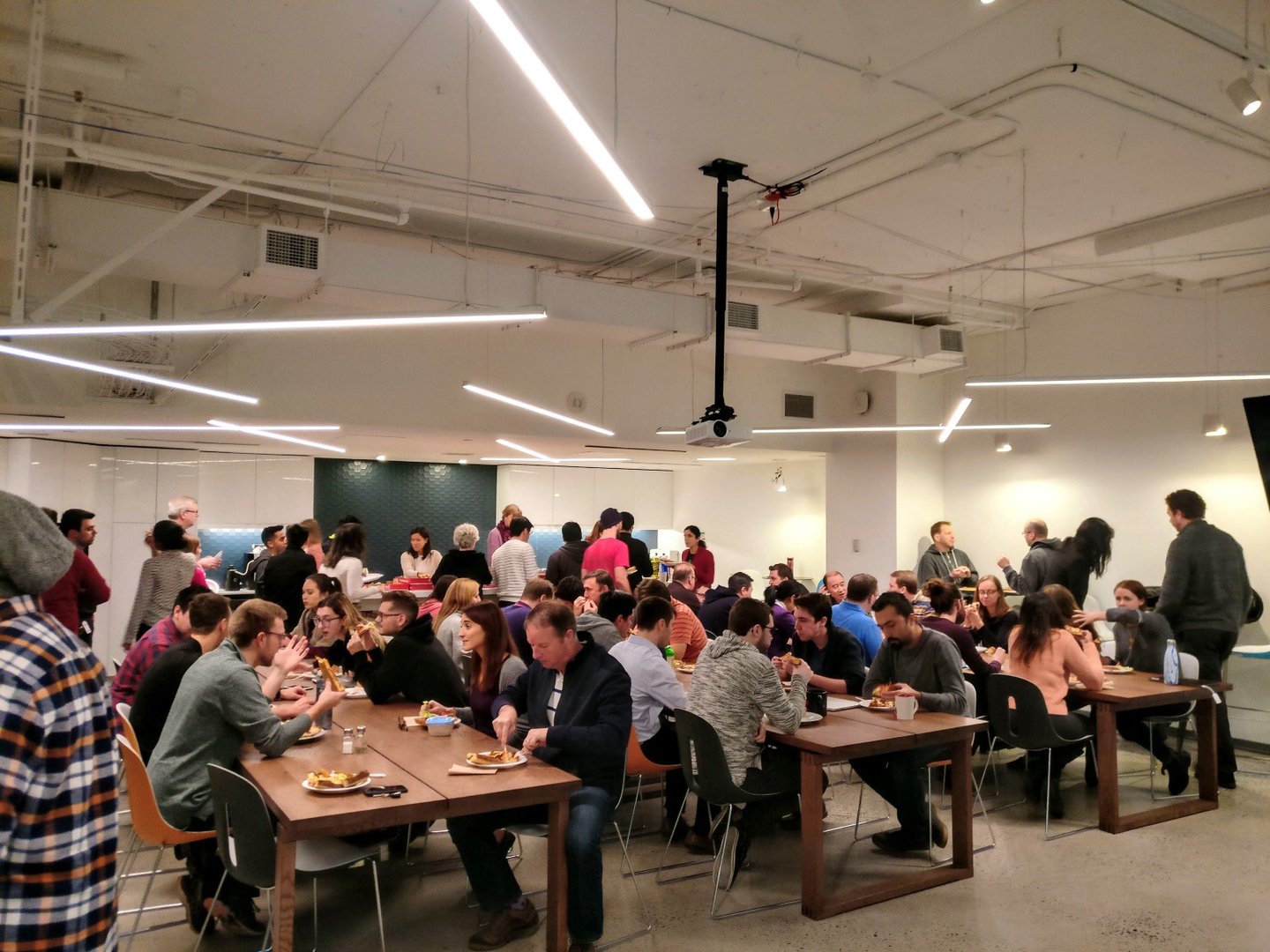 Celebrating some key milestones at Klipfolio with some 🍰&🍕!
Onboarding Experience
Think of any experience you've had, like attending a conference; once you arrive at a conference, if the registration process is anything else but seamless, then you'll have something to complain about. Similar to your first few hours at a conference when registering and not having to wait in line for a long time, your onboarding process whether it be as an intern or as a full-time employee should be as seamless as possible.
This is no longer a want for employees, this is a need. Every company should have a seamless onboarding process, or else it's just a bad onboarding experience. In fact, studies have shown that the onboarding experience is a strong key factor for employee retention. Klipfolio gave me one of the best onboarding experiences and allowed me to quickly hop to work, which made the entire experience enjoyable and effortless. Usually, the onboarding experience has a great representation of how the company will treat its employees, that's where the next three points come in.
Trusting Their Employees
The first and best thing you can do to retain and keep your employees happy, is trust them. The executives and management teams at Klipfolio did an excellent job at this, by trusting their employees as much as they can, and intervening when needed. No one likes to be micromanaged, and it shows lack of trust in their employees. Managers at Klipfolio always put trust in their employees, which actually allows room for innovation and creation. Also, something interesting I read in an article about flexible working, is that "For all the benefits that flexible working brings and the new ways of working offered by technology, none of it can happen without trust." See, flexible working not only refers to when/where you work, how you chose your work hours, but also how open the management is to your working situation. I loved how at Klipfolio, working was so flexible and accommodating that it made it fun and exciting often to work & collaborate with people who were working remotely!
Knowledge Sharing
I noticed, that a lot of the leaders at Klipfolio, excelled commonly at one thing that is very critical: knowledge-sharing. I read an article once, by Kevin Alavi, which explained why it is important to be replaceable. "Be replaceable. Put systems into place and share your knowledge so that everyone learns from it. Being replaceable means you have the confidence that you will not lose your job because you are sharing your knowledge and creating a succession plan. Being replaceable is the most selfless act one can do for any organization. By being replaceable, it means you are putting the company above your own agenda and needs." You ever worked at a company where one person was the expert for a given area, and the second that person leaves the company, everyone freaks out because no one else has knowledge in that area? Well, that's no good! At Klipfolio, we constantly had lightning talks, Klip Talks* and even knowledge sharing sessions in other forms that continuously encouraged us to share knowledge among others. What I liked about this, is that it was not always work or technology related! Sometimes it was just something exciting that someone chose to share to benefit others, after reading a book, or attending a conference, for example. There's one important factor that comes before the idea of knowledge sharing…
*A Klip Talk is a talk about any topic you'd like to share with everyone, doesn't have to be tech or work related!
Others Always Willing To Help
Within my first few days at Klipfolio, someone had asked me what made it feel so different than other workplaces. I told them, the continuous effort of everyone always willing to help others; "no team member is an island". An important concept that a colleague, Chris, explained to me, is that as you grow as a developer, you become knowledgable, and when you gain knowledge, you try your best to benefit others with it. Say, throughout your work day, you take the time to help two or three people with tasks they might be struggling with, or something they are stuck on. What if you hadn't taken the time to so do, and you decided to focus on your own task to finish it? By investing in others knowledge and enabling them to solve their problem, you are not only knowledge sharing, but you are also investing in the company and the people you work with. Why help only one person (yourself), if you can also enable others? This takes lots of selflessness and humility, and I'm glad to see my colleagues at Klipfolio are always willing to help.
Hack Days
Hack Days have become a very popular practice in the software industry, and I can understand why: they help you to innovate a new idea and they allow you to explore a new tool or area of technology. In my last week at Klipfolio, I worked on a hack where I got to learn things about the backend, new things about front-end technologies, and even tools that I hadn't used throughout the term. The coolest part about this, is that hack days challenged me to expose myself to a new area of the product, but also a different area of technology that I didn't necessarily feel comfortable with. This is where mentorship also comes into play…
Mentorship
I talked a lot about knowledge-sharing & others always willing to help, this is essentially what mentorship is about. Mentorship is necessary for both interns and full-time employees. It allows both the mentee and the mentor to benefit from this relationship, learn from the other and develop new soft or technical skills. At Klipfolio, it was pretty cool to see that even full-time software developers took the time to ask people to mentor them in different areas! Do you want to learn more about product management? Ask someone to be your PM mentor! You want to learn more about a specific back-end technology? Ask someone to mentor you on the back-end side! People at Klipfolio will take out of their time to mentor you and eventually you will be able to mentor someone too!
Code Quality
Within my first week at Klipfolio, one thing that I really noticed is the overall quality and cleanliness of the code. Yes, the code of the product I was working on was barely a year old, but it was overall well documented and up to date. I felt the overall code culture and practices there emphasized a lot on code quality. It wasn't something they simply said, it was something they also executed. Our VP of Software Development, Ali, used to compare code to a park, "always leave the park cleaner than you found it." which also applies to coding. I developed this mentality that if I run into a piece of code that I don't understand, or I feel it doesn't follow good practices, I can take a bit of my time to 1. Learn about this area of the code 2. Leave it a little cleaner, or refactor it if I am working in that general area.
Other cool things I loved about Klipfolio!
The doggos! 🐶
Genuine and kind people! 💙
The office space! 👀
Awesome kitchen snacks! 🍪
Unlimited growth & learning 💪
Related Articles