Salesforce is a powerful tool used by thousands of teams around the world as the central hub of their sales organization. It's at the center of almost every activity in your sales team, and you probably can't imagine living without Salesforce.
Like many departmental software solutions, Salesforce is fine tuned to empower your sales and success organization. It ties in nicely with many marketing automation platforms like Marketo and Pardot, and support and helpdesk platforms like Zendesk.
By and large, however, most folks outside of sales and marketing rarely need direct access to your CRM. At the same time, there is massive demand for access to the reports, metrics, and KPIs that live in your Salesforce instance. This creates a bottleneck of demand around for your Salesforce reports and dashboards.
If your business was a rock band, sales would be the lead singer. It's first thing your CEO talks about with the board or shareholders so it's no wonder there is such demand to get that data out into the organization.
Enter Salesforce dashboards.
And we mean external reporting dashboards like Klipfolio. Of course, there are lots of Salesforce reporting tools out there.
Why build a Salesforce dashboard
The one benefit of building a Salesforce dashboard that I hear most often is getting data out of their CRM and into the organization. All your company data in one place.
Dashboards are effective tools at disseminating information across the organization using a visually appealing medium. Dashboards provide an elegant solution to the age-old problem of how to communicate performance across the organization.
One of the most popular ways to share data is using a TV dashboard. It's a stylish, pragmatic, and elegant way to inspire your team to be data-driven.
Benefits of a Salesforce Dashboard
Building a Salesforce Dashboard in your organization has 5 main benefits.
Get your data of the CRM and displayed with all your company data
Visually appealing way to show performance metrics
Reduce the need to train folks in Salesforce when all they need is a report
No need to export Salesforce dashboards and reports in Excel or Sheets
Increase visibility of sales metrics to executives within the organization
Here's a case study from our customer, Versature. They use a number of data sources, but primarily use Salesforce to configure their dashboards. It's an interesting use case and worth a watch.
How to build a Salesforce TV Dashboard
I want to share a process for building a Salesforce TV dashboard that is vendor agnostic because there are some things you need to get right no matter what solution you choose. If you want to try Klipfolio, I've included a detailed tutorial for setting up a Salesforce Leaderboard below.
Here's a process for building a Salesforce dashboard:
Determining who will view the dashboards
Choosing the data for the dashboard
Deciding what dashboards you will build
Choosing dashboard software
Choosing digital signage hardware
1. Determining who will view the dashboards
Your first task is to identify your audience for the Salesforce dashboards. The two biggest use cases are displaying sales KPIs and metrics to your executive team and getting performance metrics in front of your sales team.
Depending on the audience, the resulting dashboard will be designed differently. For example, an executive sales dashboard will focus on organizational objectives like sales growth, progress towards sales targets, and revenue per account. You may decide to incorporate these sales KPIs into a dashboard that takes a 30,000ft view of the business.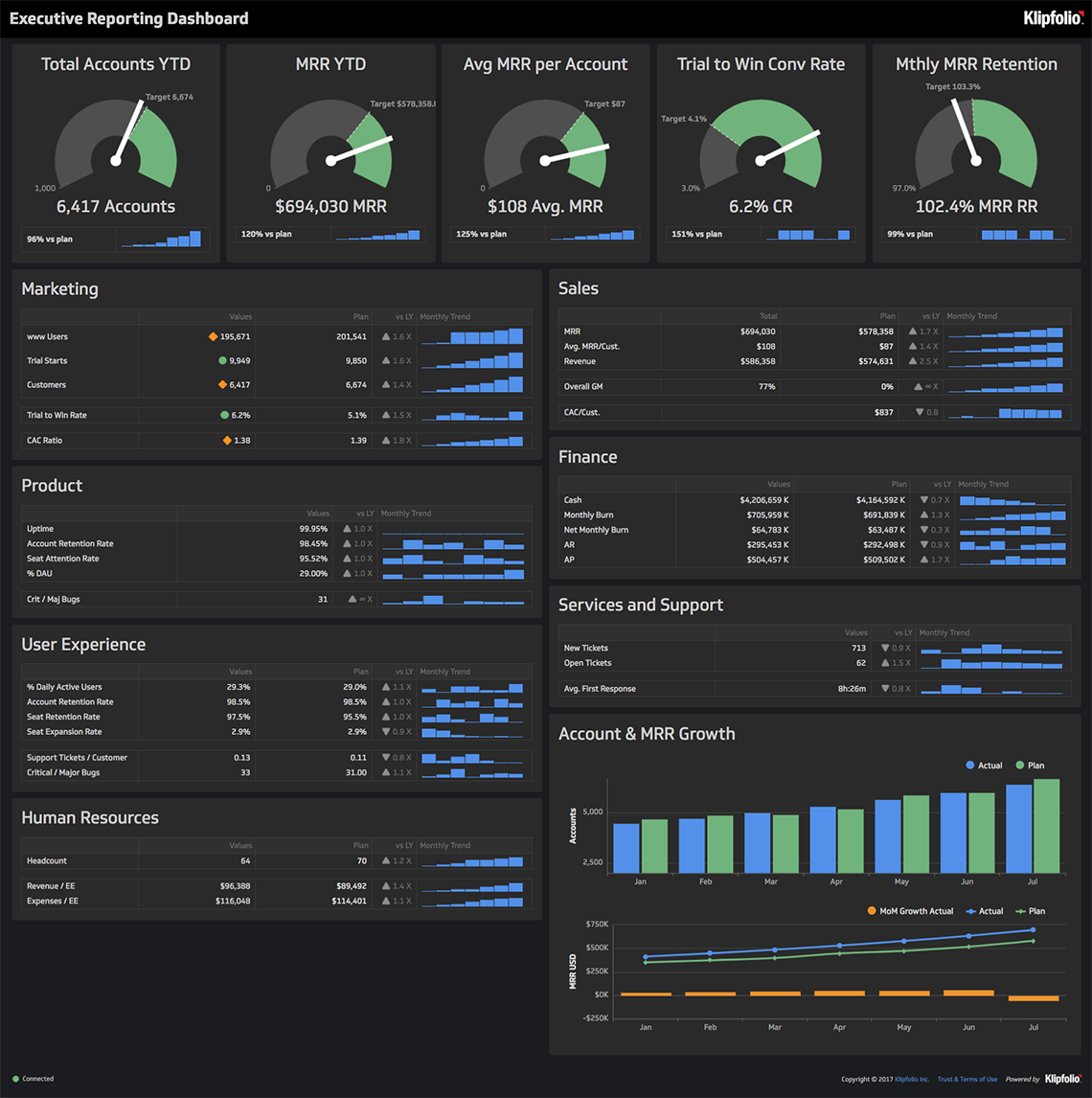 A dashboard for your sales team may focus more on operational performance metrics. The dashboard should lend itself to actionable analysis, and feature targets as prominently as possible. Whenever your team looks at the dashboard, they should know if performance is good or bad.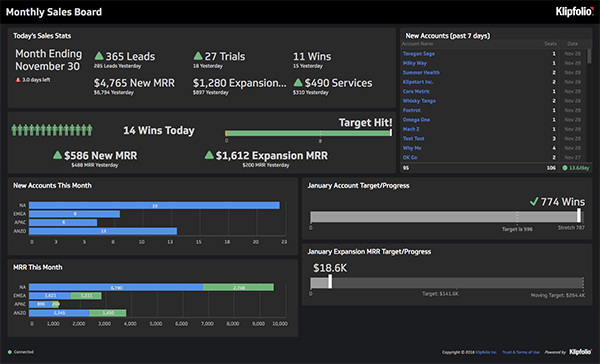 2. Choosing the data for the dashboard
Data fatigue is a thing and you don't want your dashboards to contribute to that problem. Avoid data overload by carefully selecting the information you put on a dashboard. Sometimes less is more, even in this era of Big Data.
If you've completed step 1, this step should be easy. Make it easier by asking people what information they want and why. The answer should make what data you put on the dashboard self-evident.
As a rule of thumb, I always challenge myself to associate a target with metrics on a dashboard. It's a good way to keep things actionable, and it forces to think twice before you put a meaningless chart on a dashboard.
If you're stumped as to what to put on your sales dashboard, you can browse our gallery of Sales KPIs and Metrics for ideas.
3. Deciding what dashboards you will build
Like a good book, your Salesforce dashboards should have a title. It doesn't have to be a catchy title that will adorn a best-seller list, just a descriptive name that will let your team what they're looking at.
This exercise is useful to force you to limit what you put on the dashboard when you get to the design phase. Every metric you put on the dashboard needs to pass a litmus test: does it contribute to the story or not.
Of course, you probably have a good idea of what you want on a dashboard from your Salesforce instance.
4. Choosing dashboard software
A quick Google search will reveal dozens of vendors all vying for your attention (including us). We appreciate the challenge you face in finding an Salesforce dashboard tool.
In our experience, choosing dashboard software comes down to four factors in this order:
Ability to connect to all relevant data services
Price and cost of ownership
Speed to deploy
Ability to share across the organization
Beyond those four factors, there are personal preferences and bells-and-whistles. Not to discount that, but conversations with vendors stop dead if the first four checkboxes aren't ticked.
5. Choosing digital signage hardware
You'll have no shortage of options when it comes to choosing your casting hardware. There are lots of options available. Here are a few we know are compatible with Klipfolio.
Airtame
Airtame is a small wireless HDMI device that plugs into the HDMI port of any TV screen or projector. It allows you to display your Salesforce Dashboard to the TV from any computer, tablet, or smartphone.
Rise Vision
Rise Vision is a free, web-based digital signage platform. It allows you to display dashboards, calendars, spreadsheets, webpages, RSS feeds, and YouTube videos. All you'll need is a media player, some kind of display monitor, and a free account.
Rise Vision is great for organizations who want a simple way to show dashboards and manage their displays from a free, easy-to-use web app.
truDigital
truDigital offers a cloud-based digital signage solution that is quick to learn and powerful to use. Display graphics, videos, PowerPoint presentations, local weather, social media feeds, live news, KPI dashboards and more—all starting at $29/month with no contracts. Free training and VIP support are included with all of their plans.
truDigital Signage serves industries such as automotive, corporate, education, financial, government, healthcare, manufacturing, restaurants, and retail, among others.
ScreenCloud
ScreenCloud is an incredibly easy-to-use cloud-based digital signage software for any screen. With free access to their App Store, you can upload dashboards, graphics, notices and social media feeds in minutes.
ScreenCloud works on consumer grade hardware (such as normal TVs and media dongles) and is $20/month with no contract obligations, making it perfect for both small and large enterprises.
Creating a Salesforce Leaderboard with Klipfolio
With Klipfolio, you can connect to whatever data sources you're currently using to track and report on sales activity — a CRM like Salesforce, HubSpot or Pipedrive; call center and support apps like CallRail, Intercom or Zendesk; or spreadsheets that live on your hard drive, server, or in the cloud.
Once you connect those data sources to Klipfolio, you can build and publish data visualizations that surface your sales data in a way that is intuitive to you and your team, and the visualizations will update as your data updates, so you'll always know how you're doing.
To start creating a Salesforce Leaderboard with Klipfolio, watch this detailed video tutorial or read on down below (information on how to publish to a TV wallboard/mobile device is included at the bottom of this post):
Connect your sales data source to Klipfolio
The first step in building custom data visualizations and dashboards in Klipfolio is to connect your data sources to Klipfolio.
As an example, if you want to build a sales leaderboard in Klipfolio that draws on Salesforce data, you'd start by creating a sales report in Salesforce, then in Klipfolio you'd connect your Salesforce account.
From there you would be able to search for and connect to that Salesforce report.
Build your custom sales data visualizations
Once your sales data sources are connected, you're ready to start building.
From the dashboard interface click Add a Klip and then Build a Custom Klip.
Pick the data visualization component you'd like to start building with. In building data visualizations for Sales Leaderboards, I like to start with the 'Blank' component.
Next, you'll be asked what data source you'd like to use to build your data visualization. Sticking with the Salesforce example, if you've already created the Salesforce Report you'd like to use, you can choose to Connect a New Data Source at this stage, and you'll be taken to the Connector Gallery.
Type Salesforce in the search field and select the Salesforce Connector. Pick a flow step, then provide your Salesforce credentials to enable you to access your Salesforce data through Klipfolio.
Where you have the option to select a data retrieval method, pick Salesforce Report, unless you want to write a SOQL query to pull in data that way.
Click Select and verify that you're about to pull in the right data down below. Click Continue and you'll be taken to the Editor.
In the Editor, you'll see a variety of data visualization components on the right-hand side which you can drag into the preview screen in the middle.
Your data source will be displayed down below, and you'll see a formula bar on top of that.
For a step-by-step on how to build a Sales Leaderboard in Klipfolio, be sure to check out the video I included.
The long story made short: once you create your first data visualization and display the relevant metrics and KPIs for one sales rep, you'll duplicate that content, adjust it to show data for another sales rep, and save as so that you're not writing over the first data visualization you created.
Repeat this process until you've created a sales scorecard for all your sales reps, then add them to your dashboard.
Start monitoring your Salesforce data and stop digging for it
We both know how important your Salesforce data is, but after reading this blog post I hope you've come to understand just how simple it is to fuse importance with accessibility.
Building a Salesforce TV dashboard is the same for desktop as it is for tablet, the only difference being you can't forget the numbers when they're right in front of you!