Starter Guide to Instagram Analytics
An Instagram analytics dashboard helps you learn more about your audience, refine your messaging, and build a stronger Instagram presence. And with PowerMetrics, you can track your essential Instagram metrics in one place.
Track all your Instagram Analytics KPIs in one place
Sign up for free and start making decisions for your business with confidence.
Sign up with Google
or
Sign up with your email
Free forever ● No credit card required
What is Instagram Analytics?
When you have a business Instagram account, you have access to the app's built-in analytics tool, otherwise known as the Professional Dashboard. The dashboard provides an insights overview, like accounts reached, accounts engaged, and follower growth. The professional dashboard also gives creators and businesses access to ad tools, branded content tools, and Instagram shopping.
Instagram In-App Business Analytics
While Instagram's in-app reporting tool is an excellent resource for businesses, it comes with its own limitations. Instagram's reporting tool gives you basic insights into your account performance, like reach, engagement, followers, and advertising results. Instagram analytics is an excellent starting point for no cost, but to dig deeper into your Instagram insights and for long-term reporting, you might want to explore an Instagram analytics tool like PowerMetrics.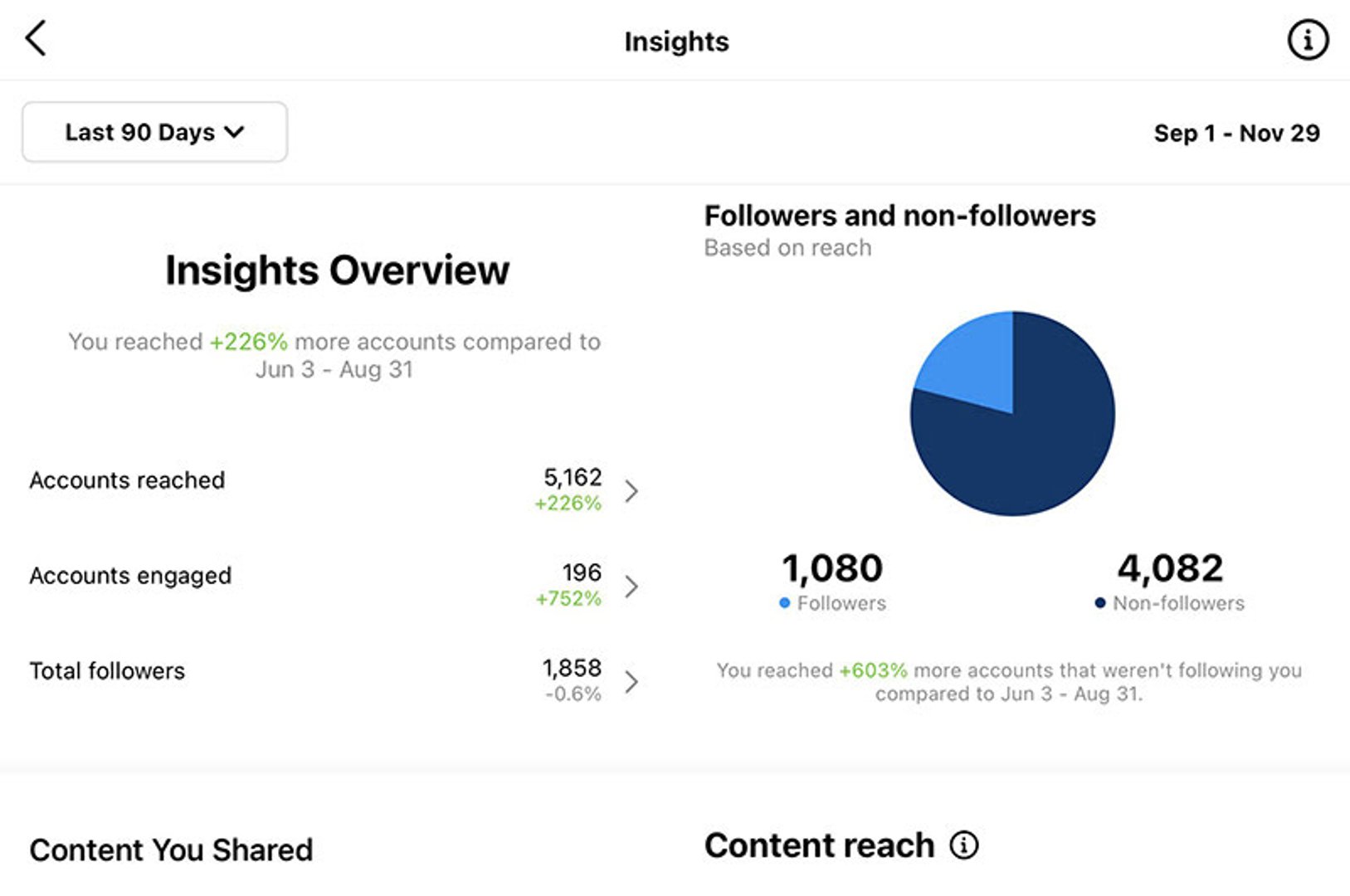 Instagram Analytics Tools
If Instagram has in-app analytics, why should you consider a third-party Instagram analytics tool like PowerMetrics? An Instagram analytics dashboard can combine your Instagram engagement and performance alongside other social media metrics so you can have a holistic understanding of your social media marketing strategy.
Instagram is optimized for mobile, which means access to your in-app Instagram analytics is limited to mobile too. This can make reporting on your marketing campaigns at best, challenging and at worst, inaccessible. An Instagram analytics dashboard in PowerMetrics can alleviate that process. Our pre-built metrics for Instagram  help you easily connect your Instagram data and access your insights on desktop or mobile.
An Instagram analytics dashboard in PowerMetrics can expand the scope of your social media analytics. Bring all of your social media marketing data together into one dashboard so you can share the insights across all of your accounts for informed decision-making.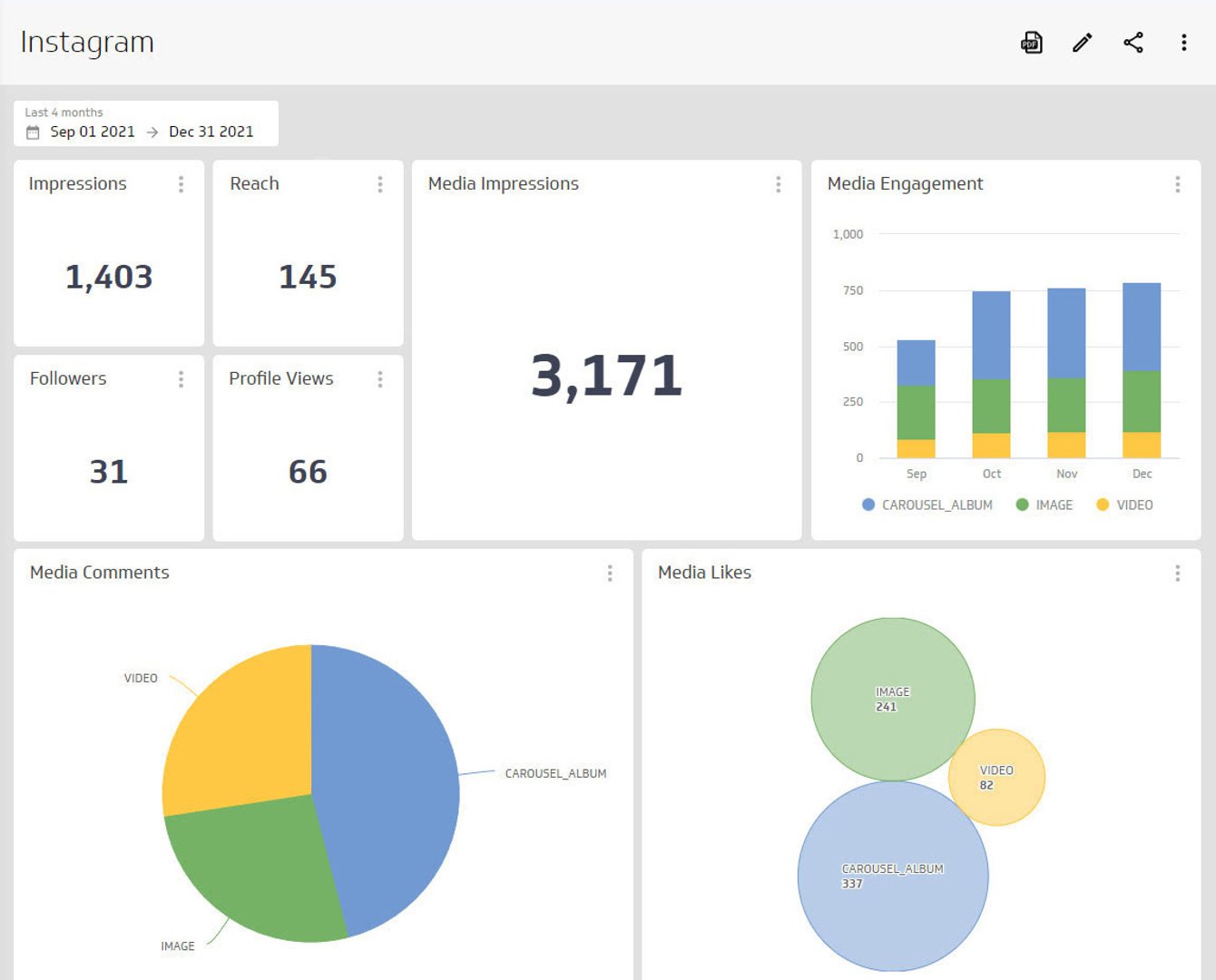 Start tracking your metrics
Level up your analytics with a free forever PowerMetrics account
How can an Instagram dashboard help me reach my goals?
Find potential brand ambassadors and influencers to help you showcase your product or service. An Instagram dashboard will help you understand your return on investment with influencers and help you understand potential brand ambassadors that you can engage in the future.
Make an impact with your Instagram data. Present your Instagram analytics with stunning charts and graphs to help your readers take action.
Optimize your Instagram account—look at your data to understand what type of people you're engaging, your follower account, and the type of content that works best. Being in tune with your Instagram analytics means you have the right tools to grow your presence on the platform.
Foster a culture of collaboration. Pull your data out of the Instagram platform so you and your team can access the insights that will help to grow your presence and convert followers into customers.
Understand if you are successfully reaching your target audience. If you're not reaching your target audience, who are you reaching?
The top Instagram statistics that every digital marketer needs to know
Instagram Business Metrics
Track the total number of individual Instagram accounts that viewed your posts or advertisements.

Track your Instagram followers to gauge your brand's audience and community growth.

Track your website clicks to measure how many people click through to your site from the Instagram app.