Returning Visitors
How effective is your website at building an audience?
Track all your Digital Marketing KPIs in one place
Sign up for free and start making decisions for your business with confidence.
Sign up with Google
or
Sign up with your email
Free forever ● No credit card required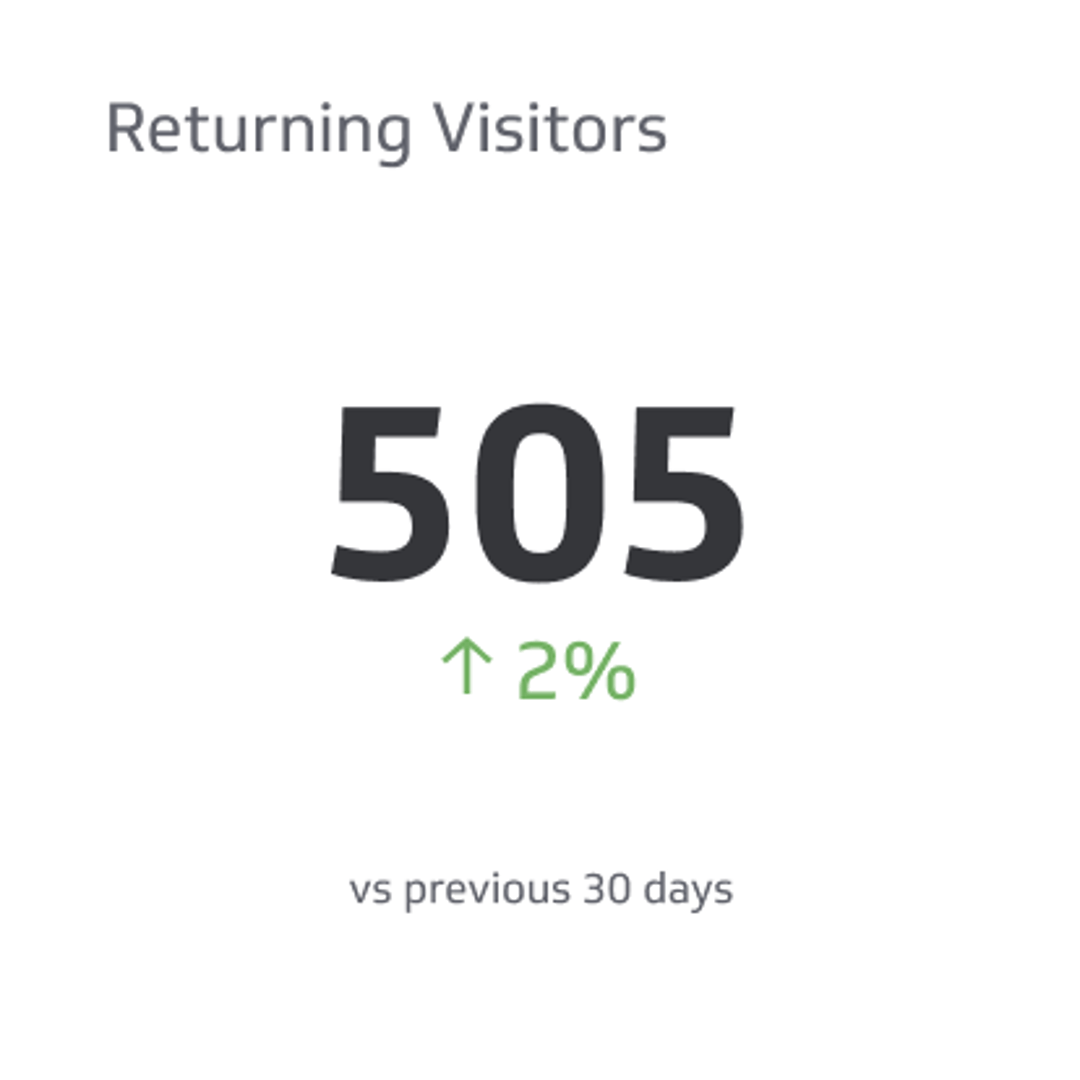 Returning Visitors Definition
Returning visitors in digital marketing are individuals who have previously visited a website and are coming back for another visit.
The returning visitors metric tracks what happens when someone returns to your website multiple times. This metric allows digital marketers to see how effective they are at building and retaining an audience online. This is particularly important to demonstrate the value of content marketing efforts.
The metric organizes visits according to the number of times a visitor has returned to a website using the following groupings: 2-3 visits, 4-9 visits, and greater than 10 visits. This metric also provides information about the average browse rate (pages per session) and average time on site for return visits.
The comparison periods, denoted by the %MoM (month over month) columns, allow digital marketers to see how they are trending over time. The returning visitor metric can be used to reverse engineer traffic patterns to see how content marketing strategy impacts audience behavior.
Returning Visitors Metric Challenges
The problem with the returning visitors metric is that if a consumer visits the website a second time and either their device doesn't accept cookies, they have deleted the cookies, or they are using a different device or browser, and they will not be identified as a returning visitor.
Returning Visitors Metric Best Practices
Infrequent visitors (2nd or 3rd visit) do not indicate a lack of loyalty--remember to interpret the data based on the nature of your business. Is your product luxury or every day?
You cannot use %MoM of returning visits as a sole or primary indicator of customer loyalty.
Pay attention to Avrg. Pages per Visit--this will indicate whether or not the content on your pages matches what your visitors are looking for.
How to Monitor Returning Visitors Metric in Real-time
The returning visitors metric should be coupled with related digital marketing metrics to provide a complete view of your digital marketing performance. Consider tracking this metric alongside the awareness metric, first visitor metric, and online conversions metric.
Learn more about how to track your Returning Visitor Metric on a Digital Marketing Dashboard.
Returning Visitors Metric: Top Resources
How Loyal Are Your Customers? This Metric Has the Answer, Ray Cheng
Google Analytics New Labels: Mystery of the Returning Visitors, Feras Alhlou
Setting Up 4 Key Customer Loyalty Metrics, Tom Capper
Start tracking your metrics
Level up your analytics with a free forever PowerMetrics account