Facebook Page Like Metric
Understand the effectiveness of your company's Facebook page.
Track all your Social Media KPIs in one place
Sign up for free and start making decisions for your business with confidence.
or
Sign up with your email
Free forever ● No credit card required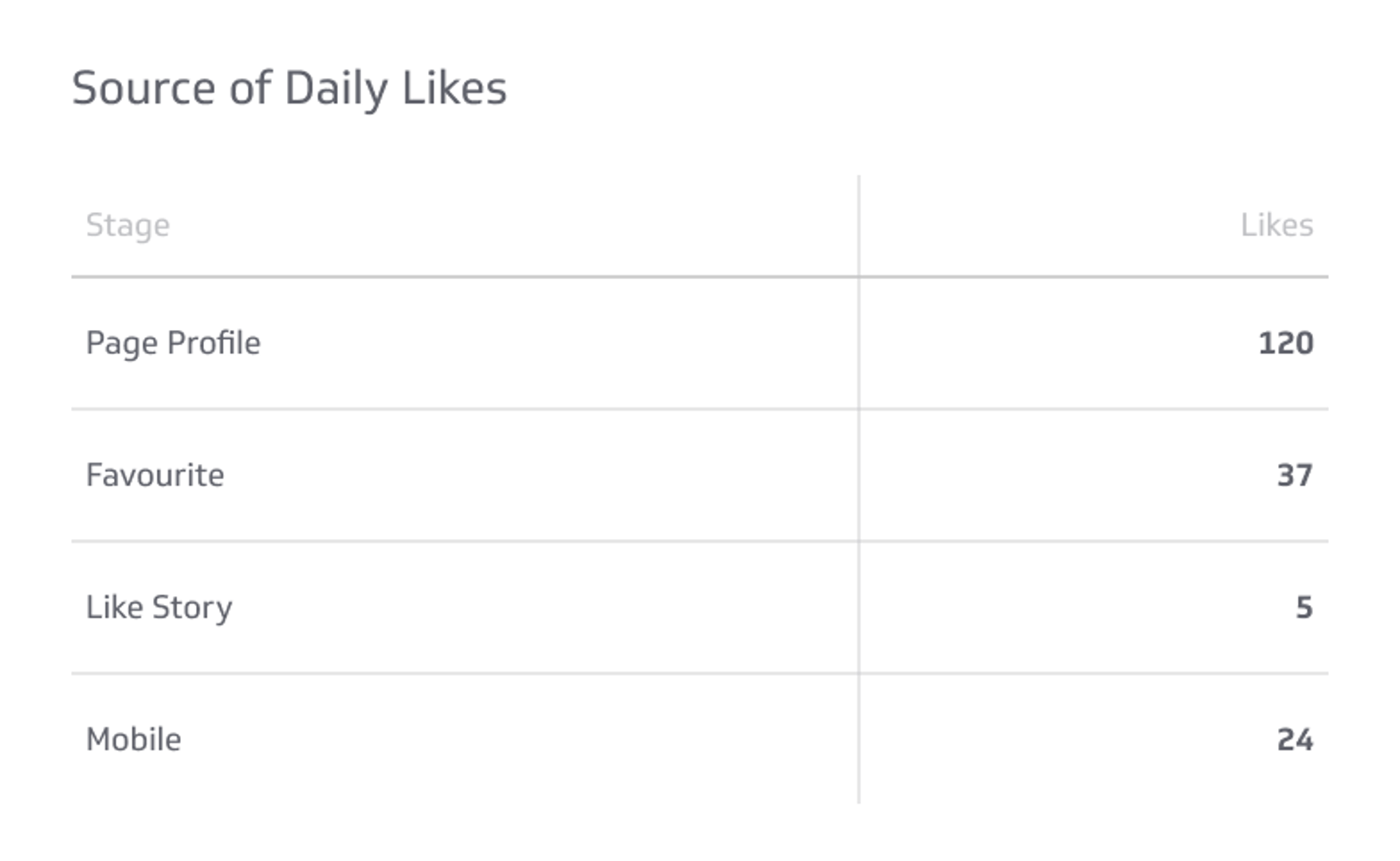 Facebook Page Like Definition
The Page Like metric measures the popularity of your company. With Facebook, users can choose to like company pages which gives them the ability to follow content updates and any changes to their profile. A company can send out event invites to all users who like their page. The Facebook page like metric is considered one of the most important measures for determining the success of a company's social media marketing. The more page likes a company has, the more impressions their content will make, and the more engagements they are likely to receive.
You can review and compare your page likes over time, analyzing the trend in likes compared to previous periods. You can also look at the trend in page likes versus the dates of your campaigns to determine which were the most successful. With these results, you can build new campaigns that target the proper audience with the right message to help increase your company's page likes and increase brand awareness.
Key Terms
Page Likes: When a user chooses to follow your company's Facebook activities by clicking the like button.
Visits: The number of users who have visited your Facebook page in the last 7 days.
Success Indicators
Increase in Page Likes
Increase in Page Visits
Increase in Engagements
Facebook Page Like Benchmark
There are number of ways to benchmark your Facebook Page against others in your industry or direct competitors. It is crucial to note when setting benchmarks whether or not you or those from the data cumulated use Facebook Ads.Those who use Facebook Advertising often have higher Facebook Engagement and Facebook Page Likes.
Facebook Page Like Best Practices
To get the most out of your Facebook Page and Business Dashboard, take a look at the following expert best practices to see improvements in your Facebook Page Like Metric.
Optimizer your Facebook Page InfoPost Engaging Content: make sure you fill out as much of your Page Info as you can. Select the categories and subcategories that best describe your company, include your website URL, list your address, phone number, and hours of operation (if applicable). All of this information will help your page appear in Facebook & Google search when people are looking for companies like yours, which can increase your Facebook likes even more!
Post Engaging Content: It's important to post engaging, entertaining, and interesting content on your business Page. Facebook constantly updates its Edgerank algorithm, and rewards posts that receive engagement (likes, comments, shares) with increased reach. Facebook will reward your content by letting your engaged users' friends know on their newsfeed that they've engaged with your content.
Be Active: People are unlikely to like your Facebook page if you don't post regularly. How often should you post? There is no magic number but many best practice guides suggest 3x a week to once a day.
Promote your Facebook Page, everywhere: Once you've got great content on your company's Facebook Page, make sure you share your Facebook presence on all evergreen content you own and manage.
Invite your existing community: You have a community that's easily within reach: employees, current customers, business & industry partners. They are likely to be your first advocates and find your content interesting and shareable. Why not send a friendly personal invitation to ask them to like your company's Facebook Page if they haven't already?
Use Facebook Social Plugins: The Facebook Page Plugin lets you easily embed and promote your Facebook Page on your website. Just like on Facebook, your visitors can like and share the Page without having to leave your site.
Use data to entice new community members to like you: This step goes hand-in-hand with #2 "Post Engaging Content" and helps inform your overall content strategy.
Pay to play with Facebook Ads: You need to pay to play in order to be seen on Facebook today. Facebook has a large assortment of ad products to choose from with some of the best targeting options available on social.
Run a contest: Companies run Facebook contests all the time to get build their audience and get more likes. If you decide to do so, make sure your contest follows Facebook's Promotion Guidelines.
Use social media monitoring to measure analyze, and learn: Use Facebook Insights to find useful metrics on your Page performance. You can view metrics like reach, number of engaged users, engagement rate, and new Page likes. These metrics will help you understand what's driving your likes and engagement, so that you can adjust your posts accordingly.
How to Monitor Facebook Page Like in Real-time
Once you have established benchmarks and targets for the Facebook Page Like metric, you'll want to establish processes for monitoring this and other social media KPIs. Dashboards can be critical in this regard.
Learn more about how to track your Facebook Page Like on a Social Media Dashboard.
Facebook Page Like Top Resources
Here's a Quick Way to Get More Likes on Your Facebook Page, Scott Ayres
10 Ways to Get More Likes for Your Brand's Facebook Page, Karen Uyenco
FACEBOOK PAGES: HOW TO BENCHMARK IF YOU ARE DOING WELL, WHAT TO MEASURE AND WHY, Natacha Suttor
Facebook's New Page Insights: Everything You Need to Know, Singyin Lee
Start tracking your metrics
Level up your analytics with a free forever PowerMetrics account