Facebook Page Demographics Metric
Understand the the makeup of your audience.
Track all your Social Media KPIs in one place
Sign up for free and start making decisions for your business with confidence.
or
Sign up with your email
Free forever ● No credit card required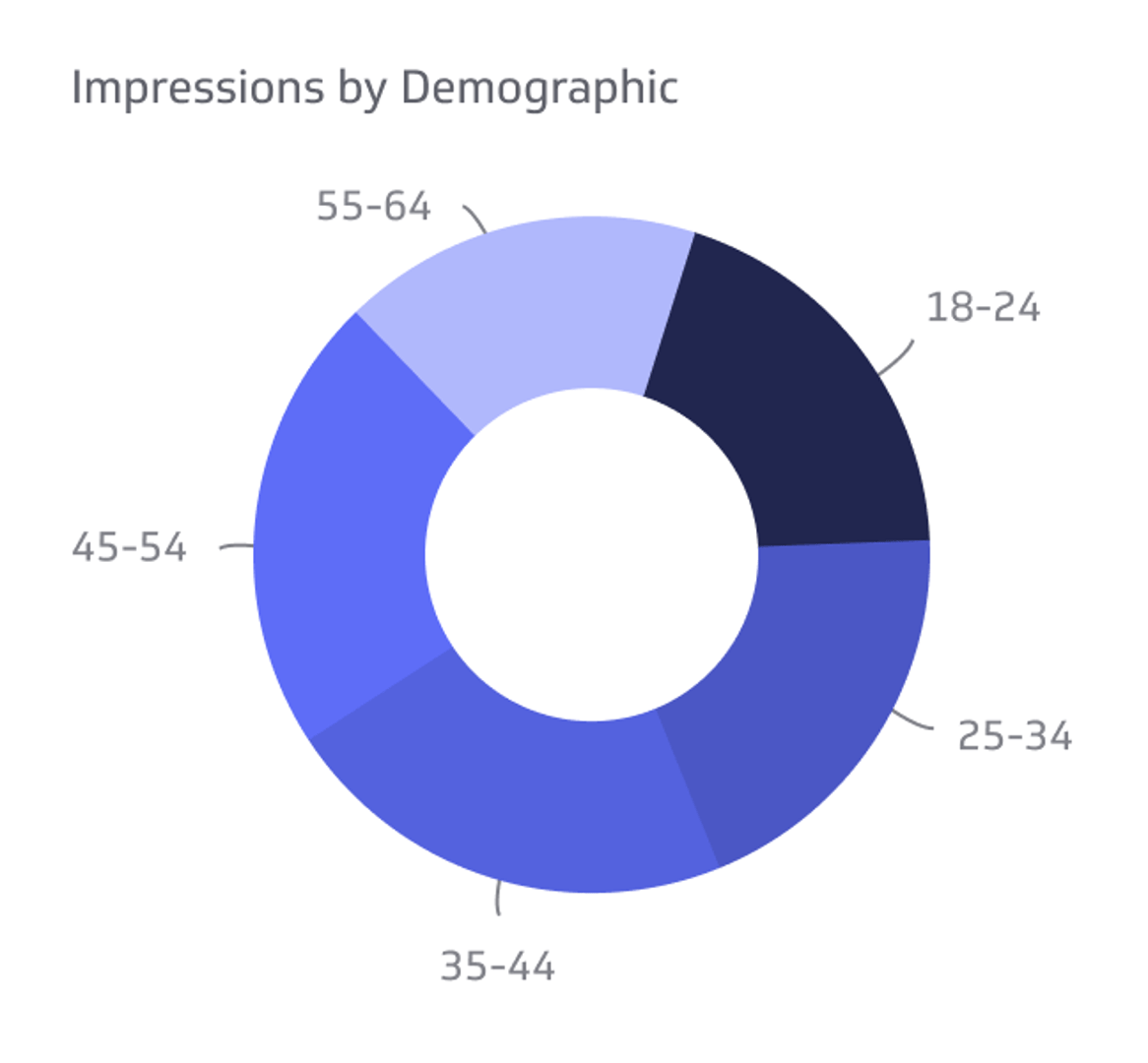 Facebook Page Demographics Definition
Facebook Page Demographics measure and analyze information about your Facebook followers to help you understand your audience. Unlike other social platforms, such as Twitter, Facebook provides rich demographic information about your page followers like age, sex, location, occupation and more. This information is not only helpful in crafting compelling content for your social audience, but also understanding more about your audience as a whole.
Facebook Page Demographics Benchmark
The best way to benchmark Facebook Page Demographics is against your own customer data. In the long run you want to convert these Facebook fans to paying customers, so compare this metric against your existing customer intelligence knowledge to make sure your Facebook Page is attracting the right people. If you aren't seeing the results you want, double check your Facebook Ad campaign is targeting a specific demographic and that the content you are posting is relevant to your customers.
Facebook Page Demographics Challenges
The Facebook Page Demographics metric is extremely useful to the vast majority of companies. The companies where this metric's insights are challenging to meaningfully analyze are those that have purchased likes, therefore leading to dead accounts and those who have ever focused ads in certain countries only because the likes were inexpensive. Ensure your Facebook marketing campaign is strategically targeted to get the most out of this metric. Don't have a Facebook Ad campaign in place yet? Check this metric to see who your social media efforts have attracted. If you're page has unexplained fake fans, take a look at Kandice Linwright's article to identify these accounts and protect your Facebook page.
Facebook Page Demographics Best Practices
Facebook Ads are one of the most popular strategies to reach your target Facebook Page demographic.

Look-A-Like Audience Targeting

A lookalike audience is exactly what it sounds like, an audience of users generated by Facebook that best-matches the characteristics of your imported email or phone number list.

Facebook examines demographics like age, gender and location as well as precise interests and broad categories of your Custom Audience list. And then an algorithm within Facebook matches those demographic details with existing Facebook users and finds the best possible match for your next ad.

Custom Audience Targeting

Custom Audience Targeting allows you to show Ads to specific people on Facebook based on their email address or phone number. Simply upload a list of email addresses or phone number and Facebook will match them to their user ID on Facebook, making sure only they see your Ads.
How to Monitor Facebook Page Demographics in Real-time
Once you have established benchmarks and targets for Facebook Page Demographics, you'll want to establish processes for monitoring this and other social media KPIs. Dashboards can be critical in this regard.
Learn more about how to track your Facebook Page Demographics on a Social Media Dashboard.
Facebook Page Demographics: Top Resources
7 Ways to Create an Effective Facebook Ad Campaign, Rocco Alberto Baldassarre
Start tracking your metrics
Level up your analytics with a free forever PowerMetrics account