The control you want, the data you need.
Dashboard software for executives who want to continuously monitor the health of their business.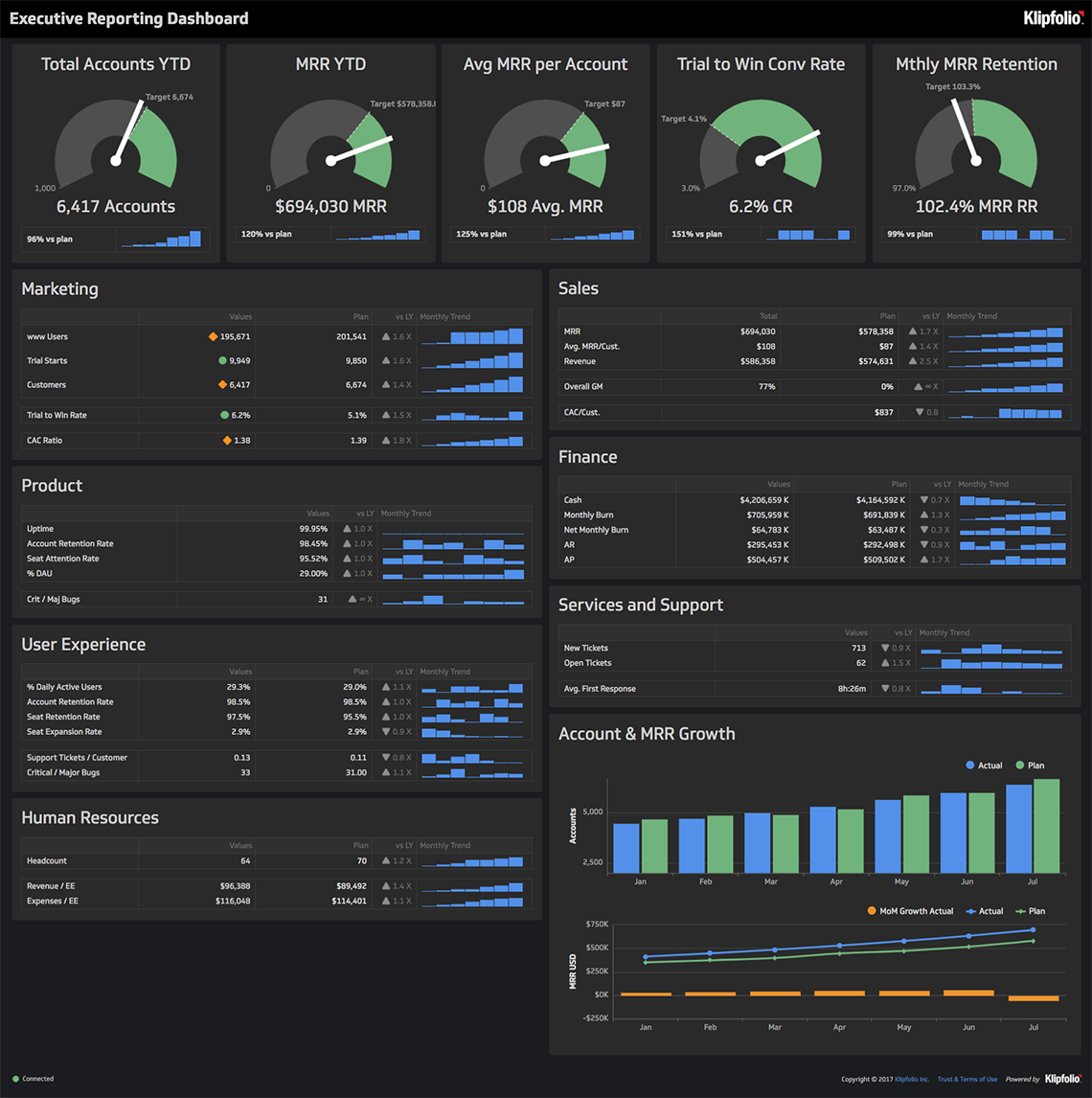 "We no longer spend time at the executive level pulling data from multiple sources for a report that's stale after 1 day. Our executives are all logging into Klipfolio and tracking real-time metrics of the company to drive business decisions."
Brian Dainis
CEO at Curotec
From our CEO to yours
See how Klipfolio CEO Allan Wille tracks key metrics from every department in an interactive dashboard.
How we track performance
Get a deeper look into the two dashboards our CEO uses to monitor the health of our business.
Get a real-time, interactive view of MRR activity and growth
Track your MRR trend and make data-based decisions
Understand the health of your business with a view into account and MRR activity
At-a-glance view of each department's performance
Track key metrics like accounts, MRR, and conversion rates in one interactive dashboard
Easily share key departmental metrics with shareholders
Dashboard examples
Here are just a few examples of dashboards you can build to track metrics from all departments.
Metrics for Executives and C-Suites
Holding a top-tier position in a company is hard work - not only do you have to manage your employees, investor expectations, and overall business direction, but you also have to monitor, measure, and analyze all the company data coming your way. It can be incredibly difficult to keep an eye on all these assets while still keeping your head afloat.
Luckily, dashboards and KPIs are here to help you out. Rather than forcing you to dive into all your data platforms, bases, and warehouses, metric visualizations bring your data to the surface, eliminating the time you would spend in the thick of it all searching for a single peice of information.
To save you even more time, here are a few of the top, most common executive-level KPIs (key performance indicators) our uses have built using Klipfolio. If you are looking for more, check out our KPI Library:
Account & MRR Growth
Avereage MRR per Account
Trial to Win Conversion Rate
Revenue YTD
Market Share
Monthly Burn Rate
Product Uptime
Expenses per Employee
Trial Starts this Week/Month/Quarter
Sales Target
Return On Assets (ROA)
Return on Equity (ROE)
Quick Ratio/Current Ratio
Price/Earnings Ratio (P/E)
Working Capital
Debt-to-Equity
Operating Profit Margin
Net Profit Margin
Top Products/Services in Revenue
Customer Lifetime Value (CLV or LTV)