How having more employees changes your company
Published 2015-05-01, updated 2023-03-21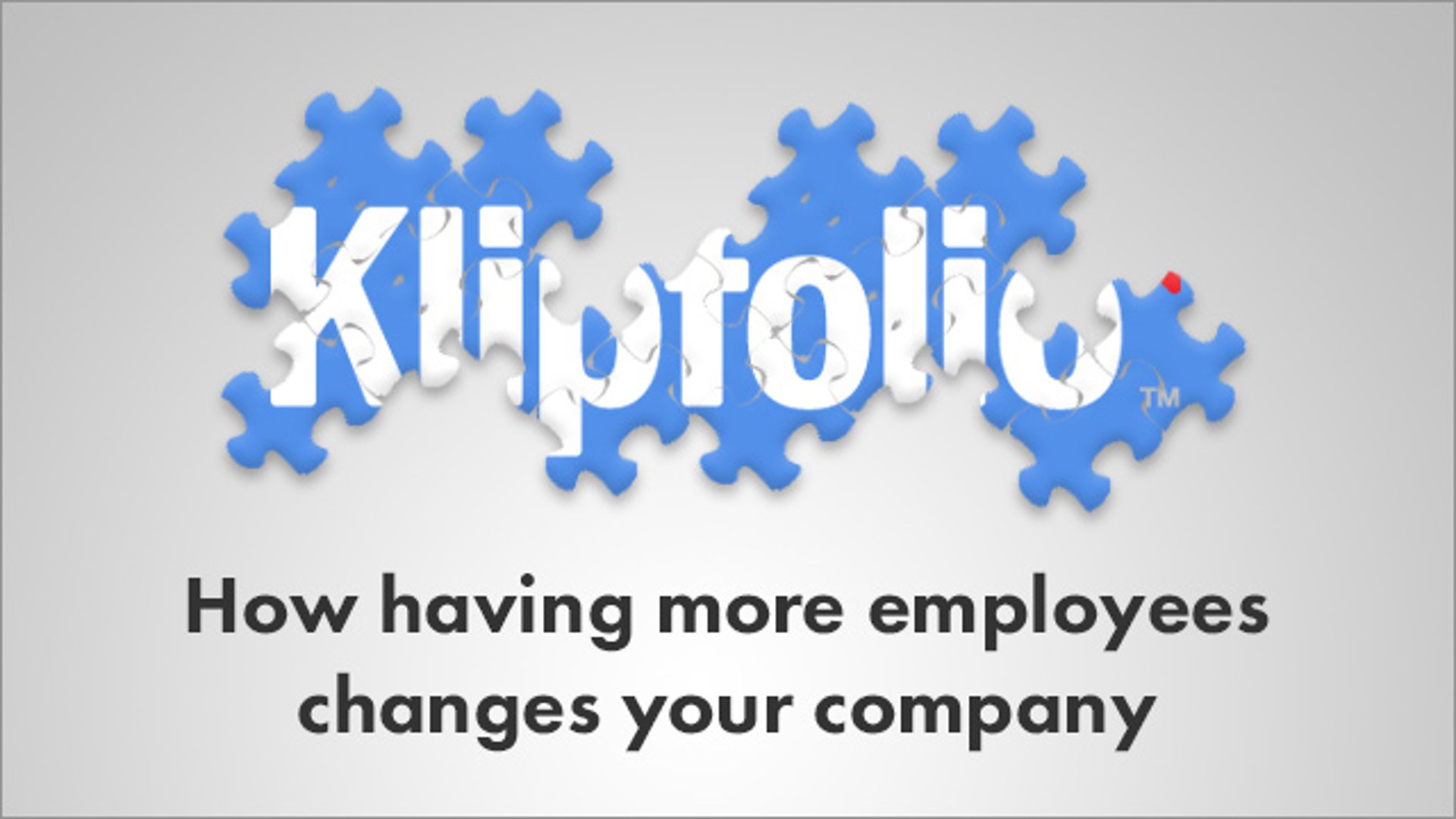 Summary - The more employees you have, the less 'personal' your relationships with your employees become. And the more attention you need to pay to things like internal communications, working groups and office layout.
---
There's a sense of excitement when six or 10 people come together in a start-up. You spend long hours working together. You get to know each other well. You share a vision. You're a tight little group, an intrepid band of trail-blazers. But something happens when you meet with success: The number of employees starts to grow. And as it does, the way you relate to each other changes. I've seen it happening at Klipfolio as we grow. And I'm anticipating those changes will become even more marked in the future. You might not think that the number of employees influences how a company functions, but I know from experience that it does. Three years ago, there were nine people working at Klipfolio – myself included. On the upside, everyone always knew what everyone else was working on. With such a small group, information passed back and forth easily. On the downside, we did not have much resiliency. When even one person was sick, the energy level in the office dropped, along with our output. At nine employees, we had lots of peaks and valleys. It was easy to become overwhelmed (Gartner, an information technology research firm, talks about "the ability to execute" and I now know what they mean). By the end of 2013, we'd grown to about 14 people. We were still a tight-knit group, but in the throes of growth. Growth gives you energy. There were plenty of times when we did not have the resources to get things done, for example if somebody went on vacation. The peaks and valleys were not quite as pronounced, but still very much there. And the team was still small enough that it was possible to involve everybody in the company in a decision. As we passed 30 employees in 2014, relationships started to change. For one thing, we started relying on managers who were in charge of specific teams. We also realized that people no longer naturally knew what others were working on. That meant we had to start paying more attention to internal communications. We started briefing people on work being done by other groups. We organized lunch-and-learns where a person from one team could describe their work to everybody else. As we grow past 40 employees this week, the way I operate has begun to change. I now have to work harder to make sure I keep up with what everybody is doing, by making the rounds and spending a great deal of my day away from my desk - something I enjoy. And I can't be quite as direct as I used to be. It's very important to me that we not have a vertical or 'top-down' communications culture. I still very much interact with everyone, but I do so without upsetting the agreed priorities of our managers. In my blog two weeks ago about hiring the right people, I said this all becomes much easier and more efficient if you have the right people on the bus. We're also at a point where we have to consider how we organize our office space. Who sits next to whom is a particularly thorny issue when it comes to managing a larger operation. If you group all the managers together into what amounts to an 'executive row,' you run the risk of creating an us-versus-them mentality in the company, particularly if the executive offices have doors that close. I've seen it happen. And for a company of 40 people, that does not make sense. We've made a conscious decision to seat managers with their teams. Right now we're all in one office and on one floor. Relationships will change again if we end up occupying two floors of the same building, or if we open remote offices. It's inevitable. I know the day will come when I will walk into the office and see somebody I wasn't personally involved in hiring. It's a scary thought. You realize you may have a slightly more distant relationship with that person than you have with others. It's a result of growth. And it's OK. But I know it's going to happen.
Allan Wille is a Co-Founder and Chief Innovation Officer of Klipfolio. He's also a designer, a cyclist, a father and a resolute optimist.
Related Articles