Klipfolio for data analysts
The control you want, the data you need.
The data analyst's tool for building real-time BI dashboards and reports.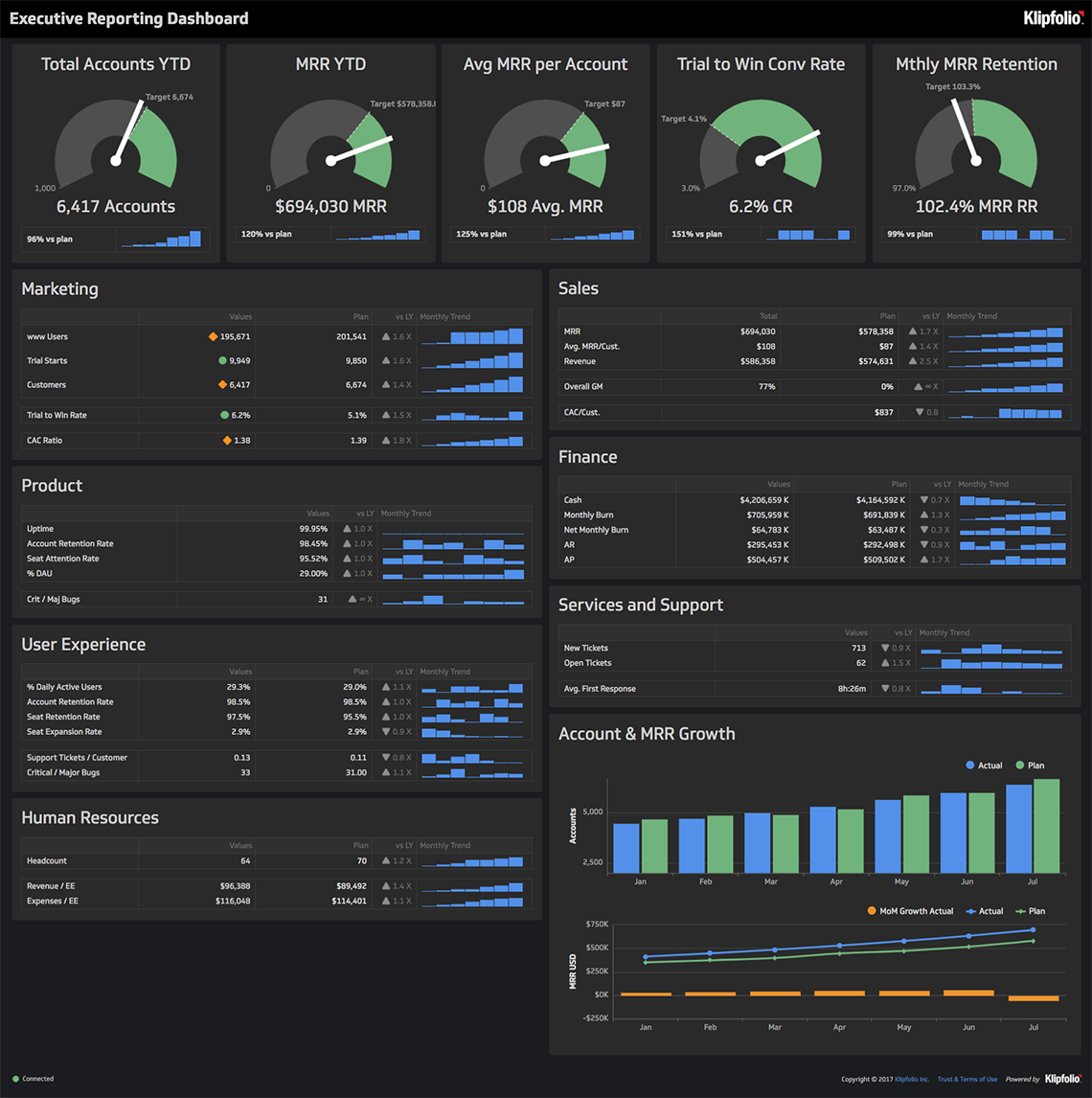 "Your support team is the best around. They were constantly there for questions when I was first evaluating, and even now they provide samples and clarifications. That's so important as creating Klips from scratch isn't a walk in the park, it takes learning. I and my company are quite pleased to have delivered the first real-time dashboards for management use, and we now have roughly 25 unique charts live across 3 project dashboards."
Scott Lichtman
Director of Customer Intelligence, Lendit
Klipfolio is a different type of reporting tool for data analysts
Unlike BI tools focused on data sources that live on premise, or cloud tools that can only access cloud services and spreadsheets, Klipfolio's open and flexible design enables connections to all types of data, wherever it lives.
With Klipfolio you can:
Connect to virtually any data source you've got, on prem or in the cloud, in a SQL database or on an FTP server, in a Google Drive or on a hard drive. Browse all the data sources we support on our Integrations page
Directly manipulate, mashup and visualize data sets in a powerful editor, leveraging dozens of functions, math operations and statistics
Set the data you're pulling into Klipfolio to refresh as frequently as every minute (for APIs that allow it)
Easily share dashboards via email, Slack, published links, or by adding users
Monitor dashboards on large screen TVs and on mobile phones
Learn more about all the features of Klipfolio here.
Klipfolio is free to try, and trials are fully supported
We want you to experience the value of Klipfolio before you purchase. That's why, from day one of your free trial, you'll have full access to our support team, knowledge base and courses.
With Klipfolio you can:
Learn more about all the features of Klipfolio here.
Discover data analytics delight
50,000 Data-Driven users rely upon Klipfolio because it empowers them to easily build the data visualizations they need without all the baggage traditional BI tools requires.
Connecting your data
You've got an impressive amount of data scattered around your organization, but how do those puzzle pieces fit together? Klipfolio is an API machine with 100s of connections to the digital advertising services you use to help grow your business.
Browse the 100+ services you can connect to
The Editor
Love to tinker and build but tired of using Excel or Google Sheets to share your key results and metrics? The Klip Editor is where you bring your data story to life. Build custom data visualizations that you can share with your whole organization.
Bring your data story to life
Drag-and-drop visualizations from the palette to start assembling your custom dashboard. Choose from standard data visualizations like charts, bullet charts, and scatter plots. Or get creative and inject custom HTML into your dashboard. The choice is yours.
Sharing
Data is meant to be shared. A dashboard without any viewers is, well, kind of sad. Wouldn't you agree?
Which is exactly why we make sure you can share with your management and teams in multiple ways.
TV dashboard display
Our customers love showing off their dashboards on wall-mounted TVs throughout the office. It's a great way for executives to nurture a culture of data transparency and the team to see their performance at a glance. Plus, it looks super cool.
Slack, email snapshots, and links
Send Klips or entire dashboards via Slack, setup manual or recurring email snapshots, and share links to your live dashboard.
Trusted by thousands of game changers in over 80 countries.
"Klipfolio helps me to automate repetitive tasks. It makes me feel like an analyst instead of a report monkey."
Jente De Ridder, Senior Analytics Consultant , Humix
Looking for dashboard inspiration?
Curious to see what data you can track in Klipfolio? View the live dashboard examples to get a better look.