How we automated reporting for 50+ clients
Published 2019-02-27, updated 2023-03-15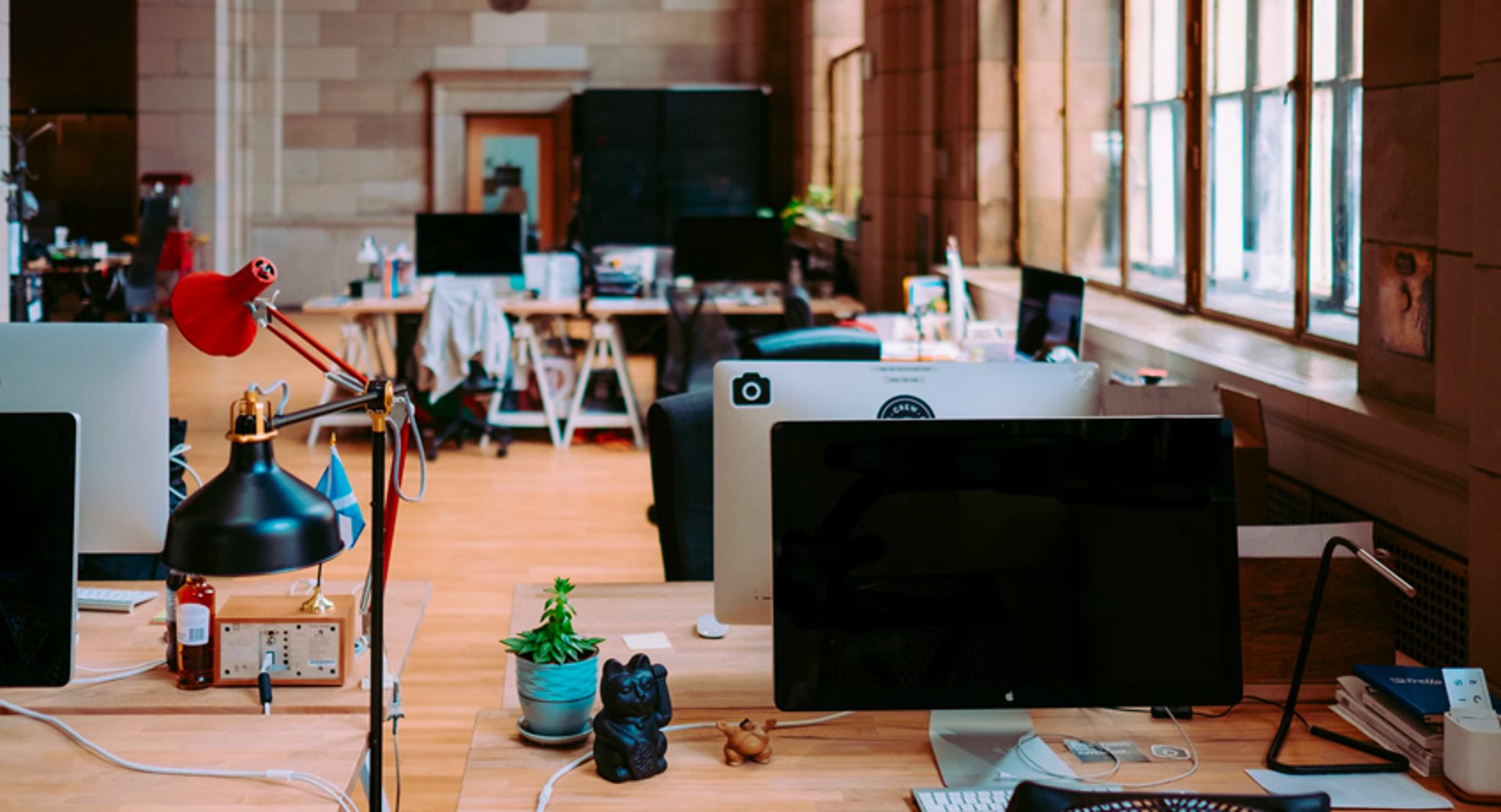 Summary - Parcero is a leading marketing agency who turned to Klipfolio to help automate client reporting to save hours on manual processes.
---
The classic dilemma of marketing professionals goes as follows: if a professional coder automates their work tasks, do they need to ask their boss for alternate tasks or can they just sit back and relax and let automation do the work?
In order to fuel growth, the automation of repetitive tasks is an essential part of being competitive. It will free up your time allowing you to focus on more productive work like analysing data and optimizing ad campaigns based on your insight.
There are 3 different key report types:
1. Ad-hoc analyses

a) These are used for optimizing week-to-week ad campaigns
b) Data collection can be automated, interpretation cannot
2. Summary reports

a) These are summaries of marketing efforts on monthly basis
b) 100 % automation can be achieved here
3. Insight reports

a) These offer information to support strategic decision-making
b) Data collection can be automated, interpretation cannot
Ad-hoc analyses are made on demand and tend to vary. They are also a little tricky to automate. Examples of these are ad performance analyses and keyword-level performance analyses.
Summary reports can be, for example, campaign reports or monthly channel performance reports.
Insight reports are created on-demand (e.g. yearly marketing review, product performance report, and yearly marketing channel performance report).
Other aspects of reporting are dynamic real-time dashboards versus static PDF reports. In the fast paced world of digital marketing and advertising, there is demand for real-time dashboards.
Real-time dashboards are enabling clients and agencies to track campaign performance on a daily basis, while noticing flaws in the marketing efforts immediately.
This is why we selected Klipfolio
Reporting tools like Klipfolio come in handy when there are multiple data sources, channels, and ad campaigns, and all of these need to be monitored differently.
Initiallty, we evaluated three dashboard tools; Tableau, Klipfolio, and Google Data Studio. We had 12 criteria that we used to evaluate the differences between them.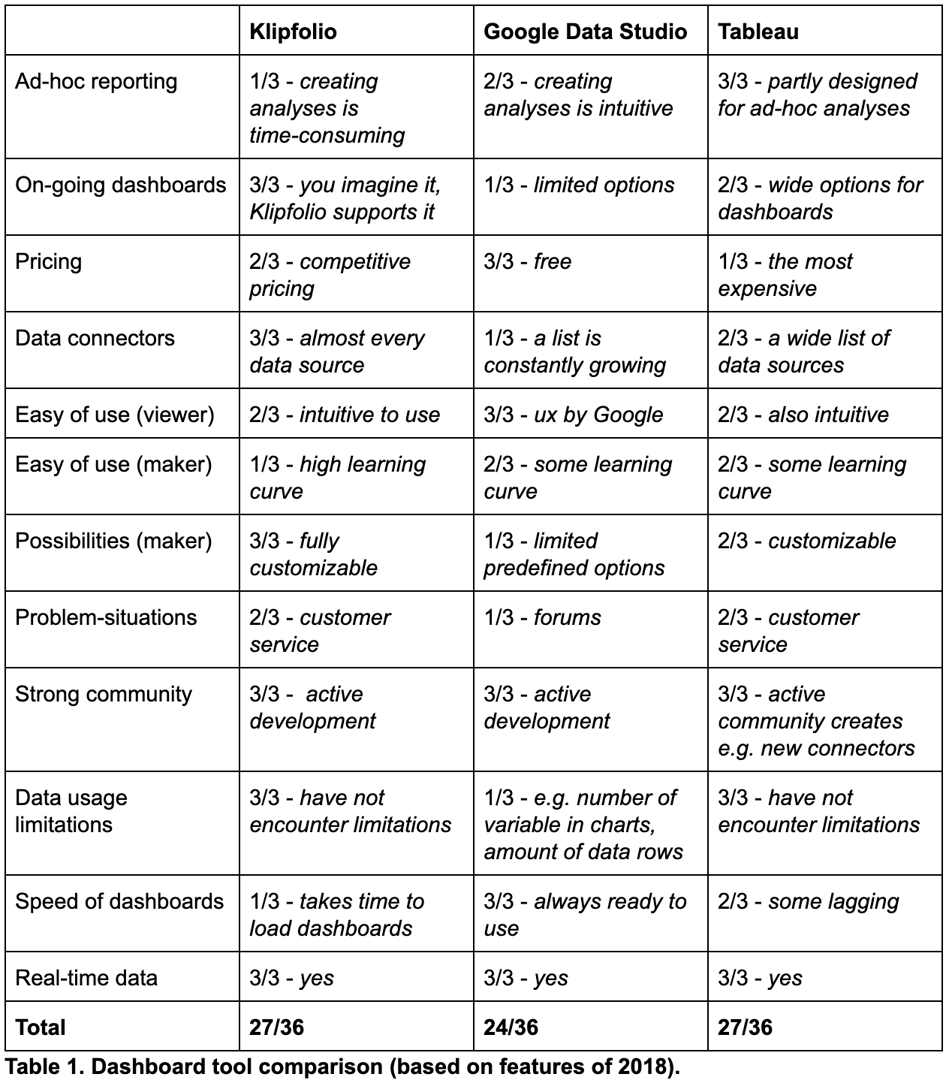 The results were pretty close.
Our main requirement was to create ongoing reporting dashboards for multiple clients that could be fully customised if a customer had special requests. This is why Klipfolio was the best match!
Why you should avoid using only Google Analytics
Several of our clients wanted to focus on building a presence on social media. Google Analytics was not the best tool for this on its own. Also:
1. Not all of our clients have a website or care about their social media presence.
2. Google Analytics only supports click attribution.

Built in social media analyitics also support view-attribution.
Sometimes viewing an ad is as important as clicking on it (read more about click vs. view attribution).
3. Google Analytics is developed by Google and therefore you cannot be sure that it will accurately represent its competitor's data.

Google Analytics samples data which means you don't own the clickstream data that enables some advanced analytics (read more about clickstream data).
"One dashboard to rule them all"
Different clients have different needs when it comes to reporting. Klipfolio enabled us to create fully customised reporting dashboards for our clients based on their individual needs.
Advantage #1: client-related metrics
A crucial part of starting a reporting project with a client is to select relevant metrics for thier business. A good rule of thumb for selecting key performance indicators (KPIs) is that changes in these metrics should trigger a specific action.
When building a dashboard for a client when there are multiple marketing channels, it is essential to use cross-channel metrics.
This allows you to compare the performance of different channels. For example, impressions, CPM, clicks, CPC, CTR, and spend.
Advantage #2: situation overview
Companies have several marketing channels and work with many different types of software like CMS, Google Analytics, Facebook analytics, etc. When data is scattered and stored in multiple locations, it is challenging to get an all-in-one overview of the current situation.
Klipfolio dashboards provided us with the perfect solution to this.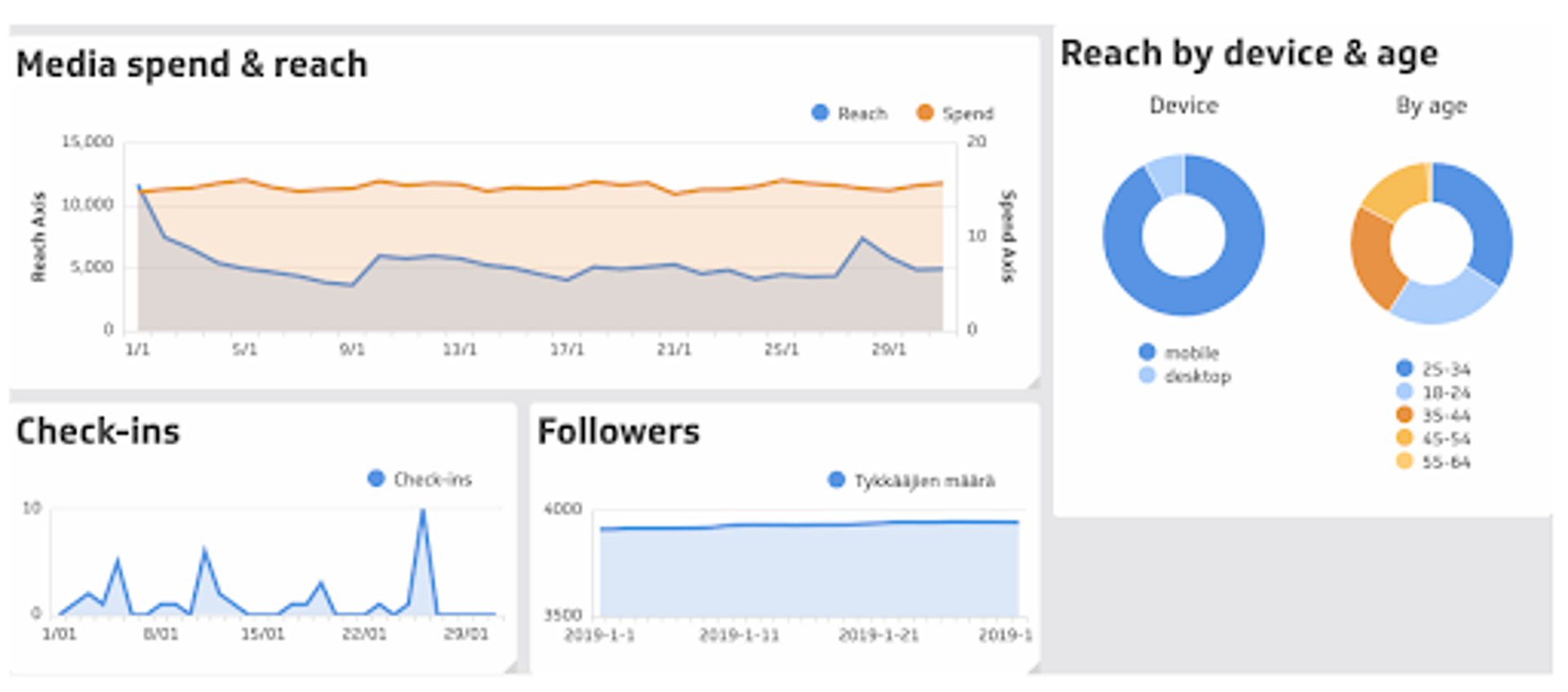 The above dashboard example is one from the restaurant industry. The client's main requirement is to track social media performance.
Within the social media reparting category, it is important to note:
How content is reaching the target group
Is the target group reacting to content by visiting the restaurant?
Is the long-term interest in the restaurant growing (follower count)?
When it comes to eCommerce, the client's needs are totally different. eCommerce metrics can include total conversions, conversions by channel, and cost-per-conversion metrics.
The crucial part is to listen to the customer's specific needs.
Advantage #3: customized visualisations
Klipfolio allows you to create customizable graphs and charts. The different data sources can be aggregated and presented in one visualization.
Below is an example of a Klip that shows two different conversion types as columns and spend as a trend line on the graph.

It takes time to create unique visualisation to fit each customer's needs, but it is an investment that always pays off. Good visualisations give a clear picture of how the situation is developing and how to react.
Advantage #4: real-time results
Real-time results allow you to monitor performance on a daily basis instead of doing weekly or monthly check-ups. In the fast moving eCommerce segment, this is crucial.
Real-time data can be used for making agile decisions, for example, how budget should be allocated amongst all marketing channels.
Making decisions based on data is a mindset that both clients and agencies should have in 2019. When both parties are thinking the same way, it enhances communication and brings them closer together.
At its best, focusing on the development of dashboard reporting will impact the whole business, helping employees make better data-driven decisions.
Key Result: 40% time savings on repetitive tasks
In a recent study, 82% of respondents said that marketing automation can be done more efficiently. Aligned with these thoughts, we started our reporting automation project. Parcero's strategist Heikki Kyllönen, a man of action, stated this:
"We need to take this automation talk and put it into practise. It is the only way to stay competitive in the field of digital marketing in the future."
In the past, after the client's briefing, we began choosing target groups based on the briefing and our own expert opinions only. We put a lot of trust into our own Marketer intuition.
After automating out reporting, we have changed the way we use data within our agency. The below image illustrates the before and afer situation: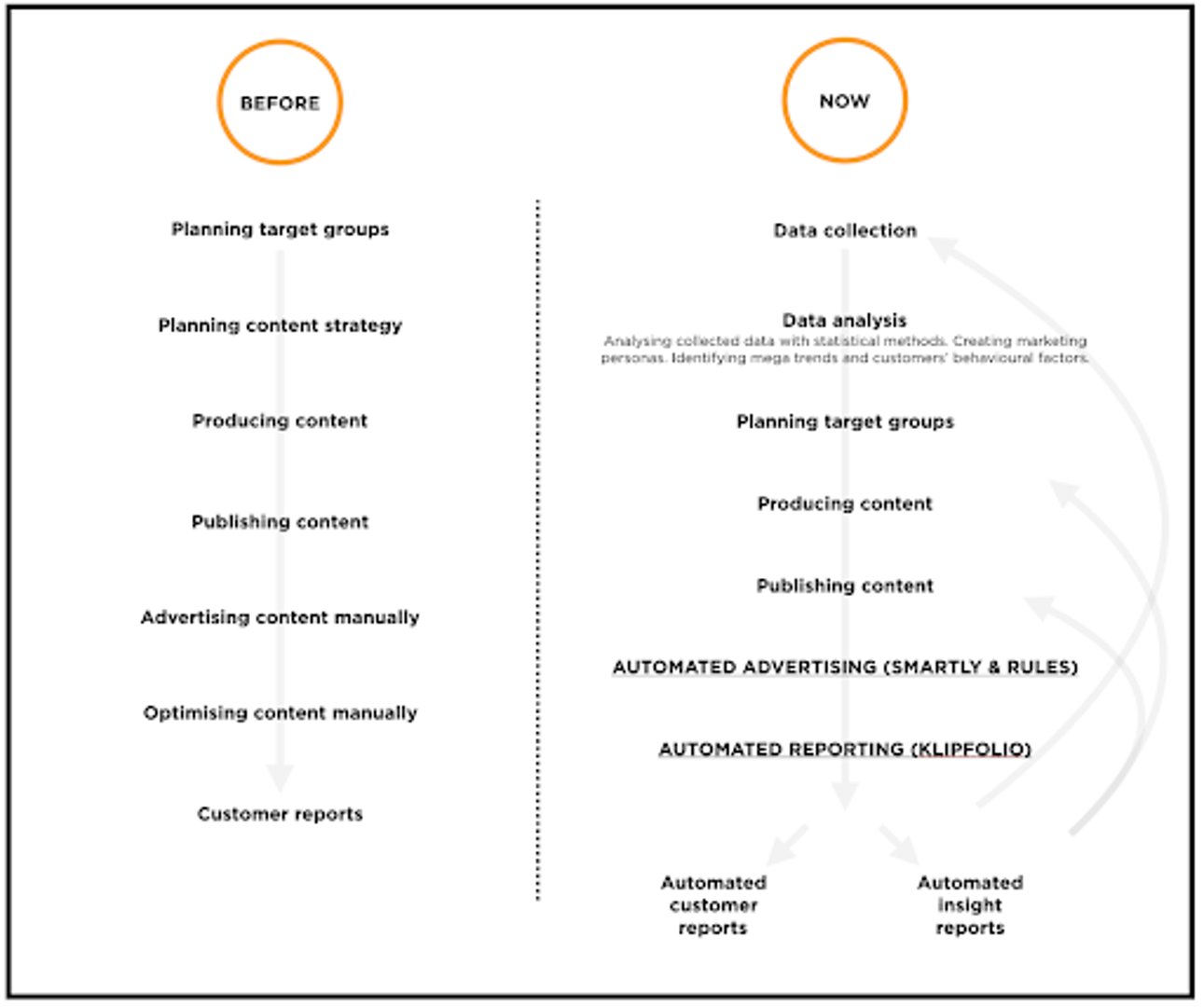 After emberacing Klifpolio, our whole process has changed for the better. This means that more effort is now put into analysis work than ever before. Let's have a look at the numbers:
33% time savings in repetitive advertising tasks
73% time savings in repetitive reporting tasks
2x time spent on data analyses and planning
Automation has no doubt increased the quality of our work. The increased time resources spend on planning and communication is clearly reflected in our end results.
Also, economies of scales come in to play. We have 50+ clients, so automating minor repetitive tasks for all clients has resulted in major time savings.
5 key takeaways
Reporting automation has allowed us to use our time for more productive tasks. However, you must remember that everything cannot be automated. In the end, you can't deny the benefits of human intuition.
Ivesting in reporting automation has benefitted us in the following ways:
1. Full transparency - clients can check 24/7 how campaigns are performing.
2. Open communication - poor results are not hidden because the same KPIs are tracked on a monthly basis.
3. Goal-orientation - business critical metrics are used to optimise marketing campaigns.
4. Overall picture - all the data is in one place which allows us to see the full picture at-a-glance.
5. Data-driven mindset - everyone in the organization considers the data before making a decision and taking action.
Related Articles