Pauw Agency brings transparency to the music industry with Cervinodata
Published 2020-09-29, updated 2023-02-01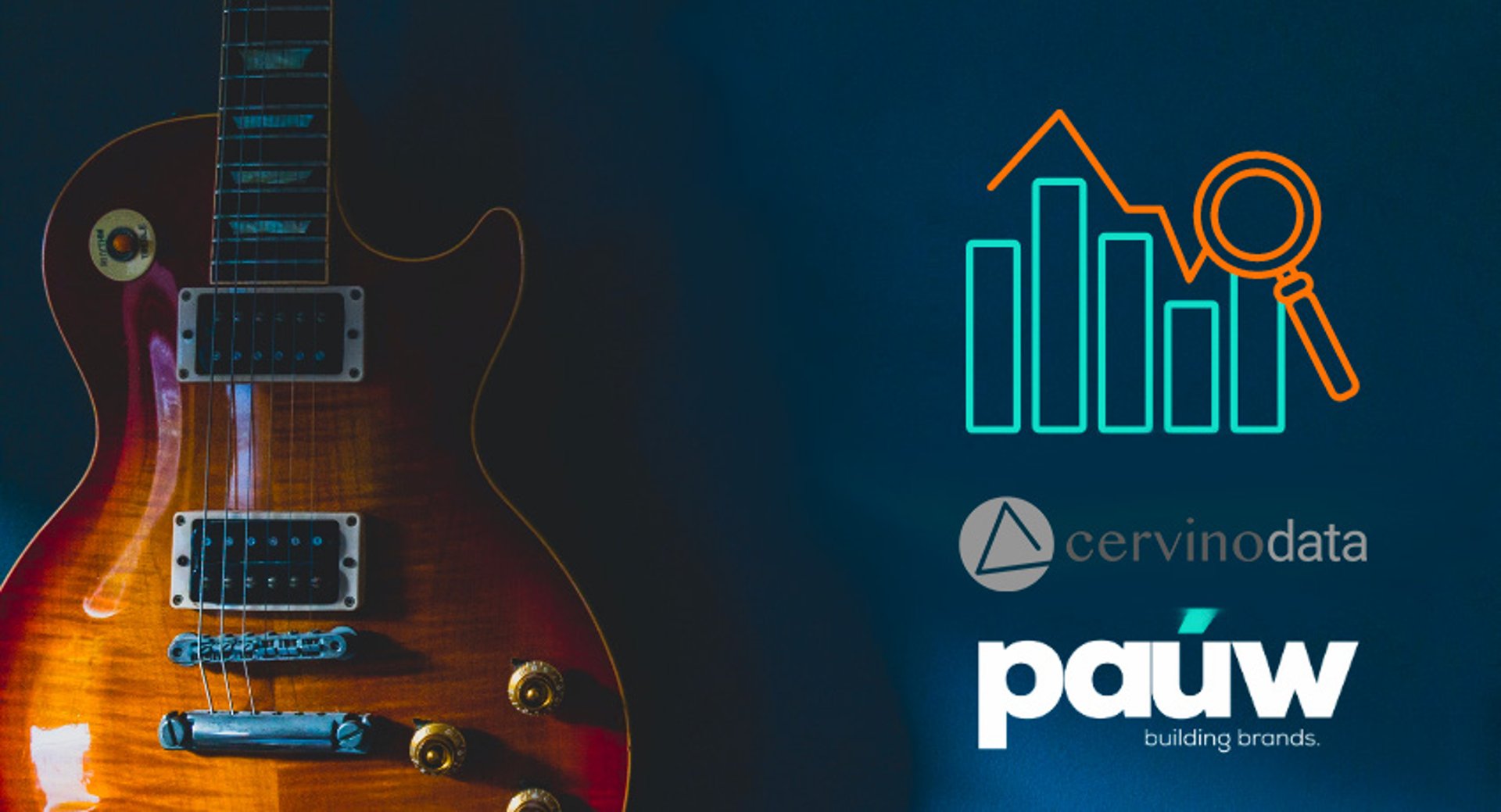 Summary - Case Study: Letting the musicians focus on what they do best, Pauw Agency and Cervinodata pair up to create killer marketing dashboards in Klipfolio.
---
With founders being signed artists themselves, Pauw Agency knows the artist side of the industry and how it moves. They bring this knowledge to create creative and clever campaigns for artists like Afrojack and Music record labels like Armada (known from artists like Armin van Buuren) that drive more ticket sales, more streams and a growing fan base.
Meet Noah Smits, managing director of Pauw Agency
Noah, who founded Pauw Agency in 2018, had been a professional bass player in the Dutch rock band Stereo before he founded Pauw Agency as a way to help artists to be more effective with their online advertising and presence.
"We know how hard it is to be an artist, but also be full blown SEA and Social media advertising specialist to promote your band, sell more tickets, engage with your fans. All at the same time. We try to be the artists external team so they can focus on what they do best: making great music."
The challenge to build and manage dashboards at scale
One of the key promises of Pauw Agency is to be 100% transparent. With over 20 clients to look after, the solution should be easy to distribute and be manageable at scale. Pauw selected Klipfolio as the dashboard tool of choice, above Google Data Studio, mainly for the superior visualisation options and Klipfolio's scalability. But Pauw had one issue: They do not have the time, the capacity, nor the expertise in house to develop and maintain these dashboards.
"One of our promises is full transparency on media spend and performance towards our clients. I wanted a clean and easy to interpret dashboard that would summary the key insights in the results we generate for our clients. The Klipfolio support team put me in touch with Cervinodata, which was a perfect match."
Templated dashboard without building any formula
Cervinodata has been a Klipfolio partner since late 2013 (as Cervino Marketing) and launched its do-it-yourself data management solution Cervinodata (check out the tool here) in July of 2019. Recently, they added a bundle of free to use Klipfolio templated dashboards that are connected to Cervinodata.
As Erik van Dorp, CEO of Cervinodata, puts it...
"Our mission is to help marketers fall in love with their numbers. Pulling data together is always a time consuming and boring task. Cervinodata does all the hard labour for its users and makes it readily available for reporting. To make it even easier for agencies, we have connected Cervinodata to Klipfolio, to make delivering dashboards even faster."
Cervino and Klipfolio have worked together for a very long time, so when Klipfolio CEO Allan Wille heard about Cervinodata's templates he was quick to recognise the potential.
"We know the Cervino team well and when they do something, they do it well. Powering up the Klipfolio technology with Cervinodata is a great way for online agencies to get up-and-running with Klipfolio in a very short period of time, while still maintaining full flexibility in using our powerful platform for custom reporting with our 100+ integrations."
Setting up first, then distributing to all clients
When the Klipfolio success team comes across a possible new Klipfolio customer that might benefit from Cervinodata's templated solution - like Pauw does - they connect them to Cervinodata, who will do the onboarding.
During a 30 minute onboarding meeting, Noah and Eric discussed which templates would be most useful for Pauw's clients. They decided to use the Advertising Summary Klipfolio dashboard tab (which reports on the spend, impressions, clicks and conversion across all ad platforms) and the more detailed Facebook Ads Klipfolio template. For this use case, there was no need for the team to use the Google Analytics, Google Ads, Bing Ads, or LinkedIn Ads templates, all of which are available.
On the call, Noah configured Cervinodata, while Erik prepared the Klipfolio templates for Pauw's first client. This took about 5 minutes. Erik then explained to Noah how to import the template into a new Klipfolio client and how to switch between organisations.
Right after the call, Erik contacted Meggan, head of customer success at Klipfolio, to help move the newly created Pauw Dashboard to Pauw's Klipfolio account. A couple of minutes later the Cervinodata template dashboards appeared in Pauw's Klipfolio account, ready for distribution!
That was all it took.
"It was amazing to see the fist Cervinodata template dashboards in my Klipfolio account. I only had to add my own logo, I chose to change the colors of the graphs to reflect our own brand. That was all it took to get me up-and-running." - Noah Smits, Pauw
Now that the Cervinodata Klipfolio templates are inside Pauw's Klipfolio account, it is very easy to distribute. Just create a new Klipfolio client, import the needed Cervinodata template tabs, change the Organisation ID and you're done.
The Advertising summary dashboard of one of Pauw's clients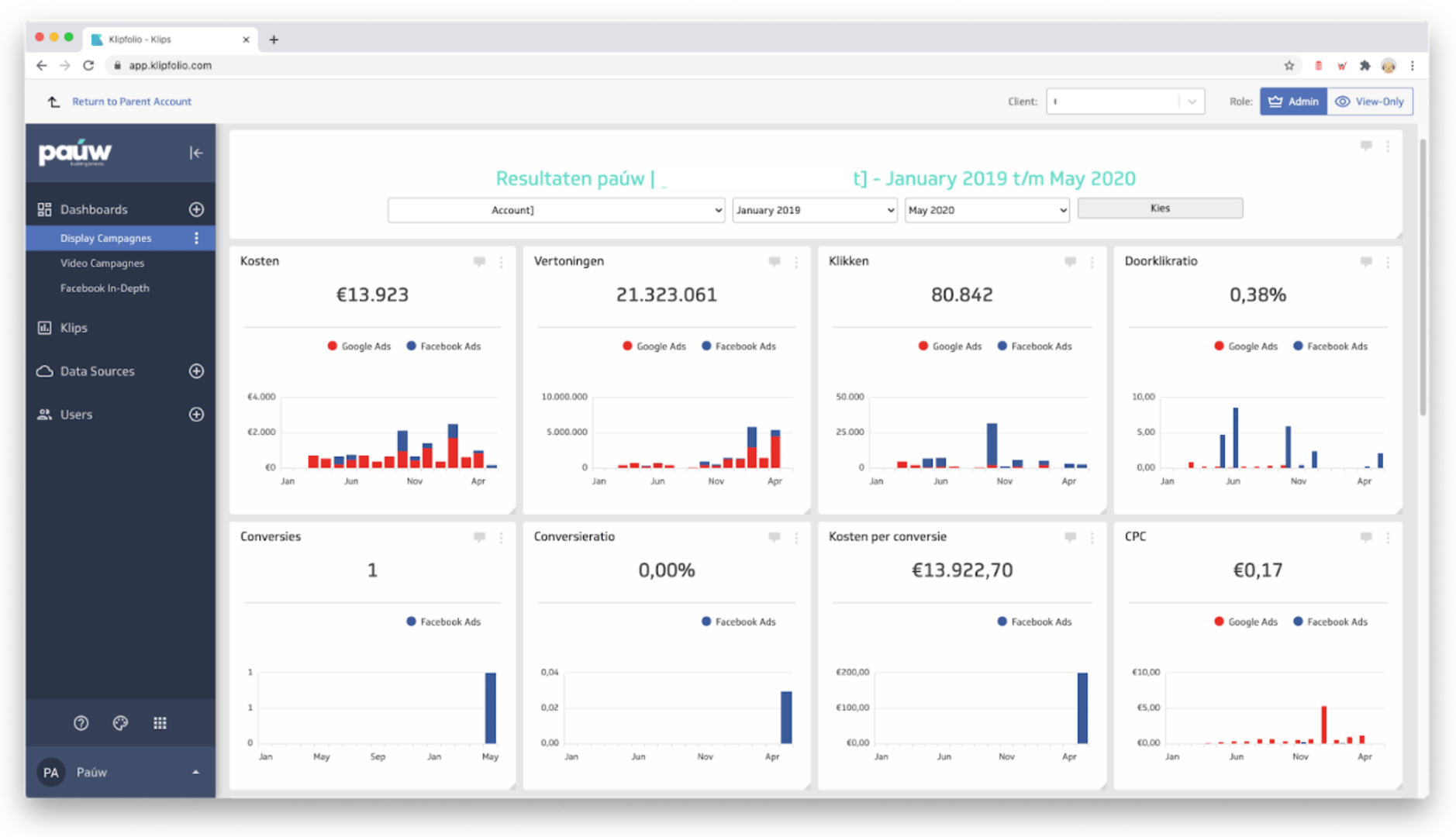 Organising data before using it in Klipfolio
The reason why more and more agencies use tools like Cervinodata is simple.
When managing multiple ad platforms and campaigns for multiple clients it can be time consuming to organise the data for use in a reporting or dashboard solution. It makes sense to organise before you insert it into a report. Not only does it keep the dashboards fast (because only data that needs to be in, is in the dashboard) it also makes it a lot easier to maintain dashboards when things change.
Unlike other third party tools, Cervinodata comes with an Organisation layer that works as simple as it sounds: Cervinodata users can group their ad accounts and Google Analytics views together in Organisations. In Klipfolio, the Organisation is built into the Cervinodata template dashboards. So all the data of one client is already together when it enters Klipfolio.
And adding a Google Analytics view or ad account or platform to a dashboard is very simple: Just connect the new ad account to the existing organisation and switch on the data collection. After a while - upon refresh of the Klipfolio data sources - the data for the new ad account will automatically be added to the dashboard. Without having to change any data source, filter or formula.
"This saves a huge amount of time, in particular for agencies and international companies, which will have to add or remove accounts on a regular basis." - Erik van Dorp, Cervinodata
The Choose Accounts page on Cervinodata, where the user can connect accounts to an Organisation and start the data collection.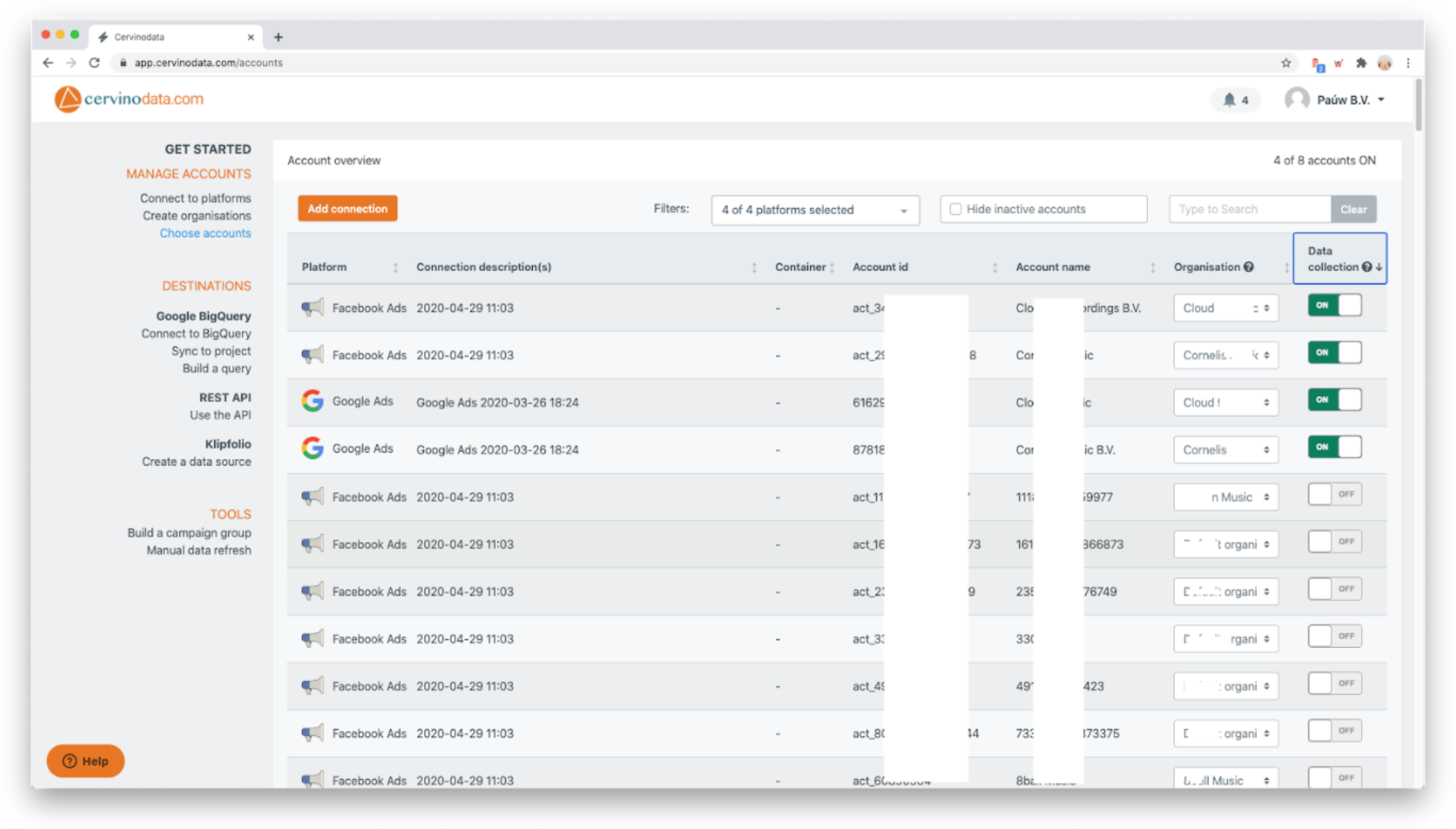 For Pauw Agency, each record label has its own Klipfolio dashboard. So each record label also has its own Organisation in Cervinodata, connected to a bunch of ad accounts from different platforms. This keeps things clean and, eh… organised.
But the Organisation layer allows for more cleverness (and more time saving). Because the ad accounts from multiple platforms are now grouped together in one Organisation, blending campaigns from multiple ad accounts and Google Analytics becomes a simple exercise.
Blending specific campaigns from multiple platforms
Like so many campaigns, music & artist related campaigns both have short burst campaigns and longer running "Always-On" campaigns. It can be time consuming and hard to keep the filter settings up-to-date with ever evolving campaigns. Having to change the filter settings in data sources or in formulas all the time is not something you want to spend much of your time on. In particular when having to manage a lot of campaigns for multiple clients.
Cervinodata has a built in feature called "Campaign grouping". This allows you to combine a specific subset of campaigns from multiple ad platforms and group them together in a campaign group. With the "Auto select" option, it is possible to automatically include new campaigns, but only if they meet specific criteria (like the artist's name and a project ID).
This way new campaigns from an existing artist can be automatically added to the campaign group in the appropriate dashboard and will show up in the right dashboard, without any effort.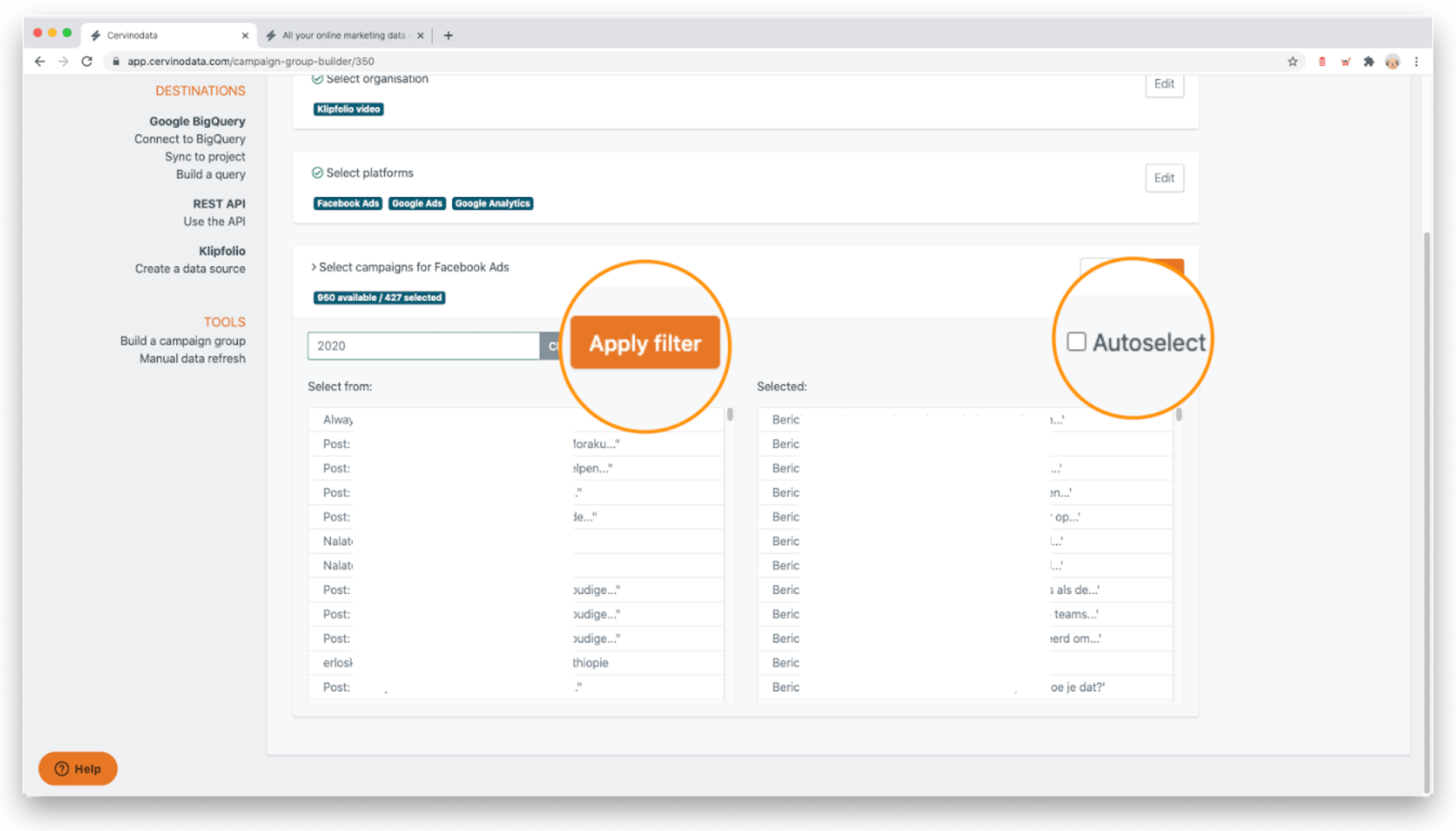 "Since my clients are usually record labels with multiple artists, the campaign grouping feature allows me to automatically group the campaigns running on multiple platforms but are from one particular artist together in one group. The record label can simply select the campaign group per artist to see the performance of each artist. This saves me 4 hours a week. Every week." - Noah Smits, Pauw
Next steps in reporting
Now that the majority of Pauw's clients have their own Klipfolio dashboard, Noah is taking further steps in making the dashboards easier to interpret, like adding specific labels that explain each metric and including indicators that turn red or green when a metric is underperforming or overperforming.
"Even though the dashboards delivered by Cervinodata are very simple to understand, we see that our clients are still very new at this. I have had to explain what CTR is a couple of times, so my next action is to make labels in each dashboard explaining what each metric means. Let's say my clients are very good at bringing great music to the world, not so at reading charts."
For Cervinodata, the next step is to expand the number of templated Klipfolio dashboards to help a wider variety of Klipfolio users.
"In the long run I would love to see the option for Klipfolio users to simply select our templates straight from the Klipfolio template gallery. In the meantime we are working tirelessly to build more beautiful templates for the Klipfolio community and make it easier for users to get our templates in their Klipfolio account."
For Meggan at Klipfolio, this is a rather new way of working together with a partner, but the potential is apparent from the get go.
"We saw how fast Pauw was up and running with multiple dashboards for 20+ clients. Matching the right Klipfolio customer to Cervinodata makes sense for everybody."
If you need more information about Cervinodata's templates, feel free to schedule a web meeting with Cervinodata's success team...
Related Articles