Secure and accessible dashboards for your extended team
Published 2023-04-25, updated 2023-04-25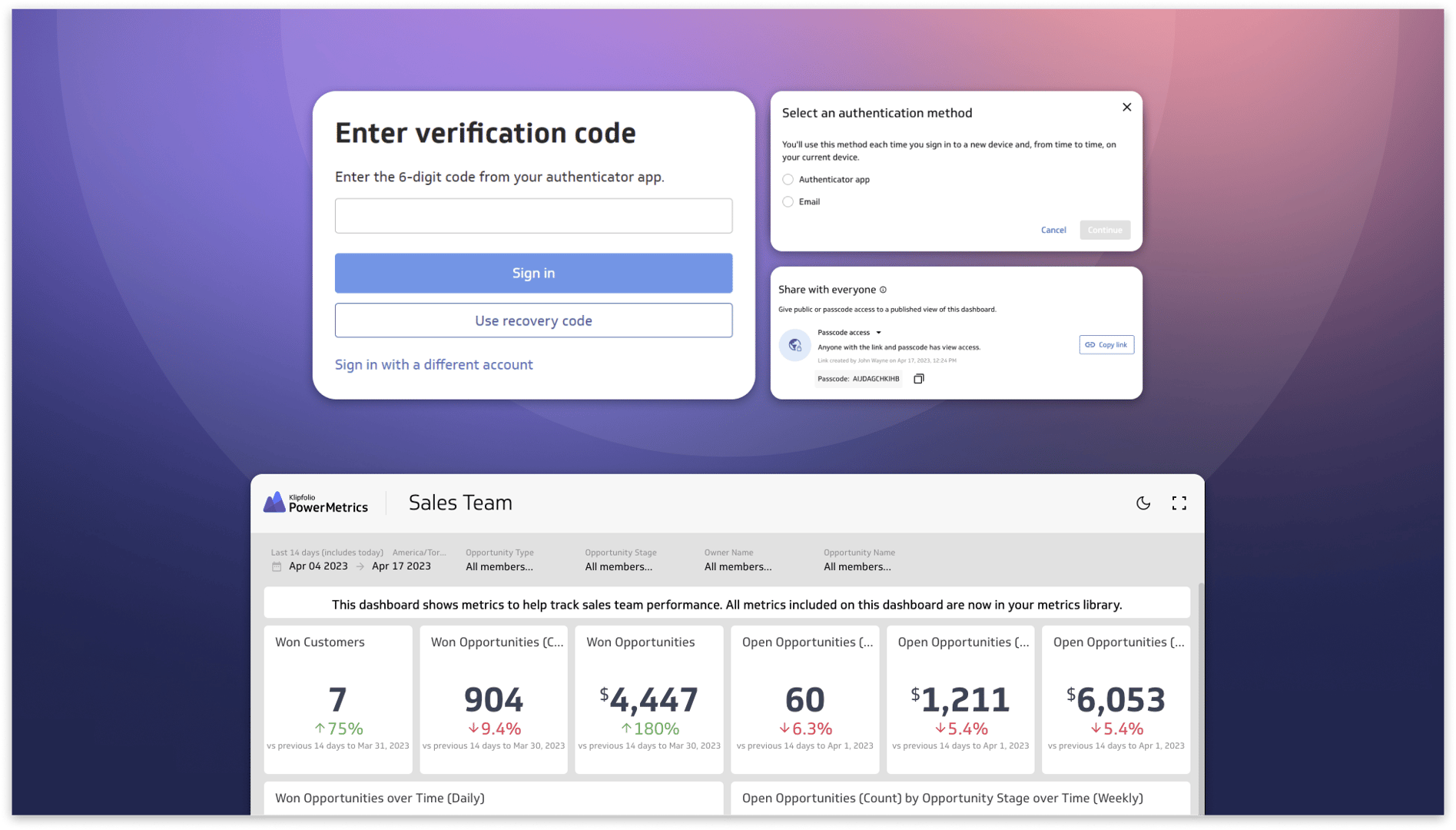 Summary - To kick off the second quarter, we're excited to announce two new capabilities in PowerMetrics - Published Views and Multi-Factor Authentication.
---
Many of you have been asking us for a way to securely share dashboards with members of your internal and external teams. As hybrid work is being embraced by more and more companies, there's an increasing need to support collaboration within both a physical office environment (e.g., TV displays) and a virtual one. Today we're thrilled to introduce Published Views.
As you know, we understand the importance of data security and confidentiality. That's why, in addition to our existing sign-in options, we're adding another layer of protection against unauthorized access for Klipfolio accounts that use usernames and passwords - Multi-Factor Authentication (MFA).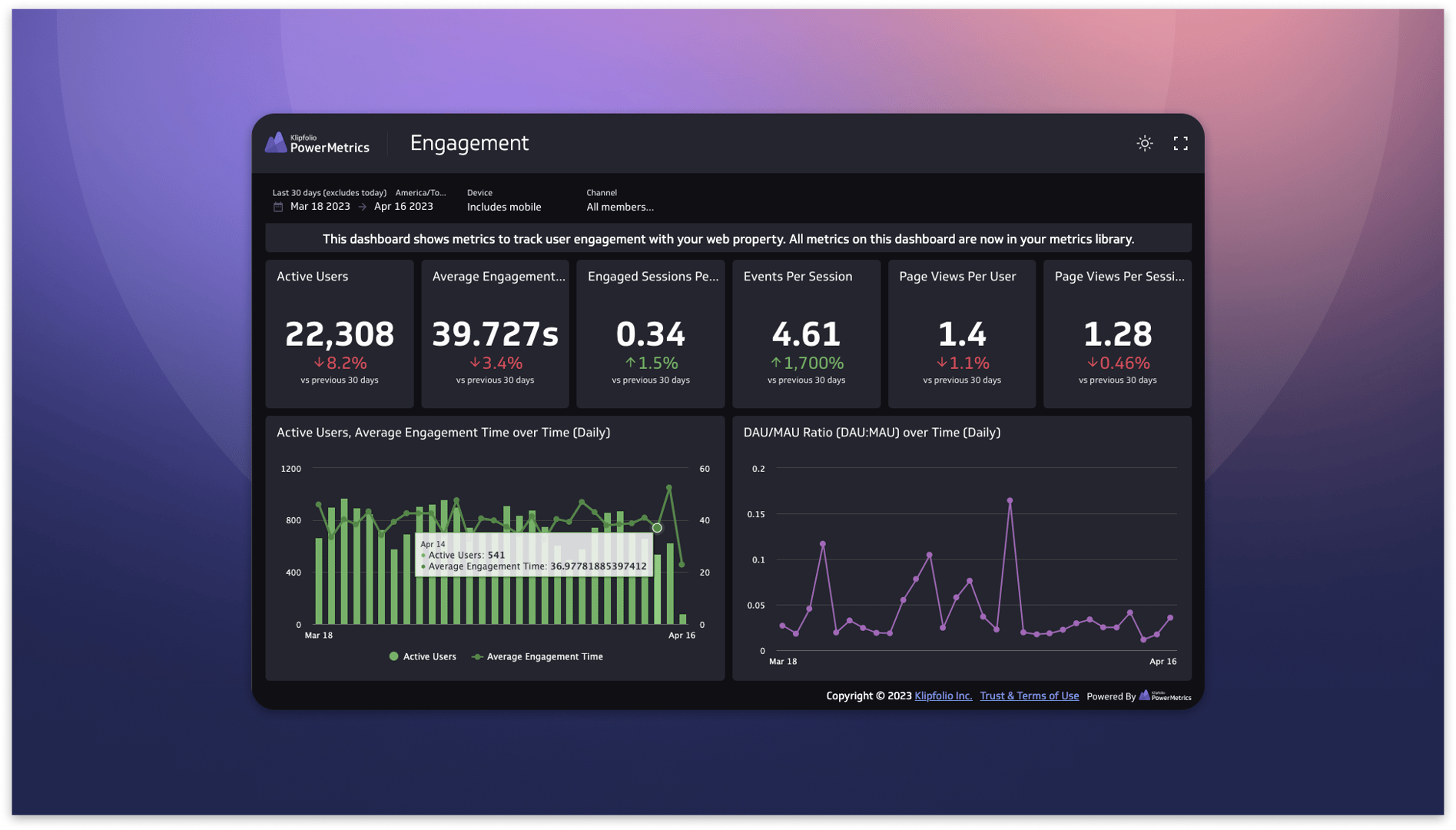 What is a Published View?
Published views are a convenient, secure way to share metric dashboards internally and externally (with marketing agencies and other remote teams – even if they don't yet have a Klipfolio account). Available for all PowerMetrics dashboards and consumable by mobile phones, tablets, desktop browsers, and TVs (at 1080p and 4K resolutions), they're an awesome way to share. They're also perfectly suited for presentations when you want to convey your data story to the extended team.
Designed as a pure and simple consumption-based experience, they're accessible to everyone. View a published dashboard in full-screen resolution and in light or dark mode. Updated frequently, they're an ideal way to share current dashboard data with the team by displaying it on TVs throughout the office. See the applied date range and filters and hover over charts to discover detailed tooltips. 
Published views are statically-rendered HTML versions of the original dashboard, so they're very fast to load and very secure. When publishing a view of your dashboard, you generate a shareable URL and grant either public access (requires a link) or passcode access (requires a link and a system-generated passcode). Published views are not indexed by search engines (e.g., Google) so you can be assured your dashboards are only shared with the people you want to share them with. Learn more about Published Views.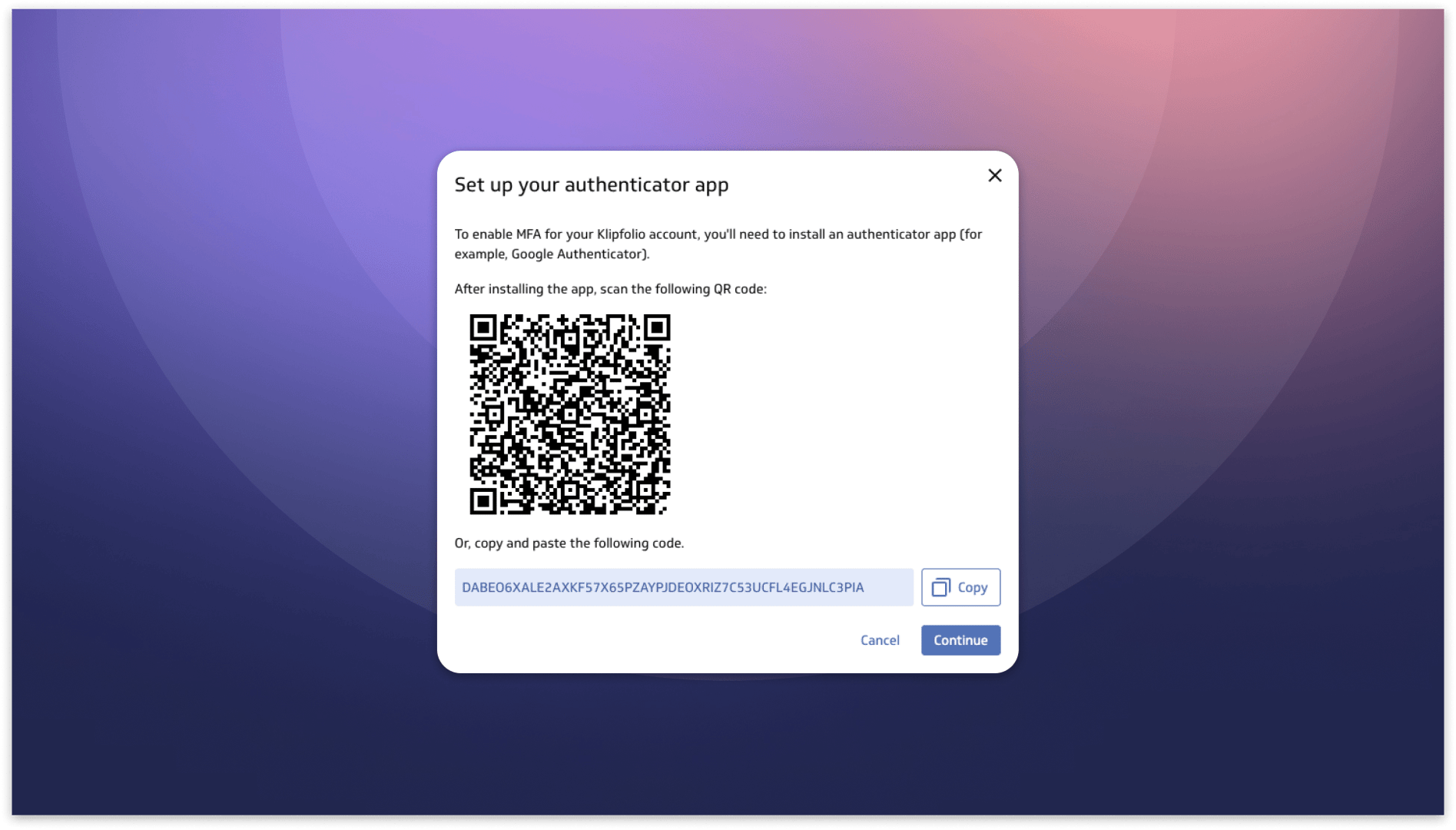 What is Multi-Factor Authentication (MFA)?
Typical web applications are protected with single-factor authentication - a username and password - which can leave sensitive data and applications vulnerable to a variety of common attacks including spear phishing and other more sophisticated techniques. Multi-Factor Authentication (MFA) is designed to not only make things much more secure but also to validate the identity of a user is genuine. It is also used to protect against a range of attacks that rely on stealing user credentials. 
Klipfolio's multi-factor authentication strategy strikes a balance between increased security and convenience for the administrator and user when Klipfolio usernames and passwords are used. Users can easily enable MFA for their account in minutes without interacting with IT. When enabled, MFA will require the user to provide a "factor" (from an Authenticator app or a secondary email-generated password confirmation) in addition to their primary password before they can be authenticated. With MFA in place, even if a user password is stolen, their account has additional protection from unauthorized access.
MFA is available as an option with any new or existing Klipfolio account that uses username / password. Learn more about Multi-Factor Authentication.

A huge thank you to all of you for your continued support and feedback. We're looking forward to more announcements in 2023 so stay tuned. 
Related Articles