Case Study: How Stupid Cancer manages all the moving parts with Klipfolio Dashboard
Published 2013-12-03, updated 2023-03-21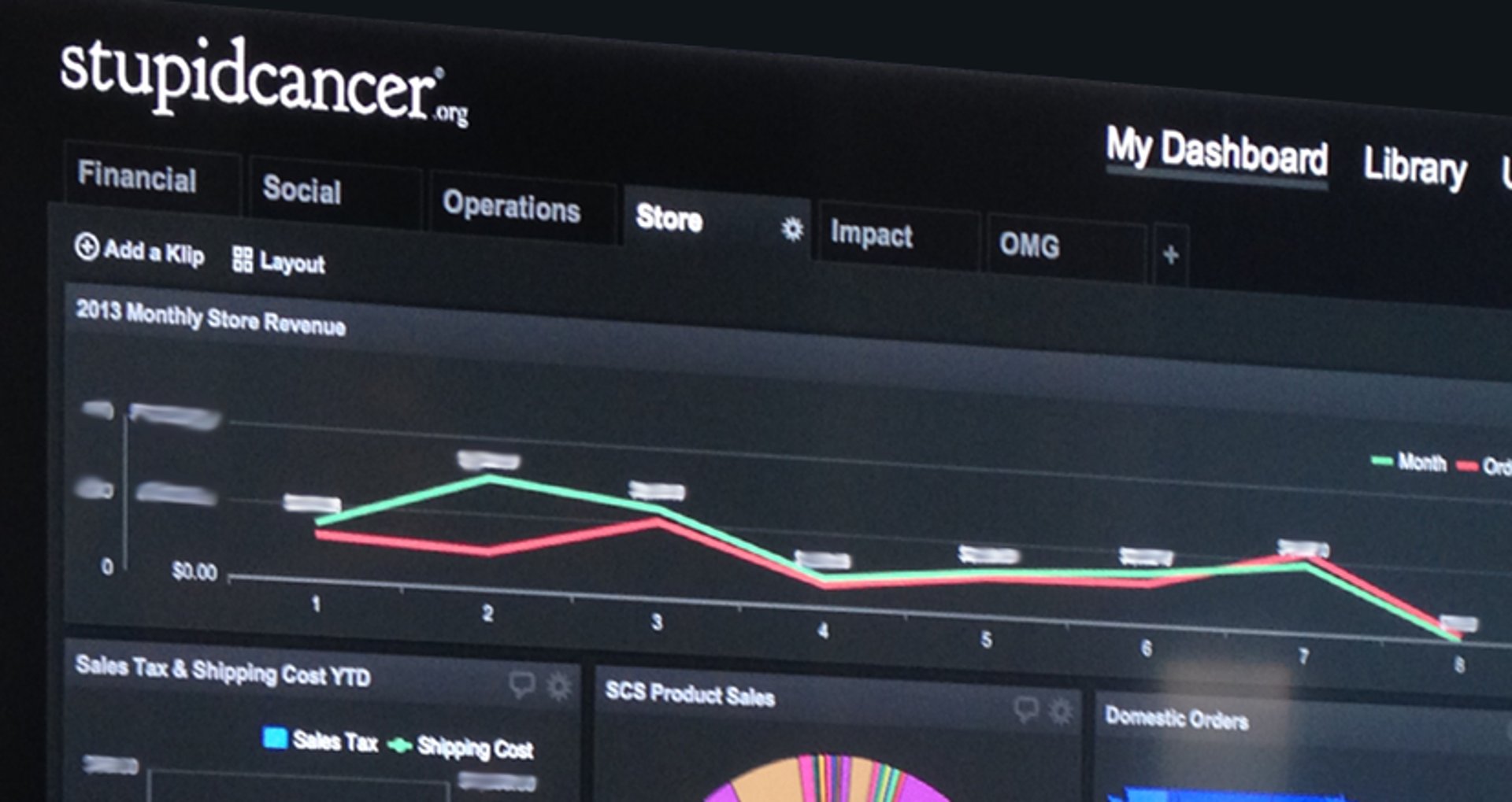 Summary - I had the opportunity to sit down with Kenny Kane from Stupid Cancer and chat about how they use Klipfolio to manage all the moving (data) parts of their organization. Check out this case study.
---
What is Stupid Cancer?
Kenny Kane: Stupid Cancer is a not-for-profit organization that provides a support network for young adults affected by cancer. When our founder, Matthew Zachary, was diagnosed with a brain tumour in 1995, he realized that there were actually very few resources available to the 15-35 age category. Stupid Cancer was founded in 2007 to address this gap, and has grown to include a vast support network that includes local meet ups, online forums, social networks and even an online radio show.
What is your role with the organization?
KK: I was Matthew's 2nd intern and 1st employee. Back then, we were called "I'm Too Young For This!" but decided to adopt one of our campaign taglines, "Stupid Cancer." I am a Co-Founder and Director of Social Media, eCommerce and Supply Chain.
Note: In recognition of his hard work, Kenny has recently received the YNPN New York City 2013 Nonprofiteer of the Year. Rock on, Kenny!
Can you tell us a little bit about your data and reporting needs?
KK: There are a lot of moving parts here at Stupid Cancer. We have a large social footprint and need to track data from our various revenue channels and supply chain. For us, it's about centralizing data from all these channels into one place.
How are you using Klipfolio?
KK: Right now, I have about 8 or 9 tabs on my dashboard. I use Klipfolio to bring all the data together in one place, which makes it convenient when I'm talking to our board of directors and need to rattle off lots of facts and figures. Klipfolio saves me a lot of time and energy when I'm preparing for meetings and it's definitely nice to have it 24/7.
Could you tell us a bit about the metrics you are tracking on your dashboard?
KK: My financial tab tracks donations, revenue vs expenses, and campaign performance, while my store tab tracks revenue by month, shipping costs, number of order shipped by state and I have a chart that tracks sales tax and shipping costs. My operations and social tabs show metrics like number of Facebook, Twitter, and Instagram followers, mail list subscribers, web visitors, and I even have a snapshot taken from Zendesk that shows opened and closed issues, as well as customer feedback.
My conference tab (pictured below) tracks the number of attendees to conferences over the past 4 years – it's actually really cool to see the growth of the conference. And the outreach tab tracks the literature we publish and send out to hospitals and shows data such as number sent, where they are sent to, and the frequency of sends.

Why Klipfolio?
KK: After checking out another solution, a friend referred me to Klipfolio. When I found out it was $19/mth, I didn't think it was real. *Laughs*
"When I found out it was $19/mth, I didn't think it was real."

- Kenny Kane
I have a basic knowledge of XML and what I like to call web accessible data sources. I've had a lot of fun setting up my dashboard and learning about the capabilities of the platform.
How has your experience been with Klipfolio staff?
KK: Yvonne is the best. Ever. She was absolutely instrumental in helping set up the dashboard and answering any questions I had.
What features would you like to see in the future?
KK: I'd love to see more data sources. I've definitely tweeted to Klipfolio to introduce you to services that I use. We'd definitely love to set up an integration with SoundCloud to get data about radio show attendees.
What's one piece of advice you'd give to a team preparing to deploy their own dashboard?
KK: Think of who you're sharing the dashboard with. A dashboard is only as good as the audience it's intended for. With all the information on my dashboard, I could pull open 8 or 9 chrome tabs in my browser and flip through them to get the same information. But think of how impressive it is to open the dashboard and have all your data flash, update and populate.
I'd also add that if you mess up the first time, don't be phased!
Related Articles