See how flinder stands out from the competition with Klipfolio
Published 2018-02-05, updated 2023-09-11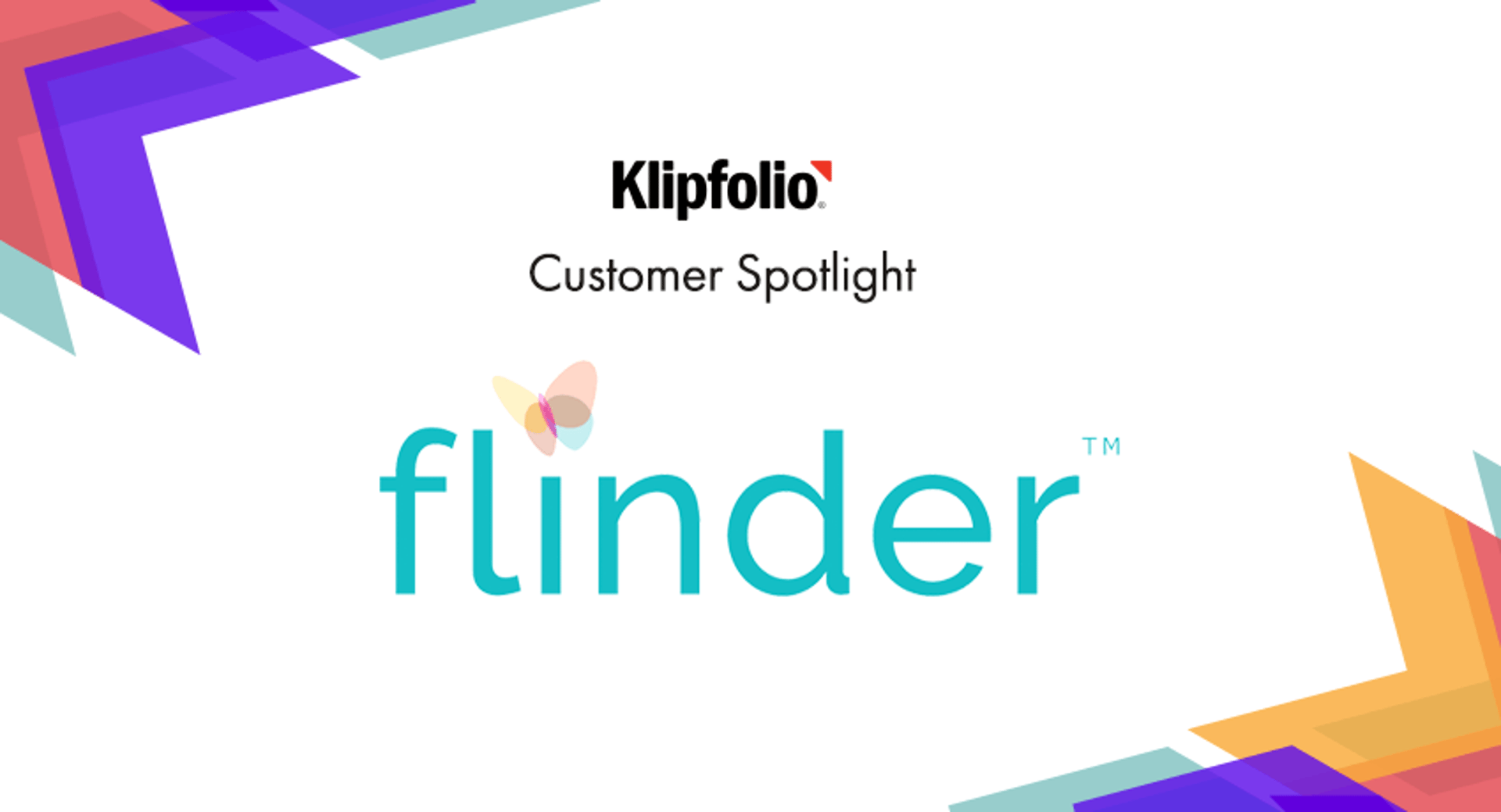 Summary - From sales activity to financial information and trends, flinder provides insight to help their clients meet their objectives.
---
Alastair Barlow is a co-founder and passionate visionary at flinder, a registered accounting practice in the UK. He helped develop a PwC business, built the team in London & South East England, and led it until leaving to set up flinder.
Alastair says his background in accounting and consulting mixes well with his passion for entrepreneurship to help businesses reach their potential. His role at flinder is to lead the vision of the business, to grow the business through supporting the growth of other businesses and to look at new and innovative ways in which to service clients and deliver those services.
About flinder
flinder is a registered accounting practice in the UK and was founded in early 2017 by Alastair and Luke, two entrepreneurs who happen to be accountants. They both made moves to PwC and worked in different capacities (through cycles in assurance and consulting) where they first met as founding members of a PwC team working with growing businesses.
With a combined 25 years experience working with growing businesses and getting the bug working with entrepreneurs; Alastair and Luke decided to create flinder, combining their passion of helping other businesses grow, whilst creating their own.
When asked about how flinder compares to other accounting firms, Alastair says, "My view of an accounting firm or accountant is that they should be in prime position to really understand the performance of a business which very importantly does not stop at just financial information - this is a key difference for us and what makes us truly stand apart from other accounting firms. For me an accountant should be all over the performance of the business which importantly includes both financial and non-financial information – and this is what we deliver to our clients."
flinder before Klipfolio
When asked how his team tracked client metrics before using Klipfolio, Alastair says, "Most of our clients would track metrics either within an existing application with out of the box metrics which aren't really fit for purpose for what they really need or want, or they were using Excel to manipulate data which has huge inherent risk issues and version control challenges. This is also human intensive, time consuming and doesn't deliver real-time results."
Why flinder chose Klipfolio
At flinder, the accountant's role is to report and discuss both financial and non-financial performance with clients. Reporting on just the financials of a business tells one side of the story - bringing in operational or marketing data and mixing it with financial information really adds flavour and colour to the business story.
Most businesses that work with flinder have disparate data sources. The flinder team wanted to deliver insight to clients on their whole business, using one application. They needed a tool that could deliver the connected results time after time without a human being needing to play about with Excel spreadsheets at the end of a month.
Alastair remembers that time and says, "We searched long and hard for an application that did what we really wanted it to do. At our previous organisation we used Tableau, had experience with QlikView and while evaluating applications for flinder we explored a number of other pure web applications such as Grow, tapClicks, Geckoboard and many more on our way to choosing Klipfolio. Klipfolio is streets ahead of the others for what we need and ticks a whole host of boxes for us including the huge data manipulation power, native connectivity but for us mainly the endless api connections that are possible through the REST connector and the white label functionality. Not to mention an amazing support team who are super responsive and knowledgeable!"
How flinder uses Klipfolio
When asked how is team use Klipfolio, Alastair admitted, "We may be a little different than the average Klipfolio user in that while we do use it for ourselves, the main purpose is to provide insight to our clients."
The team starts off with a strategy and business objectives workshop, to translate the client's objectives and distill it across various functions within the business. From sales activity to financial information and trends, flinder provides insight to help their clients meet their objectives.
The flinder team is just starting to scratch the surface with client data and metrics. Currently, they build dashboards to track an array of metrics across multiple functions which include:
Financial Analytics
Daily sales value, volume and average transaction value
AOV trend
Revenue (in aggregate and by channel & department)
Gross margin (in aggregate and by channel & department)
Rolling trends for revenue, gross margin, opex & EBITDA
Sales & marketing as a % of revenue
Cash Management
Cash burn, rolling cash burn, net cashflow
Profit to cash reconciliation
Prospect Opportunity Management
No. of open prospects
Value of open prospects
Expected conversion value based on sales cycle status
Future expected date the sales opportunity will convert
Prospect Dashboard Example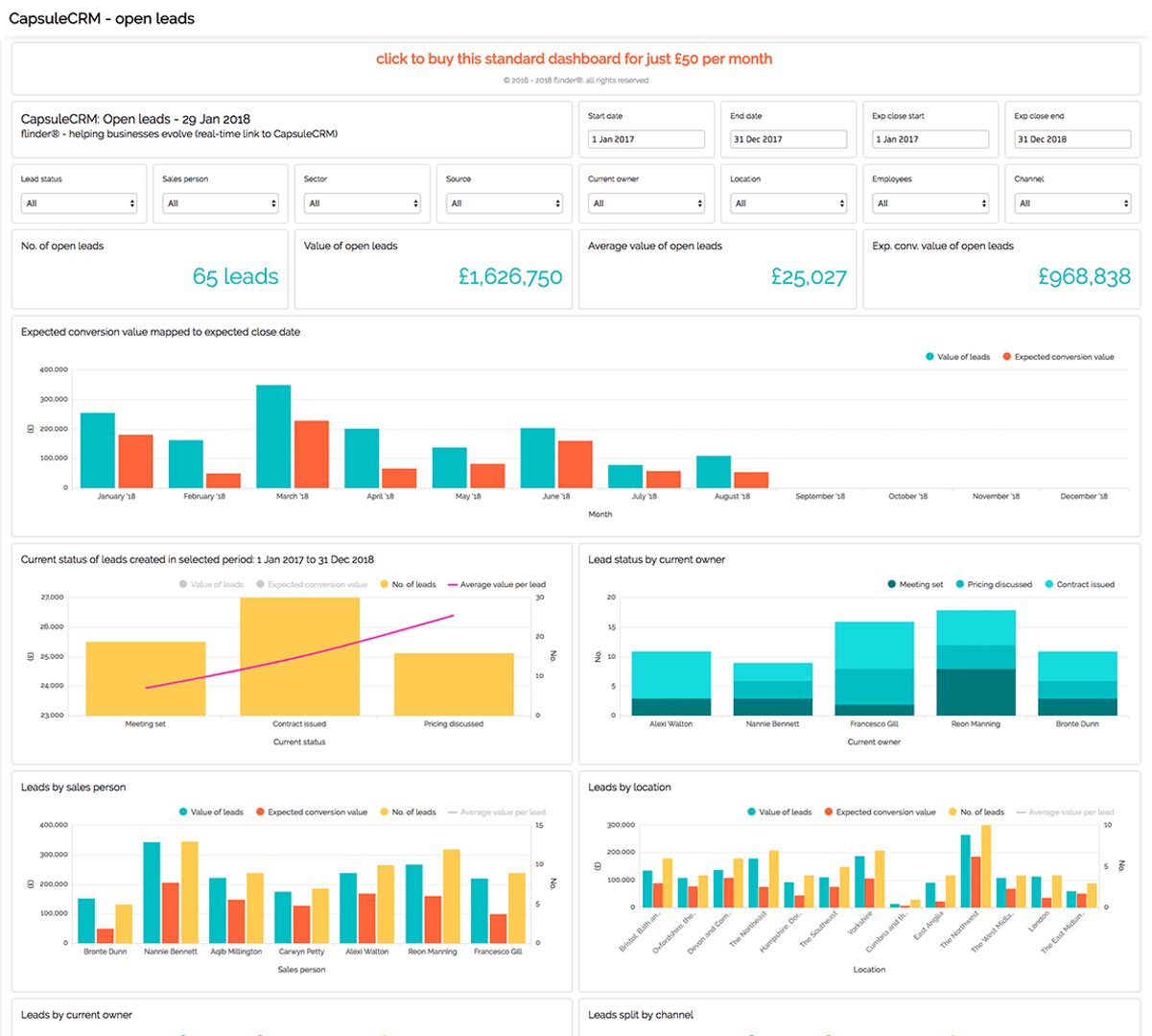 How flinder celebrate big wins
flinder may be a new company, but ingrained in their DNA is skiing and snowboarding. So it's pretty clear that celebrating big wins, means hitting the slopes. They have an annual client and staff ski trip where they enjoy the snow and each others company. Check them out!
With Klipfolio, flinder has been able to deliver real-time information to clients in an easy to understand dashboard. The team is excited to build more dashboards and try new features that help their clients get away from undless Excel sheets with rows and rows of numbers!
Related Articles