The scoop about ice cream shop KPIs
Published 2017-06-14, updated 2023-03-21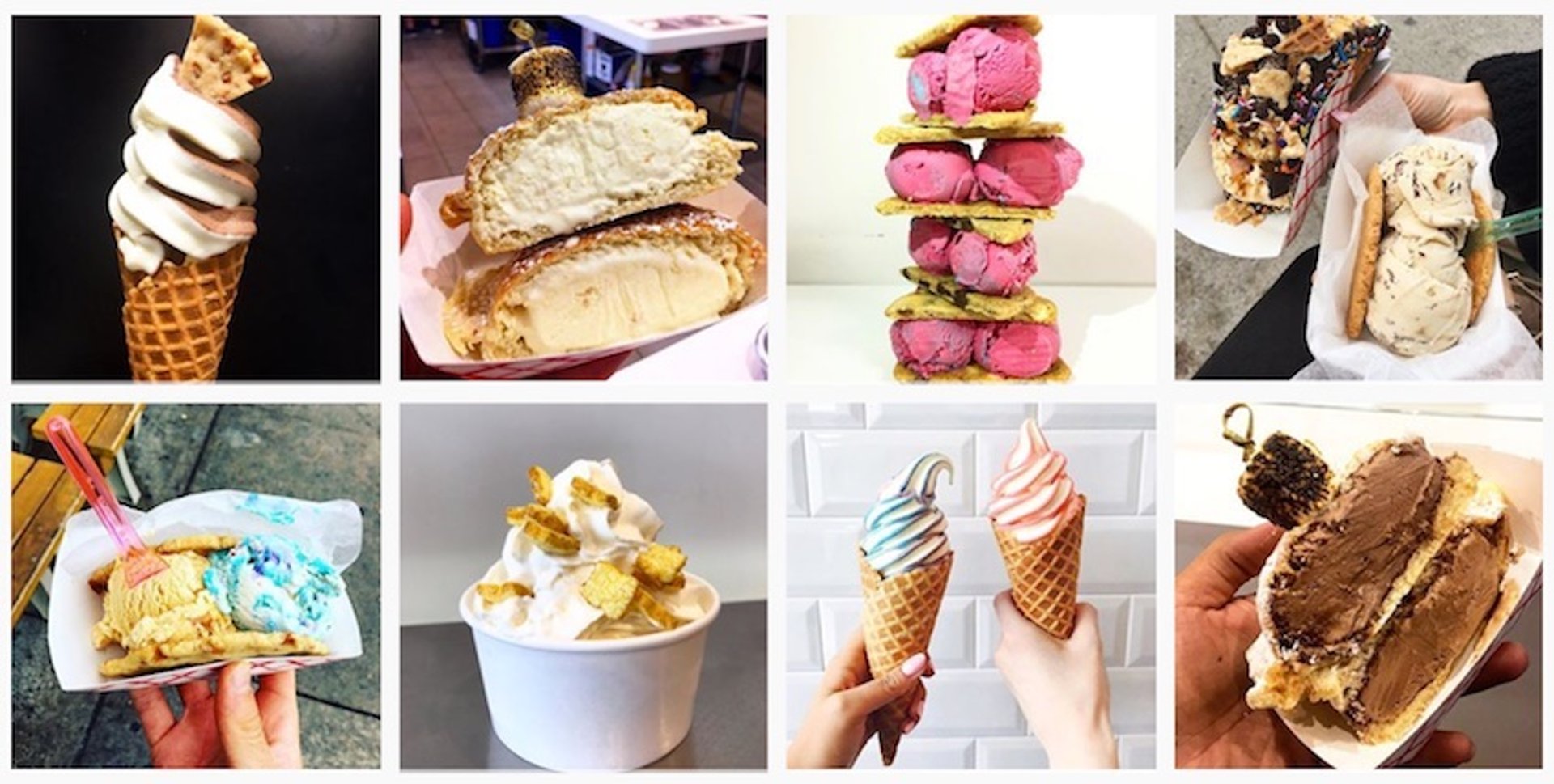 Summary - Every business, no matter what size, relies on KPIs. Yes, even a 3-year-old seasonal ice cream shop.
---
Here's the tricky thing about KPIs: you're probably tracking them without even knowing. How is that possible you ask? Because when it comes down to it, every business, regardless of size or industry, can't succeed without looking at "the numbers."
Restaurants and retail shops, small businesses and global enterprises—all of them, to varying degrees, are steering their business based on key performance indicators.
KPIs and SMBs
The relationship between KPIs (key performance indicators) and SMBs (small and midsize businesses) is particularly interesting to me. On one hand, many SMBs are still awakening to the realization of their product-market fit. On the other, and although they can envision their growth, many are still running lean operations to grow.
As I wrote in How KPIs help SMBs succeed, it's entirely possible to have a firm grasp of your KPIs while keeping the wheels of your business spinning; most successful SMBs know that one strengthens the other.
Since, according to my weather Klip, it's summer, let's kick off this new series with some good ol' fashion ice cream. The following blog post will give you a look at KPIs beyond the typical office setting and into the simple processes behind how a small business uses KPIs to offer up everyone's favorite summer treat.
Meet Booyah Inc.

Booyah Inc. is a Toronto-based ice cream shop located at Bathurst and St. Clair in midtown Toronto. They aren't quite Ben and Jerry's, but this growing shop has developed a large crowd of devoted customers and attracted many tourists in the Toronto area who are excited to try what many locals have grown to love.
Owned and operated by 23-year-old Blair Mincer and family, Booyah is currently in the middle of its third season. This seasonal shop is open from April-October, and their success and growth in just the last two years proves that even selling something as simple as ice cream relies on KPIs.
While word-of-mouth has been critical to Booyah's success, so has social media. With no paid advertising to date, the small business has relied solely on social media to get their name out there.
Social media KPIs
If you've ever heard the expression "The phone eats first" or watched a person (or been the person) taking a perfectly executed photo of a burger before digging in, then you know exactly what I'm talking about.
For many SMBs, especially those in the food industry, social media is absolutely everything. Money may be tight, and why spend on marketing or advertisements when people are already habitually taking photos of their food? In the dessert world over the past two years, this trend is booming and has been all about being "over the top."
When Booyah introduced their ice cream taco, it went viral on social media. First picked up by local blogs, the phenomenon quickly spread to international media companies such as Insider Food where their video of the taco gathered 3.1M views and over 25K shares on Facebook alone.
This ice cream is in a waffle taco.
Quite literally overnight, millions of people knew about a small ice cream business in Toronto. Such stories are often dismissed as simply a lucky break (and to be sure luck certainly did play a role), but the underlying story is that Booyah had been steadily growing its Instagram account—and doing so in a way that few businesses even know is possible.
Instagram KPIs
While many companies spread themselves thin across social media, Booyah has strategically chosen to focus the bulk of their efforts on Instagram. So much so that this year they connected with SY5 Wi-Fi to add an analog counter device connected to Instagram.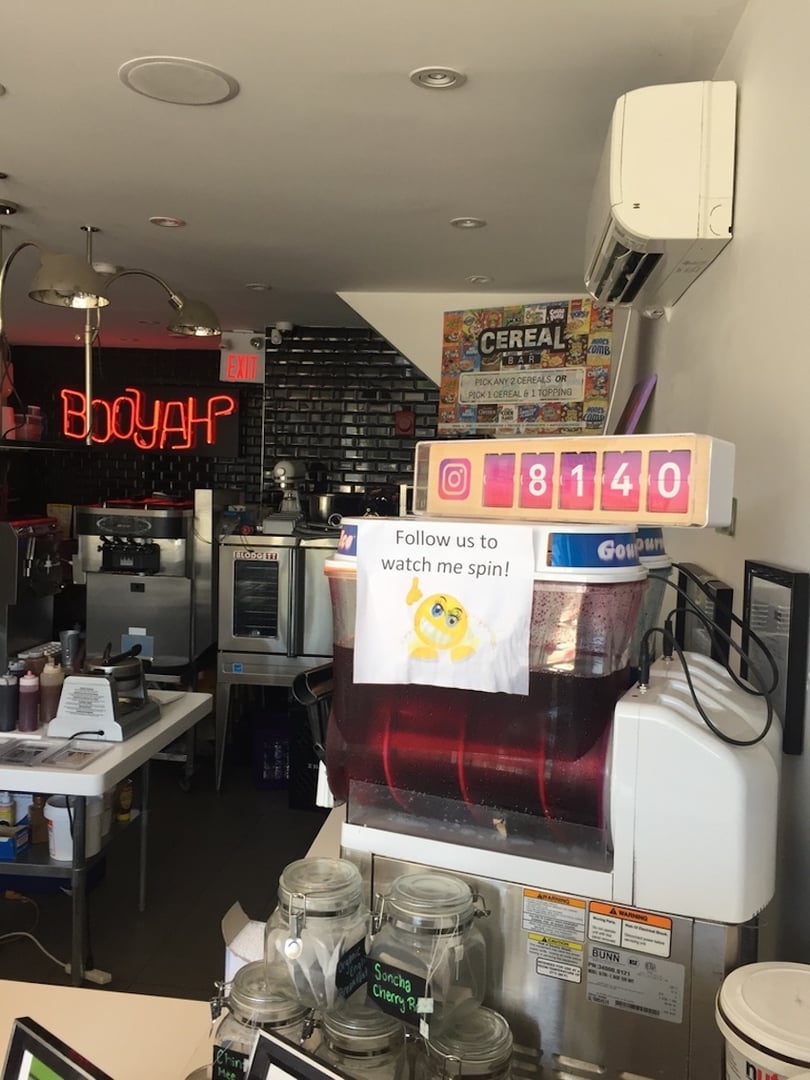 This device connects to the store's WiFi and allows customers to connect their Instagram accounts to access the WiFi. Beyond providing a customer service and enabling Booyah to watch the numbers go up in real-time when customers Like the page, the tracker also allows Booyah to monitor important KPIs, such as:
Number of Followers
Number of WiFi Users
Number of Emails Captured through WiFi
This shows an element of KPIs that most businesses have yet to cash in on. Many KPIs, particularly social media KPIs, are ones which customers themselves want to be part of.
Especially today in the restaurant business, it's likely your customers are coming to you because they know someone that ate there or they saw a post online. Marketing today doesn't mean what it used to. With SEO, social media and word of mouth, small businesses like Booyah are fusing the qualities of traditional brick and mortar with the technology of the digital age.
In this respect, how many Instagram posts per week people are posting of or about your business is a very important KPI. People share such incredible photos, and today's social media landscape has created a user (there are over 700 million users of Instagram) that wants to see noteworthy accounts sharing their photos.
This is the case with Booyah. Most of their Instagram photos are actually from pictures they've been tagged in or direct messaged to share.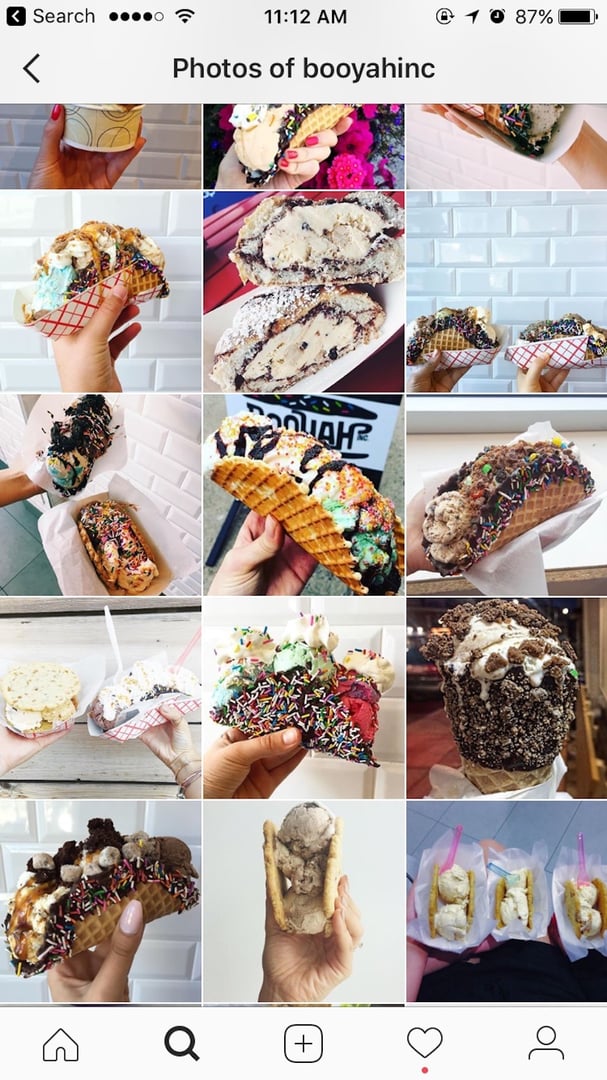 All to say: Booyah's viral video didn't happen only because they chose the right social media channel for their product; it happened because they were on the right channel and worked diligently to drive growth on the Instagram KPIs that mattered most.
Their growth on Instagram grew their local business, which certainly helped create those early waves of initial local coverage that led to the massive wave of their video reaching a global audience.
A take-home message here is this: marketing KPIs aren't just for tracking marketing spend. Too often KPIs are dismissed as only dealing with dollars and cents.
Truth is, for Booyah, the key performance indicators (of Instagram Followers, Number of WiFi Users, and Number of Emails Captured Through WiFi) are just as important to their small business as the many other costs associated with serving their ice cream.
But it wasn't all about the Instagram KPIs. We are, after all, talking about an ice cream shop. Booyah also took these KPIs seriously, among others:
Top Menu Items KPI
Ice Cream Melting Rate KPI
Flavour Profile KPI
Let's sample a few of each.
Top Menu Items KPI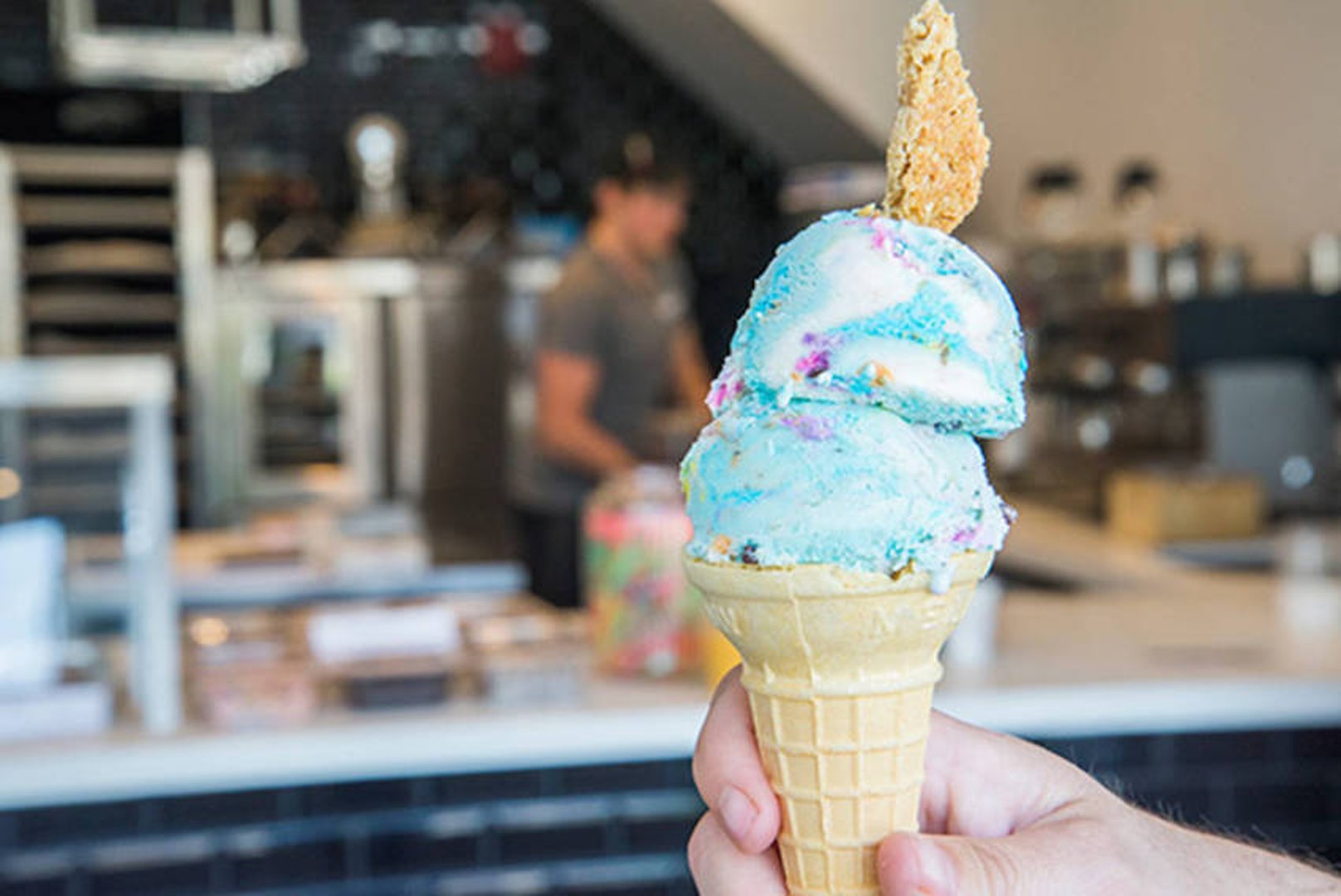 As you can imagine upon learning about trends in the food industry, continuously updating your menu is critical to staying on top of the market.
Trends come and go though, so while Booyah is committed to adding a cool new treat to the menu each season, keeping track of their constant bestselling items is a very important KPI for their business.
This is generally the traditional cups and cones, those staples of the ice cream world you could say. And while these two items may seem boring to the trend-hunting customer, to Blair it's important that everyone coming in gets exactly what they're looking for—be it a crazy sweet pocket, a classic ice cream sandwich or a traditional small cone.
Ice Cream Melting Rate KPI
This year Booyah started making their own ice cream. With no experience in food science, Blair harnessed the power of the WWW to learn everything from the chemistry of cream and sugar to the ideal production process for his small shop.
There are so many factors to keep in mind when making ice cream; everything from production to service impacts that final moment when ice cream reaches a customer's hands.
Texture and consistency are of course crucial because these factors largely impact consumption. If just one detail in the formula is slightly off, Booyah's Melting Rate could be beyond what a customer is comfortable with.
As such, Blair must know the Melting Rate in various environments (including a hot summer's day) as well as typical consumption times so that Booyah's ice cream can be enjoyed in the hot summer.
Flavour Profile KPI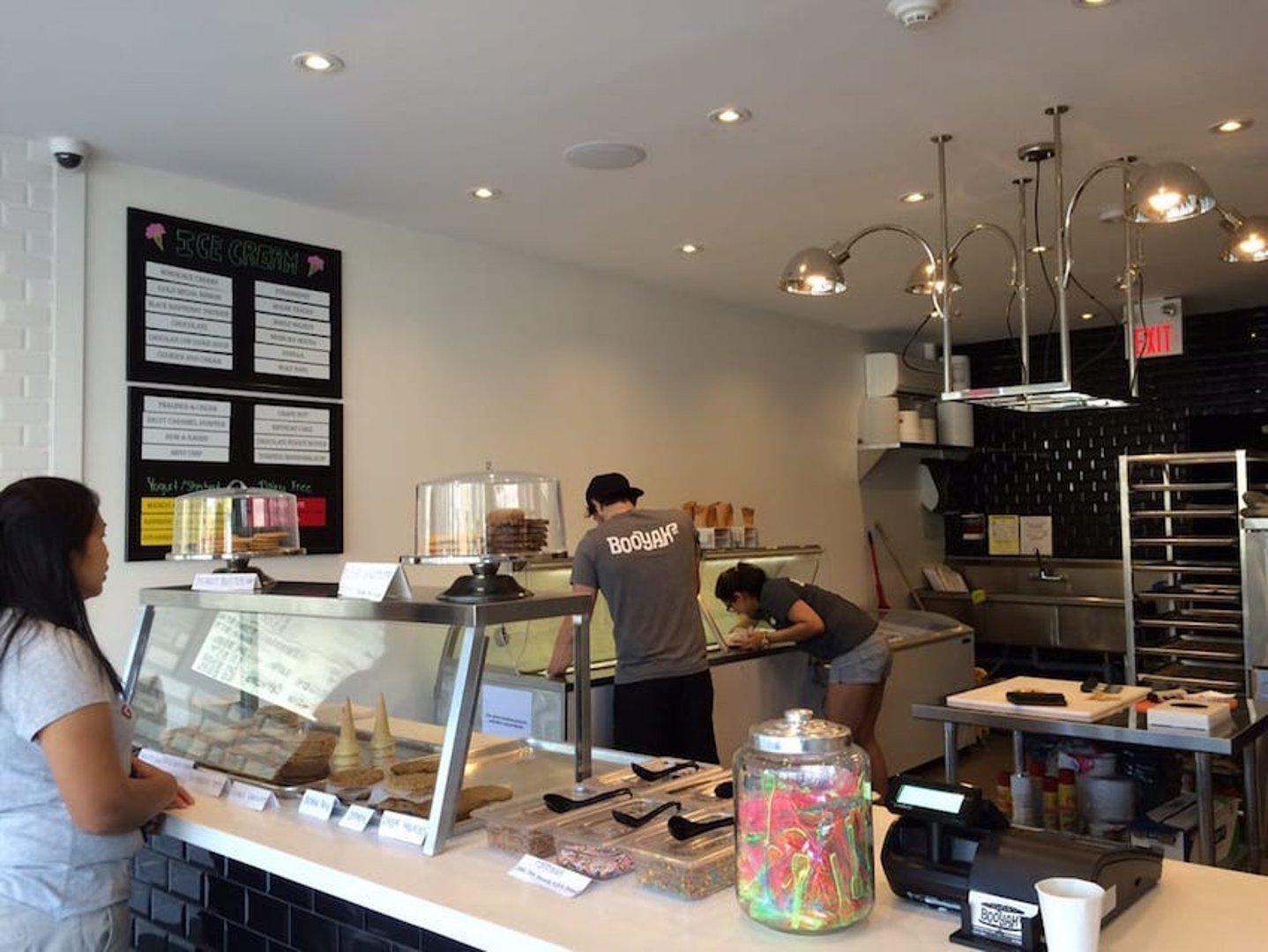 When you've served enough cones as the Mincer family, you start to get a pretty good idea of who wants what. Booyah's customers range anywhere from kids and grandparents to babies and dogs. You read right, dogs! You would be surprised how many dogs enjoy Booyah's dairy-free soft serve on a hot summer's day.
But seriously, furry friends aside, customers of an ice cream shop can be looked at the same way as any other business. Understanding their customers is key to Booyah's success. There are the regulars that Blair knows by name and order, but there's also the new customers that he can flavour profile moments into the interaction or seconds after they ask to try their first flavour.
For Booyah, this KPI is extremely important when buying some of their 28 flavours, and will become even more so as they transition to manufacturing in-house.
If I were selecting the flavours, I'd probably end up with a lot of sweet and salty—but for Blair, personal preference is put aside for the flavours he knows his customers want. When flavors are understood categorically with this KPI, he increases his likelihood of having flavours that his customers actually want.
I bet if you go in and ask for Cookies 'n Cream, you'll be pleasantly surprised when Blair asks you to try his homemade Campfire.
Now that you've got the scoop
I hope that after reading this post you better understand what a KPI really is.
Beyond the popular conception of people crunching numbers all day in a stuffy office, a KPI is simply any measurable aspect of your business that helps you demonstrate how effectively you are achieving key business objectives.
Booyah aims to be the friendly neighbourhood ice cream shop as much as it does the go-to spot for foodies looking for the next big thing. Striking a balance between these two and acting on their KPIs is how Blair and his family continue to grow their small shop.
Who knows, maybe five years down the road Booyah will have grown from a small business to a globally recognized brand like Ben and Jerry's! And you'll get to tell others how it happened.
Related Articles